Today as I write this article, it's one month since this blog was launched. Domain name was registered on October 28, 2013. Check the whois record here. Genesis framework and Prose child theme installed and customized the following day. First post went live same day i.e 28th October 2013.
Here is the very first article I wrote for this blog: SEO after Hummingbird ~ Facts You Must Know to rank better in Search Engines. From my Google Webmaster Tools account, this article is already getting some natural traffic from keyword 'seo after hummingbird'
Now, this first month has been with a lot of hard work and enthusiasm. I'm seeing positive results in terms of traffic and engagement.
Many of you knew my former blog EmFastIncome was on sale. I listed it on Flippa but finally sold it out of that platform to one of my partners. It was an awesome deal. I'll give you details of the sale in the details ahead.
Engagement on this blog
Most of my loyal readers on EmFastIncome followed me here. A majority of them are still faithful on EmFastIncome which is what I find awesome about my readers. During this first month here on this blog, I have made a couple of posts on the former blog and the engagement there still remains strong.
Engagement stats on enstinemuki.com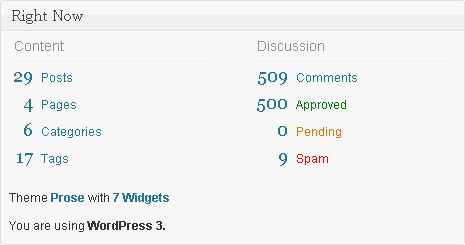 29 blog posts (excluding this one) and 500 approved comments is not small at all for a 1 month old blog.
I have seen many more new visitors hanging around. I got many more contacts from the contact form and about 5 of them are requests for guest post.
Traffic report
Traffic to this blog has been encouraging. While over 90% comes from referral sources, search engines are beginning to fall in love with the new girl in town (this blog of course).
There is an average of about 150 visits per day. I hope to raise this to between 300 and 500 in the next few months.

What did I do this month for traffic?
Published contents daily
Most of the articles I have written are over 1000 words
Shared on Social Media – Facebook, Google+, Twitter and LinkedIn
Shared on content syndication sites mainly BlogEngage and BizSugar.
Discovered Klinkk and shared on it daily
Discovered ManageWP and shared WordPress related articles on it
Traffic sources: Google Analytics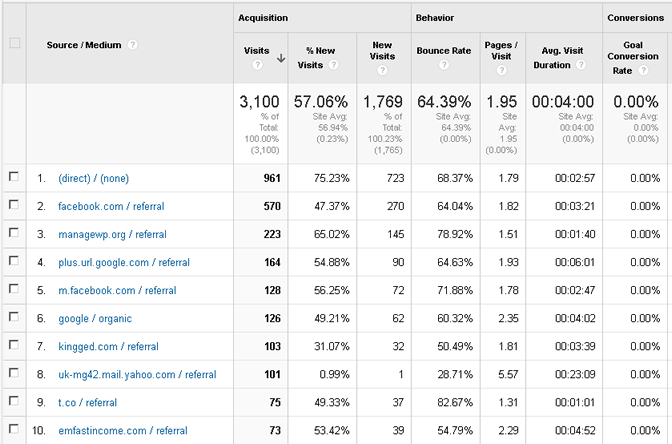 Facebook has been the master in referral traffic. Managewp came second (only accepts WordPress related articles)
Google Organic was at 6th position. I think this is good for a pretty new blog with less that 50 articles pumped up within 30 days.
I wrote an article on EmFastIncome about moving to this new blog. This article has sent over 70 visitors this month.
5 Most read articles
Let's see some more stuff from Google Webmaster Tools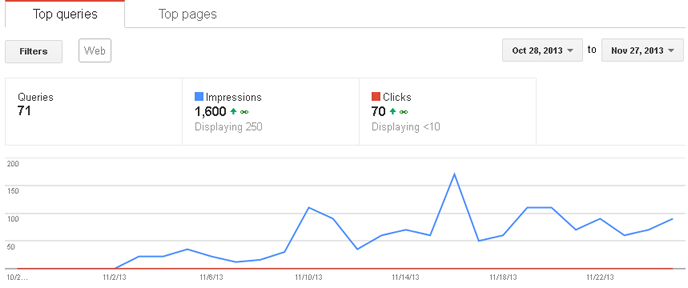 71 queries refer to the number of keywords that generate 1600 impressions and 70 clicks from Google search. One of the reasons for this low number of clicks (70 out of 1600) is the fact that most of the entries don't show up on Google page # 1. On a more general note, there is a gradual increase.
Alexa Stats
In the next few days, this blog will be within the 100k mark. This is a major achievement. Alexa stats are still important in Internet Marketing. It is still a reliable indicator of the activeness and popularity of websites.
I'm aware there are fake Alexa stats. Some website owners use tools to quickly run down their stats and fool their advertisers. However, if your stats are not influenced by some unorthodox means or tools, they can still represent the real value of your blog.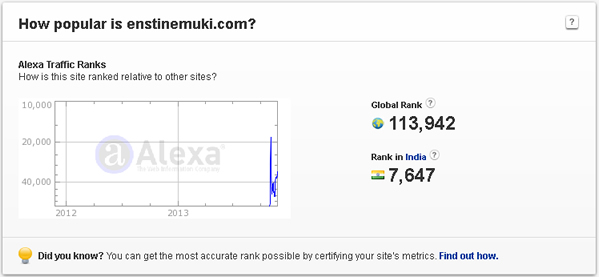 The best and clean way to get genuine attractive Alexa stats is to publish more regularly.
I strongly advice against any attempt to fake these stats. Doing that will be tantamount to shooting your own progress with a gun.
Income Report
Generating income from this blog right now is not top priority. I started it with almost no money making objects on it. However, shortly after, I added a few banners with 1 sale on WealthyAffiliate University
Adsense is absolutely out of sight now. It's not going to be one of my strategies to generate income from this blog except something actually happens – maybe a call from Google 😉
I'm not by any means in a hurry. My report on how to make real money with your blog will soon be available for download. Just be sure to sign up to my feed below this blog post so you don't miss a thing. I reveal my secret working method that sends $100, $150 and even more to my Paypal account over and over again.
Plans for December 2013
This is Christmas season so there is certainly going to be more activities offline for me. However, I'll not be completely offline;
I'll drop many more comments on blogs in my niche.
Publish 2 – 5 guest posts on blogs in my niche.
Publish frequently on this blog.
Get my AWeber account re-activated (Disabled because AWeber does not accept Paypal. I don't really know why)
EmFastIncome will be completely transferred to the new owner.
I may add some more money making objects but it's not a top plan.
Final notes
This blog is what it is because of you my readers. I'm so thankful for all your activities – reading, sharing, liking, tweeting, commenting, etc. Without these, I will be no where with it. It's really an immeasurable pleasure to have you in my community. Keep coming around. I'm very sure there are better days ahead for us.
What do you think about these stats after 1 month? I know this may not be impressive but I'm pressing forth to a more impressive record. Share your thoughts in the comment box below.