There are three main sources of traffic to your blog and you need the three. However, in this post, I will dwell more on two. Here are the three, to begin with;
1 – > Search engine traffic
2 – > Referral traffic
3 – > Direct Traffic
Search engine traffic is of course traffic from search engines. I'll cover some more tips to get more of this traffic below
Direct traffic is traffic from direct visits to your blog – this happens when someone types your domain name in the address bar. Some people consider traffic from bookmarks, links in ebooks and emails as direct traffic.
I love traffic from newsletters. It never fails. Google may slap your rankings down the queue. Facebook or Twitter may one day with a simple click suspend your accounts and make your social media life miserable. Your list will always be there. Yes I know you are thinking – what if AWeber freezes my account? You pay for AWeber right? that's why you will always be more careful and, their suspension key is always hard to reach. Twitter is the worst with the suspension button just nearby. It can happen at any time – and they may tell you it's an error on their part 😉
It's a mistake if you are not building a list. Check this post for some more information you may need.
Search engine Traffic
There are so many search engines out there that bring us traffic. Of course Google, Yahoo and Bing and the big game players. If you want these robots to send traffic your way, you must play according to their roles.
People have tried several ways to bypass these roles using blackhat methods but the end results is always failure. If you are trying any rough games to get traffic from search engines, you are building foundation for disaster. don't do it!
Google has about 200 ranking factors and quality content is among the leading factors. There are some points I think will help Google identify quality content;
Natural backlinks to the content
Social signals (tweets,likes,g+s,etc)
Bounce rate
Average time on page
Social engagements
Google needs your help, seriously
Google is fighting garbage and struggling to remove meaningless links from their database. Every update is aimed at one thing – filtering off rubbish and giving the best to the researchers. Any attempt at helping Google will be rewarded.
Help Google find these 'best' contents and Google will reward you by placing your content on the top of SERP. The only way to do this is by providing this so much searched content on your blog.
– > Any SEO plugin?
I have spoken about 7 essential plugins for your new blog in this post. I also mentioned that I'll be cheeping in some more as we progress in this series
One of the plugins you'll need at this moment is Yoast SEO plugin. That's the most recommended free SEO plugin you'll need for your WordPress blog. Don't worry about how to use this plugin. Check out this tutorials by the authors of the plugin. It has the meet and drinks you need.
NB: Don't write articles for Search engines. Write for your human readers and search engines will find and love your articles.
Referral Traffic
This is traffic from the various submissions on the Internet for your website. That means the more you submit your blog to diverse locations, the more referral traffic you get.
In this post, I have mentioned some of the content syndication platforms where you can submit your blog for free referral traffic. You should check out that post for this can really be helpful. Two of these content sharing sites , Kingged and Klinkk are growing so rapidly and can be very huge source of traffic to your site. Here is more meat:
ManageWP
I recently came across Managewp and as a matter of fact, this peice has cought my attention in recent times. This is more dedicated to WordPress contents though. I have gotten most of my posts kicked out because they are not WordPress focused. This post you are reading for instance will not be accepted on the platform.
If you however have a WordPress related post (Tutorial and how tos) this will be a nice place to submit and gain some more exposure.
More referral traffic can be gotten through blog commenting, guest posting, directory submission and forum posting (though with a lot of caution), buying of ad space on other sites, etc.
Where do you get the most referral traffic from?
It's easy to find out which sites triggers the most traffic to your site. Go to your Google Analytics account. Click the Acquisition tab and then on All referrals;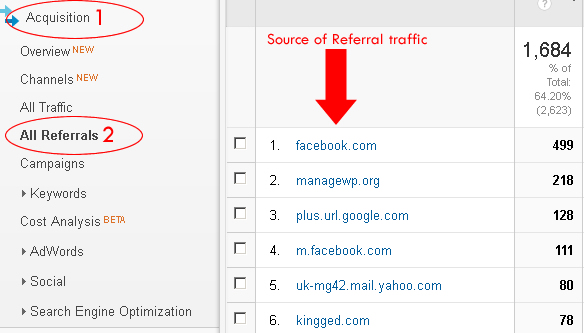 Social and Search PPC (Pay per click)
Now if you have some money you want to spend around, you may go ahead and do some PPC campaigns for your blog on Google (search PPC) or Facebook (Social PPC). There so many PPC platforms out there though.
Search Engine and Referral Traffic – Which converts better ?
There is been this debate out there on which traffic source is the best. Yes! I use the word 'best' because I'm putting everything together.
Now, my real point is, which one is most targeted? I think Search engines bring the most targeted traffic. That kind of makes it safe to conclude that Search Engine traffic converts better.
– > Reason ?
Search engine traffic is keyword driven. If the keyword is the best summary of what the visitor wants, there are higher chances of conversion. The visitor is on your blog because he/she searches for something and the search engine things you have the best answer. After reading through your post and finding out "this is what I was looking for", the the call to action button suffers a click.
Conclusion
This is part 17 in the series to create a blog that makes money. Be sure to check out the front page where if you missed some points.
Drop your comments on the comment bow below and let's hear your thoughts. Share this post too on social media to give me a lift