Backlinks are simply links pointing to your site from other websites. They are considered by search engines as votes for your content by readers.
Generally, the more links you get back to your blog, the higher the chances of ranking higher.
However, the sites that link back to your blog can make or break your blog. If you get links from web spam contents or blacklisted domains, that's going to be really bad and can hurt your SEO.
You can use tools like SEMrush to keep an eye on your link progress or simply grab data from your Google Search Console account. Fortunately, Google has the DisaVow Tool to help them know which links to overlook.
Related: Should you buy backlinks this year for your website?
SEMrush
If you want a 24 hour watch on your backlinks – which site links to your blog, link status (dofollow or not), anchor text, pages linked to, etc, SEMrush is an interesting SEO and Marketing app to give a try.
Sign up for a 7-day free trial here to appreciate the value of the service.
Before sharing with you some useful tips to earn backlinks in 2019 and beyond, let's touch a few related points;
Internal Links are important
Basically put, these are links that point to another page on the same blog. In other words, these are hyperlinks that point at the same domain as the domain that the link exists on. From the search engines standpoint, Internal links make your site 'crawlable'
Internal links reduce bounce rate as they point your visitors to a more interesting and related articles on the same site. This leads to more time spent on site, which is another pointer to how useful your blog may be to visitors.
Link building is not link earning
Link building is your deliberate action to link your pages to external resources or pages on other websites. This is done through:
blog commenting,
guest posting,
article publishing on article directories and web 2.0 sites,
forum signatures,
expired domains,
profile links, etc
Question: Are links built natural? Share your thoughts below
Natural or Organic links
Natural links are linked earned. You just create an in-depth article and this goes on to get linked to by readers who find it important and valuable. This is the most important link type Google values.
"… The sort of links where people are really choosing to editorially link to you and not just because they are paid but because they think your site is good…" Matt Cutts
Link Bait
This is creating content for the strict purpose of tempting other web pages to link to that website. There is no specific definition of what exactly link bait has to be, as long as it is interesting enough to draw visitors and to be linked to other websites.
Dofollow or Nofollow ?
Outbound links are a way of telling search engines to "go check out what I'm linking to"
Here is what happens…
While Web crawlers are crawling your pages, each time they find a link, they will follow the link and crawl the linked page as well.
But there is a condition to this …
If the link has the rel attribute with nofollow value to it, search engines will ignore it. That doesn't mean the link will be completely dead, though. The nofollow links still play a part in balancing up your link profile.
So while linking to an external resource, you have to decide on whether it's a dofollow or nofollow link. But for your internal links, I'll recommend making them dofollow.
-> Click here to read more about backlinks (dofollow and nofollow)
How to earn links naturally
Any link deliberately created by you is not natural. The only way to grow more natural links is to cause others to link to your articles because of the value it carries. Let them read the article and decide to link to it.
Many bloggers and top websites will not just link to your article because you guys are pals or you have some affiliation. It's not something like "link to me I link to you"
Google is absolutely against some links placed on websites in exchange of something :
money,
product,
mentions, etc
You can go ahead and build links to your blog at your own risk. Link building is one of the many reasons so many blogs suffer Google updates. If you think you can trick Google anyhow, I can guarantee Google will one day find out how you are trying to mess around with it.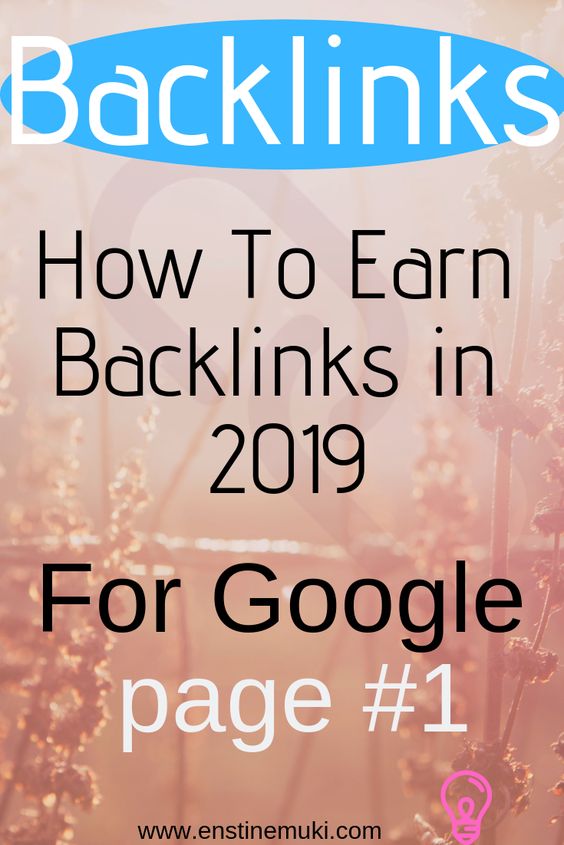 – > Networking with others and linking out to them

One of the most effective ways to attract natural links is to connect with bloggers in your niche. While discussing with my friend and business partner, Karan Singh of BloggingWays a few days ago, I mentioned that you won't succeed as an island, and that's true. You need others.
Once you hook up with active bloggers who share the same ideas and content as you, make sure you constantly link to their content and promote them. That will go a long way to strengthen your relationship and attract some reciprocity from them.
Must Read – 11 ways to create an article that attracts backlinks
– > Bottom line
Avoid anything blackhat. Don't even let it come to your path especially when your blog is concerned. Concentrate on building useful content. Guest post on high authority blogs and comment on commentluv enabled blogs.
– > Conclusion
This is part 16 in the series to create a blog that generates income. If you have not been following up, check out the front page here
Share your thoughts in the comment box below