The HOME link is one of the most important links on the top menu of your blog. It's the shortcut to your home page from any other page or post on your blog.
I have seen a couple of fairly popular blogs around without this link. It makes it a bit laborious for your visitors to bounce back to home page where they can have a global view of your blog.
The home page is one of the most visited pages of most websites so I think it's a weakness to not link to it on the main menu.
When you land on a blog post from maybe search engine result page or link shared on Facebook or Twitter, one of the next things you do after reading, sharing and maybe leaving a comment is to click 'Home' to visit the blog's home page and have another view of the blog. You feel some frustration when you look round but don't find this quick link.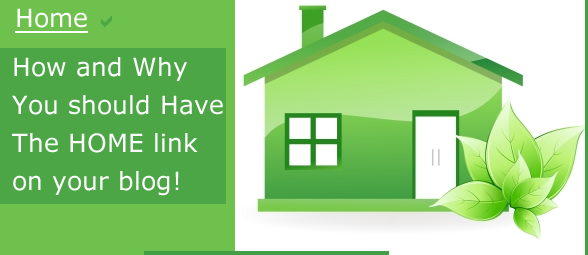 I love always going to the home page because that's where I can easily measure the level of engagement on the blog. I can quickly finger out the recent hot articles and have a general appreciation of the blog.
One of the reasons some bloggers don't have that home link is simply that they don't know how to add it. I used to think this is easy. However, when I got about two requests for help on how to add this link to the top menu, I thought this simple guide will be very useful. So let's see how it's done
How to add the HOME link to your Blog's menu
Login to your WordPress Admin. Point to "Appearance" and click "Menus"
NB: This screenshot below is based on WordPress 3.7.1. There may be some minor differences between this and your actual version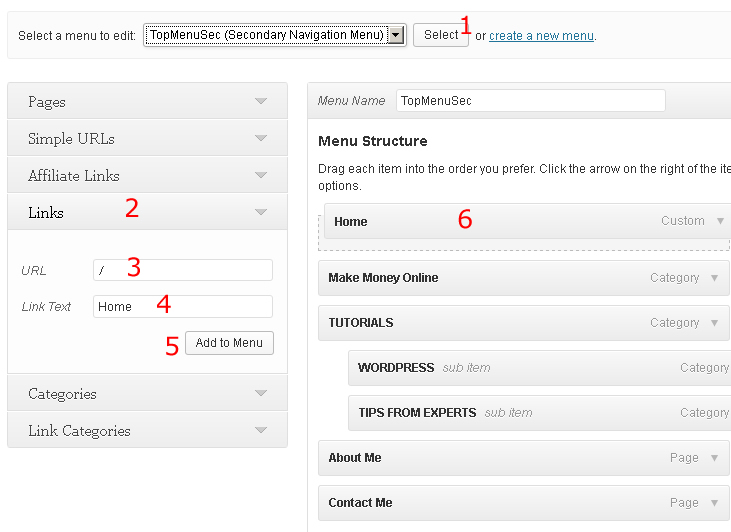 In 1 above, you have to select the menu to add the item (home link) to.  Generally, you'd want to add this to the top menu.
In point 2, click to slide-open the Links tap. In point 3, enter either the forward slash (/) which simply points to the root of your domain or your complete domain name, starting with https:// for instance https://enstinemuki.com
In 4, enter the link text that will appear on your blog's front page (Home)
Just Click 'Add to Menu' in point 5
This will add an item on the right of the page called Home. You will now have to adjust the position of the home link. Just drag and drop to the first position where point 6 indicates.
Finally, click the "Save Menu" button. You must do this to have the changes saved.
That's pretty simple and I hope you enjoyed the short tutorial. Don't keep your visitors in frustration. Add this link to your menu and give them the shortcut they need.
This can also help reduce bounce rate. Don't be surprised that some visitors to your blog article may just leave on that same entry post because they were not linked to the home page. That has happened to me and I don't think I'm the only one in this category.
You can use these same steps to add more items or add these required pages to your menus. Just be smart to know the item type to choose from the left.
Let me hear what you think about this tutorial. Please use the buttons below to share it on social media and give it more exposure