It's crazy how this little thing I did generated 2 more affiliate sales from this blog. What's even more awesome is the fact that these are sales that pay recurring commissions.
That means I'll be getting paid for as long as these 2 buyers don't cancel their accounts.
I want to reveal the exact steps I took (not revealing the product though) and mind you, if you follow these steps, you'll make sales too except your blog is a ghost town.
One thing I want to underline here is that it's not something completely new. Others have been doing it and seeing results. You might have even done it. However, we are seeing it from an angel that generates sales.
Before we get there…
You don't need 1000s of daily readers to make money from your blog. All you need is a working strategy. If you have 50 – 100 daily readers, you can still make enough money to pay some of your bills.
Here is the point:
Knowing your readers and what they want is the first step towards making money online. Secondly, knowing what you have and correctly using it to meet the needs of your readers crowns it all.
The more needs you meet, the more money you make. Period!
My friend and business blogger, Don Purdum is the man to go to if you really want to rightly use blogging to grow your business. Check out his blog here
Ok:
So here is how I used a simple trick to generate 2 more Affiliate sales!
Do you know why I'm sharing my strategy with you?
I'll tell you why!
(clear throat)
It's simply because it works. If you try it, you'll see results – maybe make even more sales than I did!
Step 1!
Identify an affiliate product that's targeted to your audience. Write a detailed review, bringing out both its features and uses. Stress more on uses.
NB: This is not the strategy yet. However, it can generate sales. This is as a matter of fact, the best way to empower your blog to make huge money. The more relevant products you review, the more sales you make.
If you focus on reviewing products that pay recurring commission, your earnings will soon shoot through the roof. It's just as simple as that.
Step 2 !
Here's the point to make additional sales…
Once you publish an article on your blog, you expect 3 things;
Instant traffic from your community (List, social media,  direct visitors, etc)
As time goes on, your article gets buried on your blog and may never be seen by your community
With time, if your article is written with some search engine friendliness, you begin to get traffic from search engines.
I know there are lots of things you can do to give live to your old articles. You may want to use plugins to revive old posts or show them somewhere on your sidebar, etc.
But here are the 2 things I did to revive my old affiliate review post and generated more sales
1 Use Google Search Console
Aha!
I have written so much about how I use this tool to boost traffic and it works. Here is a comment by one reader who tried it and found results: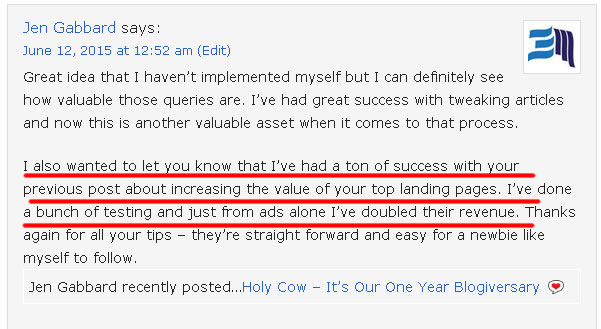 Here again are some exciting articles I published about this free tool:
Google Search Console is a huge weapon in the hands of bloggers. Unfortunately, some of us undermine its importance.
So here is how I used it in the process to generate those 2 extra sales.
I spent some time studying those keywords that bring traffic to my blog. I found out my review post is getting some drops from a keyword I didn't target in the article.
Holy Cow!
So what I did was re-optimize my post for that keyword. The results was boom – first page of Google. Take your time to read those articles above. You'll discover how I re-optimize to rank better.
2 – I re-posted the article!
This is the final step that generated the sales. (Not that this happened before I got to page #1 of Google following the step above)
I'm sure you do have some excellent articles buried right deep on your blog. No one is seeing them. They may have poor value for search engines so not even a single visitor from Google or others.
You may also be using this plugin (or similar) to revive old posts but I can say from experience that re-posting gives your old article fresh exposure.
Don't just re-post…

Do some tweaking, adding some new stuff. Update and make it valuable and relevant. If you wrote the article on something that's outdated, don't re-post.
The affiliate product review post that generated these 2 sales was written in 2014. By the time I re-posted, it was getting less traffic. Practically, there was no traffic from my community members. It was almost completely forgotten except for some few clicks from Google.
After tweaking and re-posting, it generated 5 free signups and 2 paid signups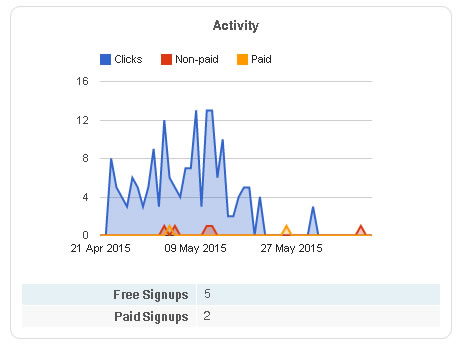 How do you re-post old post?
Re-posting old blog post is quite simple. The first thing to do is open to edit the article to re-post. Then change the published date and time to current date and time.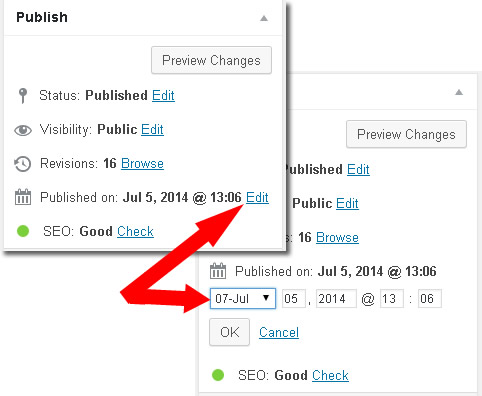 NB: The published date and time should  be server date and time not your local date. For the most part, they are always different.
That's it…
If you have an old money making blog post, edit and re-post. That should generate additional sales.
Bonus!
Stick the article to the home page for a couple of days. I know some themes don't support sticking articles but most Genesis child themes do.

Now, 2 things left to do;
Share this post on social media if you like it. I'm sure your friends will too.
Drop a comment below and let me know about how re-posting has worked for you.