One of the things everyone online wants is to increase search engine traffic. I can understand this because traffic from search engines converts more. It's, as a matter of fact, the most targeted traffic you will ever get to your website.
One big problem however is how to increase this natural traffic. We have read a lot on backlinks, long and short blog posts, onpage SEO, etc. These are all beautiful tips that produce results.
For the most part, we do these things, yet there seems to still be a big barrier ahead of us. While some few are killing it with huge natural traffic, most of us are barely scratching the surface.
Take note that I am talking about ways to increase search engine traffic. That means you already have some drops or few clicks from Google, Bing, Yahoo, etc. Now you are worried about getting more of this. So here is how!
My hidden trick to increase search engine traffic to my blog!
I want to share with you an absolutely powerful trick to highly and progressively increase your natural traffic even if you are a newbie in the SEO industry. As a matter of fact, most of the pros are using this tip. That's why you often find them on Google page #1 for most of the keywords you are targeting.
But before I continue, here is a solid point to note: The only reason you will fail is when you don't practice this trick. As a matter of fact, if you know you won't do it, don't bother reading any further. I advice you close this page and go get ready to watch the next football match in Brazil. However, if you want a steady and sure method to move your pages from Google page God knows where to Google page #1, keep reading!
What I'm about to show you is no rocket science. You probably have read it somewhere but if you failed to practice it, take this as a reminder.
When I published this WebMeUp review, it went to Google page #3 after some days. Same thing happened to this Formget review post (though on page #2) I used this same method to bring these entries to Google page #1 after about 2 weeks.
On Google.com, at the moment of writing this post, I already moved the entry for the keyword Formget Review from page #2 to page #1 and position #2.
Move to Google page 1 and increase natural traffic!
Before I discuss the trick, let me get some broad points covered. These will help get your posts ready for page 1 on SERP.
The first thing you need to do is get that keyword with less competition and fairly good number of monthly local searches. For the most part, this will get you closer to page 1.
Secondly, do your onpage search engine optimization properly. Use your keywords in post titles, descriptions, first paragraphs, <h> html tags, image alt tags, etc.
Use related LSI (Latent Semantic Indexing) keywords in description meta tag and of course, on the body of the article.
NB: Sometimes it's hard to get LSI keywords for your posts. I recommend grabbing a copy of SEOPressor. It's an excellent WordPress SEO Plugin that will automatically scan your article and create a list of LSI, related keywords that are already being used on search engines.
Now let's get to the core of this post – How to Increase search engine traffic!
The main tool we are going to be using here is Google Webmaster Tools. There are two main reasons I recommend this tool;
It is free.
It helps us know which keywords drive traffic to which pages.
Make sure you create a free GWT account and add your domain. It will require some days before you start seeing stats in your account.
We will go to GWT and list the keywords or key phrases that generate the most impressions and the least clicks. You will discover that some keywords generate so many impressions with 0 clicks. We will pick such keywords and go tweak the articles they point to for better ranking position on SERP.
NB: If a keyword already generates impressions in GWT, it means you can tweak it and rank better. A keyword that's absolutely so difficult for your blog to rank for may not even figure in your GWT account.
One other thing you will notice is that some of the keywords you find in your GWT are keywords you did not even target. In the Formget article I mentioned above, the main keyword I targeted is not the one I'm currently getting traffic from.
I think that's another beautiful phase of GWT. It helps you discover many more keywords you may not have known.
So go to your GWT account and select the domain you want to work with. Click Search Traffic and Search Queries on the left menu.
You will be presented with a list of keywords that drive traffic to your blog. The next thing is to click the impressions tab to list in descending order – from the largest to the least.

This are stats for one of my blogs. You notice that one key phrase for the current period has generated up to 963 impressions with ZERO clicks. One other interesting thing to note is that my entry shows up on position 34 in Google. That is page 3+ of SERP.
From every indication, I may be able to do well with a little tweaking. The next thing I'll want to do is to use my keyword tool to analyze the strength of my competitors already occupying top positions on page #1.
NB: I use LongTail Pro. It's an excellent keyword tool you need to beat your competitors. Download a free copy here.
This will give me an idea of the amount of work I'll need to put up. If the competitors are weak, I may just do a simple onpage SEO tweaking and some commenting exercise to beat them. If they are tough, I may need to do more tweaking and backlinking to push them off and take the place.
However, for the most part, and with proper keyword research at the beginning of writing the article, it will always be easy to beat a greater portion of these competitors and rank better.
So let's go back to GWT and click the keyword you want to work with. This will give you more details – the pages the keywords point to, position on SERP, impressions and clicks change, etc.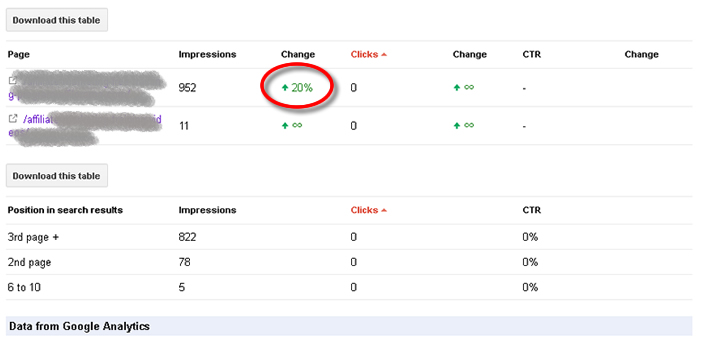 You see here that my top keyword that triggers 963 impressions actually points to 2 pages. Have you noticed the positive 20% change in the first entry on that image? This is as a result of the onpage tweaking you will see below.
Now, you have to grab this keyword and open the article that gets the most impressions from it. Find out if you optimized the article for the keyword. If you did, that means you need to do a little more tweaking as I describe below.
If you didn't optimize the article for that keyword, then celebrate. That means you'll need to do just less work to get it to page 1.
It's simple to understand!
If you didn't have that keyword in your title and description meta tag, you didn't have it in paragraph 1, you didn't have it in image tag, you didn't have it in <h> html tag, etc that makes the tweaking job so easy.
Tweak your posts to increase natural search traffic!
This is an interesting exercise I do almost daily. For the most part, it does not require any much work to see interesting results.
Here are the points I often tweak that will shift my entry towards page #1 of SERP.
Page Title: I often go back to the article to make sure the keyword appears in the title. If the keyword already in the title, I make sure it occupies the first position.
Keyword meta data: Just like in the title above, I will make sure the keyword is in the keyword meta tag, and it has to be the first.
Description meta data: The description entry will help increase CTR. So I make sure I get the keyword here and one other LSI keyword.
First paragraph: There is no doubt about this. I make sure my main keyword appears in the first paragraph of my article. It has to be as close to the top as possible.
HTML <h> tag: This is another serious point. I will use the keyword in 1 or 2 <h> tags on the body of my article.
Images: I have found images to be an important onpage SEO factor. When tweaking my pages, I add more relevant images with the keyword in the alt tag.
Use the LSI keywords in the image alt tags. The more the images, the more LSI you can use. However, you have to avoid irrelevant images. Get the Smushit WordPress plugin to automatically optimize your images each time you upload them to your blog.
Add videos to the article.
Add more text: I often do add more paragraphs and sentences when tweaking my posts. This increases the length of the document, making it more in-depth. However, you have to avoid repeating sentences or adding nonsense.
Adding more paragraphs and text will also help you add more LSI keywords.
Increase internal links to existing articles
David McSweeney published a post on Content Rebirth. He details how he tweaked an article and increase traffic by By 496% In 4 Hours. Check his article here.
NB: I still recommend checking out SEOPressor to help you automatically scan your posts and generate a list of LSI keywords.
Backlinking through commenting to increase search ranking.
You can do some more backlinking activities to create some more backlinks to your tweaked article. I use Commentluv Premium to help me do this. This plugin is the killer if you want to build backlinks to your old posts easily.
Imaging the post you are tweaking has been long buried. Without CommentLuv Premium, it will be difficult to pull it out and link to it while commenting on other blogs. As a matter of fact, blog commenting is the easiest way to build backlinks to your blogs without sweating.
On your Commentluv settings page, add the tweaked post to the list of favorite posts. This will make it available in your drop down list each time you want to comment on CommentLuv enabled blogs.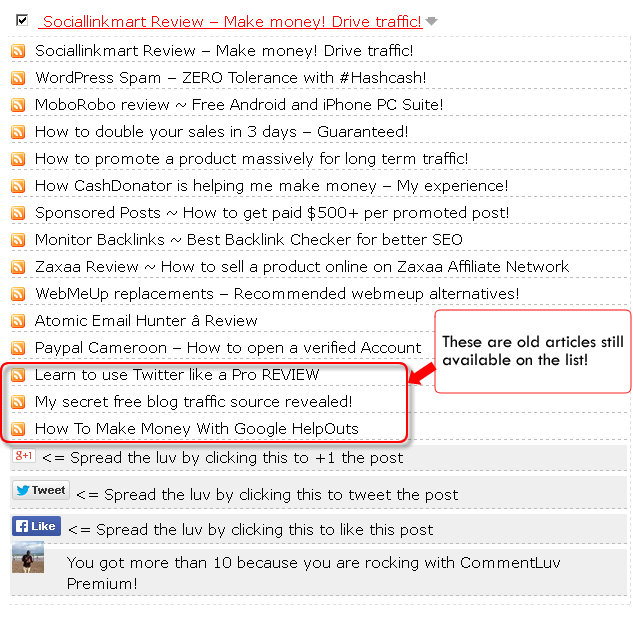 CommentLuv gives its users the possibility to add 5 favorite posts to the drop down list. Your 10 most recent posts will be listed to the top of the list.
You see that with this plugin, I can easily build backlinks to my tweaked post through blog commenting no matter the age or the article.
Download CommentLuv Premium here!
Not all CommentLuv blogs are dofollow.
For instance, you need 15 valid comments on my blog here to get dofollow links. In some other blogs, the dofollow option is history.
You know you will need dofollow links to get positive SEO results. One of the ways is to search Google for "dofollow commentluv blogs" in your niche.
There are many other methods to build link. Use the one you know most to add links to the tweaked post.
However, in some cases, you may just have to do your onpage SEO and move to page one. That has been the case with the Formget review article I mentioned above.
Conclusion!
Now, I just shared with you how I increase search engine traffic to my blog. I hope you try out this method.
Let me hear from you in the comment box what you think about this method. Have you used it before? What are your results.
If you like this post, kindly share it on social media. The tool bar is just above this post.