Discussed! Unique blog post idea that generates income!
To make real money blogging, you have to be able to create money making blog posts. However, it's often not easy to come up with money making blog post ideas.
Plastering banners on your blog to generate income is good approach but generally will not generate enough earnings.
Affiliate product review post is an excellent blog post idea to generate consistent earnings from your blog. I think that's where the real power to make money blogging lies. For better results, focus on reviewing affiliate products that pay recurring earnings.
NB: Get a copy of my ebook. Lots of affiliate marketing hidden techniques revealed!
But this idea I'm about to share is far from that – well, though it has some affiliate earning aspect attached to it, I want to share just how I got paid $525 (and counting) to my Paypal Account.
While I'm still doing some more research, I think the information I have can already help you make extra money.
This is some crazy blog post idea!
The whole thing relies principally on one English word. I really didn't know it makes, for the most part, a hot search term.
Though I missed it slightly in the beginning, I quickly found the direction this was going. With the help of Google Webmaster Tools, (Now Google Search Console) I tweaked one of my articles and generated $525 from it 😉
Not bad!
NB: Google Search Console is a powerful tool that can help add more value to your blogging activities.
I wrote an article in the past on how to double your income with a hidden SEO trick. I actually applied this same SEO trick to raise my earnings as I'm going to show you. If you didn't read this article, I recommend checking it how this moment:
The $525 blog post idea!
I mentioned above that this post idea relies on one simple English word. Here is the word ;
– > alternative
Closer to this is another word that seems to generate almost the same results. Here it is;
– > replacement
Note that those words are not in their plural form. That means there is no "s" in front.
From what I'm about to share, the word 'alternative' works better. Look at the screenshot from my Google Search Console account. The keyword 'webmeup alternative' is pulling traffic from search engines.
Initially, I targeted the keyword 'Webmeup Replacement' but that didn't pull in traffic as I wanted.
NB: If you are not making use of Google Search Console, you are certainly leaving out an important component of your marketing strategies.
I was ranking on page 1 and position 1 for the keyword 'Webmeup replacement' (still on that spot at the time of writing this post) with no outcome. After a few weeks, I found the real keyword 'Webmeup alternative' in my Google Search Console with over 100 impressions, Avg position of 30+ and no clicks.
That was when I took steps to apply the trick I shared in this post. After tweaking the post (adding some more meat, do some blog commenting and creating backlinks to it), there was a huge improvement in ranking.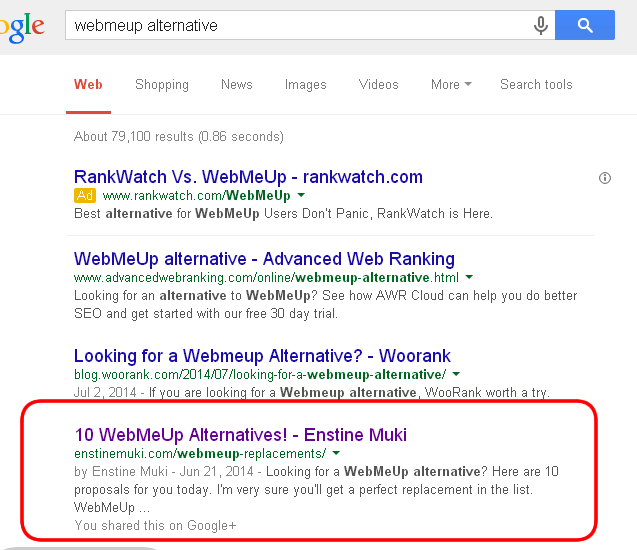 Here is how I tweaked the Post
The initially targeted keyword was 'Webmeup Replacement'. I had this keyword on the post title, url, introduction, description and image alt tag. Now I wanted to switch to a different keyword that's doing better. So I did the following;
I added the keyword 'Webmeup Alternative' to the title.
I used the same keyword (now in singular) in the introduction and description of the title.
I added it to some image alt tags.
I optimized the body of the post for that keyword.
NB: I didn't change the post permalink. That would have been an insane step to create a broken link. (In my Affiliate Marketing For Bloggers, I discussed in details how to change the permalink and maintain your natural traffic)
Etc
And the result after a few weeks is what you see in the image above.
I didn't end there. A few other tweaks, commenting and linking back to the post, Here is the final results.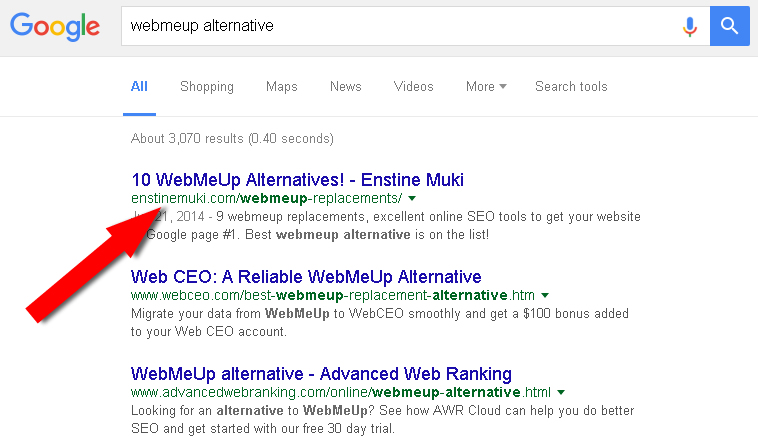 How to profit from the word "Alternative"
That's just what this crazy blog post idea is all about. People are always looking for alternative solutions. If you know this and can use it well, you can always make money.
Every great product has an alternative and most users always look for that alternative. That's what most of us don't know. People always think it is better elsewhere.
The opportunity is even very hot if a service folds up. That was the case with WebMeUp. As soon as they announced they were to quit business, I quickly thought of creating a post on webmeup replacements. My initial article had about 5 alternatives on the list. But as I write this post, they are 11 -that means 6 more additions.
Here is the deal …
Create a post, listing alternatives of any product and use "productname alternative" as keyword
Monetizing the post
Off the bat, I had no intention to generate income from this post. I wanted just to make a list of alternative SEO traking services.
But Boommm!
I soon got a mail from an SEO firm asking for requirements to be mentioned on the list. That was like some light that flashed darkness out of my brain.
After a series of negotiations, a deal was concluded.
Boom Boom! Another mail from another SEO firm asking to be on the list. Now, if you've been reading my blog, you know I love negotiations, adding value and raising up the reward. That brought in another deal for cool cash.
That wasn't all! Another request came in to be featured on the list for a pro account as reward.
I ended up with over $500 and service pro accounts from more than 3 SEO firms.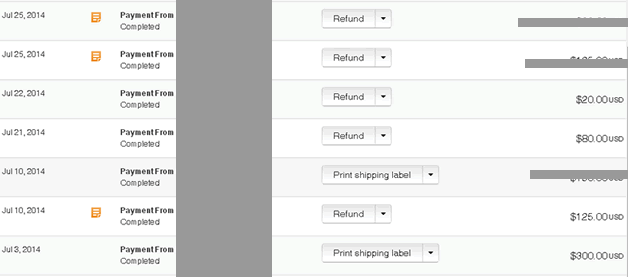 From the Paypal screenshot above, that's exactly $525 generated by that post.
Clone this blog post idea for profit
Do you know of a product or service that's about to close up? Chances are that current users will be look for an alternative. All you have to do is quickly put a list of few alternatives. Optimize for keyword "productname alternative".
As soon as you start getting traffic from that keyword, be ready for business mails 😉
How to use Twitter to spread the word
This is smart!
I discovered that most of the alternatives were on Twitter so I simply called their attention to the product alternative post. Here is a sample tweet I posted;

So while Google is sending traffic to the post, don't just sit and wait. Go ahead and contact services that will be interested in getting listed on the post.
However, most of those you contact yourself may not be willing to spend. If someone contacts you and asks for requirements to be listed, there are chances he's ready to spend.
What do you think?
Money making blog post idea isn't it? Please share your thoughts in the comment box below. Are you going to apply this idea?
Show some love and Save/Pin this on Pinterest