WhatsApp error : Your Phone Date is inaccurate! Adjust your Clock and try again!
Don't panic!
The solution I'm proposing here should fix your phone date error for Samsung (Tizen and Android) phones:
Samsung z1
Samsung z2
Samsung z3
Samsung z4
And for the Galaxies and any android phone you are using.
Your phone tells you to check and correct the date. You check again and again to make sure you are not making a mistake but each time you try to start WhatsApp, you get stuck at this error screen.
-> You've got the solution on this post!
Watch Video First
WhatsApp is a hugely used mobile app for SmartPhones Phones and everyone gets so excited especially going through the fresh experience of having to start WhatsApp for the first time. Now, it also happens to old folks each time they procure a new Android phone.
My Android phone got bad. I allowed my kids to turn it to a game ball. So the result was that some liquid sipped in. So I had to get a brand new phone.
But before buying a new smartphone, a client just called me (I got back to an old phone I had before upgrading to smartphone). He said he tried to get to me on WhatsApp to no avail.
Oups:
I promised him I was going to be "WhatsApping" the following day. So I got this exciting phone which was shipped with the very exciting smartphone messenger. One of the first things I did after booting the Android device was locate the chat app and tapped to start it.
Behold the message: Your Phone Date is inaccurate! Adjust your Clock and try again!
How to fix your phone date is inaccurate WhatsApp Error!
Now let's try different options in these troubleshooting steps to fix the problem once and for all
1 – Check date and time again.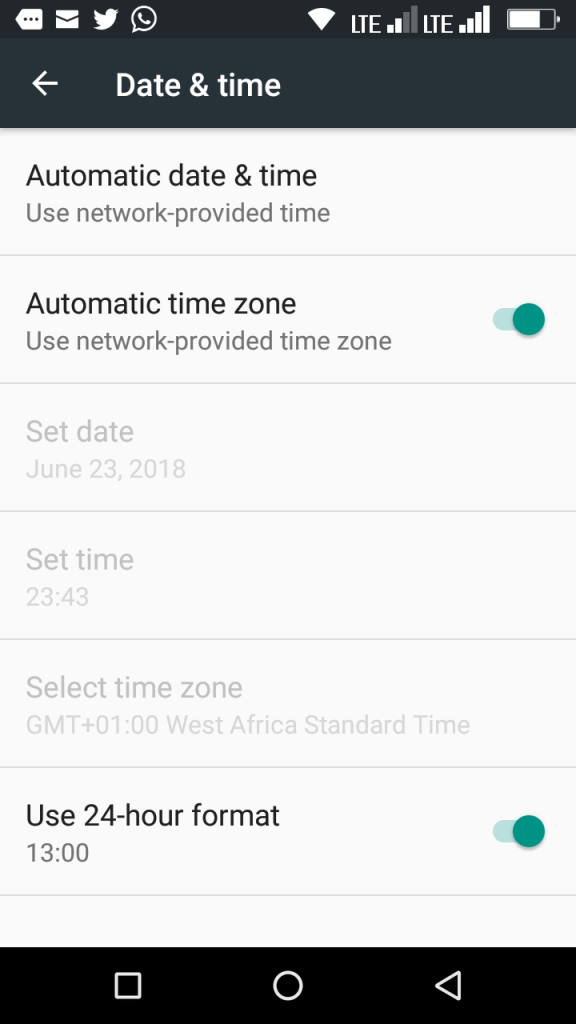 This error message , for the most part is generated by an old version of Whatsapp in your Android phone. But before we proceed, check to make sure your date and time are correctly set.
2 – Update your WhatsApp for Android
Let's try to run an update
Go to Google Play Store and type Whatsapp in the search box and open the Whatsapp page from the search result. You may want to click here to go straight to WhatsApp page. (If this is your first time opening Play Store, you will be required to login with your Google Account Parameters)
Here you should see the Update and Uninstall buttons
Tap on the Update button. This action will download the latest version of WhatsApp and update the current version on your phone.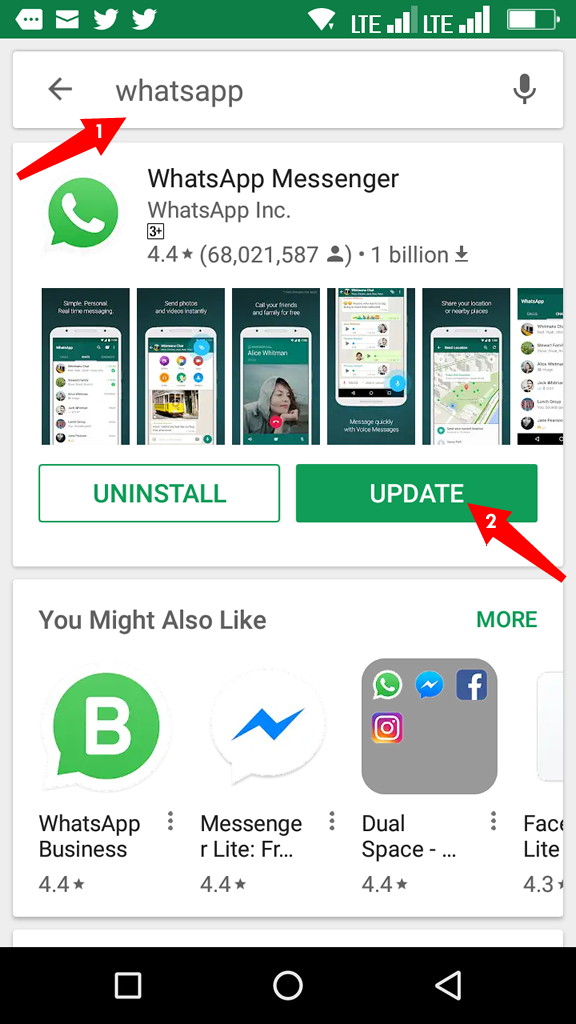 NB: This may not be the exact presentation on your phone. But the two buttons (Uninstall and Update) should be available.
Once update is complete, start the application. If the error persists, let's try the next solution.
3 – Completely remove the Application and re-install it in Android
In this approach, you will have to remove or uninstall this outdated version and install the update. Deleting the current version may just be your solution.
Here are the simple steps to follow:
Go to Settings -> apps. Select WhatsApp from the list of installed apps. Uninstall it. Optionally, go to the WhatsApp page on Google store and hit the "UNINSTALL" button
After removing the app from your phone, go back to WhatsApp page on Google Store or simple slide to locate the "Play Store" icon on your phone home screen. Tap on it to go to Google Play Store and search for WhatsApp using the search engine. For the most part, this is going to be the first entry on the result page. Just install it.
After installation, go back to the WhatsApp page on Google Store to make sure you are running the most-up-to-date version.
NB: It's important you check on play store to be very sure you are running the latest version. Make sure the "Update" button has been replaced by the "Open" button.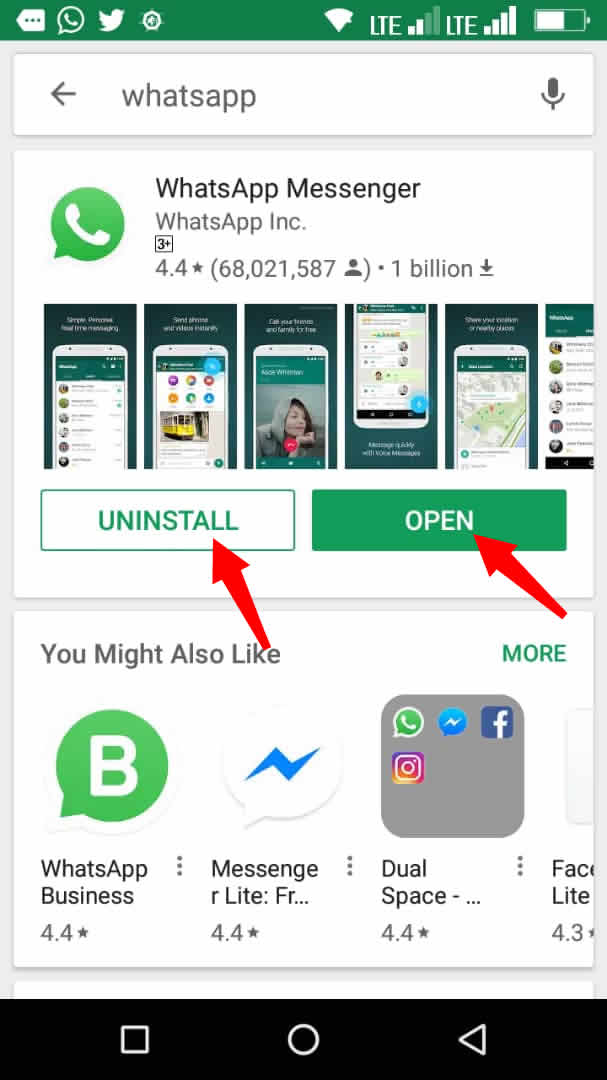 This common "Your Phone Date is inaccurate! Adjust your Clock and try again" Android WhatsApp problem most often is resolved by either updating to the current version or completely removing the shipped version of WhatsApp and installing the current version.
The third option was exactly what I did and I was back on WhatsApp and my client could get to me so easily without making costly phone calls.
If you have this problem (your phone date is inaccurate Whatsapp) , follow these steps and share your results with us in the comment bow below. I'll be excited to hear from you.
Please share this post on social media so your friends facing the same problem can find the solution!
Your Phone date is inaccurate – WhatsApp on Tizen Samsung
Tizen is a mobile operating system developed by Samsung that runs on a wide range of Samsung handset.
Note that Tizen Store is different from Android Store. While you need a Google Account to connect to Play Store, you need a Samsung Account to connect to the Tizen Store.
To install WhatsApp on Tizen, navigate to Apps Screen -> Tizen Store -> WhatsApp -> Get -> Download -> Launch -> Agree and Continue
Other Samsung devices
I have noticed users of other Samsung devices:
Samsung galaxy note,
Samsung wave
Galaxy grand
Samsung gear
Galaxy Tab
And the Galaxy series: Galaxy s7, Galaxy s3, Galaxy S2, Galaxy s5,  have the famous date issue with WhatsApp. If trying the steps above doesn't resolve the issues, you may want to upgrade to the new Samsung Galaxy.
Dealing with other Mobile device
We may not be able to cover specific details for each and every type of mobile phone and their different operating systems. However, if you have a Windows Phone, Google nexus, Nexus 6, Nokia asha, Xperia, Moto, etc and the instructions I gave above don't work for you, you may have to consult your phone fabricator.
[thrive_text_block color="light" headline="Recommended Posts"]
[/thrive_text_block]
Backdate your phone. This may work
If trying any of the solutions above doesn't work, you should step the date of your device one day earlier. If today is the 12th of December, step it back to 11th.
Some users have reported this to work with some bugs though. They don't get to be able to download images. However, they send and receive messages.
You cannot use WhatsApp for pc with this error
One of my students asked if they could use WhatsApp web or the PC version of the chat app without having to worry about solving the date problem.
It's clear you can't. The desktop and web versions are simply mirroring the mobile version. If your mobile WhatsApp messenger isn't function, there is no way you can operate the web edition
To go ahead and setup the messaging app on your desktop, go to the official website and download whatsApp installation file.
Using Facebook Messenger and other alternatives
There are many different mobile messaging apps out there and Facebook is hugely used on the list. Many mobile messaging device owners don't often face technical difficulties with Facebook.
We have Wechat, Telegram, Viber, etc that can effectively run on mobile phones with the Android operating system, and if you ever start doubting the validity of the phone numbers that you have amongst your contacts, you can always resort to a tool like ClearoutPhone to give them a quick check and always have a clean environment for both personal and business purposes.