50
WhatsApp phone date is inaccurate ~ EXACT STEPS to fix this error!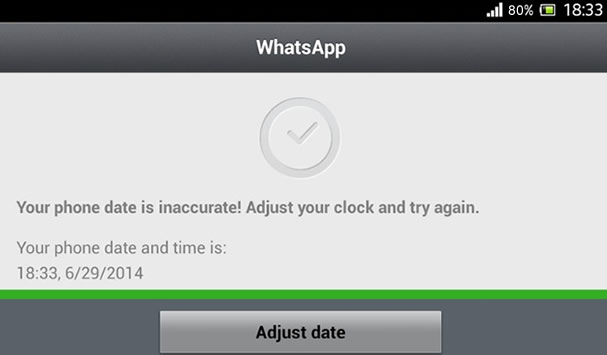 WhatsApp error : Your Phone Date is inaccurate! Adjust your Clock and try again! causing panic because you know your date is accurate. You checked and made sure you are not making a mistake but each time you try to start WhatsApp, you get stuck at this error screen.
-> You've got the solution on this post!
WhatsApp is a hugely used mobile app for SmartPhones Phones and everyone gets so excited especially going through the fresh experience of having to start WhatsApp for the first time. Now, it also happens to old folks each time they procure a new Android phone.
My Android phone got bad. I allowed my kids to turn it to a game ball. So the result was that some liquid sipped in. So I had to get a brand new phone.
V360 Pro Smart Watch with Siri Waterproof Support Whatsapp for iPhone Android Phones
But before buying a new smartphone, a client just called me (I got back to an old phone I had before upgrading to smartphone) . He said he tried to get to me on WhatsApp to no avail.
Oups:
I promised him I was going to be "WhatsApping" the following day. So I got this exciting phone which was shipped with the very exciting smartphone messenger. One of the first things I did after booting was locate the chat app and tapped to start it.
Behold the message: Your Phone Date is inaccurate! Adjust your Clock and try again!
How to fix your phone date is inaccurate whatsapp Error!
I didn't like it at all but then I knew I could get it resolved so quick. I knew the date was correct because I just corrected it a few minutes. So what is the quick fix?
Solution:
This error message , for the most part is generated by an old version of Whatsapp in your Android phone. The solution evidently is to remove or uninstall this outdated version and install its update.
Recommended Posts: 
Here are the simple steps to follow:
Go to Settings -> apps. Select WhatsApp from the list of installed apps. Uninstall it. You are half-way gone into solving the issue.
The second step is to install the latest version of WhatsApp from Google Store. Simple slide to locate the "Play Store" icon. Tap on it to go to Google Play Store. If this is your first time opening Play Store, you will be required to login with using your Google Account Parameters.
Once you are on Play Store, search for Whatsapp. For the most part, this is going to be the first entry on the result page. Just install it.
The common " Your Phone Date is inaccurate! Adjust your Clock and try again" Android WhatsApp problem is resolved by simply removing the shipped version of WhatsApp and installing the current version.
That was exactly what I did and I was back on WhatsApp and my client could get to me so easily without making costly phone calls.
If you have this problem (your phone date is inaccurate Whatsapp) , follow these steps and share your results with us in the comment bow below. I'll be excited to hear from you.
Please share this post on social media so your friends facing the same problem can find the solution!