Android users looking for best battery saver app for Android devices – try out DU Battery Saver, an excellent Android battery saver.
Android is a popular mobile phone Operating System and one of the main problems faced by Android users is related to battery life.
Constantly running apps, games, connecting to the net and making calls keep your android phone very active and this hugely pulls down your battery.
Sometimes you may ask why your phone's battery keeps running down during moments you are not actively using it. The simple reason is that there are always background applications that constantly run and some of these applications may not be required.
Most of us have to move around with our phone chargers because once charged to its full capacity, it won't take long for it to run down. Keeping your device connected to the charger all the time can damage your battery or reduce its life.
I know you are searching for the best battery saver app for Android so let's look at something that's proven to be the choice of over 100,000,000 Android users.
DU Battery saver ~ Best battery saver app for Android!
DU Battery saver is a free Android battery saver that can get up to 50% more battery life for your Android phone. It's the world's leading battery saver & power manager with over 100m downloads. Many of these users have described it as the best Android battery saver.
This app is simple and goes straight to solve the problem it's meant to. It's easy and user-friendly. It does not require any complex procedures to operate.
First, we have the "Optimize" button with an advanced technology to instantly find and solve battery problems. This allows you to stop power-consumptive background apps with one tap to boost your battery life.
For the most part, some of these background apps and hardware are not required to constantly turn on.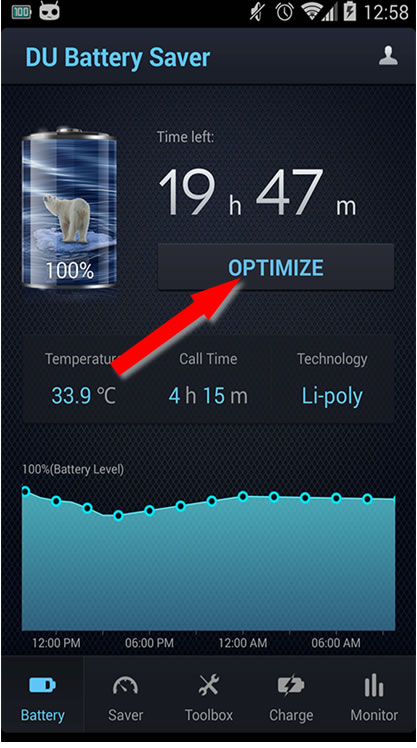 I used to have my bluetooth component constantly running even when I don't need. The other day, one of my colleagues had her Wi-Fi turned on in the office while she actually was working on her desktop PC with absolutely no need to connect to the local network with her mobile.
There are many of such apps and hardware that run without your knowledge and this contributes highly to discharging your battery so you actually need an intelligent battery saver to locate this apps and turn them off.
Multiple Android battery saver modes!
DU Battery Saver  functions in different saver modes so you can effective manage and prolong your battery's life.
First, there are 3 Pre-set Modes. You can choose one that fits your battery power usage, or customize to find the right balance of battery life and performance using our battery saver. These 3 modes are:
Long Standby – keeps dialing and SMS available while maximizing standby time
General Mode – save battery power even while keeping most Android services running
Sleep Mode – turns off most services EXCEPT THE CLOCK to save your battery power until the morning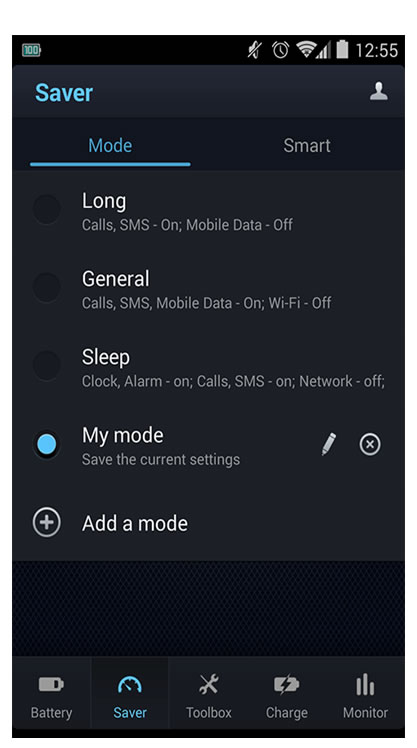 Apart from these 3 Pre-set Modes, you are able to create a custom mode (with the "Add a mode" option) to get exactly the battery savings you need.
Manage background apps with DU Battery Saver
Management and turning off some background apps is an efficient way to safe battery. Some of these apps are constantly running even when you don't need them. The main issue has been how to identify and stop some of these background activities.
DU Battery Saver is an excellent android battery saver with  an intuitive interface that shows all active background applications with an easy button to switch them off.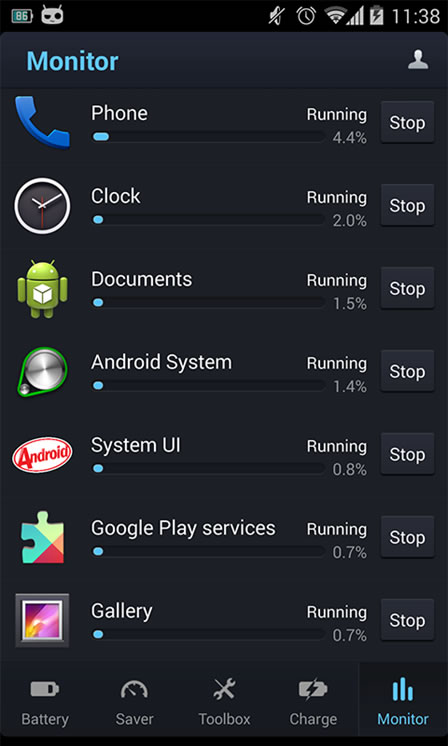 DU Battery saver Healthy Charging Manager
Your Smartphone Battery (Lithium-Ion battery) needs to be discharged to below 20% of capacity, then charged fully often. This is recommended once a month.
The Healthy Charging Manager in DU Battery Saver tracks and implements healthy charging practices in different stages to keep your battery working its best.
Quick video
Here is a quick video to summarize this app

Now you can go ahead and download what has turned out to be the best battery saver app for Android. Click here for more
Conclusion
Are you an Android device user? What in your opinion is the best battery saver app for android. Let me here your thoughts in the comment box!