Whatsapp Web App – Making mobile messaging more fun! But someone may be seeing all your messages without you know. Keep reading!
In this post, I'm going to give you a step by step guide for you to follow so as to pair your phone with WhatsApp desktop or web.
This chat is fast becoming one of the most used mobile messengers in the history of smartphones. Facilitating communication between users worldwide, the smartphone's messaging giant is constantly expanding to dominate its industry.
A couple of factors make WhatsApp a must-use for many. These include;
The WhatsApp web app – nothing to install.
A user-friendly and smart environment.
An exciting Video and audio sharing facility.
An excellent bookmarking feature.
Easy-to-use group chat system.
Excellent voice quality.
Free for first life.
More About WhatsApp!
Are you comfortable with the micro keyboard?
Most smartphone users are still not comfortable with their micro keyboard. While this slows down the conversation, switching between modes, trying to locate different buttons can really be a pain.
Here is how to Use #WhatsApp on your Computer
In order to provide users with a richer communication experience, WhatsApp is now accessible both on mobile phones and computers through the web browser and desktop installation.
Personally, I think using WhatsApp on a website is most ideal but you have to watch out for the issue I mention a little further.
WhatsApp Web App – a richer Experience
Using WhatsApp on the web browser is one very exciting exercise. However, not all WhatsApp subscribers are able to access their sessions through the web.
At the time I'm writing this article, the web version is available only for Android, iPhone 8.1+, Windows Phone 8.0 and 8.1,Nokia S60, Nokia S40 EVO, BlackBerry and BlackBerry 10 smartphones.
Note that web version is simply a computer web-based extension of the WhatsApp account on phone. Any action taken on the phone will apply to WhatsApp Web and vice versa. The Web version is not another WhatsApp account.
That means for you to be able to use the web messenger, you need an active Internet connection on your computer and your phone has to be switched on. You'll also need to use the latest version of Chrome, Firefox, Opera or Safari as your web browser on your computer.
How to connect to WhatsApp Web Version!
-> To get started, go to web.whatsapp.com on your computer ( use the latest version of Chrome, Firefox, Opera or Safari)
-> Open WhatsApp on your phone.
On Android: in the Chats screen > Menu > WhatsApp Web.
On iPhone: go to Settings > WhatsApp Web.
On Nokia S60 and Windows Phone: go to Menu > WhatsApp Web.
On Nokia S40: Swipe up from bottom of screen > WhatsApp Web.
On BlackBerry: go to Chats > Menu > WhatsApp Web.
On BlackBerry 10: Swipe down from top of the screen > WhatsApp Web.
-> Scan the QR Code on your computer screen from your phone.

Note however that you can't be connected on more than one computer at a time. You'll need to disconnect from one to be connected to the other.
From your phone, navigate to WhatsApp Web to view your logged in computers or to logout from an active WhatsApp Web session.
Thanks for reading and please drop a comment below. I'll be excited if you share this post on social media too.
The bad thing about WhatsApp Web – leaked data
Using WhatsApp on the web is thrilling but there is a bad social side of it.
Anyone can monitor your WhatsApp conversations at any distance if you are not careful. This can be done very easily without you probably knowing.
I have a friend who did not know how to use WhatsApp web. One day, her boy friend came visiting and wanted to monitor her WhatsApp chats.
This guy brought his laptop. At one point, the lady stepped away and the guy quickly took her phone and linked her WhatsApp account on his Firefox browser.
That was all he needed to know what was being discussed. He discovered some conversations and this let to relationship misunderstanding. That was bad if you ask me.
How do you know if your WhatsApp is being monitored on the WhatsApp web?
Is someone secretly reading your messages on WhatsApp web?
This is very easy to do. I want to show you two ways to find out.
First, each time you have unread text messages, WhatsApp marks them with the count of the number of messages on a green dot.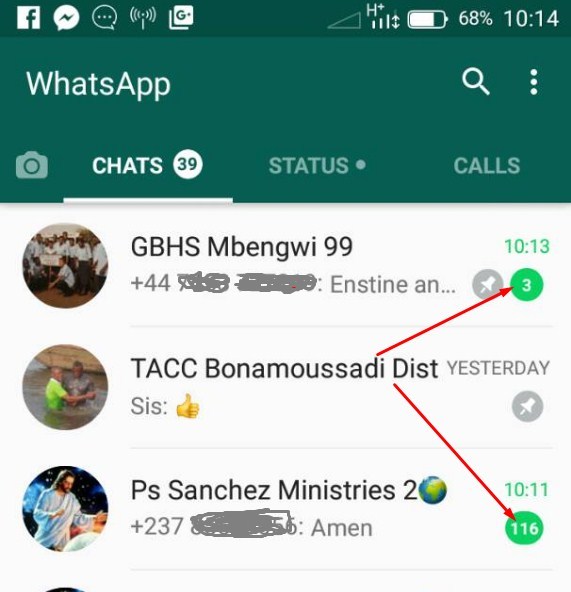 Those green signs give you the number of unread messages from individuals or groups. If you notice a contact or group pushed up to the top of the list without those green dots, note that someone has read the messages.
Another method is to check from your Whatsapp menu if there is any active connection that's not yours. Note that Whatsapp web cannot work on more than one browser or browser tab simultaneously. If you are connected on computer A, by the time you connect on Computer B, you will be disconnected from Computer A.
So if you check your menu and find out there is an unknown connection, take steps to stop it. Here is what this may look like: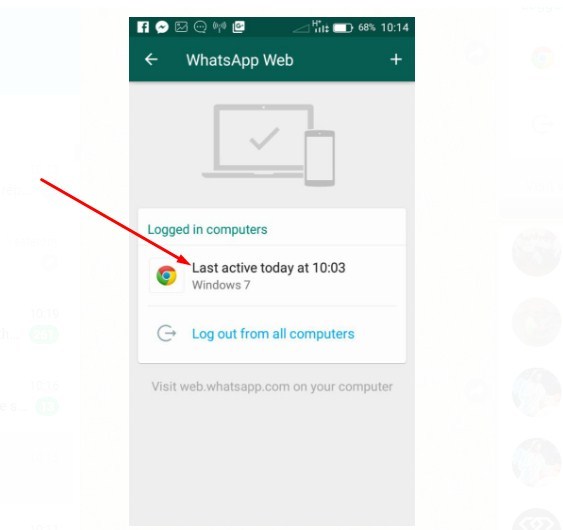 WhatsApp free download for desktop
From all indications, running a messaging application on PC is with a lot more ease. After the web version of WhatsApp was globally accepted, the team went ahead to release a desktop version for free download.
This like the web client allows users to seamlessly send photos, do voice calling, send send text message, etc.
With the push notifications function, users get a popup alert each time there is a new unread message from a contact or group.
While the cross platform web based version (Chrome brower, Firefox, Opera, Safari or Edge browser) is highly being used, the desktop edition is only available to Windows 8 (or newer) and Mac OSX 10.9 (or newer).
Make sure you download WhatsApp from the official website here. Picking a copy from any other location may download a copy with some malicious code that will expose your system to hackers.
WhatsApp web doesn't work on mobile
The web version of the mobile chat app doesn't function on smartphones. It was specifically designed for Personal Computers. Any attempts to open it on mobile will simply redirect you to the app's main page.
This is actually an issue for users who may have space problems on their phones installing another app. However, WhatsApp is often a priority app so many mobile OS come with it pre-installed.
Whatsapp web scanner Scanner not working
One of the issues you may experience with the WhatsApp web app is at the lever of the QR scanner. As this is the only means to connect your Phone version with the web app, any malfunctioning at this point means you will never be connected on the web.
If your Phone Camera is broken you may have to get it changed before you will be able to connect. If it's just dirty, simply used the most appropriate materials to clean it. Usually, after proper cleaning, you will be able to connect.
Draw your Phone Camera as near as possible to the computer screen, focusing on the QR code. This generally takes a few seconds to pick.
WhatsApp Vs Facebook Messenger
It's important to note that WhatsApp is owned by Zuckerberg and his team.
==> See this article for details
Both tools are excellent instant messaging tools. Facebook Messenger has more APIs to make it a more used and integrated business tool. WhatsApp however is being more and more built in applications but messenger is leading.
Accessing WhatsApp free instant messenger doesn't require password or usernames. You only have need for your phone on which it's installed to be switched on and connected to the Internet.
Other Instant message applications used in Africa
In many African countries, WhatsApp is the most used chat app. Don't ask me why because I don't know. Telegram is another messaging app very popular among developers.
Wechat is little known. Yahoo Messenger seems to have completely been smashed out of the market. Apple's Imessage is something you don't hear about in the content. Android phones are most common.