Another exciting Thursday and we are meeting someone to help you build a solid income online. That's the reason for this weekly post here on this blog – help us meet people who can help.
I want to mention here that everyone I contact to feature surely will have something for you. They are pros and busy bloggers but if you engage with them, there is surely going to be an interesting relationship.
For the past few weeks, I have featured the following must-follow bloggers:
Donna Merrill Don Purdum Kevin Duncan Sherryl Perry Mi Muba
Now is time to meet Erik Emanuelli, an entrepreneur, traveler and passionate blogger. Erik traveled for work and pleasure in over 30 countries around the world.  He's here to teach you how to make a solid income monthly online.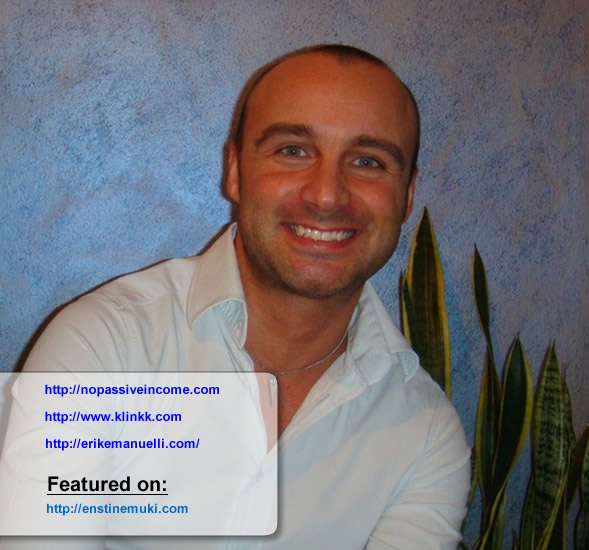 He worked in the banking sector for 6 years, and then he has been Export Manager for different companies during 9 years, visiting customers in many countries all around the world.
Since 2010, he started blogging by chance, looking on the internet an alternative form of income.
He created several blogs in different niches, some of them successful, while others definitely not.
He's now making a solid income every month from his online activities.
Take Action, There is No Passive Income
On his main blog, NoPassiveIncome, Erik writes articles on how to create a steady revenue online, sharing tips on social media, web traffic, internet marketing and useful new resources.
Here are some articles at his blog with particular response in terms of comments and social media shares:
Klinkk – Vote, Share and Get Promoted
Erik founded Klinkk in October 2013, with the aim of creating a free blogging community and give members the chance to be featured, get targeted traffic and build new connections.
With the bookmarking option, it's really easy and fast to submit a story to Klinkk.
However, there are many features and options available.
And many more are yet to come (soon the chat system will be fixed and an images gallery added for each user profile).
Just to make an example, with the Weekly Featured feature, the story with the most votes of the week is showed at the top of the homepage.
This will bring free targeted traffic and exposure to the content featured!
In just nine months, Klinkk has reached important stats, with more than 1800 real users, more than 5000 quality stories submitted and 1000 comments made.
The site has received high social media signals and it has been featured "naturally" on many blogs around internet, which means without Erik to ask for. I did a review you may want to read here
This led to mentions and backlinks, which has been converted in huge organic traffic, more than tripled since a couple of months.
If you are not a Klinkk member yet, you can register for free here.
You can read guide and tutorials about the platform in the Klinkk blog.
Since few weeks, Erik has introduced the Premium Services, that you can use to automate your submission to Klinkk, adding as many RSS feeds as you need. Plus, you'll receive social media marketing and advertising bonus, depending on the plan you choose.
Seen how things are going, Erik is planning to add soon an affiliate program.
Erik's eBooks
Erik has written a couple of eBooks, at sale on Amazon:
He's working now on writing a new eBook, where he will share guide, tips and secrets on how to build a steady income online.
Erik's Love for Extreme Sports
Erik has always been an adrenaline junkie.
He practiced several extreme sports, like bunjee jumping, canyoning, rafting, free-climbing, diving, snowboarding and kick-boxing (check his Facebook profile for pictures).
Since May of this year, he finally realized one of his dream and started to learn skydiving.
He has just created a site with his own name, ErikEmanuelli, where he will share videos, images, tutorials and any other content about skydiving and his experience.
His goal is to become a certified sky diver (which he thinks he will realize soon this year), and start to compete in the "freefly" skydiving tournaments.
You can follow his progress on his YouTube channel.
Some Other Niche Sites of Erik:
SmartMarketerz, a blog to learn about internet marketing, web traffic and social media;
Travel'n'Tips, a site with information about destinations all over the world;
BizSmallBiz, with small business trends, tips and ideas;
TokyoEzine, about Tokyo and Japan guide, news and information.
Some Recent Interviews of Erik:
DoSplash Top Publisher Interview: Erik Emanuelli.
Connect with Erik on Social Media:
Engage with him here!
I encourage you hook up with Erik in the comment box below. Ask him questions. discuss with him. He'll be here to interact with you.