There are lots of talented bloggers and experienced entrepreneurs reading my blog daily. Most of them have something to help grow your business and succeed both online and offline.
From time to time, I'll be featuring them here on this blog, giving you the opportunity to meet them so they can breath more growth on your business.
Today I'm starting this exercise with an exciting friend of mine. Since reading her blog constantly, I have grown to be more proficient in blogging and it's always very exciting whenever she publishes a new article on her blog.
Donna Merrill built up a professional practice years ago as an intuitive consultant. She continues to run this highly successful practice to this very day.
In addition, she also runs an online business.  She is a highly successful blogger, product creator and co-founder (with her husband) of an online business coaching club.
Donna started blogging in 2010, and quickly blossomed into a popular personality within the blogging community, and on Facebook.
On her blog, Donna's main theme reflects her years of personal consulting. She focuses on helping people achieve a breakthrough toward achieving their online dreams.  In fact, Donna has a rather unique gift for getting people past obstacles in their lives, and breaking through walls that have blocked them from reaching their full potential as online entrepreneurs, and just as fulfilled human beings.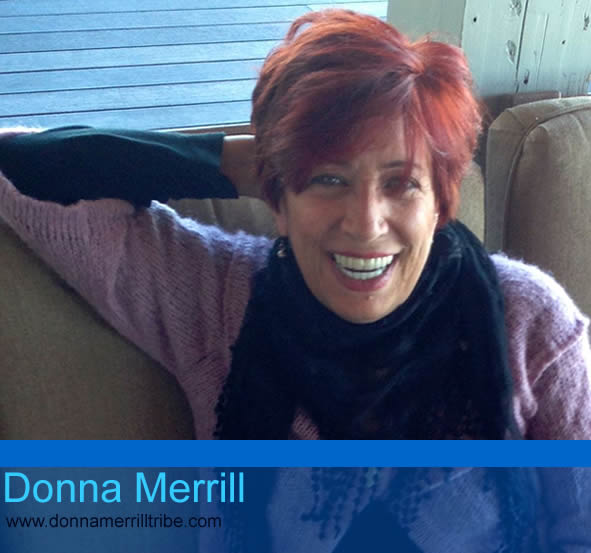 Her passion is people.  She loves to lend a helping hand to others on a one on one basis or through her blog.
Donna first came online to be a "forerunner" for her clients… to help them develop their own online businesses.  Many of her clients, even accomplished professionals, were unhappy with their daily jobs and careers.   They wanted to give more to the world while creating more freedom for themselves.  This gave Donna the "aha moment" to jump into the blogosphere.
"It wasn't easy at first," Donna points out.  She calls her blog "Donna Merrill Tribe" because of Seth Godin's book "Tribes" (2008).  Donna realized that building a blog and a business would be greatly facilitated by joining forces with a community of people, rather than going it alone.
She still holds to that principle.  She runs her blog and her online business like a tight-knit community.
As a blogger, Donna shares content that her readers can learn from.  She is big on reciprocity, and teaches her students that in order to be a successful blogger, you must answer every comment left by your readers.  You then need to go to their blogs, read thoroughly and leave your own thoughtful comment.  Then, of course syndicate it on your social media sites if you think your friends and followers there will value it.
Donna's altruistic character of putting others first has always been her "claim to fame".
In time, she found herself doing a lot of one to one counseling with online clients.  She noticed there were so many newbies starting up blogs that it inspired her to create her video tutorial product, "Blogging Magic."  It is designed to help new bloggers, as well as seasoned ones, blog more effectively.
Donna then partnered with her husband to create the Whirlwind Success "VIP Club."  Donna says that  "we both bring a lot to bring to the table with our unique capabilities."  So this online coaching club was a perfect way to get to share this intimately with "VIP Club" members.
Recently, Donna decided to produce premium live webinar tutorials.  They are free to "VIP Club" members, and are available to non-members for a nominal cost of admission.  The first such live event was "Turn Your Blog Into A Business," and others are already in production.
"I just had to develop these products for others so that they can grow their business," she says of her digital products and highly unique coaching club.
Donna's online products that she is currently promoting:
Her product "Blogging Magic" has got some reviews
"Blogging Magic" was reviewed by Lesly Federici at the Power Affiliate Club. Here is the review
Another review was by Sylviane Nuccio. Read the review here
Some of her latest posts are:
Blogging For Network Marketers
Engagement Blogging
4 Essential Steps Of Affiliate Blogging
Some Recent Interviews I recommend you check out:
Donna on social media:
Time to engage with Donna Merrill
Donna will certainly be excited to have a chat with you. I encourage you shoot her a mail, visit her blog, visit her social media profiles and follow her.
You can also ask her  a question in the comment box below. She will be here to give answers.