This is going to be perhaps one of the shortest posts I have ever written. The reason simply is that I have written details about this topic on my friend's blog.
With time, I'm getting some practical results so I want to discuss this with you. I know those of you my friends making money online will have to rethink  your strategies after reading this post.
On Barabara Charle's blog, I discussed a topic that's beginning to shed some light on the minds of many money making bloggers.
Why?
We have known that one of the interesting ways to make money online is by accepting paid posts.  I have known blogs that charge up to $5000 per post and companies are paying for it.
How did I even come to knowing this?
A customer turned down my offer for it. Yes! it happened. He paid $5000 somewhere and said NO to my $150 offer.
People really pay money to get exposure on other blogs. That's why if your blog gets traffic, you stand a better position to make real money.
Well, traffic is not all you need! Check out this post I wrote in the past. It's worth your time: Looking for Traffic? See why you are wrong!
Here are some awesome posts on this blog I encourage you check out:
If you read my income reports, you'll find out that sponsored posts are exciting source of income. As a matter of fact, my new project will help my readers make more money with this. I'll be giving you details soon.
I mentioned earlier that I submitted a post on Barbara's blog. Here is the article
In this article, I discussed 2 conflicting ways to monetize your blog:
Affiliate reviews
Sponsored Reviews
Here is the conflict…
You have an advertiser who says ok, I pay you $200 and you link straight to my product or get nothing and link to my product over your affiliate link.
Let me explain:
Most product owners have affiliate programs. You sign up, promote their products and get paid commissions.
One of the ways to promote their products is write about these products on your blog and link to them using your affiliate links.
But some advertisers propose to pay you an instant once-off amount while you promote their products without using your affiliate links.
Here is what happens:
You get paid once. Then they make money for life from your traffic.
I wrote an article for my clients in the past. That fetched me $250 instantly from the client. Yes, I was paid once but right this moment, this article is sitting on Google page #1, position #1 for a relatively active keyword. See image: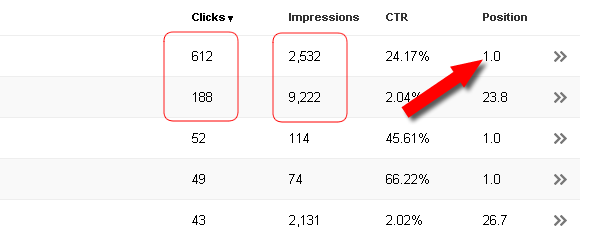 Though this is driving traffic to my blog, I stand to get no financial benefits from this post. The advertiser keeps 100% of any sale generated by this traffic.
What if I chose to link to the product page on my affiliate link? That would have meant long term recurring earnings!
NB: Don't forget to read the post on Barbara's blog for more on this argument.
I was rejected but this has turned out well!
I contacted an advertiser in the past for a paid post on this blog. I knew this was going to be product that will seduce my readers.
I tried to find out from the advertiser if he was ready to sponsor a review on my blog. That was last year 2014 and all I asked was $150.
He turned down my offer and suggested I signup to his affiliate program and use my affiliate link in the post.
It always feels bad to be rejected isn't it?
But this has become my blessing!
I went ahead and signed up to his affiliate program, wrote the review on this blog and this is what I see in my affiliate account:

Now, Total Earnings: $179.39 plus potential earnings: $54.90 = $234.29
This is how working for long term earnings can be more rewarding. Note that this is recurring commission. That means every month, I'll be earning $81+ from this same post.
As we speak, the post is generating more traffic to the product. Recently, out of 5 signups, 1 was paid: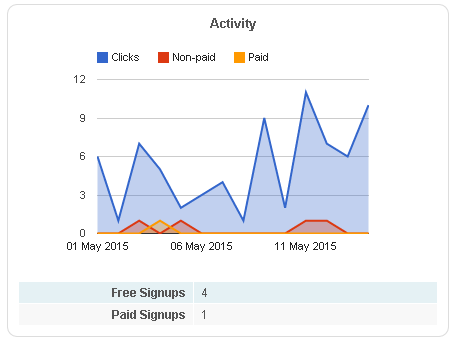 What am I trying to say?
Sponsored posts make an awesome way to monetize your blog. As a matter of fact, they can help generate a huge amount for you.
However, while accepting instant payment, focus more on affiliate review. This will empower your blog and make it a recurring income generating tool in the very near future.
Want to learn more about Affiliate Marketing? Check out this training program
Oh! Did I say this post was going to be very short?
Sorry 😉
BTW, please leave your comments and share this on social media for more exposure. I'll be very excited.