Here is how to make dofollow backlinksfor Google Page #1. This simple dofollow backlinks building trick will help get your blog posts on Google page one easily and fast.
I have also found it to work very well to get my posts indexed by Google within 24 hours.
As a matter of fact, it's not new under the sun. You might have been doing it before but I just want to add some spices to it so you can get better results.
NB: If you want blog commenting for backlinks, check out this other post. I give you details how to attract contextual backlinks blog-commenting.
You know what it means to be on Google page #1, and of course, position #1 for a targeted keyword. That means targeted traffic and possibly sales.
It's the dream of every blogger and webmaster to occupy this coveted place on SERP for as long as possible. So let's get to the point quick!
How to make dofollow backlinks with Blog Commenting!
Don't freak out yet!
There is something in this post. I know you have been commenting and have read a lot on blog commenting. this is not one of those common posts 😉
I know many bloggers advise against commenting for backlinks. They say you should comment for relationship building and not backlinks.
That's beautiful! I do recommend using blog commenting as a relationship building tool. But note that it's also a wonderful link building method that answers the question on how to make dofollow backlinks for Google Page #1
Most of my entries I see on Google page #1 these days with dofollow backlinks pointing to them are simply links from comments I leave on related blogs. So it's possible to get to Google page #1 as a result of dofollow backlinks generated by blog commenting.
Building the foundation
For you to rank quick on Google page 1 with blog commenting, you have to start from the very basic point – Keyword. We know Keywords or key phrases are the first thing when it comes to ranking. You can write the best content and have the highest PR dofollow backlinks pointing to it. If no one ever searches, your content will never be found.
Keyword is the only key to discover your content. So you will be wrong to completely ignore it.
Before you optimize your content for any keyword, you have to mind its popularity and competition. I use LongTailPro and it's what I recommend at the moment. Get the free version and try it out.
If a keyword has 1000 local monthly search with LOW competition, it's a good point to begin with. However, you still have to be able to analyse the strength of the competitors who are already sitting on Google page 1. LongTailPro will help in that.
See, I prefer to optimize and quickly rank for a less popular keyword than try to compete blindly with stronger sites for a very popular keyword.
Let's look at this logically…
If you have 100 articles on your blog, each targeting a keyword that gets  just 1000 local monthly searches, you'll have a high possibility of getting traffic from search engines to your blog. That's because your blog is targeting about 100 000 local monthly searches.
If you have just 30% of this traffic, that gives you 30 000 targeted monthly readers from search engine. This can already put good money in your pocket. What if you get just 10% ? It's still big to make you money.
Blog commenting can help you get this by generating dofollow backlinks to your blog.
How to get dofollow backlinks to specific blog posts with blog commenting.
What we want to do is create dofollow backlinks to specific blog posts by commenting on other blogs. That means we are interested in blogs that have two main features;
Must be in our niche.
Must have CommentLuv free or paid.
I don't know if there is any blog commenting system that can help us pull a list of links from our blogs while on other blogs apart from CommentLuv. This plugin is one top piece that helps its users get dofollow backlinks and rank in Google. Let me show you how it's done.
When you are dropping a comment on CommentLuv enabled blog, it will automatically pull 15 articles from your blog (Your most recent 10 plus 5 favorite articles), that's if you have the premium version of the plugin. This helps you chose which article on your blog to link back to.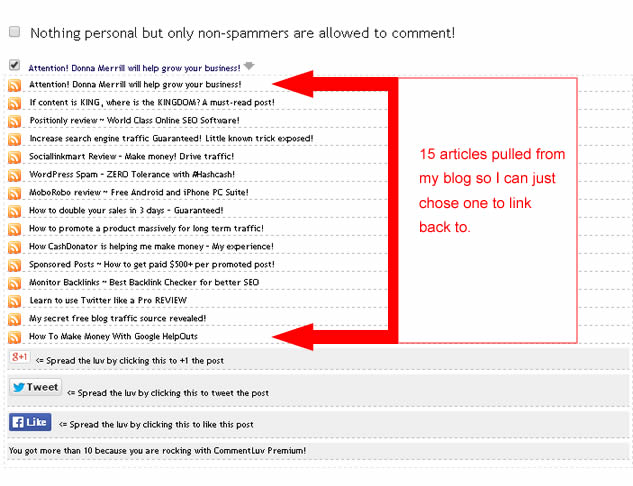 As you can see from the image above, I'm dropping a comment on Adriennesmith.net. Both Adrienne's and my blog have commentLuv premium. So I have a list of articles I published on my blog. That makes it easy for me to chose one to link back to.
After publishing a new article on  my blog, it becomes fairly easy to create 10+ dofollow backlinks to it within the next 24 hours. That explains why my articles often get indexed so soon.
How to locate CommentLuv dofollow blogs in your niche
I know you are already thinking how is it possible to locate these dofollow blogs. Given the recent changes in the SEO industry, so many blogs have switched the nofollow tag on. That means they no longer offer the dofollow reward.
Truth is, there are still so many blogs offering the dofollow reward. Some reserve the reward for their active readers. That means you must have a certain number of approved comments to get the nofollow tag automatically removed.
That's the case with my blog. You must have 15 approved comments on this blog to get the well desired dofollow backlink. I think Adrienne Smith has set that limit to 10. Find out from her!
NB: Before we see ways to find commentluv enabled dofollow blogs, I wrote about 6 blogs you can start commenting on right now. These are all dofollow commentluv blogs. Check the post here!
1 – Let's try to locate CommentLuv enabled blogs. Go to Google.com and type this search query –
Your Keyword  "This blog uses Premium commentLuv"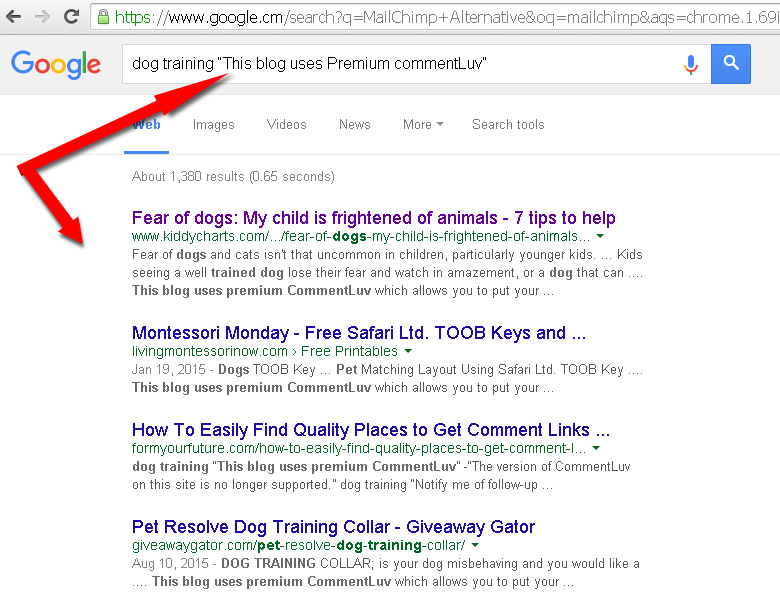 NB: Replace 'Your Keyword' with your keyword. That will help display blogs in your niche that have CommentLuv.
Another option is to simply search for "commentluv enabled blogs"
NB: You can also see this list of 15 dofollow enabled blogs
2 – Let's find out if a blog is nofollow or dofollow
There are several ways to know whether or not a blog is nofollow. While on the page, you can simply open the source code, locate any link on the comment section and find out if the rel="nofollow" is present.
However, I love using this Chrome extention. It simply surrounds the link with dotted red lines if it's nofollow. Well, those are the default settings. You can change that.
Here is a comment I left on Adrienne's blog. This comment generated a dofollow backlink to the kinked article.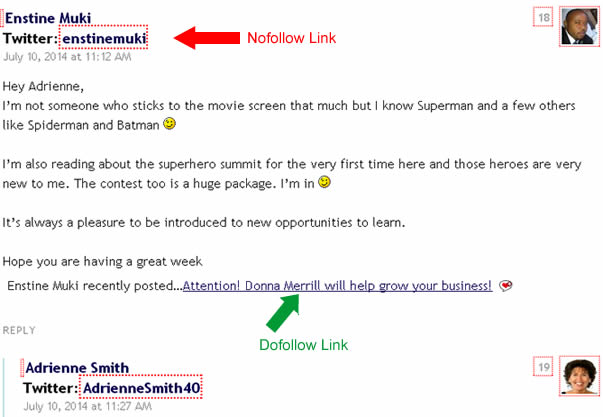 You notice the red dotted lines surrounding some links – Twitter and image links. This simply means those links are nofollow.
Those of you using firefox, you can download the Nofollow add-on here.
Caution!
Bloggers can simply figure it out if you are dropping comments for the sake of dofollow backlinks. For the most part, your comment will end up in the waste basket.
If you value the backlink, you must also add value to the post by dropping a comment with value. The more time you put in to read the articles and drop reasonable comments, the more dofollow backlinks you get.
Backlinks from Suspended blog
Some blogs have had issues with Search engines so Google got them removed from their database. Blogs that don't get traffic from search engines will be of no help so you should not worry about how to get dofollow backlinks from such blogs.
Before I comment on any new blog for backlinks, there are a couple of things I check. First, I'll copy the url of one of the articles on the home page and paste in Google. This will help me know if that blog is indexed. Look at this image of an article that was published less than 24 hours ago.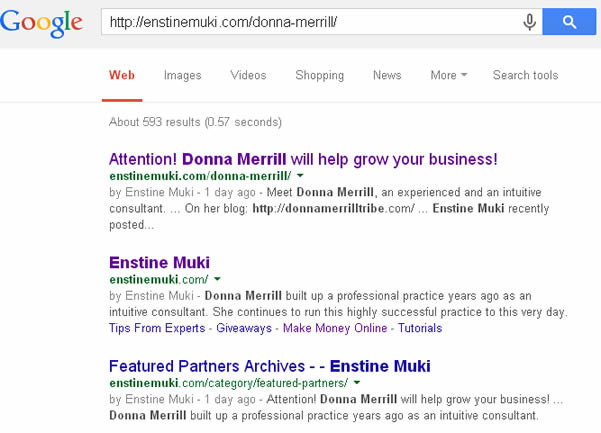 The next thing I try to find out is the blog's Domain authority, Page authority using OpenSiteExplorer and Page Rank.
NB: There is an indicator to a site that might be hit by Google. If all the links on several pages on the site are dofollow, you have to be careful with it. I'm not asking you to run away from it. However, take a second, trying to figure out those dofollow external links.
Blog commenting for direct traffic!
One of the reasons blog commenting will ever remain exciting is direct  traffic. Beside the dofollow backlink SEO benefit, you constantly get direct traffic from the blogs you comment on.
If your comments are full of meat, you don't only get traffic. It creates more relationships and grows your blogging community.
Checkout this article I wrote on hidden Blog Commenting Trick For Huge Traffic & Networking!
Blog commenting to make money
Recently, there have been opportunities online to comment on blogs and generate income. There is no rocket science in this. If you like the activity, you can just take it up a bit and start getting paid. Check out this post for details.
Speak Your mind!
Do you still worry about how to make dofollow backlinks?
I know you have been commenting on blogs. How many dofollow backlinks have you pointed to your different articles?
Do you think blog commenting will work for you to get these backlinks?
Let me hear you out in the comment box.
I'll also be glad if you share this post on social media.