In today's world of digital marketing, you are only one click away from losing a client to your competitor. If you work in a marketing agency, you know this all too well.
So how can one retain clients,  increase professionalism along with the quality of their services, maintain profitability as well as save time and resources all at once? The answer lies in White- Label Marketing tools.
In this article, we have compiled the top 9 tools White Label Digital Marketing Agencies you must use for your business. So without further ado, let us dig in.
9 Tools White Label Digital Marketing Agencies Must Use
1 – SEMrush – All-in-one Marketing Tool Kit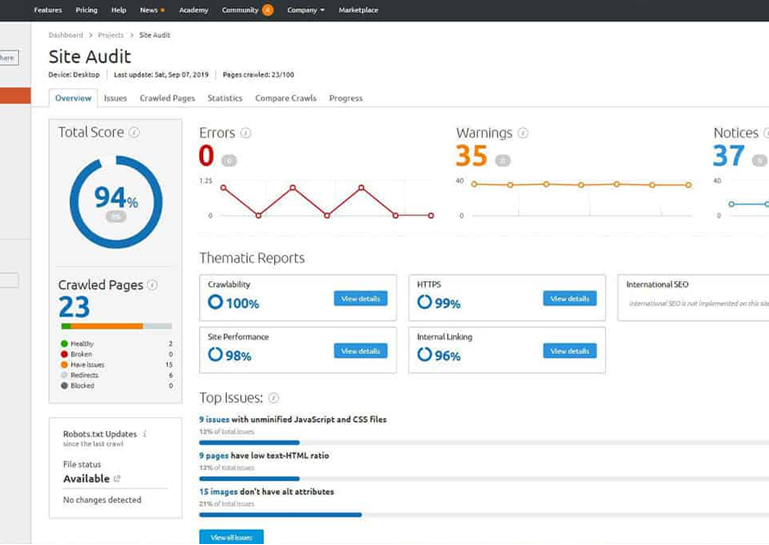 This list of best tools for white label tools would be incomplete without mentioning SEMrush. SEMrush is a SaaS company offering solutions for SEO, PPC, Content, Social media and competitive research. It is one of the most trusted tools used by marketers all around the world.
It boasts of a global database of over 46 million domains and 120 million keywords. SEMrush allows you to identify the latest trends in your niche, perform  on-page SEO audits as well as optimize your page for better lead generation.Apart from providing the basic features, a SEMrush account can give you added perks such as 24*7 customer care, access to SEMrush academy and more.
Price : SEMrush currently has three standard monthly subscriptions starting at the following prices: Pro – $99.95. Guru – $199.95. Business – $399.95.
Related SEMrush Posts
2 – SE Ranking – An SEO Platform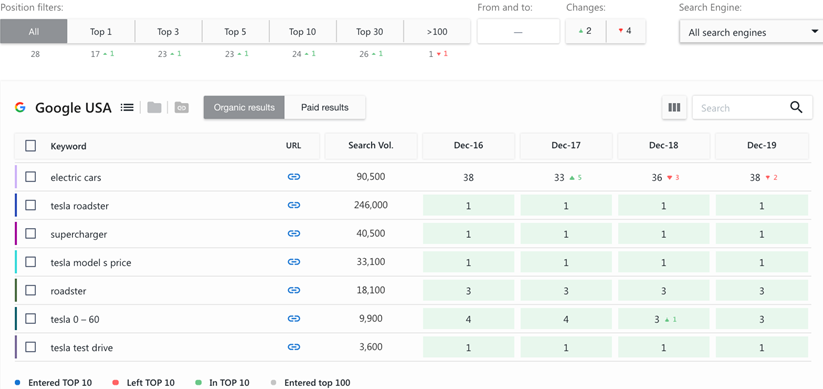 SE Ranking claims itself to be the "White Label SEO platform for everyone" The platform offers a variety of SEO and marketing-related features such as website audits, monitoring position ranking, competitor analysis, backlink analysis and track rankings.  SE Rankings is a great white-label option as you can use your domain or your client's domain "without a single link to SE Ranking"
Moreover, it lets you manage users, get reports sent from your corporate email, and offers customization by allowing you to choose a color scheme along with your logo.
The number of tools available within the platform gives you the potential to scale operations without hiring additional workforce and spending extra bucks. With the complete package within SE Ranking, you can accomplish more in less time for your clients. SE Ranking is a powerful all-in-one SEO tool, which can give an edge as it provides rare competitor analysis.
Price: There are many pricing options available. You can choose from daily, weekly or monthly plans. Check out SE Ranking to see which plan suits your business needs.
3 – Sendinblue – An Email and Marketing Automation Tool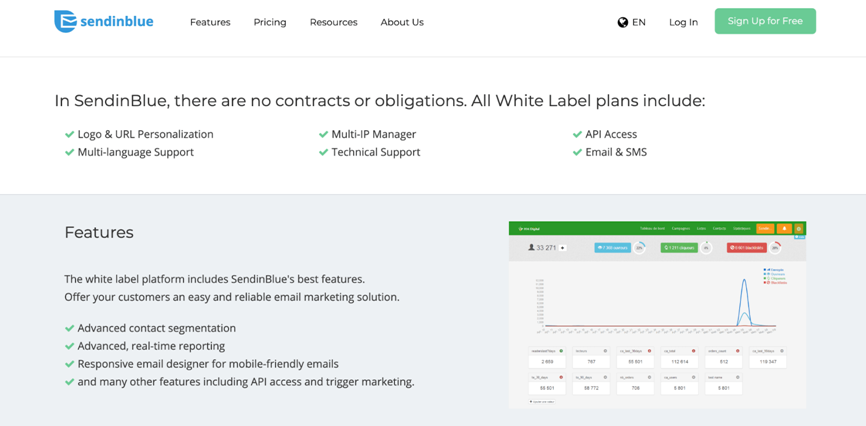 SendinBlue email-marketing platform is a great choice for  White Label Digital Marketing Agencies using emails as their promotional tool for their clients. The comprehensive feature set includes email-marketing automation, transactional emails, SMS, FacebookAds, retargeting ads, landing pages.
Its user-friendly interface makes it an apt choice for agencies with limited technical knowledge. SendinBlue offers services in 6 different languages including English, French, Spanish, Portuguese, Italian, and German.
Email, SMS, Facebook, Chat, CRM, and more, all under one comprehensive tool makes it an attractive offering.
Price: SendinBlue is affordable compared to others in the market. The 2 most popular plans are Premium and Enterprise plans. The Premium plan is priced at $66 per month for 120,000 emails. On the other hand, the enterprise package is customizable and includes all services along with unlimited accounts and a dedicated account manager.
4 – White Shark – A PPC Management Tool

White Shark is a white-label PPC management tool built for agencies that offer tools and resources you need to pitch and offer PPC; managed services, partner portal, automated audits & proposal engine, sales consultations, and more.
Its White Label partner program can provide you with a team of experts who holds experience working across multiple verticals. It is the perfect tool for PPC advertising solutions.
Apart from providing insights from Google Analytics, White Shark also equips you with the tools necessary to run and execute successful campaigns. Its PPC blueprint consists of auditing, market research, campaign building, optimization as well as testing and reporting.
Price: They have a customized pricing structure depending upon your monthly budget. They charge a monthly management fee, monthly call tracking fee and a one-time set-up fee.
5 – Invoice Ninja – An Invoice Management Tool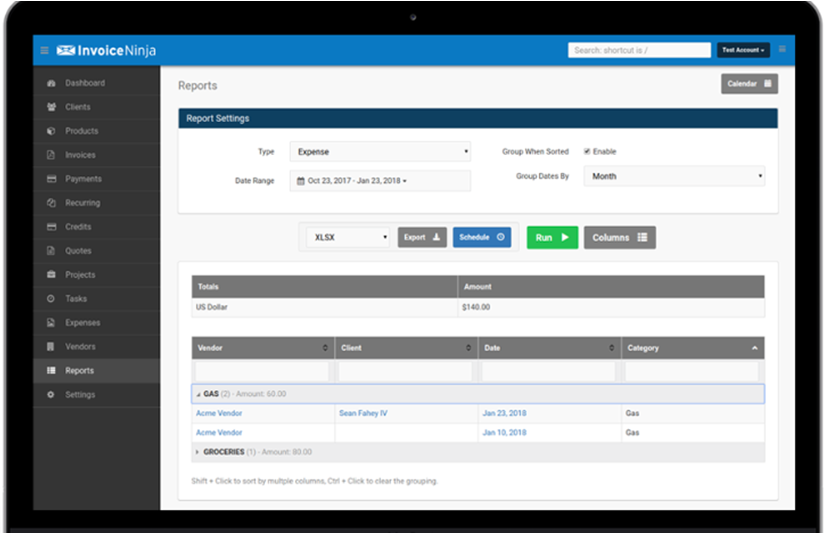 Invoice Ninja is a free invoicing tool used to host and create invoices and payments for their clients. It allows you to email and/or print the receipts and invoices. Easy to configure, this tool has automatic reminders and has the feature to set up multiple companies on one login – using just one user id.
Apart from creating invoices you can also track the history of payments and expenses as well as set up a billing timeline with your clients.
Price: What's amazing about Invoice Ninja is that it also has a forever free plan with features such as 100 Clients & Unlimited Invoices & Quote, 4 Professional Invoice & Quotation Templates, brand Invoices with your company logo, auto-Billing & recurring invoices and 40+ payment gateway options. If you wish to upgrade you can choose from Ninja Pro Plan priced at $10/month or Enterprise plan for $14/month. This makes it one of the best AP solution on the market.
6 – MOZ- SEO Tool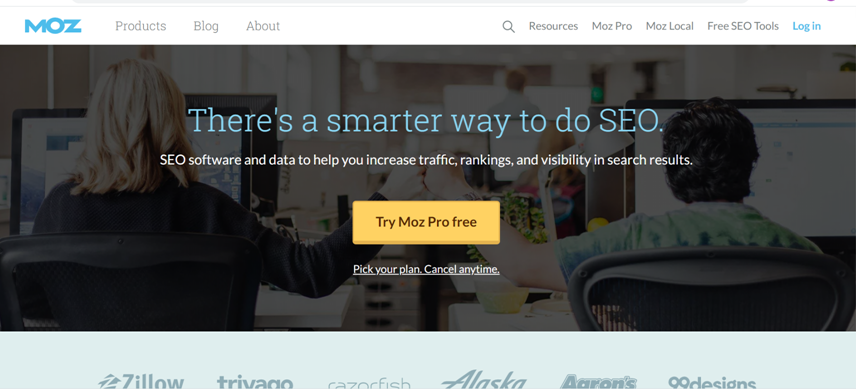 Moz is an SEO tool that helps people run successful SEO campaigns. Its features include keyword research, link building, site audits, and page optimization insights. It's a great supplementary tool to Google Analytics.
Moz offers two products to help businesses with their SEO campaigns- MOZ Pro and Moz Local.MozPro provides SEO site crawl checkups, prioritized SEO fixes, rank tracking, competitor tracking, SERP feature tracking and more. MOZ promises SEO solutions for every need.
Price: The price for Moz Pro varies based on the type of plan you select. A standard plan on a monthly basis would cost you $99/month.

7 – Google Analytics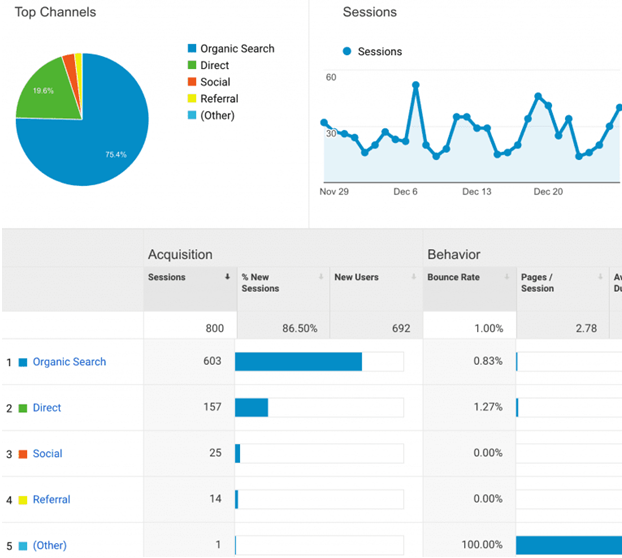 Google Analytics is a web analytics service offered by Google that tracks and reports website traffic, currently as a platform inside the Google Marketing Platform brand.If you own a website, you should definitely be using Google Analytics.
It is by far the most popular and most widely used digital analytics software. The best part? It's free!It offers many features, but the most popular ones being- analytics intelligence, reporting,data analysis and visualization,data collection and management and more.
Price: Although Google Analytics is a freemium service , if you want more advanced features, there is a recurring fee. It ain't cheap. Google Analytics 360 is priced at $150,00 per year.
8 – Word Stream – An Advertising Management Tool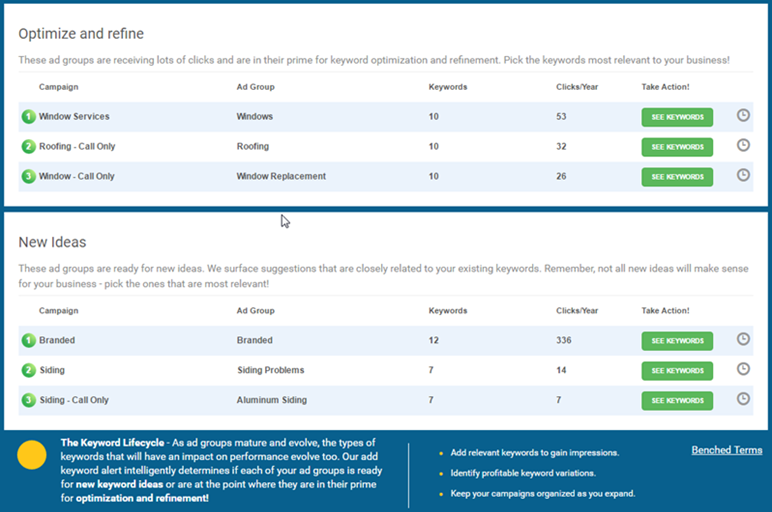 Word Stream is a one-stop advertising tool for advertisers and marketing agencies alike.
The list of agency-focused White Label tools would be incomplete without mentioning the WordStream New Business Center. Its key focus is to help agencies to manage and close sales. You probably know how time-consuming and tedious account audits can get.
With the help of WordStream New Business Center, it is now easy to produce in-depth audits faster.
Price: There are different categories of pricing plans depending on your needs. The WordStream Advisor plan is priced at 49$ /month.
9 – PandaDoc – An Online Tool to Generate Proposals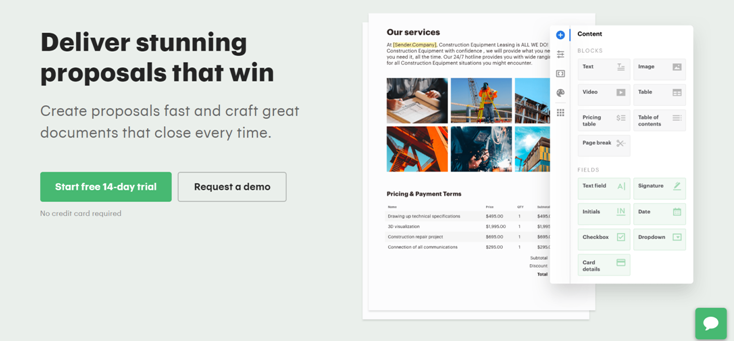 PandaDoc is an all in one document creation, delivery, tracking and e- signature tool. It is mainly a proposal generator software that allows you to create personalized and professional proposals to close your next deal within minutes. It can be used by sales leads, marketing managers, sales reps and more.
Price: Choose from annual or monthly plans. The most popular business plan is priced at $49 per month per user.
Summing Up
White Label Services help a business expand its portfolio and scale it without any overhead costs. But how do you achieve that? The answer is – with a little help from your friends- the best of industry white-label tools.
Depending upon your agency and client strength you can choose these tools to help you maximize your efficiency ,add value to your existing business process and at the same time don't burn a hole in your pocket. In this article, we have offered you a selection of the best white label tools for marketing automation, PPC management, SEO, email marketing, proposal generator, invoice generator among others.
Let us know if you tried any of these tools!