In SEO Marketing, Keyword research is believed to be the foundation of any successful campaign.
Whether you are working to rank a blog post or an eCommerce product page, targeting and optimizing for the right keywords is key.
But keyword optimization has changed quite remarkably in the past few years. Search engines are out for content that meets the intent of searchers. It's no longer about how well you place your keywords in content but how much value coverage your content has with regards to intent.
As a matter of fact, there is still a need to create content with the consciousness of one or more keywords you'd like to rank for. This doesn't necessarily mean counting the keyword occurrences and making sure it appears here or there on your content.  What it means is that you should make sure to answer every possible question that may be in the mind of the searcher at the moment of typing that keyword.
When doing keyword research, there are two key metrics to focus on:
Search volume

which basically measures the popularity of that search term. 

Keyword Difficulty

– This measures the strength of your competitors already ranking on page 1 of search engines for that specific keyword.
Many keyword research tools in the market provide these metrics to help users decide whether or not to go in for any search terms.
I think there is no successful keyword research without sufficient emphasis laid on these two factors.
No sane marketer would want to optimize for a keyword with zero search volume (except you are anticipating the keyword). Of course, if the keyword topic is well expounded, chances of driving traffic from related search terms are high. That explains the power of semantic relevance.
Here is the point…
The more the monthly search volume, the more the traffic and natural visibility that keyword stands to generate. Conversely, the more the difficulty, the tougher it becomes to rank for it and going for it could mean not being able to get any search traffic at all.
Keyword difficulty Accuracy and why you should go with SEMrush
We have run the same keyword on SEMrush and 8 other popular SEO tools on the same date. Our point of focus was the difficulty metric. The differences from one keyword tool to the other call for concern. 
We also paid some attention to search volume and CPC (Cost Per Click) factors to help us measure which of these tools is near accurate.
Note that if you have a tool that gives you faulty data, chances are that everything else about your SEO campaigns will go wrong.
At the end of this post, we will be looking at some extra effort by SEMrush to give you a push towards creating content that ranks for your target keyword.
Here are the elements that made up the foundation of our research:
Keyword:

gmail smtp settings

Search Engine:

google.com

Search Database:

United States of America
Date of research: 1st of May, 2020
Here is a graphical representation of our results: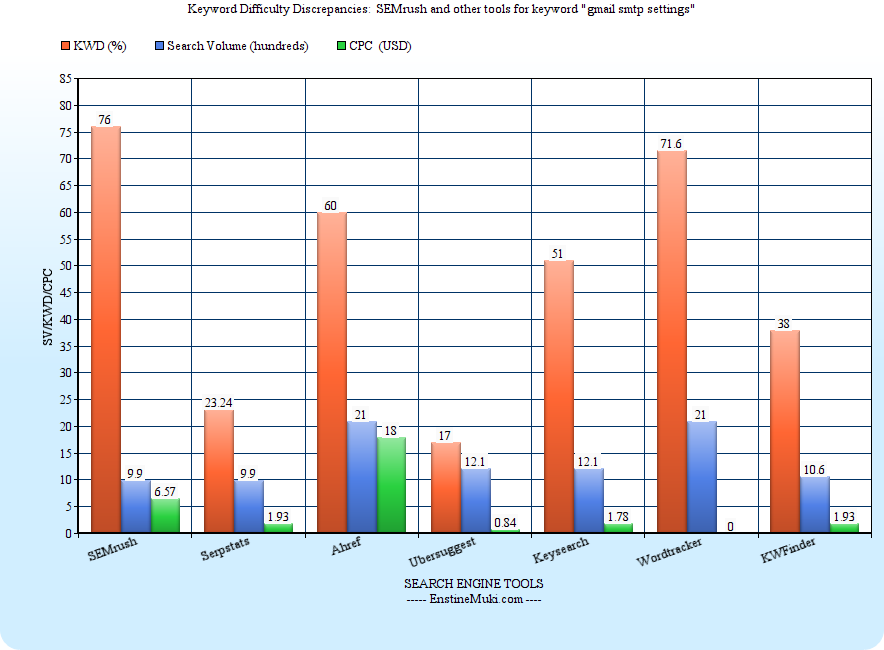 Watch video of the exercise on YouTube here:
SEMrush
KWD: The keyword difficulty index (from 1 to 100%) shows you how hard it would be for a new website to rank on the first page of Google for the analyzed keyword
This tool is the master of digital marketing tools and it's my favorite. The keyword research feature is just a tip of an iceberg. We are not getting into details of the tool at the moment. 
I created this detailed post about it so if you are doubting the power of SEMrush, you may want to take a look at that.
Here are some more SEMrush content for you:
Let's look at what we got from from our little experiment: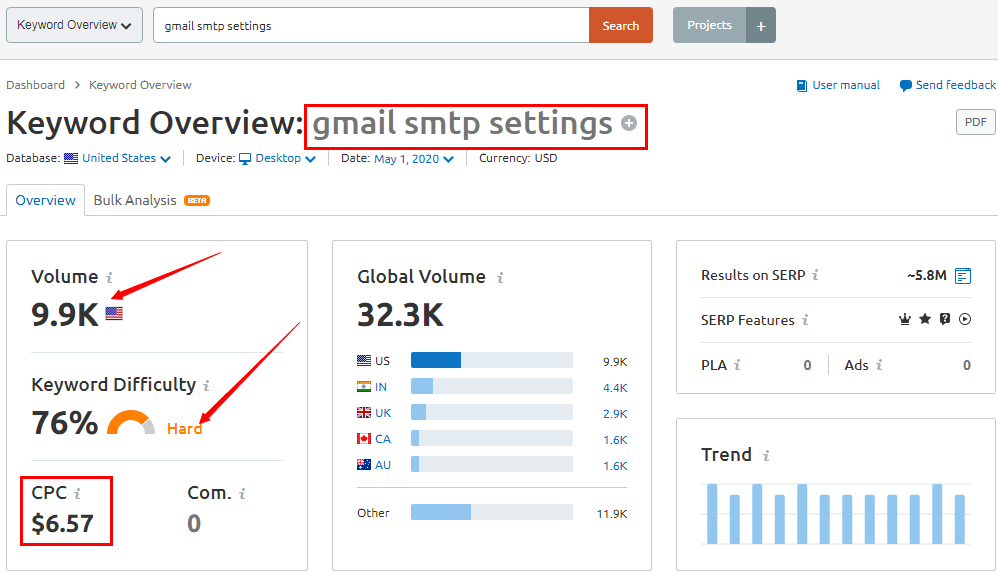 For that exact keyword, we got 9,900 search volume from the US and the keyword difficult is said to be HARD, measured at 76%. Quite tough isn't it?
[thrive_link color='blue' link='https://enstinemuki.com/semrushfree' target='_blank' size='medium' align='aligncenter']Take SEMrush Free 7-day Trial[/thrive_link]
Now let's pitch this against several other SEO tools, beginning with Ahrefs.
1. Ahrefs
KWD: Keyword Difficulty estimates how hard it will be to rank in the top 10 organic search results for a given keyword in a given location. It's calculated by taking a weighted average of the number of linking domains to the current top-ranking pages
There can never be any complete list of SEO keyword research tools without ahrefs. This is because of its leadership position and data accuracy. This tool and SEMrush are closed competitors but for digital marketing in general, SEMrush is definitely the winner.
We run our experiment on ahrefs and found the following:

Ahref thinks ranking for this keyword would be hard with a difficulty level of 60. USA search volume is reported at 21,000 and CPC rising up  to $18.00 (which is near Google Keyword Planner's High Range bid. More below). Looking tough isn't it? The gaps between these data and SEMrush reports are not to be neglected.
2. Serpstat
KWD: Evaluation of the level of competition for the key phrase for promotion in the top-10. Graduation of difficult is calculated from 0 – 100
Definitely, there is no talking of SEO tools without mentioning Serpstat. Being one of the popular and highly trusted SEO tools, it also picked out attention. Here is what we found:

There is some interesting correlation between SEMrush and Serpstat search volume reports. Both tie at 9900 average monthly, down from ahref's 21k
But looking at other metrics, there is need to be asking questions which of these tools are accurate. However, SEMrush's CPC is within Google Keyword Planner's CPC range for our study keyword while Serpstat is completely out  of range. 
Let's take a look at some more.
3. Ubersuggest
KWD: Estimated competition in organic search, the higher the number, the more competitive.
Neil Patel's SEO tool is one of the most talked about SEO tools in the market. Neil's credibility and the fact that this tool was 100% are some of the factors that promoted Ubersuggest so hard. We also took interested in it's data and came out with the following:

Quite interestingly, for the same keyword, date and data source, we have some incredible differences. 12,000 searches from the United States and the keyword marked as  "EASY" with a 17% rating.
Looking at the CPC cost of $0.84 and the search difficulty, one would think this is a low hanging fruit. Data from this tool is completely far from SEMrush report which we think is closer to real values.
4. Keysearch
This tool cannot go unnoticed. It's one of the active Keyword Research tools in the market these days. We wanted to find out the  kind of results user gets from its use.

Like many of the other tools we worked with, Keysearch doesn't think ranking for our study keyword is bread & butter. With a difficulty score of 51%, it's a tough fight to get any targeted page to Google page #1 for the keyword gmail smtp settings
While the search volume ties with Ubersuggest at 12100 monthly, CPC and keyword difficulty varies. There is something similar between this tool and Neil's Ubersuggest when it comes to search volume and CPC bid. Again, this is standing far from SEMrush.
NB: Try out Keysearch tool here. Use discount code: KSDISC
5. Moz
KWD: A score from 0(easy) to 100 (difficult) that estimates how difficult for you to rank higher than current competitors on the first page of search results
Will this experiment be complete without Moz? Not certainly. So we got over to the tool to get more data for our quest for the most accurate keyword tool. Here is what we got:

Moz doesn't think this is a cheap keyword either. With the monthly volume ranging between 11.5k and 30.3k, the difficulty of 59/100 isn't something to jump on. Moz's data is near some of the tools we've come across above and SEMrush
6. Wordtracker
We extended our search to Wordtracker and here is what we got:

At this point, we were beginning to believe that ranking for this keyword was not going to be a joke. According to this tool, the search term gets 21k monthly searches (near ahrefs) from the United States.
A search difficulty of 7.16/10 isn't something for the average marketer.This is near SEMrush's difficulty reading. We didn't find the CPC bid for the keyword from this tool. 
7. KWFinder
KWD: This is calculated from the link profile strength (LPS) of URLS ranking in the 1st SERP
KWFinder is Mangools's keyword research tool. According to data from this tool,  it's not as difficult as it seams (or suggested by other tools) to rank on Google page #1 for our study keyword. With a difficulty score of 38% it appears to require less effort to be on Google page 1.

Take note of its report on monthly search volume of 10,600. CPC monthly average is $1.93, far below SEMrush's reading and out of Google Keyword Planner's CPC range (See below)
8. Google Keyword Planner
Having gone through a couple of search keyword tools, and having seen some remarkable discrepancies, we wanted to go to the source of data for many of these tools.
These tools all tap from Google so definitely, Google's keyword tool should be the source of the most accurate data. Unfortunately, Google Keyword Planner is heavily limited regarding the amount of data they give out for free. What we have however is going to help us with some amount of information to decide on which tools to choose:

Here are a couple of things to note with Google Keyword Planner:
The competition column does not relate to the organic search results in Google. It's related to the number of advertisers bidding for that keyword. In this case, "Low" should not be taken to mean it is easy to rank for this keyword on SERP.
Google won't give the exact CPC bid and that's because it varies. We are only given the low range ($3.01) and the high range ($18.75). Does that mean that the tools mentioned above with CPC for our main keyword below Google's low range are faulty?
Ubersuggest:

$0.84 
Keysearch: $1.78
KWFinder: $1.93
Serpstats: $1.93
You think about it.
Why SEMrush is different from other keyword research tools
SEMrush is not just about keyword research as I mentioned earlier. They have other tools to help users go ahead of their rivals. 
Once you've done your keyword analysis and you think ranking for a keyword is realistic, you won't need to turn to other tools.
Moving on with our keyword gmail smtp settings, let's see how SEMrush's SEO Content Template helps users with  interesting onpage and offpage SEO insights to outrank the competitors for this same keyword.
#1. The SEO Content Template

The tool provides a template of recommendations based on target keywords. Here is how the tool works:
You enter the keyword you want to target in your content

The tool is going to scan top 10 entries on Google SERP #1 for your entered keyword

You will have a list of these entries, what they've done and recommendations on what to do for better results.
For our search term, here are the top competitors on Google's first page: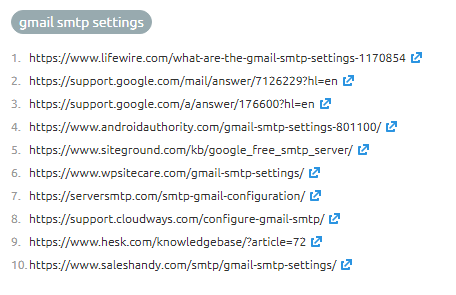 Google hasn't made it easier for marketers to copy URLs of search results until you click them. Now we are able to get this without using a plugin.
For you to outrank your competitors on Google page #1, you definitely should do something better than they've done. While this is a difficult task, SEMrush makes it easy by making suggestions on steps to take. These include:
Semantic Optimization: A list of words to add in your content for the keyword

Where to get backlinks to the content

Readability

Text length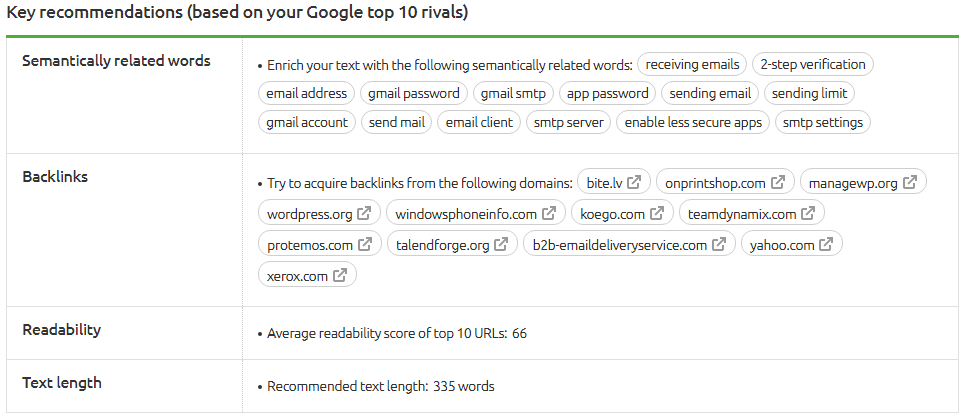 How your competitors use the keyword
Knowing how your competitors use the keyword in their content is important in trying to do better. With the SEMrush tool, this data is made available with a click for each competitor on page 1 of Google: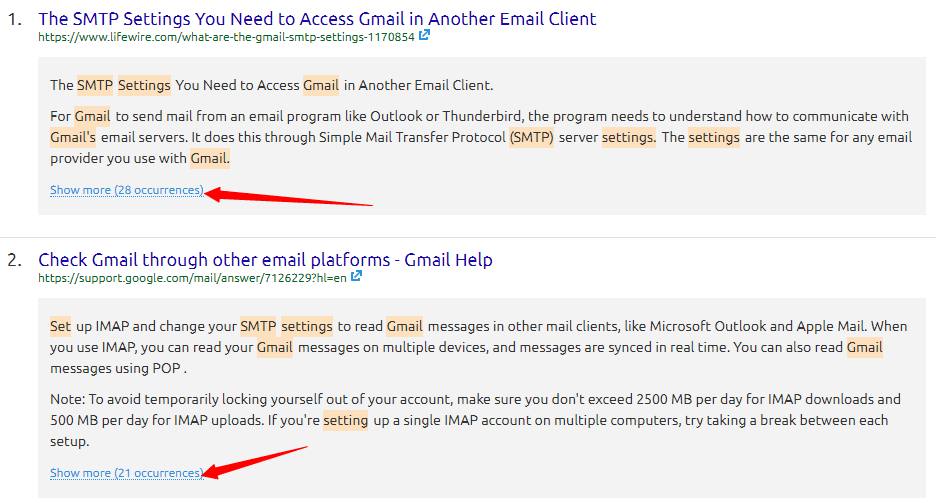 #2. Real-time Content Checker –  SEO Writing Assistant
One of the beauties of SEMrush for content marketers is the real-time content checker or the SEO Writing Assistant, a tool that scans and helps your content from four perspectives:
SEO

Readability

Originality

Tone of voice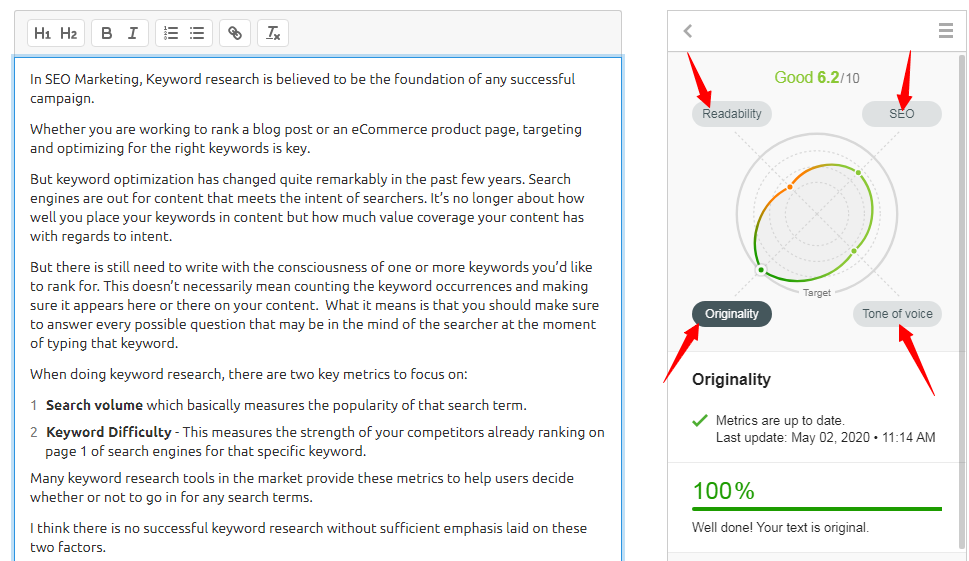 Write your article directly on this editor or simply copy and paste. The tool analyses and makes suggestions for improved finished work.
This smart content tool is also available as an add-on for Google Docs and WordPress plugin. It is used to connect the SEO Content Template Tool to your Google doc or WordPress blog. This will help you analyze in real time how well your text complies with these SEO suggestions.
Where the content template recommendations come from
Note that this tool's main purpose is to help you outrank competitors on page 1 for the keyword you target. If you can outrank these rivals on page #1, it means those on the other pages ain't a problem.
To get these suggestions, SEMrush actually analyzes the top 10 entries ranking on Google search for your target keyword. They analyze the following areas of the ranked pages:
Content length

Semantic language

Backlinks or referring domains that are linking to the top pages
With this, SEMrush is able to make recommendations and suggestions to help you to do better.
#3. Get SEMrush to create your content
This is a clever step by SEMrush to attach  a content marketplace to the content assisting script. Outsourcing content writing is one of the things I highly recommend for busy marketers. 
SEMrush writers should definitely be able to create the finest, highly relevant, well-researched, and professionally written SEO friendly content based on your key phrase. All they need from you is the keyword and of course payment.

Check out details of this service here
#4. SEMrush Keyword Difficulty Tool with SERP Features
Ranking on position #1 of page #1 is the objective of every marketer. But Google's result page has more SERP Features to help SEOs gain more exposure.
SEMrush's Keyword Difficulty Tool helps see if any of the SERP features are present on your target keyword's result page. This will help you estimate your chances of getting more organic clicks. It also orientates you on the content your website might need.
Here is what we got for our demo:

Our Conclusion
Keyword research is the core of SEO for content marketers. Search difficulty and Search volume are the two key metrics when it comes to keyword research.
It's generally difficult to get the exact difficulty and search volume. Different tools have different data for these metrics. Some of these tools maybe misleading.
SEMrush is near accuracy. Beside simple keyword results, SEMrush platform has other closely related tools to help your content marketing and SERP rankings. It's our choice when it comes to looking for the best digital marketing tools.
However, this is our conclusion based on our results. Let me know in the comment box what you think.
[thrive_link color='blue' link='https://enstinemuki.com/semrushfree' target='_blank' size='medium' align='aligncenter']Take SEMrush Free 7-day Trial[/thrive_link]