I know you want to succeed online and you need the right set  of tools.
And you are facing different problems:
You don't even know the tools you need.
These tools are too expensive.
The tools are scattered on different platforms, meaning you have to deal with different login and security difficulties.
Creating an online business is one thing and many end at this point.  It's a beautiful thing to come up with a thriving business idea, setup an attractive website, tell your friends about it and start sharing on social media.
But trust me failure will soon come visiting if you don't connect the right tools to your startup to keep fueling it with the required energy.
Your problems:
1 – You don't know the tools you need:
Don't worry. We have that sorted out in this post with more than 18 top tools put together by SEMrush.
2 – These tools are too expensive:
That was in the past. You won't hurt your wallet anymore with SEMrush
3 – They are scattered on different platforms:
Tools are everywhere but in this post, you don't need to connect to isolated platforms to run your business. All your campaigns will be managed by you and your team in one single place.
[page_section template='2′ position='default' padding_bottom='on' padding_top='on']
20 Tools to manage your SEO, PPC, Social Media & Content Marketing with SEMrush
[/page_section]
Table of Content
SEMrush has been massively presented as an SEO keyword and competition tool which is correct. But this tool goes beyond and offers you a lot more to help your online marketing activities, including your website monetization.
SEMrush is one of the best online marketing tools needed by businesses of all sizes: from keyword research, domain and competitor analysis cutting through site SEO friendliness checks, link building to  content generation ideas, PPC to social media marketing, etc.
[thrive_link color='blue' link='https://enstinemuki.com/semrush' target='_self' size='big' align='aligncenter']Take a look at SEMrush[/thrive_link]
SEMrush for Keyword and competitor analysis
SEMrush is a huge collection of Online Marketing tools. With the team constantly tweaking and adding new tools, you won't be wrong (just like over 3000,000+ users can't be wrong) giving the platform a try.
Now, there are over 20 different tools developed and optimized to help you in different areas of online marketing. In this post, we are going to be looking at 20 of these tools and how exactly they can boost your business and raise profit.
Let's begin looking at these tools:
Tool #1 – Competitor Analysis
Your success online depends on the weaknesses of your competitors. As a matter of fact, there is no area where you won't face someone striving to be ahead of you.
But how do you deal with them?
This tool helps you get insight into their strengths and weaknesses.
Go to Domain Analytics -> Overview and enter the domain name of your competitor:

What specifically about your competitors do you want?
Backlink sources
Organic Keywords strength
Paid keywords
Referring domains
Anchor phrases
Indexed pages
Etc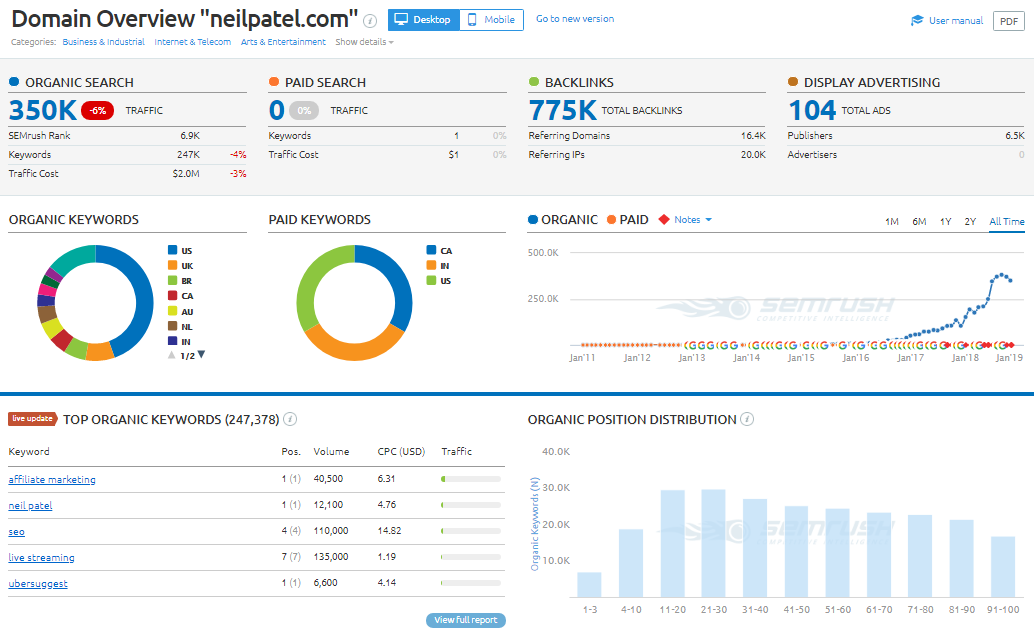 There is ton of information to help you get a glimpse of or completely understand your competitors' strong and weak points. [ Top ⇑ ]
Tool #2 – Keyword research and analysis
Keywords are the ruling forces of the Internet search. It's mainly how information is found. To succeed online, you need a strong keyword strategy.
SEMRrush allows you to pull out a list of keywords from your competitors or generate a list of related keywords from a seed keyword.
There are five main things to underline when doing keyword research:
Search volume
Keyword Competition
Keyword difficulty.
Trend (sustainability)
CPC (knowing about its profitability)
Low competition and difficulty generally point to an easy-to-rank-for keyword. SEMrush is an excellent keyword research tool capable of completely changing your keyword strategy. With these matrices, you will be armed with what's necessary to create high ranking content and boost your search ranking.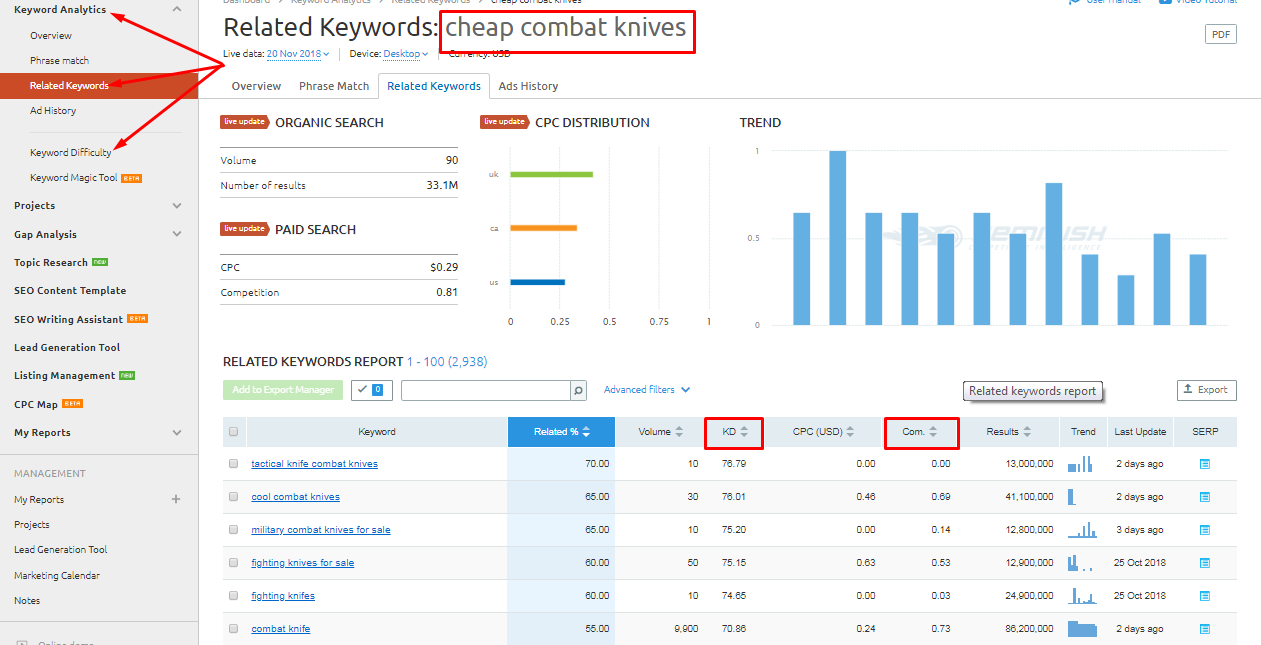 [ Top ⇑ ]
Tool #3 – Keyword Difficulty Tool
You should not just target a keyword without knowing the strength of the fight you want to put up against your competitors.
The Keyword Difficulty Tool analyses and gives and estimate (in percentage) on how difficult it would be to seize your competitor's position on Search Engine Result page.
SEMrush's KD tool is simple to use and leaves you with no extra work.
Just open the tool and type in your keyword: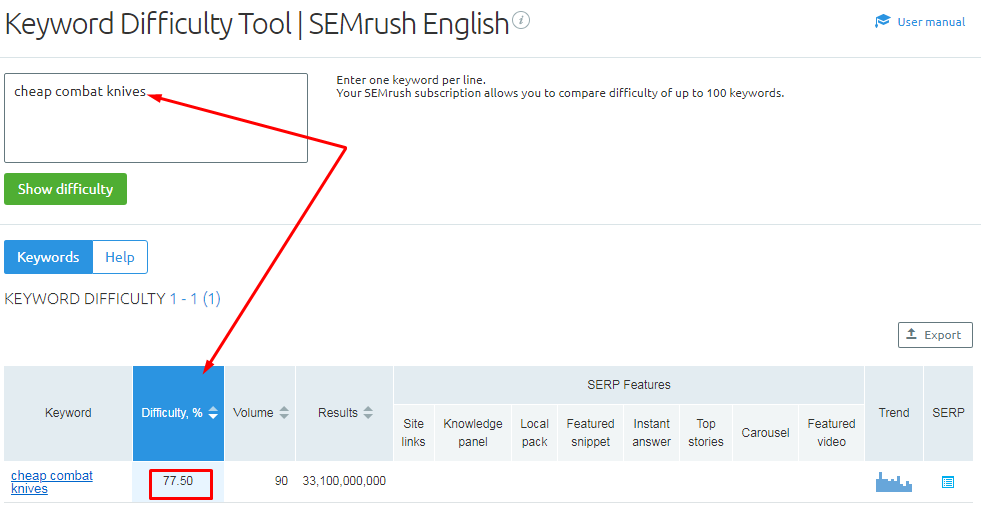 [ Top ⇑ ]
Tool #4 – Site Audit
This is a website health checker that detects issues related to crawlability, content, links and coding. These are all factors that affect your natural visibility.
A site with poor health indicates a broken business. There is no way you can be fully ascertain of your site health without the use of a proper tool.
SEMrush's Site Auditing tool is a complex piece of instrument capable of helping you completely regain your website health.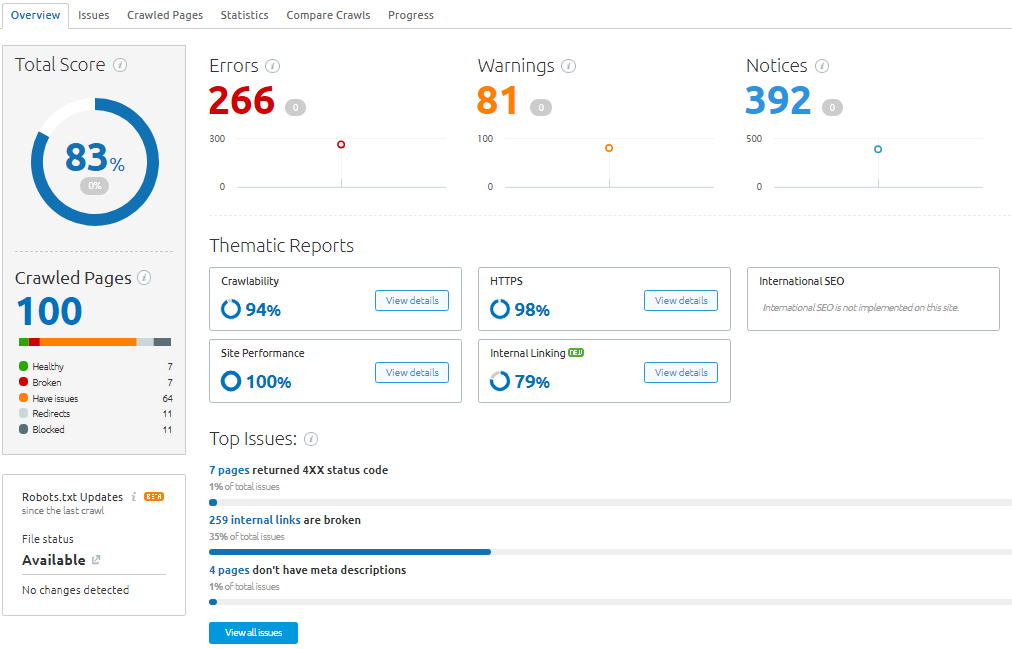 [thrive_link color='teal' link='https://www.semrush.com/kb/31-site-audit?ref=15305947&refer_source=20tools&utm_source=berush&utm_medium=promo&utm_campaign=link' target='_self' size='big' align='aligncenter']Here is more information about Site Audit[/thrive_link][ Top ⇑ ]
Tool #5 – Social Media Tracker
This SEMrush online marketing tool will let you track social audience, activity and engagement of you and your competitors in Facebook, Twitter, Google+, Instagram and YouTube.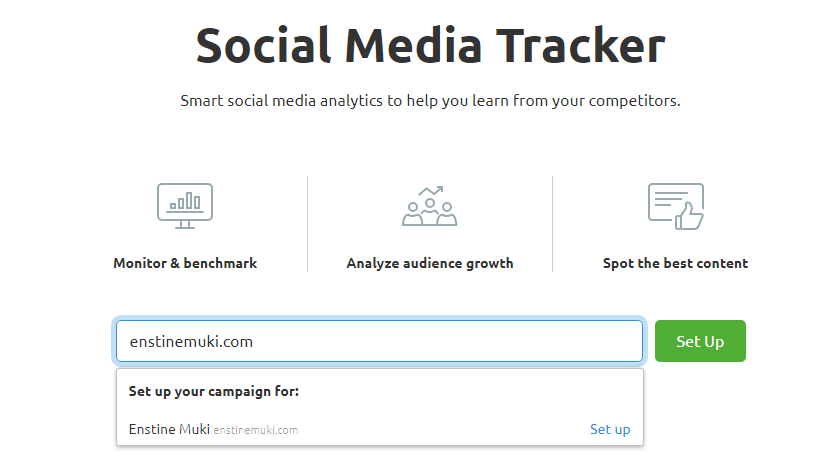 We have Social Media Trackers out there charging mighty fees to offer you a fraction of what you get from SEMrush. [ Top ⇑ ]
Tool #6 – Position Tracking
This tool allows you to get daily updates on your site position in Google's top 100 organic and paid search results. It's crucial to monitor your SERP position so as to maintain and improve your leadership rule.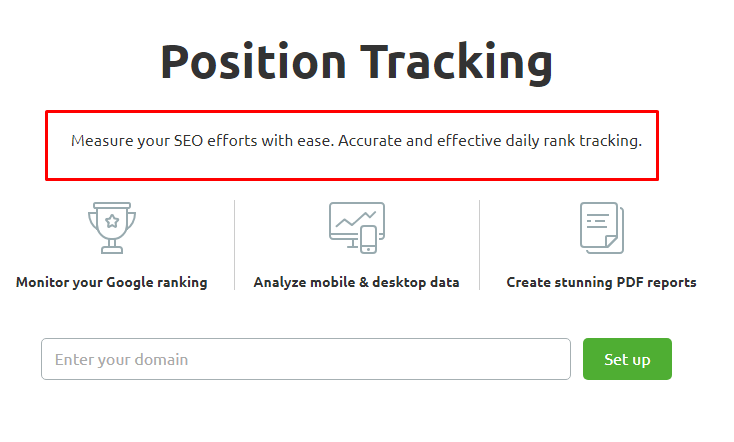 I have personally come across tons of search position trackers some of them costing your leg. What's particularly interesting here. [ Top ⇑ ]
Tool #7 – On Page SEO Checker
This tool offers a complete and structured list of things you can do to improve the search engine optimization for select pages of your website.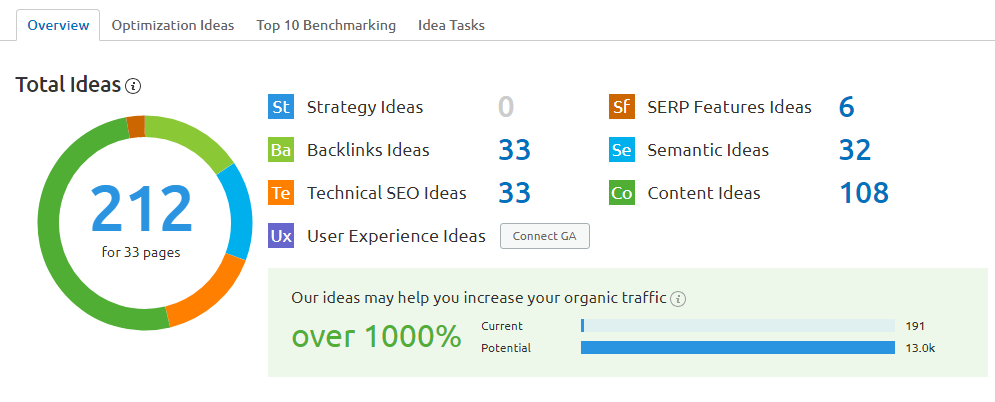 The onpage SEO checker checks for:
keyword cannibalization
keyword stuffing
Page content
Video content optimization
Keyword Semantics
Backlinks
Technical Issues
User Experience
Etc
It makes recommendations that can end up boosting your traffic by over 1000%
[thrive_link color='dark' link='https://www.semrush.com/kb/31-site-audit?ref=15305947&refer_source=20tools&utm_source=berush&utm_medium=promo&utm_campaign=link' target='_blank' size='big' align='aligncenter']More about On Page SEO Checker here![/thrive_link] [ Top ⇑ ]
Tool #8 –  Social Media Poster
This tool allows you to publish and schedule posts across major social networks, save time on social managing, analyze your content performance and more!
You know as well as I do that there are tons of social media posting tools online. But we want to be able to get everything together at the the price of one.
SEMrush SMP tool gives you the flexibility to connect different social media accounts and scheduled content to be buffered with time.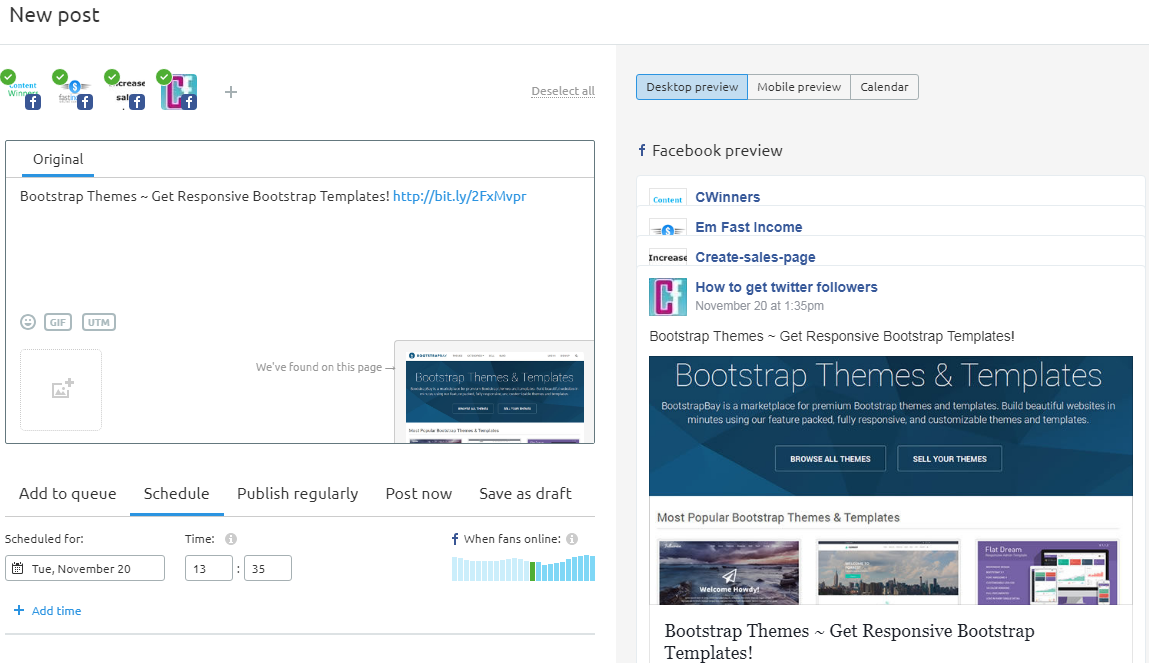 [ Top ⇑ ]
Tool #9 – Brand Monitoring
With this tool, you can easily track all mentions of your and your competitors' brand allover the web and social media.
You will be able to keep track of online mentions and customer reviews of your and your competitors' brand name, product or service. This opens new content distribution channels and allows you to market your brand to a wider audience. [ Top ⇑ ]
Tool #10 – Backlink Audit
We all need those backlinks but not all links are healthy. Some are quite toxic and can lead to serious consequences with Google and other Search Engines.
This tool helps discover and disavow damaging backlinks which can lead to penalties by search engines.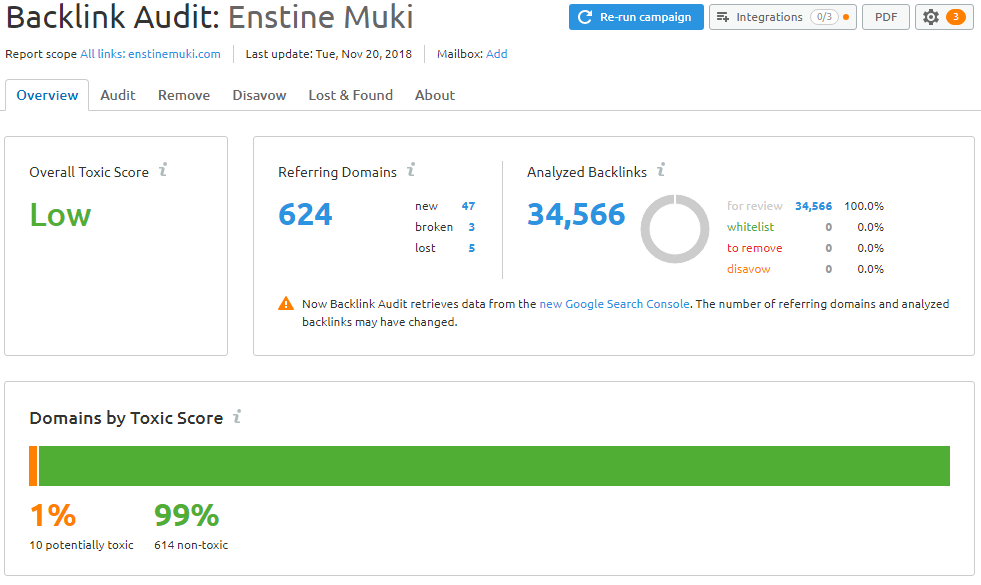 Don't mess around with your SEO. You have to constantly check for bad links and get rid of them and this is just the tool you need in your arsenal. [ Top ⇑ ]
Tool #11 – Link Building
To build more backlinks, all you need is a good out reach strategy. But it could be difficult to find related websites to contact for a back link opportunity.
SEMrush Link Building tool, from a seed keyword will browse the net and give you a long list of related website and a proven outreach strategy.
The tool analyzes who links to your competitors and helps you get links from the most powerful site sources. This way you can get a stronger backlink profile.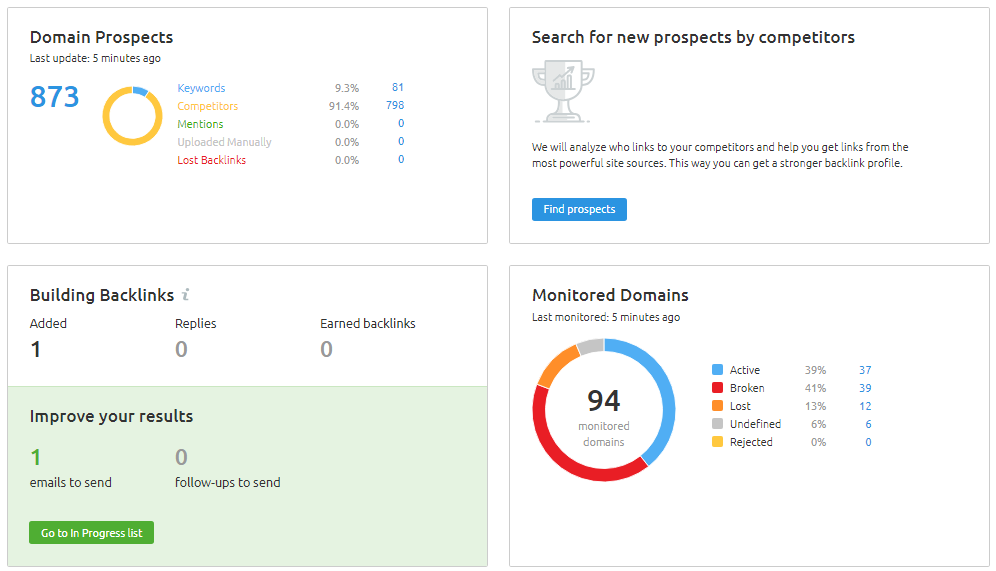 [ Top ⇑ ]
Tool #12 – PPC Keyword Tool
The success of any PPC campaign begins with the choice of your keywords.
There is a lot I can say here but let's be concerned with what SEMrush PPC Keyword tool can do. Simply, it helps you create these keywords and manage campaigns easily.
If you are running pay per click campaigns, you will need this tool to help with advanced keywords suggestions based on your competitors' successes and an efficient way to manage your campaigns.
[thrive_link color='purple' link='https://www.semrush.com/kb/294-ppc-keyword-tool?ref=15305947&refer_source=20tools&utm_source=berush&utm_medium=promo&utm_campaign=link' target='_self' size='medium' align='aligncenter']Moe about PPC Keyword Tool here[/thrive_link] [ Top ⇑ ]
Tool #13 – Ad Builder
Getting keywords for your campaigns is just a step. The next thing will be to build compelling ad text and that's where this tool comes in. [ Top ⇑ ]
Tool #14 – Content analyzer
Do you create content? Do you think it's enough to create and publish on your blog or guest blogs?
It isn't!
This tool allows you to audit your domain content and track your guest posts to pinpoint high-exposure content.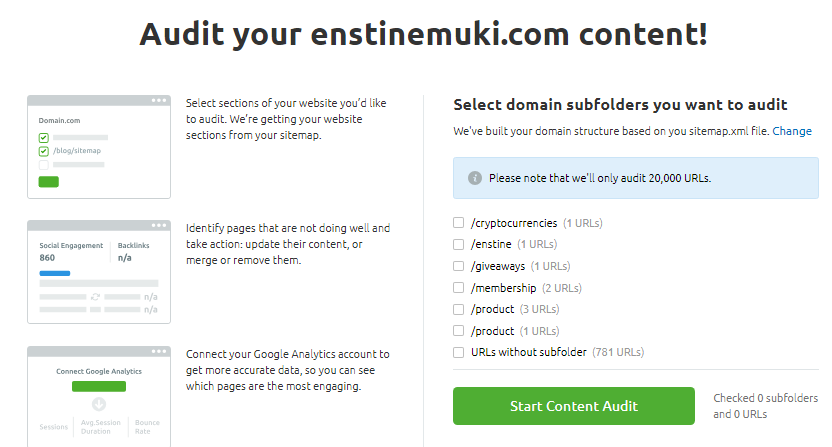 Content analyzer measures the performance of your digital content, both on and off your site by analyzing backlinks, keyword rankings, social shares and even Google Analytics data like sessions and bounce rate.
The tool has two main functions:
Auditing your own website content's engagement (Content Audit)
measuring the reach of your off-site content (Post Tracking)
[ Top ⇑ ]
Tool #15 – Organic Traffic Insight
One of the annoying things with Google Analytics (GA) is the Not-Provided keyword. However, this tool unlocks access to those hidden keywords by connecting to your GA and Google Search Console. [ Top ⇑ ]
Tool #16 – Topic Research
This is an excellent tool that helps you create killing content for your content marketing business. First, Enter a topic you'd like to craft your content around. The tool will generate tons of information and ideas regarding this topic.
This will be presented in the form of:
headlines,
questions,
related topics
Then use the ideas to create powerful content that resonates with your audience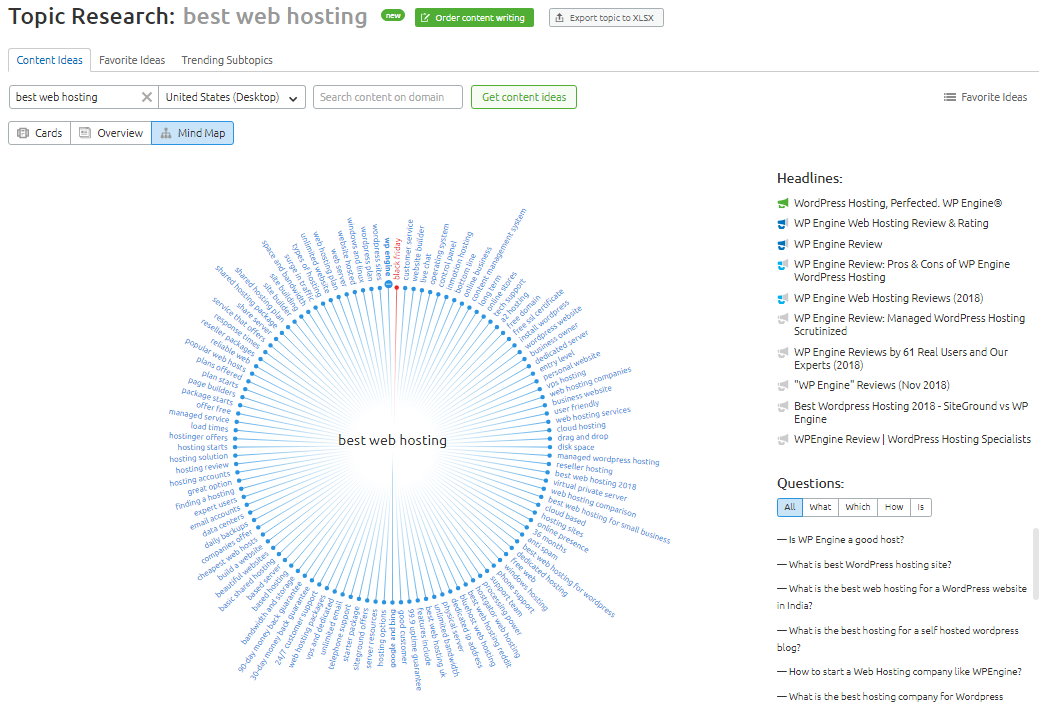 For bloggers and content editors, this is a perfect tool to constantly defeat content production roadblocks with a click of the mouse. [ Top ⇑ ]
Tool #17 – SEO Writing Assistant (SWA)
This is one tool you are always going to need if you want your SEO activities to spit out incredible results.
Beside checking the SEO potential (keyword stuffing, word count and other basic On Page SEO factors) like many other tools out there, SWA moves a step forward to authenticating the originality (using the plagiarism checking option) of your articles in real time.
If you outsource content writing or perhaps accept guest content on your website, this will be a handy tool to validate the originality of the any text content before publication.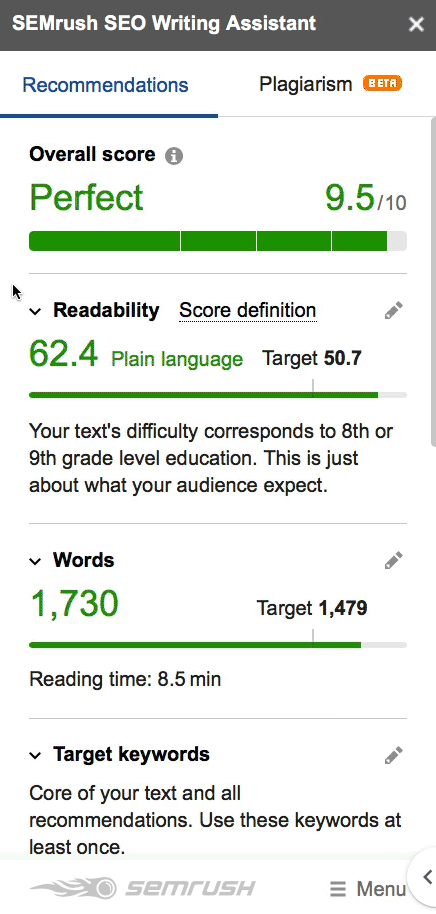 SEMrush's SEO Writing Assistant is available as:
Add-on for Google Docs on Google Chrome, Firefox, Safari and Edge browsers
WordPress plugin
[thrive_link color='orange' link='https://www.semrush.com/kb/814-seo-writing-assistant?ref=15305947&refer_source=19tools&utm_source=berush&utm_medium=promo&utm_campaign=link' target='_blank' size='big' align='aligncenter']See More About This Tool Here![/thrive_link] [ Top ⇑ ]
Tool #18 – SEO Content Template
This is the right tool to create well-crafted SEO friendly content that keeps your competitor behind you. It will analyse your competitor's content and give you ideas to create better content.
Here is what happens:
You enter the keyword you want to optimize for
The tool will analyze content of top 10 Google entries for that keyword
Then you will receive recommendations on how to do better.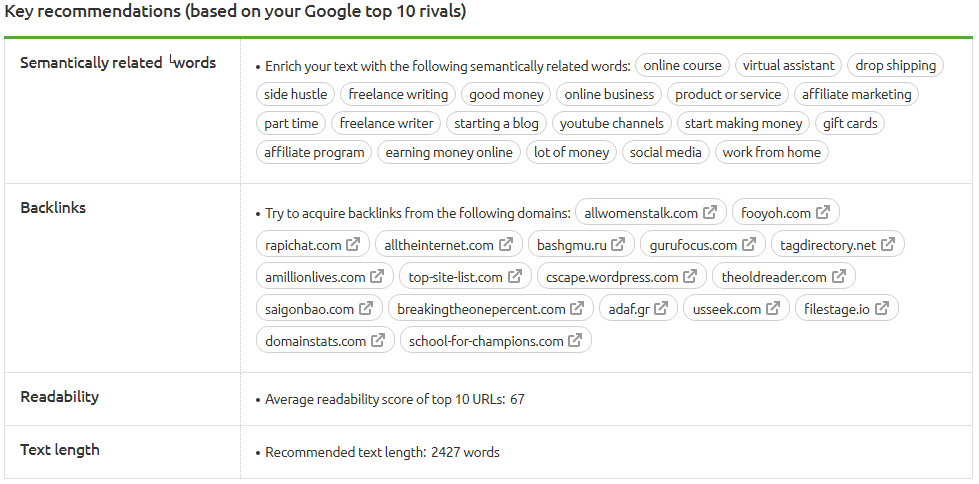 SEO Content Template smart tool gives suggestion on semantically related words, backlinks, readability and text length. It scans into more details what your page #1 competitors have done and looks at areas you can defeat them. [ Top ⇑ ]
Tool #19 – Lead generation
SEMrush with this tool gives you an opportunity to generate leads and offer SEO services to your community.
If you are an SEO agency or consultant, you should give a serious consideration to this option. It works in a very smart way, giving you a custom widget to place on your website in order to collect email addresses from website visitors.
In list building, you'll often have to give something for free to your readers in other to collect their addresses. The Lead Generation tool has a massively seductive offer for your readers.
It will connect to the Site Audit tool, generate a 25 page website audit report  as the signup bait.  Basically, your readers will have to submit their domain names and some basic data to have their site audited for free.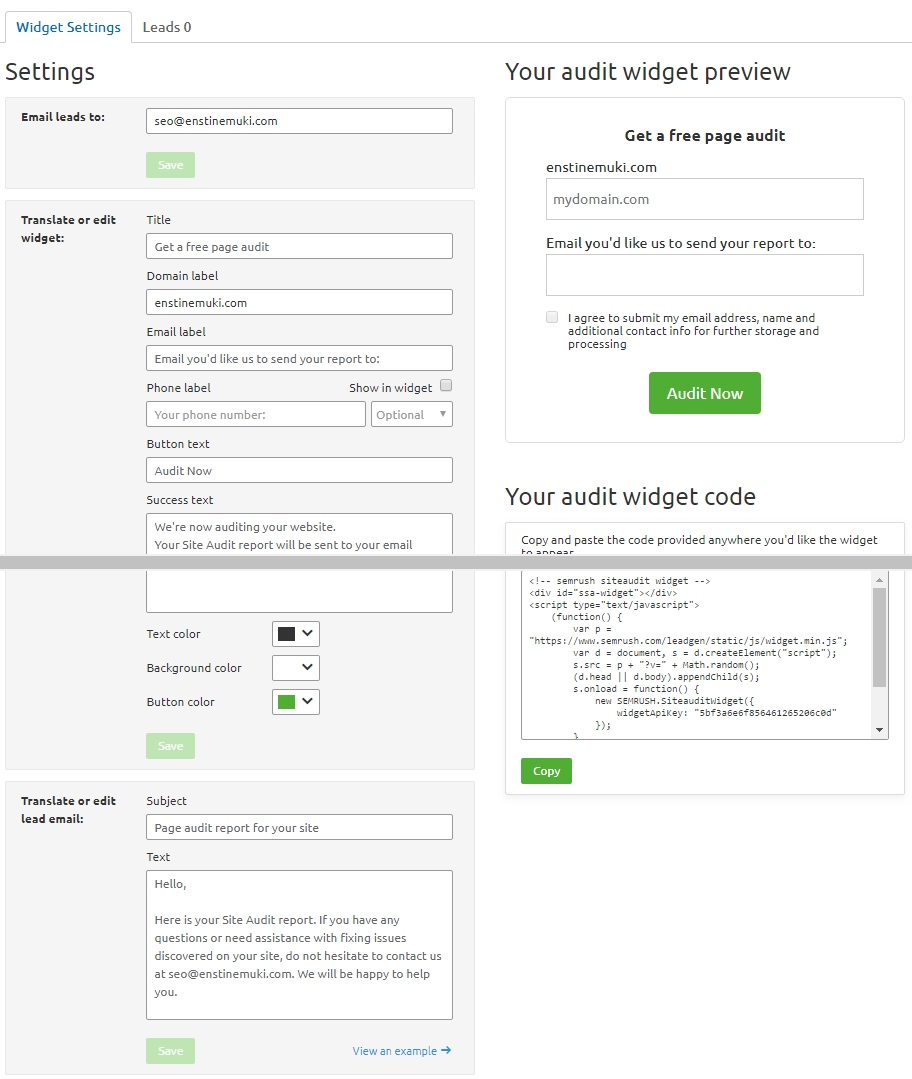 [thrive_link color='blue' link='https://www.semrush.com/kb/600-lead-generation?ref=15305947&refer_source=19tools&utm_source=berush&utm_medium=promo&utm_campaign=link' target='_self' size='big' align='aligncenter']See More About This Tool Here![/thrive_link] [ Top ⇑ ]
Tool #20 – Listing Management
If you are located in the United States, this is a pretty nice tool for your business expansion.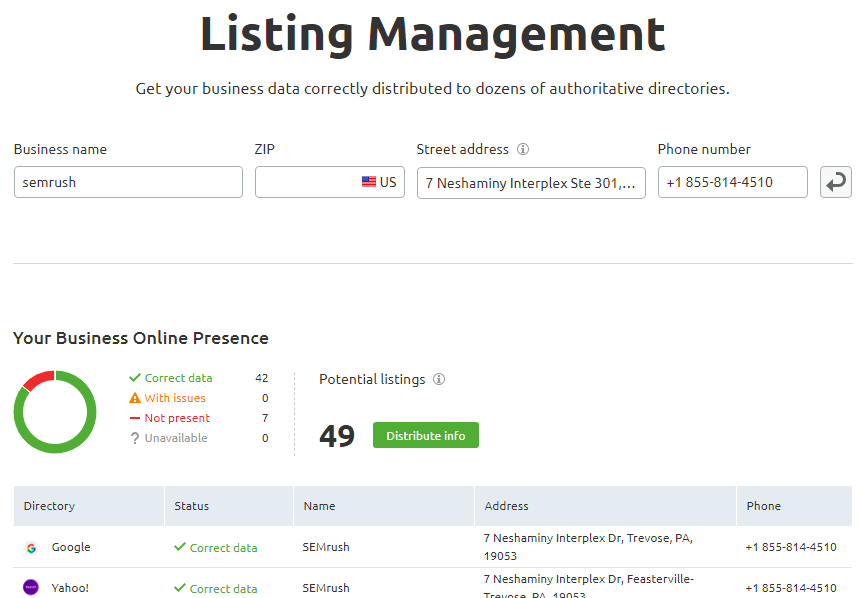 First, you will need to provide some basic information about your business (name, address and phone number)
Then run the tool to see how your business appears on Google, Yelp, Facebook, and dozens of other maps, apps, search engines, and directories.
Now, you can choose to have your business added to more of these directories, apps, maps.
[ Top ⇑ ]
Tool #21 – PRNEWS.IO
PRNEWS.IO offers professional packages of disseminating marketing contents in the form of a press release, breaking news, stories for individuals and businesses in the hope that it will be organically shared with the target market.
PRNEWS is a developed tool engaged in press and content release that helps to amplify business brand through the release of marketing message directly targeted for a specific audience
Not only does PRNews offer a content marketing platform for businesses, but also as a tool for business, especially start-ups, small, and medium scale enterprises to get an online presence. PRNEWS is an efficient PR site that can assist you in achieving your campaign objective and target audience.
With PRNEWS, you can upscale your business sales with the automated news marketing tools, created to give your business the publicity it needs. The platform gives your content an enhanced visualization that strongly influences positively, the reader's perception and general awareness of your press release.
Sponsoring post on PRNEWS is easy and straight forward as you only have to create an account, post your news, and watch your news disseminated to your chosen media.
Posting a press release or news on PRNEWS.IO is a low investment risk given the 100% money-back guarantee offered by the PR site.
[page_section template='3′ position='default']
And how much much to do you spend for all these tools?
[/page_section]
The simple indisputable truth is you need these tools to see the kind of results you want and to maintain those enviable results.
But going for these tools individually, on different platforms from different provider will certainly be a big threat to your wallet.
I therefore find SEMrush prices exceptionally attractive for all they put together in these packages.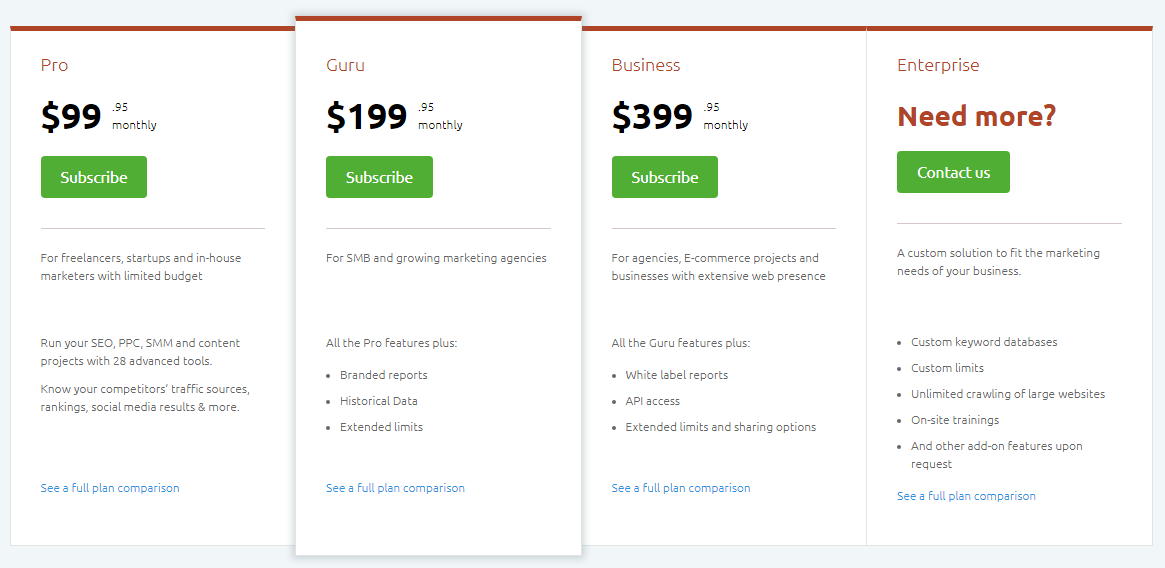 [thrive_link color='blue' link='https://www.semrush.com/prices/?ref=15305947&refer_source=19tools&utm_source=berush&utm_medium=promo&utm_campaign=link' target='_blank' size='medium' align='aligncenter']Here are the prices[/thrive_link]