I use Thrive themes products and I'm thrilled. So I'm doing this FocusBlog theme Review based on my experience and excitement.
I don't have anything against using free tools but I think more serious things are gotten with premium tools. That's why I strongly recommend investing in tools that will position your blog for growth.
Earlier this year, I bought Thrive Content Builder. Next, I shifted my blog to managed WordPress Hosting with free SSL certificate from Traffic Planet Hosting.
Then I invested on Social Warfare. This helps me recover all social share counts I lost as a result of the shift from http to https. And now, I just purchased FocusBlog theme from Thrive.
[thrive_split_button left_color="blue" right_color="orange" left_text="See Theme Details!" right_text="See Theme Demo!" left_link="https://enstinemuki.com/focusblog" right_link="https://enstinemuki.com/thrivethemesdemo"]
I have used Genesis since 2012 and I still strongly recommend it. But there comes a time in a man's life when change is inevitable. Of course, change is the only thing that's constant.
Thrive Themes FocusBlog theme Review
I admit the WordPress theme industry is made up of wonderful, eye candy, fast loading and SEO friendly themes. But my choice right this moment is FocusBlog theme from the guys at Thrive. They have a collection of awesome themes so you will certainly find your taste.
FocusBlog theme is beautiful
One of  the factors that make the attractiveness of a blog is its visual beauty. Be sincere to yourself and tell me what you think about the look of my blog after this change. It was not previously ugly though. But I think what I have now is more attractive.
The theme is built for Speed
While website load time is a known SEO factor, no human reader would like to spend minutes waiting for your site to load. People generally are busy so they prefer something that respects that nature.
FocusBlog Theme code has been optimized to keep it as light as possible and a couple of speed-boosting features were added as well.
FocusBlog theme is SEO friendly
The theme is built following SEO best practices, so your site is well-optimized and SEO ready out of the box. It's fully compatible with all popular SEO plugins so you won't have to worry about running your SEO tools.
FocusBlog Template is responsive
Theme responsiveness is another SEO factor. FocusBlog is 100% mobile friendly, giving your blog great look on any device & screen size.
[thrive_link color='green' link='https://enstinemuki.com/focusblog' target='_blank' size='big' align='aligncenter']See Theme Details![/thrive_link]
[thrive_headline_focus title="You can do even much more" orientation="left"]
It's amazing how much flexibility and tools you get with just a single theme. The admin panel bundles features to allow you change your blog's visual elements, layout, insert your Google Analytics code, enable/disable social media elements, etc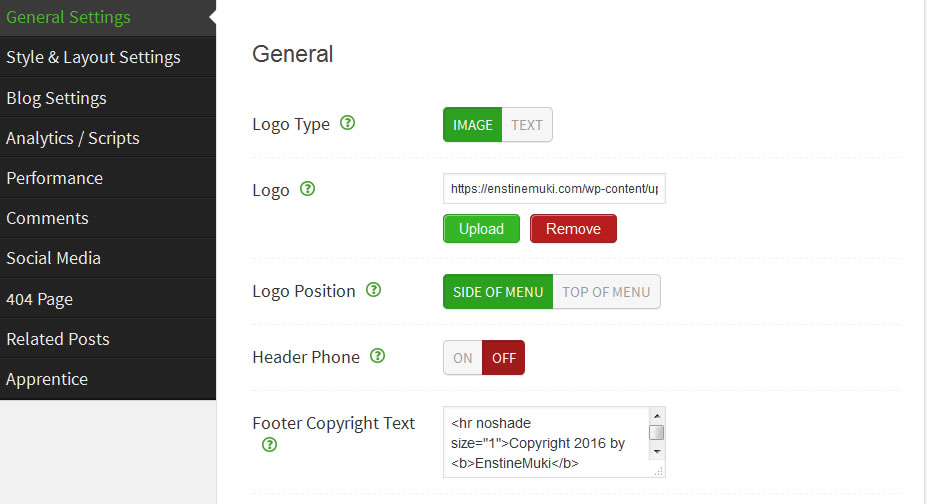 You can easily add a phone number to your website's header
If you have a quick contact or toll free phone number,you can quickly add it to your website's header. This makes it easy for your visitors to reach you on phone without having to click to the contact page.
The quick contact phone number is often available on all pages and posts on your website:

All Thrive Themes premium WordPress templates include these and more features:
Speed-optimized related posts gallery,
A

utomatic image optimization

,
Built-in floating social buttons,

Multi-column extended drop down menus

,
Click-to-call phone numbers,

A font manager with 600+ fonts to choose from

,
Post format support,
M

ultiple blog layouts

Etc.
[thrive_headline_focus title="FocusBlog Theme Available in 5 Color Styles " orientation="left"]
The theme is shipped with 5 vibrant color styles and switching between them from within the options panel is a matter of clicks.
Alternatively, you can use the Visual Theme Customizer  to set custom colors, custom fonts, custom backgrounds and more, to suit the site to your exact needs.
[thrive_headline_focus title="FocusBlog Theme – More Attractions" orientation="left"]
ThriveShortcodes
One of the things that got me more hooked to FocusBlog theme are the shortcodes and the way they are managed. These allow you add beautiful and engaging elements to your blog with a simple click.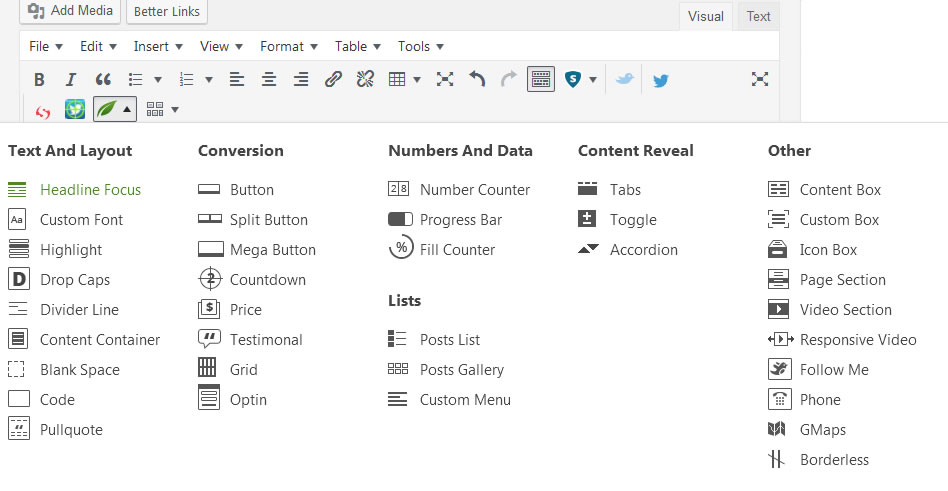 Thrive Opt-in
List building is no doubt a highly recommended online business exercise. Your list is your marketplace and a sure source of targeted traffic.
You will need list building elements on your blog to easily convert readers to subscribers. Thrive Opt-in feature allows you to display targeted opt-in forms on your site & connect to your autoresponder
Connecting to your Autoresponder is quite easy: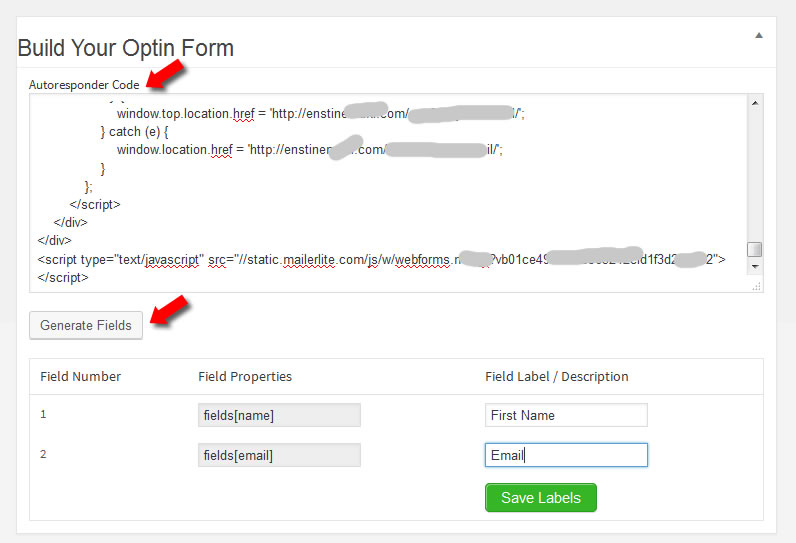 All you need is grab your Autoresponder html form code and paste in the field provided. Click "Generate Fields" and your form fields will  be automatically generated.
Here is a working example of Thrive Opt-in form. So you can actually use it to download my free report showing you [thrive_highlight highlight='#1e73be' text='light']how to attract advertisers[/thrive_highlight]
[thrive_optin color="orange" text="Download My Free Report" optin="156826″ size="big" layout="horizontal"]
Thrive Columns
Traditionally, WordPress editor won't allow you design columns in your articles. The only way out has been through plugins. To avoid additional plugins, get Thrive Themes: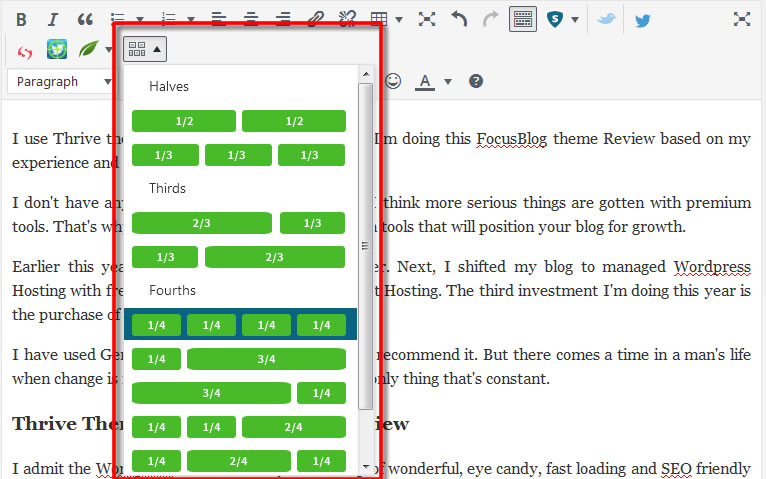 Thrive Focus Areas
This is a unique feature and a strong attraction. If you do promote any products as author or affiliate, the Focus Areas feature is something you want to rush for.
This will allow you create boxes to place on your blog and attract attention. There are actually 3 focus areas:
Above post content
Below post content
Between post listing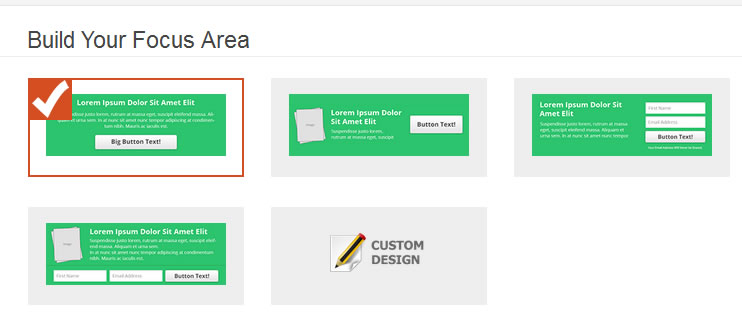 The Focus Area is so flexible so you can add anything including images, videos, optin-forms, etc. You may want to use it to attach a promotion to any blog post or posts in specific categories.
Menu item highlight
This is an exciting marketing feature that lets you highlight a link in your site's header navigation. This looks subtle, but it can make a big difference to your site.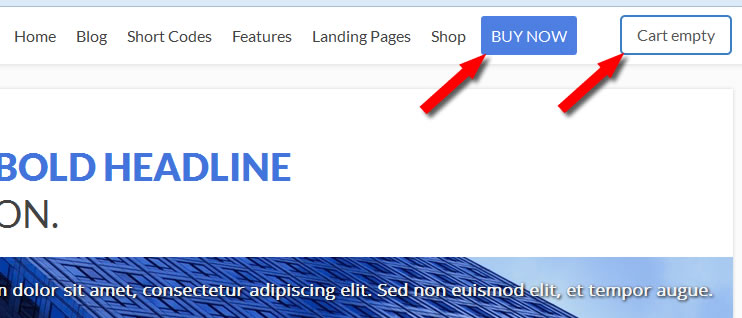 The highlight feature allows you to turn any link on your top menu to a beautifully attractive button.
Thrive Apprentice Feature – create high-quality course and membership content
Thrive Themes are far above simple WordPress themes with tons of premium tools to help you save on buying additional plugins for your business.
The Apprantice tool will allow you create professional looking member's page with download links and resources. You are going to be able to create a fully-featured course platform with multimedia lessons, multiple categories and more.
This theme feature is available in the following Thrive themes:
Pressive
Squared
Minus
Ignition
FocusBlog
Drop a comment and let me know what you think about Thrive themes FocusBlog Theme.