42
Why I Bought Thrive Content Builder ~ Why you too should buy now!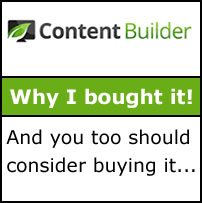 NB: This content was created using Thrive Content Builder
Thrive Content Builder is one of the most exciting Plugins I have bought in recent times. My first post I created with this editor has a new visual experience that makes me very excited about the investment.
There are two reasons I got a copy of this crazy visual composer and I will share them with you:
To create beautiful, readable, animated and powerfully attractive and stunning visual content.
To make money as an affiliate. I'll explain more below.
More...
CREATING VISUALLY COMPELLING & ANIMATED CONTENT WITH THRIVE CONTENT BUILDER
Creating content doesn't have to be boring from the point of view of the creator. Your readers too have to feel excited about your content formatting and graphical elements that make them want to stick around for more...
In this section, I'm going to look at some of the tools of this plugin and how we can use them for the kind of formatting and visuals that will keep your readers longer on your blog​
Now, once you purchase your copy, you'll have to install and activate like you do with most premium plugins.
To access the editor, click to load your traditional WordPress Content Composer.​ You'll see the Thrive Content Builder icon just above the content tool bar. See image below:
Wait!
Before you even click to load the editor, there are three things you must do first:
You must enter the title of your post
You must make sure your permalink too is saved
You must click to save draft
Doing this will create and save the copy you are going to be editing with the new world editor. If you don't do this you'll see Page Not Found error. If this is already happening to you, don't panic. There is nothing wrong. Just follow the three steps above.
Learn how to create beautiful, attractive and animated blog posts with this visual composer
Adding beauty and animation with Thrive Content Builder
There are different content elements you need to make your blog posts less boring. One of the reasons for high bounce rate and less time on site is the fact that your content is clumsy.
Beautifully presenting your posts, garnishing and prettifying them with eye-catching animated and meaningful visuals will inevitably improve reading and make your visitors spend more time on your site.
Let's get some stats!​
Researchers found that colored visuals increase people's willingness to read a piece of content by 80%
65% of senior marketing executives believe that visual assets are core to how their brand story is communicated
According to Kissmetrics, 90% of information that comes to the brain is visual, and presentations with visual aides are 43% more persuasive
Let me end these stats here. Did you see the data elements I have used above? These are some of the animated visual assets you get with Thrive Content Builder
Let's see how to do what. What are some of the elements and how do we get them into your content
With thrive content builder, you can get just anything your brain can think of done. From powerful buttons, icons, tables, social sharing buttons, traditional WordPress widgets, pricing tables, tapped content, tweetables, testimonials, landing pages, home pages, etc
One of the things I was quickly able to set up was my home page. I will be doing a post in the days ahead showing you how to change the traditional post listing home page into a real email capture, business site home page.​
Accessing Thrive content builder menu
Once you are on the page, the thrive builder menu is not hard to locate. The default position (which can be changed) is located to the right of your screen.
At this level, your newly created post is empty and the page is completely locked. You'll have to simply click and drag an element from the editor and drop on the page in order to be able to add content.​
One of the elements you'll have to start with is the Paragraph/Text Element. This will create the text area, allowing you to type your content.​
This element is the first on top of the list of elements on the editor. It has all the formatting you need: Bold, Italicize, underline, align, H1​ to H6, background colors, text colors, font, etc
​
CALL TO ACTION TOOL BAR
As content marketers and online businessmen, we need calls to action in our content.
Whether you are doing simple blog posts or sales copies, at one point, you need to call your readers to action​.
Thrive content builder has beautiful call to action styles (Like this box). All you have to to is drag and drop, then change text and colors and links​
​
This box above is Style 3 Call to Action box. There are 3 others so you should test out to see which one is good for your design.
For each style, you can click to change colors, font, link, etc. The flexibility is such that your brain is the only limit.​
Take down your Pricing Table Plugin
Thrive content builder comes with an excellent Pricing Table builder. All you need is drag & drop, click to change values with options to bold, underline, italicize, add animations to button elements, add links to buttons, etc​.
Seriously, you don't need any additional plugin to do this. You can add a pricing table with up to 5 columns. This tool's flexibility allows you to do just anything.
The sample below is a real working demo, not an image!
STARTER
Byline about this plan.
GOLD
Byline about this plan.
SILVER
Byline about this plan.
What else do you want to do with Thrive Content Builder?
Do you want to create sales copy?
This builder allows you to design professional sales copy with visuals that boost sales. Some of the conversion elements on sales pages are videos, testimonials, images, buttons calls to action, bullets, etc
​Now let's talk about adding testimonials to your pages.
Whether these are blog posts, sales or lead capture pages, adding testimonials with Thrive Content Builder is a matter of drag and drop, then import images and type text. There are many testimonial plugins out there but quite frankly, you do not need them.
Thrive content builder comes with 9 testimonial designs. All you can do is drag and drop, change colors, text, pictures, etc. This actually makes me ask questions if any additional plugin is necessary.
What about adding Guarantee Statement to your copy?
A guarantee is your word you give out to your prospective buyers to assure them of the quality of your product and give them a time range within which they can ask for a refund should they not derive satisfaction from the product.
Often, it's not quite easy to get professional designs for guarantee boxes. Some plugins do this, but then you have to take them down. You don't need them as you already have this feature in Thrive Content Builder. ​Just look at this:
Dealing with videos
Videos of course have become an inevitable factor in content marketing. Thrive Content builder makes it easy to add responsive videos to your content​
The video tool bar allows you to insert video from different sources, and a couple of options to control how your video displays on your site. All you need is the video url and not copying of some complex html code.
The content reveal
​The content reveal is an interesting feature used by many video marketers. What it does is reveals some text on the page after a certain time.
You might have noticed on some videos, the Price and Buy Now button appears after a few minutes of watching the video. Thrive Content Builder has a feature called Content Reveal that does just that
In the image above, the selected content (text, images, etc) will be revealed after 50 seconds.
Thrive content builder - more exciting features
Now, I didn't want this post to be a thrive content builder review. I just wanted to share with you 2 reasons I bought it. But here are some few more things you get with this awesome plugin:
Different types of stylish bullets
Complete image manipulation including animations
Splitting your page into columns easily
Excellent Lead capture light box that can be called on mouse actions
Tabbed content
Post Grid
Feature Grid
Tables
Table of Contents
Excellent Home pages
Excellent lead capture pages
Content Toggling
Google Map Embed
Countdown Timer
Star Rating
Symbols
Beautiful Icons
Web Buttons
HTML boxes where you can drop html codes including shortcodes
Etc
MAKE MONEY THROUGH AFFILIATE MARKETING
I told you above I have two reasons for buying this plugin. One is to be able to add attractive visuals to my content. The second reason is to make money promoting the plugin
Just having the plugin on this blog will not generate any sales but promoting it through affiliate marketing will surely get some money into my wallet.
The best way to boost affiliate sales is to promote a product you are using. That's because you can share your experiences and results.
So how do I intend to do this?​
Provide detailed tutorials how to use different features of the plugin
Share my results with my readers. Each time I create content with the plugin, I'll make it clear that the plugin was used to create the content
Etc
You too can make money promoting it
​Any one blogging on WordPress can promote this plugin and make money too. As I write this post, I have just sold three copies. If you share your results with your readers, chances of make sales are very high.
I know you will like to make some money promoting something that converts like crazy. Here are four steps to take right now;
Click here

and order your copy (That's my aff link)
Install on your blog and play with it.
Create beautiful content and publish on your blog
Tell your readers you are using it. Join the affiliate program and promote it to make money​
I got back my money
The plugin costs just $67. As an affiliate, you get up to 50% per sale. That means you get $33.50 in cash each time you generate a sale through your link. Two sales will be enough to get your money back.
The three sales I made got for me $100+, which means I now have the plugin for free. I got back all I spent and now it's helping me even make more more​
So what's stopping you from trying to make more money? In my ebook, Affiliate Marketing For Bloggers, I shared this tip and more on how to boost affiliate sales.
Buying and using any product before promoting it is one of the top ways to remarkably increase your sales. While this helps you get the products, it adds more into your purse.​
So please share with me in the comment box below let me know what you think about this plugin and promoting it to make money.​