Many people want to know how to start a small business online with $100 or less and having no skills.
The truth is that the Internet has opened new incredible doors nowadays. With just $68, you can start a thriving business online even if you can't do anything but watch TV.
I will discuss with you in this post how you can start your own profitable business online if you can just get $68 from your mom, dad or friend.
If you have Internet access and are ready to follow simple steps, there is no reason to be broke in the next five months.
There are people who are computer programmers, graphics designers, legal advisers, translators, freelance writers, etc who can simply signup to freelance platforms and be hired.
But who will hire you if you have no skills?
Note however that having not acquired professional training in something doesn't mean you can't make a lot of money.

[thrive_text_block color="note" headline="What you will learn in this posts"]
[one_half_first]
How does Wealthy Affiliate help you succeed?
[/one_half_first][one_half_last]
Start a small business online with $68 and no skills!
Read and take action!
[/one_half_last][/thrive_text_block]
With the opportunity I want to discuss with you, you can start your own business online and begin making money anytime, investing just $19. If you are disciplined, you should be making your first $500 in the next 30 days and I will show you how.
In the next 1 year, you should be generating over $1000 in monthly income, sitting at home connected to the Internet.
There are two keywords I will be seriously talking about to help you start small business online:
Affiliate Marketing

and

Wealthy Affiliate University

to small business online.
Affiliate Marketing

is the business model that allows you to make any amount of money online without investing a cent.

Wealthy Affiliate University

  on the other hand is a platform that helps you make money in Affiliate Marketing. This platform has over 1.2 million members who are making thousands of US dollars monthly. This is a prosperous business that can practically change anyone's live.
Putting these 2 together will help you start your small business from home so easily. 

What is Affiliate Marketing?
This is an online money making method where you promote products belonging to others, generate sales and earn commissions.
NB: We will see what Wealthy Affiliate offers that make this business model so easy.
Why is Affiliate Marketing the best way to start a small business online?
You don't have to own a product.
You do not worry about product maintenance or update.
You don't pay production bills
You don't pay taxes
You don't have staff to manage and pay a salary
You don't work under any boss
You do not worry about any after sales services.
Etc
You have only 3 things to do:
Look for a good product to promote.
Start promoting and driving traffic to it.
Earn your commissions and make money
[page_section pattern='https://enstinemuki.com/wp-content/themes/focusblog/images/patterns/white_brick_wall.png' textstyle='dark' position='default' padding_bottom='on' padding_top='on']
Who can do Affiliate Marketing?
This business model is for everyone anywhere in the world. There is absolutely no degree required. As I mentioned above, all you need is an Internet access and a willingness to work.
As in any business, you will need to go through a learning curve. But there is an exciting difference when it comes to Affiliate Marketing.
With many other business models, you study for years, then look for a job or struggle to set your own business. If you choose the Affiliate Marketing model, you make money while you learn. No matter your level of experience, choosing the right learning platform, you could start making your first earnings the following day.
[/page_section]
How to start a small business online with Wealthy Affiliate University
You've known I recommend you get into affiliate marketing. That's because you can start right now

without any formal training.
But why Wealthy Affiliate University?
The answer is simple and I will explain the details below.
But first, let's have a sneek-peak at what members are earning: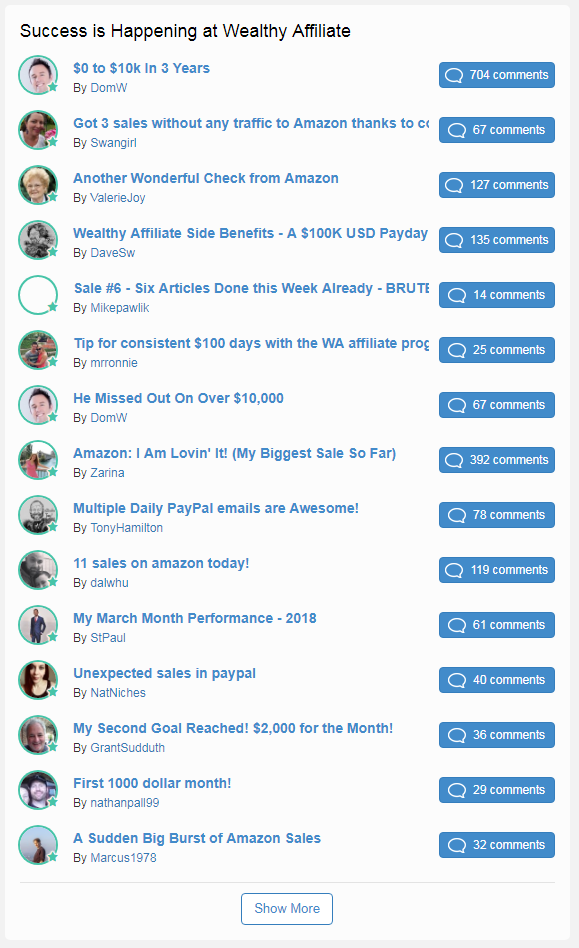 Take a look at those success stories and the comments. That's proof the platform is what people say it is. It has all you required to start a small business online and succeed remarkably.
One of the members on the platform after 6 months posted his success story: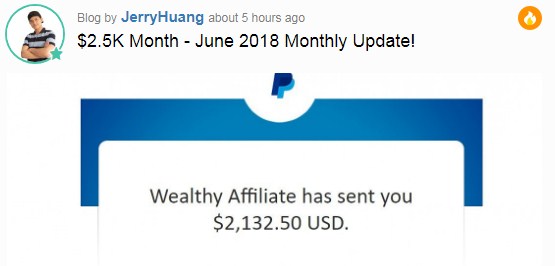 There are many more of such success stories and successful online marketers produced by Wealthy Affiliates University. This is proof that starting a small business online on the platform is highly possible.

So how do you spend $68 to start a successful online business?
With Wealthy Affiliate, you don't have to slaughter your wallet to make money.
You go through a promotional period of 30 days. For this, you pay a token of $19.
During this period, you have full access to all what's offered by the platform:
Complete video training on how to be successful no matter your background
The most active community of helpful affiliate marketers. Over 1.2 million members and growing
The most powerful Managed WordPress Hosting service that beats all competitors.
Powerful website tools to create up to 25 free websites.
Over 3000 professional website templates
Millions of top quality web images
Powerful SEO tool to help your content development
Domain name registration plus free WHOIS protection and privacy
The most powerful Affiliate Marketing system in the industry with a 1:8 conversion ration
Etc
These tools are all available and trust me, within the next 30 days, you should be able to make more money to recover this $19.
After the promotion period of 30 days, you will be required to pay a monthly fee of $49. By the time you are on the platform for your second month, you should have spent $68 dollars
How Wealthy Affiliate helps you successfully create a small business online.
I just listed above some of the features of the Wealthy Affiliate platform. I want to pick a few of them and let's get into some useful details, seeing how the community will help you create your small business online.
[thrive_text_block color="light" headline=""] 1 – Wealthy Affiliate will provide the needed training.[/thrive_text_block]
One of the most exciting offerings of the platform that makes it the best affiliate marketing training platforms is the educational system.
Whether you are the newest person online or you are the most experienced in the business, the training videos by top industry experts make one of the inevitable sales points.
For you, about to start a small business online with very limited budget and skills, the training option has been designed to hold your hands from the most elementary level to the point where you will be helping others succeed.
Beside training offered by system admin (Who have been in the business for over a decade), you have access to 100s of other courses offered by other premium experts. You can start your training as soon as today.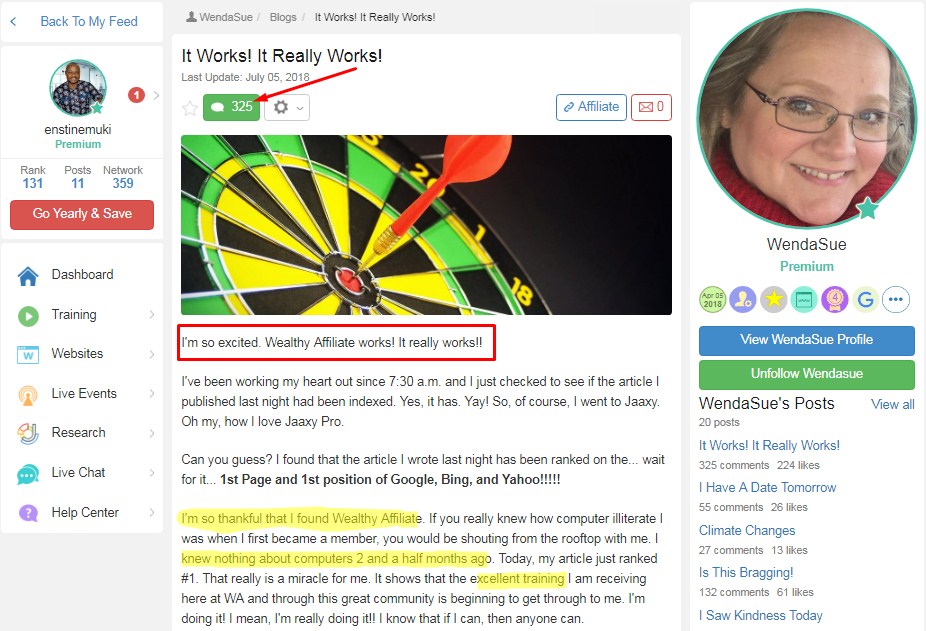 Online Entrepreneur Certification (OEC)
This is part of the training program. However, the OEC training is a 5 phase (50 lesson) series of courses walking you through the process of creating and growing a business within absolutely ANY niche that you want.
The weakly live training or Webinars are most exciting to connect you direct with top team members as they help you start and grow your online business. 

[thrive_link color='blue' link='https://enstinemuki.com/smallbusinessonline' target='_blank' size='big' align='aligncenter']Meet me on Wealthy Affiliate[/thrive_link]
[thrive_text_block color="light" headline=""] 2 – The platform will allow you create websites for free[/thrive_text_block]
As a premium member of the Wealthy Affiliate platform, you can have up to 50 websites created and hosted for free. I will be talking about the hosting shortly.
Creating your Website on the platform is easy. It's a simple matter of filling forms and clicking to generate the site.
There are two options here:
Create a free website with a sub domain on the siterubix.com main domain
Create a free website on your own existing domain or register a new domain.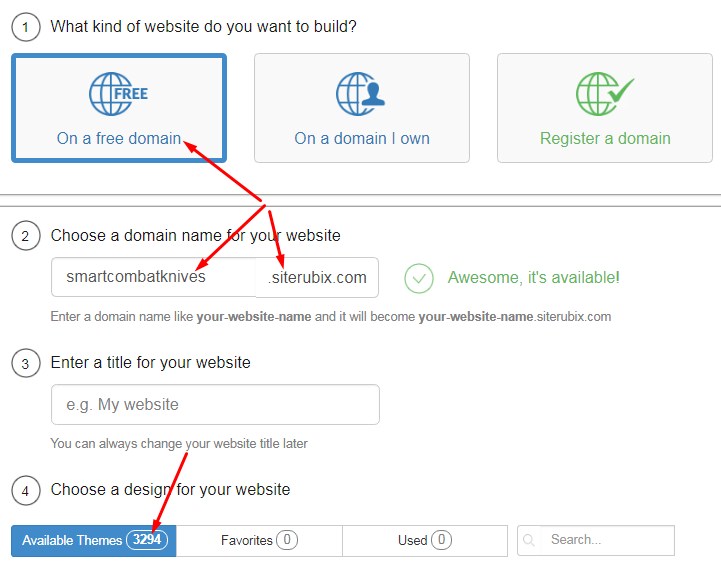 You won't worry about site design or purchasing a premium theme for your website or blog. You have over 3200 professional themes to choose from. Once you start making money, you may want to buy any design of your choice.
[thrive_link color='yellow' link='https://enstinemuki.com/smallbusinessonline' target='_blank' size='big' align='aligncenter']Meet me on Wealthy Affiliate[/thrive_link]
[thrive_text_block color="light" headline=""] 3 – Wealthy Affiliate will host your websites on top, fast speed servers[/thrive_text_block]

The websites you create on the platform will be hosted for you free of charge. As a premium member, you have access to the most robust and high performing servers in the industry.
Wealthy Affiliate is putting almost everything together for you to have a complete business under one roof. The best part is that this is all for the monthly meager fee of $49.
The web hosting offer is unmatched.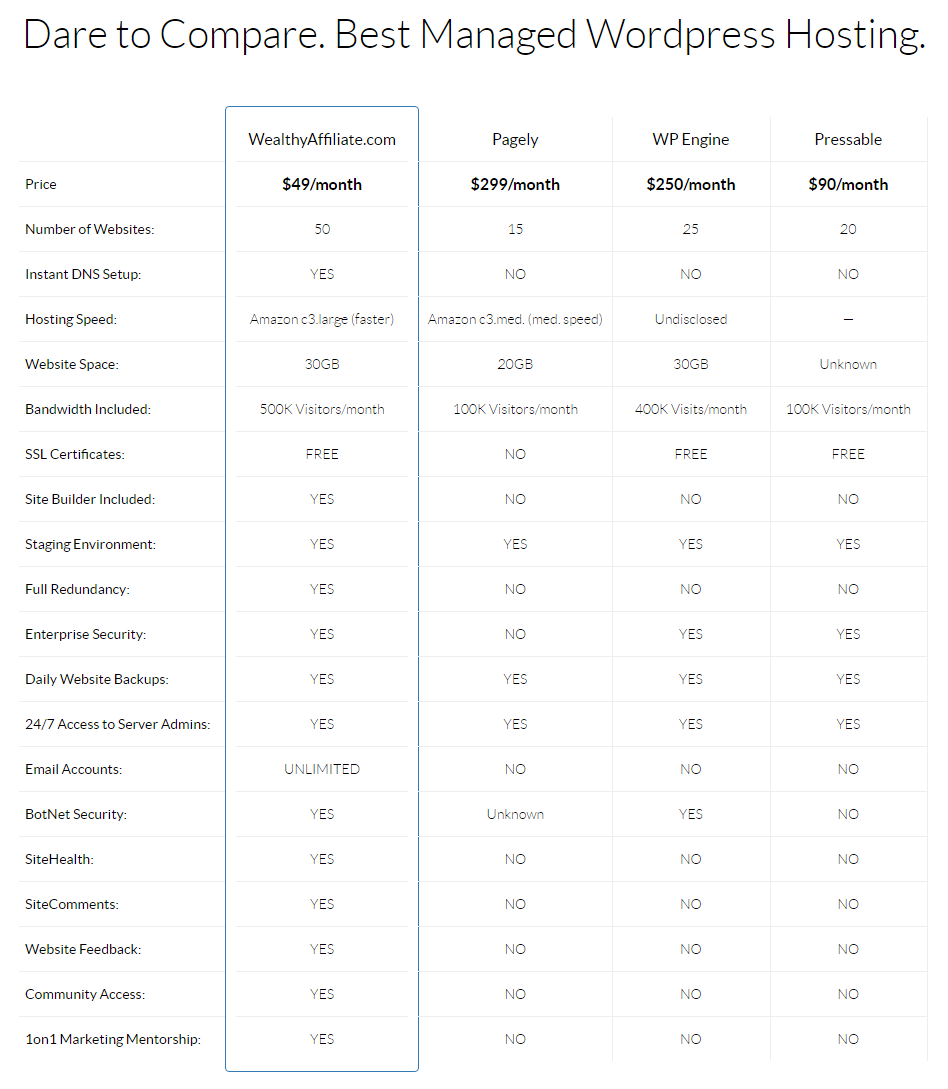 If you want to run your small online business out of Wealthy Affiliate, what you pay monthly for hosting alone is far beyond your WAU fee. But as you know, Wealthy affiliate is not just about hosting. See more about the hosting package here
4 – Wealthy affiliate gives you access to premium SEO tool
By the time you start your small business online, you will learn about Search Engine Optimization (SEO) and how to get your content on Google page #1.
The more of your articles you rank on Google page #1, the more money you stand to make.
But SEO doesn't go without the right tools. And for the most part, the tools are expensive.
As a premium member on Wealthy Affiliate on low budget, you get access to the most talked about Jaaxy SEO LITE for free.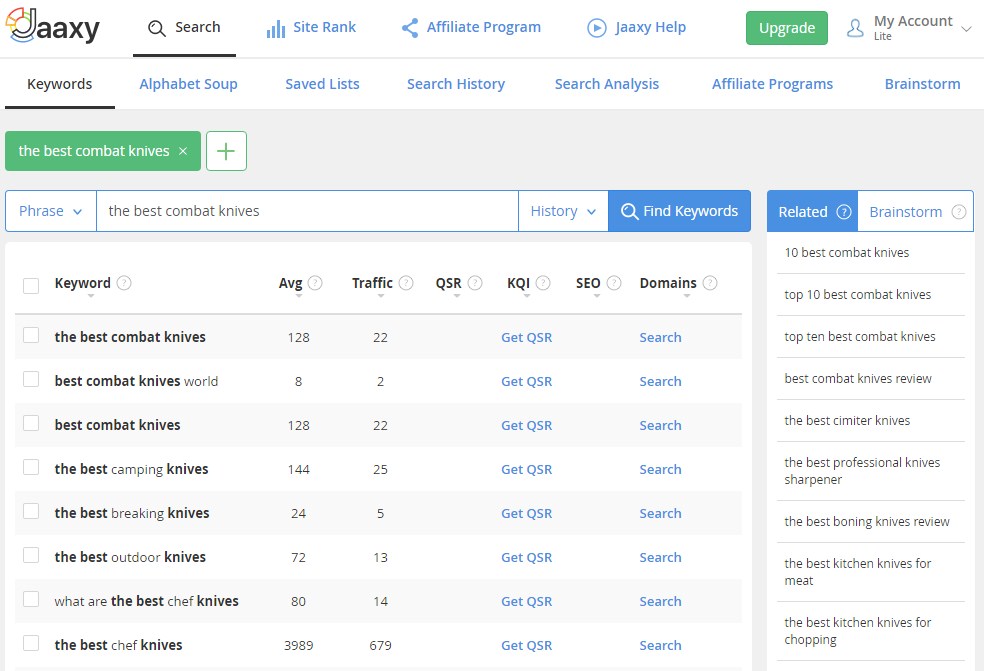 [thrive_text_block color="light" headline=""]5 – Wealthy Affiliate will protect your domain for free[/thrive_text_block]
Domain name protection and WHOIS privacy are paid services online. If you don't want anyone online to

trace you by means of the WHOIS database, you'll have to have it protected.
Most domain registrars will charge additional yearly fees for this service.
But if you start your small business online on Wealthy Affiliate platform, you can register your domain name and have it completely protected for free.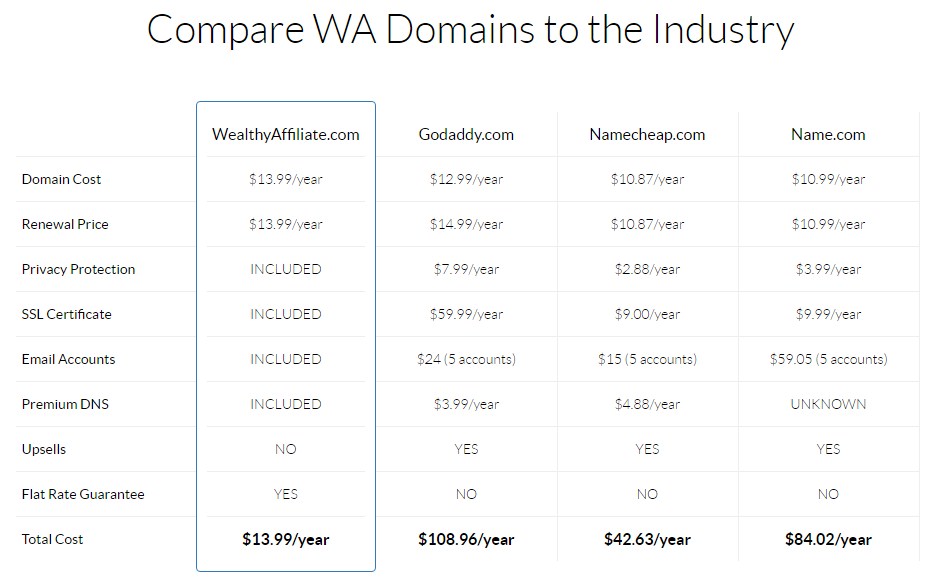 How do you really make the money with Wealthy Affiliate ?
Wealthy Affiliate does not only teach you Affiliate Marketing and give you the right tools. They help you make money in principally two ways:
They help you identify profitable affiliate products to promote in any niche
They help with tools to promote their own highly converting affiliate program.
Whether you want to promote tangible or electronic products, you will be guided through to where to find what's most profitable.
You are allowed to create up to 50 money making websites and hosting them for free. The training helps you identify untold opportunities out of the platform.
The WAU affiliate program is the best in the industry. Given the rich content of the platform, it's becoming easy to promote and get paid signups.
While you are taught to identify and promote high converting products, you are definitely encouraged to grab your affiliate link and promote the platform.
You earn up to $23.50 per referral per month and that's recurring income. It's the most attractive affiliate marketing income model. If you have 100 signups who maintain their accounts, you get a cool $2350 monthly doing nothing.
Is Wealthy Affiliate a SCAM?
A scam  is a dishonest scheme; a fraud. It's a business that collects money from its customers but doesn't deliver the services paid for.
Any scammer has at the back of his mind to collect your funds and run. Often, they don't have any real service or tangible product to sell. For the most part, scammers go under fake identities with physical addresse
But is Wealthy Affiliate a scam?
My straight answer to this is NO.
It's a legit business, with the most active niche social network for affiliate marketers. Wealthy Affiliate hosting websites can be verified. The owners and co-founders, Kyle and Carson and their families can be located. The huge value their platform gives out for the token $49 monthly fee is a strong factor.
Why do people complain?
If Wealthy Affiliate is the top platform to help anyone start a small business online, why are people complaining?
First, you should know that there are very few people who complain against this platform and most of them are competitors and outsiders.
People who usually don't want the success of others will often become haters.
Are there some hidden charges or up-sells?
Wealthy Affiliate has just 2 packages:
The free package
The premium package which goes from $19 the first month to $49 there after.
There are no hidden fees or up-sells. The premium package has all you need to create a small online business.
However, the Jaaxy SEO tool does not come complete as this is a complete product. While you are given access to the LITE edition, if you want the pro features, you will have to upgrade separately.
[thrive_text_block color="blue" headline="Steps to starting a small business online on Wealthy Affiliate with just $68″]
There is no doubt Wealthy Affiliate University is the best platform to start your small business online with Affiliate Marketing. Here are the simple steps to follow: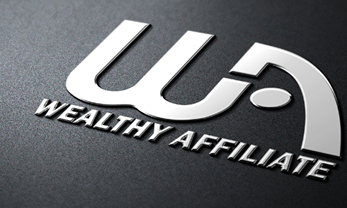 Go to WAU here and sign up. Create a free account. No Credit card neede
Setup your account. Add your picture and description.
Upgrade to premium with $19 or take 7 days to read around and validate the content.
Start the training to choose and setup your niche website
Follow the training to understand the platform and what it offers.
Follow my strategy below to make your first sales
Contact the support service or me should you have any technical issues.
[/thrive_text_block]
Quick strategy to get your first 5 signups in 30 days.
People spend millions of dollars to start a business (Offline or Online) They need some time to break even before hitting the profit margin.
Once the business grows, it should start taking care of itself. It should be generating enough profit to pay the staff and other bills.
You just started a small online business with Wealthy Affiliate. Your budget has been $70. That means you have two months to start making profit for the business to continue paying for its bills.
What do you need to do in 2 months to start seeing profit?
Given that the platform pays $23 per new signup, your objective is to get 3 new members to signup under you as an affiliate within the next 2 months. These will generate enough money to handle the bills for the next years.
Here is a quick strategy for you:

For your first 1 – 2 weeks, as you follow the training, put an effort to understand what the platform offers. What are the benefits of becoming premium on the platform.
During your 3rd week, start marketing the platform while continuing your lessons. For quick results, I propose you start with friends and family. Do what I call "Home meetings" You can easily invite them to your home (or a restaurant) where you present them your new business.
As you study on the platform, you will discover some more excellent promotion tactics that you can use and see results as quick as possible.
I hope this helps you answer the question on how to start a small business online with very low capital and no skills.