It's new year and I'm excited to be here again to feature another problogger, someone with something for you. Someone with some solid material to help you pin to profit.
This is our first featured blogger post of the year and trust me, I have a long list of awesome persons. The reason I'm doing this is to give you the opportunity to connect with yet another savvy blogger.
Don't just read or skim this article. Treat is as a business piece. Read carefully, contact the blogger featured and engage.
In the past, we'v had Lily Ugbaja, Tanyi Melvis, Amber Temerity and many others
If you want to be featured, find details here. Find me on Pinterest here
As the awesomeness continues, today, I have a huge dose of excitement to bring McKinzie to the scene.
Say hello to McKinzie Bean
McKinzie is the owner of the sites momsmakecents.com and todaymommy.com. She's had the entrepreneur bug ever since she was a child and in adulthood has launched six profitable businesses.
However, some of those businesses weren't created by choice.
Right before McKinzie had her first baby in early 2015 and prepared to be a stay at home mom, her husband's pay was drastically cut and for a year layoffs loomed over their family. In that first year as a stay at home mom McKinzie started three businesses to help offset their finances. Now McKinzie loves teaching other moms how they can make money from home.
McKinzie has been blogging for over 6.5 years and now teaches other bloggers how they can launch a blog and make money from home too. McKinzie has a super in-depth course that outlines exactly how to start a profitable blog called Mom Blogging Mentor.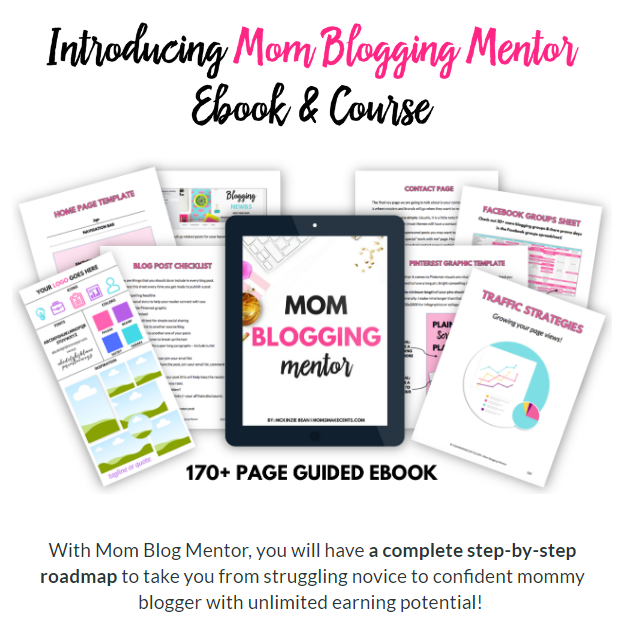 It includes a 170-page ebook, 20 video-based lessons, premium stock photos and more all for under $50.
[thrive_link color='blue' link='https://enstinemuki.com/mommakecents' target='_blank' size='big' align='aligncenter']You can check out here course here.[/thrive_link]
In working online McKinzie knows the value of always testing strategies. To show her readers how to use Pinterest to quickly drive traffic to a new blog she launched the site Today Mommy, a pregnancy and parenting blog.
She was able to get over 20k pageviews to the site in its first month using a brand new Pinterest account. She outlined the entire process here in her case study for beginner bloggers.
[code]McKinzie recommends that all new bloggers start their journey with Pinterest.[/code]
Other traffic strategies like SEO can take six months to a year to start seeing results, where with Pinterest the results are relatively instant.
Here are a few tips from McKinzie to quickly get Pinterest traffic to your site:
1 – Visuals are HUGE on Pinterest 
Make sure that you are using bright high-quality images with big bold text. Low-quality images get fewer clicks and repins which signals to Pinterest that it is a bad pin and they eventually stop showing it.
There are lots of great places to get free stock photos for bloggers like Pexels, Pixabay, and Unsplash, if you aren't confident yet in taking your own photos.
For design, she likes to create Pinterest graphics in Canva. It is a free tool and has tons of templates you can use or you can make your own template to use over and over again.
2 – Focus On Pinterest SEO
Like Google, Pinterest is also a search engine. You can get quick traffic to your posts when you pin your images, but for a long-term strategy, you need to focus on Pinterest SEO.
Recommended: Google SEO Vs Pinterest SEO – 5 Pinterest Ranking Factors included!
Now, don't be scared it isn't as bad as it seems. You just need to be intentional with your titles and descriptions to ensure that your keyword is in the right places. Place keywords in your blog post title, your pin description and remember to save your pins to the most relevant boards first (this helps signal to Pinterest what the pin is about).
3 – Be Consistent
Pinterest likes to see pinners that follow the same pinning patterns. If you are pinning a TON of content on Saturday's but then not pinning much during the rest of the week you aren't going to get great results.
Some people prefer to do manual pinning, but with her busy schedule, she uses a scheduler. Now that she knows how to use Tailwind, she is able to pin much faster and have a consistent stream of pins being pinned every day.
For more Pinterest strategy tips you can join over 6,000 other bloggers in McKinzie's free Pinterest course for five days of detailed Pinterest education or to become a Pinterest pro you can check out McKinzie's premium five-course Pinterest bundle, Pin to Profits.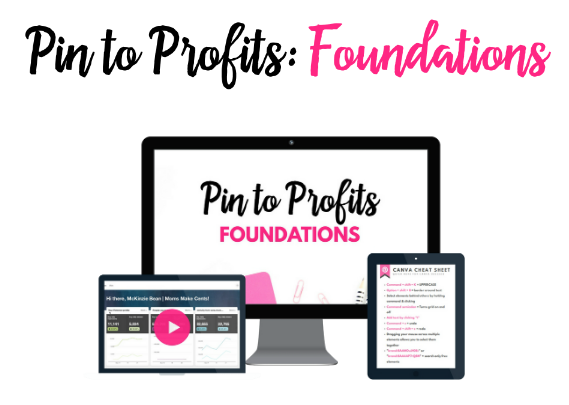 In Pin to Profits, you will learn how to,
Build a solid Pinterest foundation
Schedule Pins with ease
Master Pinterest affiliate marketing
Develop Pinterest sales funnels
& Scale your business with Promoted Pins
This is the most thorough Pinterest course on the market with over 90 lessons, videos, and worksheets.
Ready to get started?
[thrive_link color='light' link='https://enstinemuki.com/pintoprofit' target='_blank' size='big' align='aligncenter']Check out Pin to Profits![/thrive_link]
NB: Price will be increased  mid-January. So jump on board now before the increase
Want to connect more with McKinzie?