It's a month today since I bought and have been using the tips taught in this Pinterest course and so far, the results have been amazing.
Pinterest seems to be driving more traffic than Facebook, Twitter and other social media platforms. However, this depends on the measure of effort you put  in on each platform.
From my personal observations, Pinterest is designed to drive traffic. Facebook on the other hand is designed for social engagement on the platform and that's same with Twitter.
Folks on Pinterest are more likely to click your links than on other platforms. I'm not talking about paid ads. I'm referring to the exposure you get from your followers and followers of your followers.
I more actively started using Pinterest earlier on in the month of December 2018. This came after my friend Jennifer Dagi from momentswithjenny.com shared with me her pinterest activity results.
As a matter of fact, she had bought this same Pinterest course and was practicing it. She's getting really amazing results: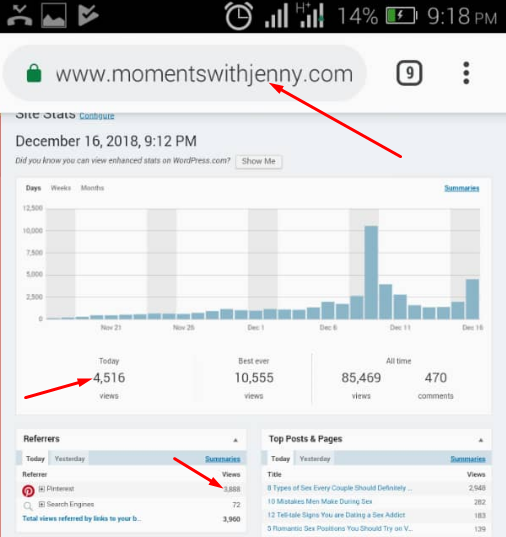 If her audience is targeted to your product/services, you may want to buy some space or sponsored some content on her blog.
Tanyi Melvis was the lady who started the Pinterest song in my ears. She's got one of the most exciting blogging groups on Facebook with over 28k members and growing.
Recommended: Are Pinterest Followers still important?
From 643 to 124,800 viewers in 30 days
When I bought the Pinteresting course on the 27th of November 2018, I had less than 1000 monthly viewers on Pinterest: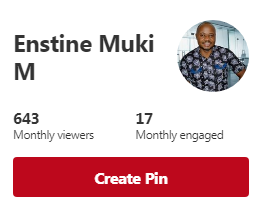 11 days after implementing the tips in the course, I had gotten 12k viewers. As a matter of fact, I wrote about it in this post.
And today, these are the stats: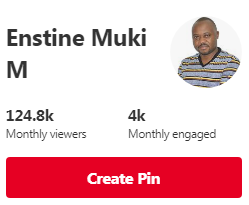 124.8k viewers and 4k engagement.
What about traffic to my blog?
The focus behind all this is traffic to blog right? Millions of viewers on Pinterest without them clicking to your blog don't have any worth.
Generally, Pinterest CTR depends massively on the Pin quality. A Pin is composed of:
The image
The text overlay
The colors
The title
The description
Carefully playing with these Pin elements will have an effect on the number of clicks you get. That's the area I will be working on more keenly this time.
If you have 1000s of followers and belong to 1000s of group boards, if your Pins aren't attractive, you won't get clicks.
Now, if pinners click your Pins and discover your content is worth nothing, they will bounce off. Some may may report you, unfollow or leave a very bad comment.
So getting beautiful Pins isn't the only focus. Be sure to deliver to the taste of your readers while on your blog. That will help them re-pin your pins, follow you, add you to groups, etc.
With all these viewers, I got around 1300 pageviews on my blog. That's roughly over 1% conversion which is largely below what some experts get.
I'm expecting over 5% CTR or maybe you should share with us in the comment box below what the average Pinterest CTR is.
So what was I doing during the past 30 days?
I was principally doing manual pinning of averagely 20 pins a day. More of these were mine. Quite frankly, it's not been easy to maintain a ratio. According to Pinterest, it isn't even important.
I updated most of my old posts, creating pins for them. I got added to over 15 group boards. I also created a few boards. Join one of them here.
I started playing with a scheduler a few days ago. Though the exercise was quite attractive, I found daily involvement on the platform more rewarding.
It exposes me to more great content, blog posts ideas and I have had to create some really awesome relationships.
It looks like I won't be fan of pin schedulers this time.
What about follower count?
The error I made was that I didn't note down my follower count from the beginner. But the figure I had was somewhere between 300 and 400. All in all, I have had over 100% growth by this time.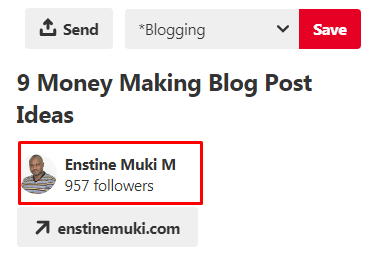 I think it's more interesting to get more followers on Pinterest. Unlike Twitter, there are no follow apps yet which is good. Pinterest is more picky when it comes to approving third-party apps.
January 2019
This month is going to be very exciting. I look forward to over 200k viewers and 1500 followers. I'm also going to work on my pin quality to attract more clicks.
I'm not going to use any scheduler yet. I want to stick to manual pinning. I'm also going to create more relationships with more pinners and get them over to my blog. I may invest in another Pinterest course if need be.
I know the advantages of scheduling. But engaging on Pinterest gets more to my pocket this time. And if Pinterest starts rewarding those who give time to their platform, I will buy them cups of coffee.
Thanks for reading. I'll appreciate a pin 😉