SEO (Search Engine Optimization) is simply everything you do on/off your site to be found and ranked by search engines.
Let's see how Google Search and Pinterest Search are different and what the 5 Pinterest ranking factors are.
Google is the biggest player in the online search industry. Pinterest used to be an image based social media. But recent changes have made it an interesting addition to the list of online search engines.
A search engine is a large database of information that gives users access mainly through keywords. Global search engines like Google, Bing, Yahoo, etc are search engines that curate information from different websites on the internet.
With local site search, you can only get information about the website that hosts the search script. If you are searching on my blog here for instance, chances are that you are looking for something specific on this blog.
But why is Pinterest considered a search engine?
The unique characteristic of all search engines is the way information is found: keyword-based search. Of course there is also the way the database is structured so as to give access to external/internal resources.
In the early days of Pinterest, to gain exposure, you needed to massively depend on followers and group boards. While this has not completely changed, there is a core move towards prioritizing keyword search. The Pinterest search algorithm is being tweaked to give the Pins more exposure through search.

Pinterest is also social. But I see less of social these days. Users are paying less attention to following and engaging on the site though engagement on Pins influences your pin quality.
The main two things folks want are:
To be found through search.
To get the clicks to their site.
That explains why there is more talk about Pinterest Traffic these days. A lot is being said about Pinterest SEO: Optimizing your Pins with keywords to be easily found by searching.
Of course the Pin image and text overlays play a key point in attracting the clicks to your website. But all is basically about being found through a targeted search action.
For many, Pinterest drives more natural traffic than Facebook and Twitter. You need to have tons of Twitter followers, Facebook friends, belong to many different Facebook groups and run large pages to see some reasonable social free traffic from these platforms.
That's because their search algorithm doesn't add much to your exposure
But take a look at this: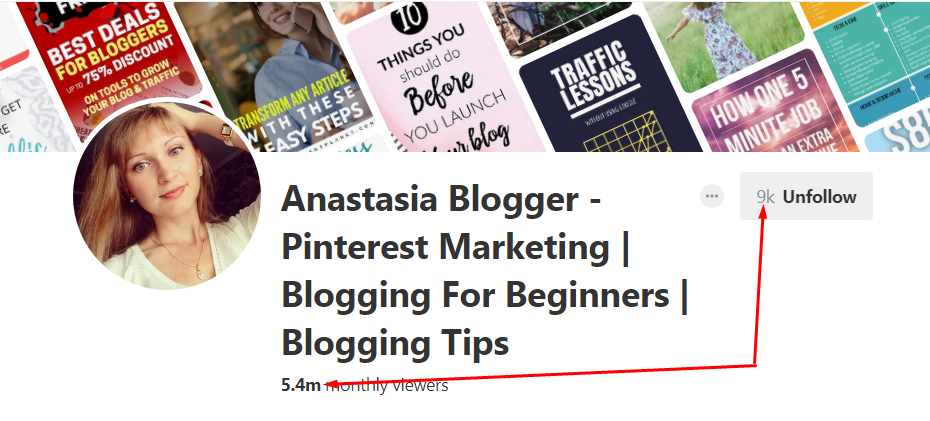 Anastasia, with just 9000 followers has almost 5.5 million monthly viewers. While group boards may be playing a part in this, most of it is from keyword search as I came to know her through a search I did.
Pinterest is heavily a keyword-based social media platform. In other words, it's a search engine. But how is it different from Google and other search engines?
[page_section template='1′ position='default' padding_bottom='on' padding_top='on']
Google SEO Vs Pinterest SEO
[/page_section]
You now have seen with me that Pinterest is a search engine. But how is it different from Google?
Knowing these major differences will help you in getting more traffic to your website. You may want to start giving Pinterest a try from now moving forward. Check out this course I bought.
1 – Pinterest is a Stay-at-home search engine
Unlike Google, if you are not on Pinterest, your content is never going to be indexed into its database. With Google, you just have to get a few things done (We will see some of this later) and once your article is published, Google bots are going to come looking for it without you going to submit.
That's one big difference between the two.  You will never get your content found on Pinterest without submitting to it. Maybe that's going to happen in the near future. But right now, you have to step out to the platform to get found.
Of course, enabling Rich Pins is a way of helping Pinterest understand the direction of your content and that can only be done once you are on the platform.
2 – Content and Technical SEO
This is where there is another massive disparity. Let's look at Google first.
The way Google evaluates the quality of materials to display on its SERP is massively dependent on the content and the technical character of your site.
Google doesn't just depend on the relevance of your Page Title and Meta Description (Which are principally the factors that make Pinterest SEO relevance at the moment). Google goes beyond to validate a lot more aspects of your website to judge its quality.
In the Google SEO world, we talk about the 200 different ranking factors. These are different elements Google considers before giving any website a position on its SERP.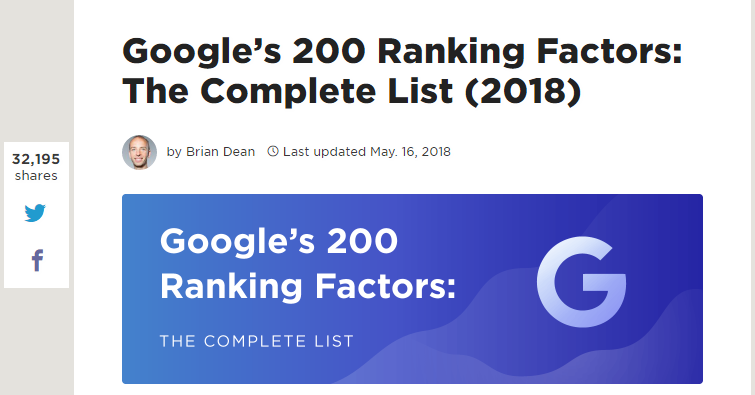 Technically:
Google wants to be sure your website loads fast (in other not to waste visitiors' precious time)
Google wants to make sure your site is mobile friendly. This is because more of today's Internet users are mobile.
Of course there are many other technical factors Google checks.
Now, your Content SEO with Google is even more complex as this is further broken into Onpage and Offpage optimizations.
Pinterest doesn't count your backlinks to understand the value of your content. But that's heavily what Google does with Offpage SEO.
At the moment, your Onpage keyword and image optimization do not influence your Pinterest rankings. Of course we know that's a heavy Google ranking factor.
Other aspects like dwell time, pogo sticking, load speed, mobile compatibility, etc may not be important in Pinterest SEO right this moment.
[page_section template='3′ position='default' padding_bottom='on' padding_top='on']
Pinterest Ranking factors
[/page_section]
Pinterest's algorithms are complex and there is no way they are going to completely divulge how they choose pins to show in search.
However, there are 5 main factors which are known to influence the pins that show up on Pinterest. These are:
1 – The relevance of your Pins/account
This is is a direct influence of your keywords in your Account description, Pin description, Pin titles, Board description.
2 – The quality of your domain (for a business account)
The quality of your domain is determined by the popularity of pins from your domain. You should convert your account to a business account, claim your website and enable Rich Pins
3 – The quality of the Pinner (that's you)
This is all about you as a content curator. How are your pins received? Are the saved and commented? Do they attract clicks? This counts for all your pins, whether from your claimed domain or not.
4 – The pin quality
This is the popularity and engagement quality of your pins. Do people closeup, click through, save, add a photo or comment on your pin?
5 – Time
Time is a big ranking factor on Pinterest. While your content on social media is alive for about 24 hours or less, Pinterest pins require time to mature and start showing up in search. Putting the other four factors together, your pins will gradually gain more visibility with time.
It's important to know these points and how your regular activities influence them. To increase your Pinterest visibility and traffic, I encourage you do the following:
Convert your account to a business account
Claim your website
Enable Rich Pins
Actively pain daily (Manually or using a scheduling tool as this does't really count)
Grow your follower-base
Join relevant group boards
Engage with other Pinners
Use relevant keywords in your Account Description, Board Descriptions, Pin Titles and Descriptions.
Use the Pinterest-recommended image size of 600 x 900px.
Pin other popular posts to your boards.
Etc
Here is my take away on this:
To get more traffic from Google, you need to focus on three main areas:
SEO tools
Your website for Onpage/Technical optimization
Other relevant websites for Offpage optimization (for backlinks and mentions)
To get more traffic from Pinterest, you need to:
Use image tools to create pins
Normally publish on your website
Be more regular and active on the Pinterest platform
[page_section template='1′ position='default' padding_bottom='on' padding_top='on']
Is Pinterest Easier to rank?
[/page_section]
The answer is yes and no.
It all depends on the competition in the target market. Generally, however, ranking in Google takes more effort at the moment.
Pinterest SEO is new and one can understand why lesser effort is required to rank high. Early birds on the platform are gaining huge exposure today with little work.
But as time moves on, one should expert a lot of changes in their algorithm. Pinterest may start requiring some Onpage optimization to rank their pins.
Here is a strong point…
Consistent, daily activity is better than adding a ton of Pins at once. Time is a strong ranking factor on Pinterest.
Unlike social networks, where most of your reach happens in the first 24 hours, your Pinterest content keeps growing in reach over time. As more people discover and save your Pins, you'll see traffic continue to go up.
Pinterest Vs Google SERP
SERP is the short for Search Engine Result Page. The way information is displayed on both platform is different.
Let's look at Pinterest result page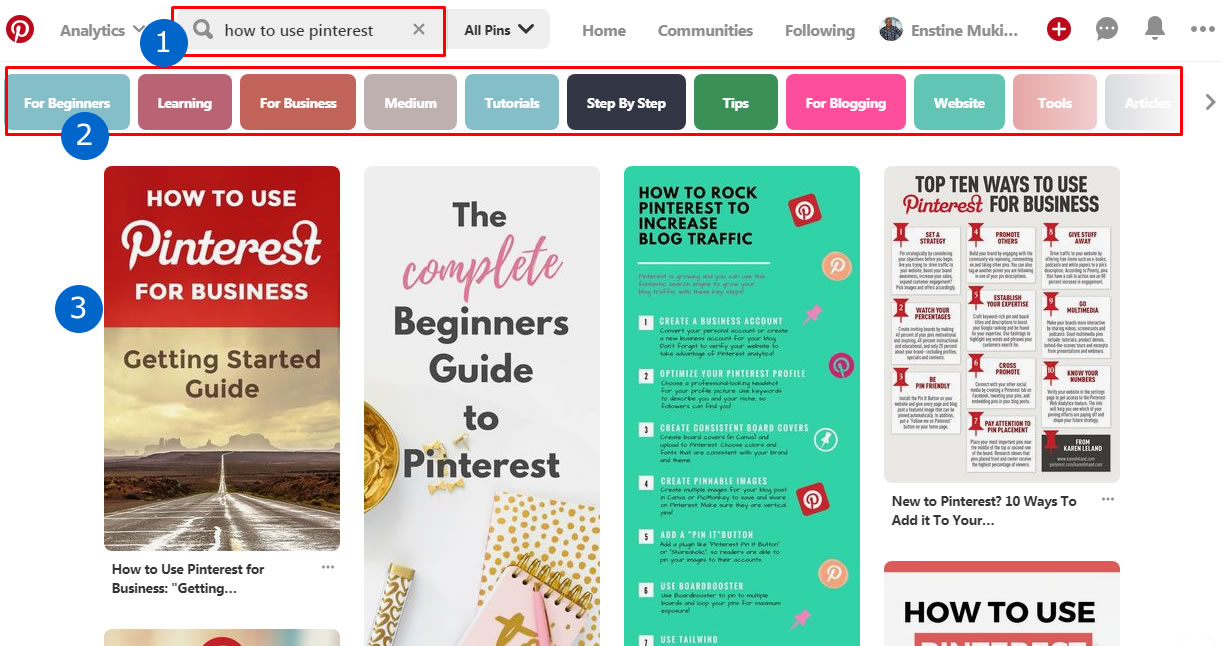 In

1

about, we have the keyword "How to use Pinterest" in the search box.
In

2

, Pinterest makes a suggestion of long tail version of that same keyword. That helps a lot. But in Google, we have these suggested related terms at the bottom of the SERP.
And in

3

, we have the results displayed.
As Google keeps changing its SERP elements (Paid, natural and related terms), we should also expect changes on Pinterest SERP with time.
Is Onpage important for Pinterest traffic
There should be a direct relationship between your Pin Title, Images and Text, and your linked page Title, introduction and Images.
Just like in Google, misleading users (misleading titles) will end up destroying your marketing strategies. Your Onpage elements should be properly optimized to welcome and keep your traffic from Pinterest.
Of course the essence is to convert that traffic to profit. So it will be stupid to not pay attention to the quality and relevance of the content of our pages.
If readers click to your website and find out you are playing to gain clicks or your titles are misleading, they are going to unfollow you and stop engaging on your pins. That means a huge blast against your visibility.
Conclusion
Pinterest is a social network with a huge Search Engine inclination. You can focus on it, drive traffic and grow your online business without Google while Google still remains the giant of Internet search.  You can also use both to dominate your market with a bit of hard work.
Let me know what you think in the comment box and kindly Pin or save this post on Piniterest