One of the biggest problems of most bloggers is how to get free dofollow backlinks from dofollow high PageRank websites.  The simple reason is that backlinks still remains one of the top ranking factors according to Google.
That's why most bloggers do crazy things today to get these backlinks. However, one of the simplest ways is to drop reasonable comments on dofollow commentluv enabled blogs in your niche.
I know, with a little bit of effort, you can still get on Google page even without a single backlink to your article. I have written on 4 ways to rank on Google page #1 without backlinks. I recommend you check that post out.
How to get free dofollow backlinks ~ 15 Commentluv Blogs PART 2
In part 1, I shared 5 commentluv dofollow enabled blogs for you to drop comments and get some awesome dofollow backlinks to your articles. In this part 2, I will be adding 9 more blogs to the list. That will be a total of 15 so I encourage you check all the blogs on the list. If you are comfortable with them, take your time to read articles and drop reasonable comments.
But don't comment for the links
There are generally three benefits of blog commenting:
Backlinks
Direct Traffic
Connection
Commenting for backlinks is the wrong motivation. That's because if you have this at the back of your mind, it influences your posture during the activity and that will adversely affect the quality of your comment.
Most people who comment for backlinks do all the odds just to get their comments through. However, a lot of backlink-hungry comments end up in the waste basket.
The reason ethical bloggers drop comments on other blogs is to create relationships. That's because relationships generate editorial backlinks, traffic and income.
If you position yourself to connect with other bloggers through blog commenting, you do it rightly. So I encourage you drop comments on these blogs to create a relationship. The backlink reward will be secondary. Of course you are going to get traffic once your comments start attractive eyeballs.
Kim Willis created an impressive post on blog commenting. I recommend you check his article on what friends taught him about it here
How do you comment for relationships?
Here are some things to do if you want to connect with bloggers in your niche through blog commenting;
Search for blogs in your niche
Read the articles deeply to acquire knowledge
Drop a reasonable comment that adds value to the article
In your comment, speak directly to the blog owner
Reply to any replies from blog owner
But how do I identify dofollow links
One of the frequently asked questions I get from many starters is how do I know a link is dofollow or nofollow?
Well, it doesn't require you buy any complex software. You are not even going to spend a cent on that. All you need is install a plugin in your browser.
I use Google Chrome at the moment and this extension is what I use to make the difference between dofollow and nofollow links.
In the images below, you'd notice that nofollow links are surrounded by red dots. Dofollow links don't have anything around them.
The list of dofollow commentluv blogs
Ok so here is the list in no specific order. If you've been worried about how to get free dofollow backlinks to your blog, try engaging on these blogs:
---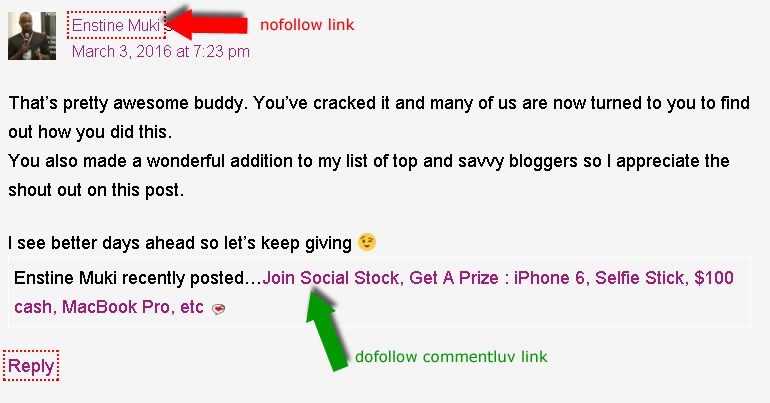 Tor Refsland is the guy behind this blog. If you want practical tips on boosting your productivity, this is one blog you should connect to. Check out the blog here
---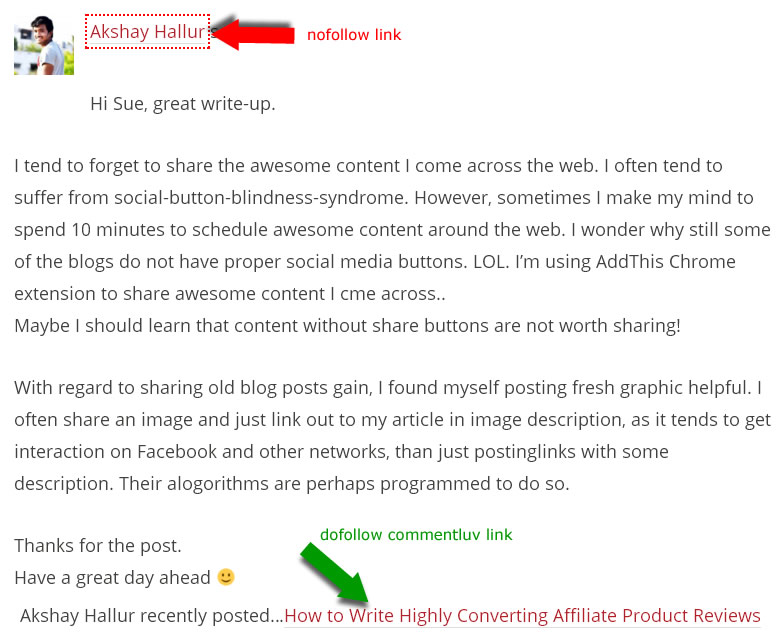 Sue Anne, the lady behind this blog, is one successful bloggers I have known for over a year now. Her blog is clean, comely and features articles on blogging, web traffic, money making, and related topics. Check out her blog here
3 – Opportunitybuilding.com
---

Jasper Oldersom is the guy behind this blog. If you are interested in learning how to  write persuasive copies, check out Jasper's blog here
4 – Imjustsharing.com
---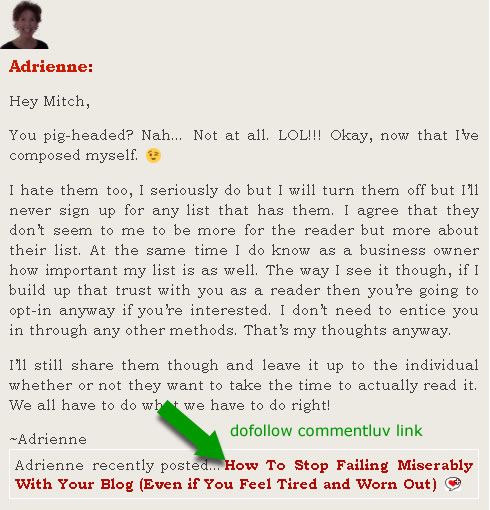 Mitch Mitchell, the guy behind this blog is an awesome guy and someone filled with wisdom. On this blogs, he shares his thoughts on writing, blogging social media, internet marketing, and many other things. Check out his blog here
5 – Ipromagic.com
---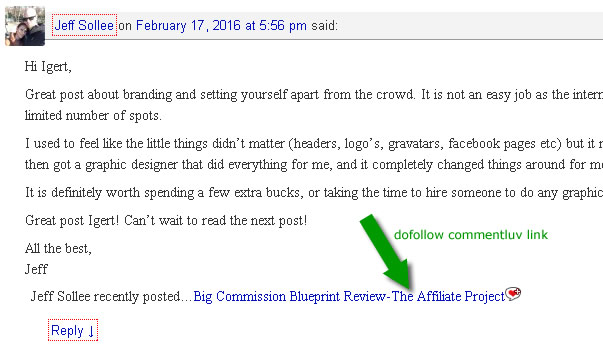 Igert le Roux is the brain behind this blog. It's quite simple at the moment but I love the quality of articles I have read published by Igert. Internet Marketing is a business, a career, not a game. If you want more about this, check out what Igert shares on her blog!
---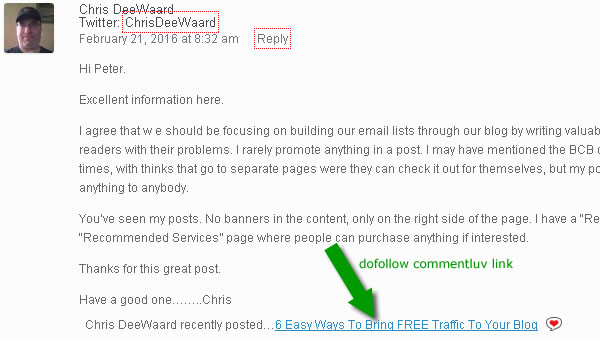 Peter is the "remote Thai village marketer who cares". He is 70+ years of age but still loving every bit of his online businesses. For sure age is not a barrier to online success.
Check out Peter's blog and be sure to grab his free gift on 25 Hot Ways To Get FREE TARGETED TRAFFIC.
---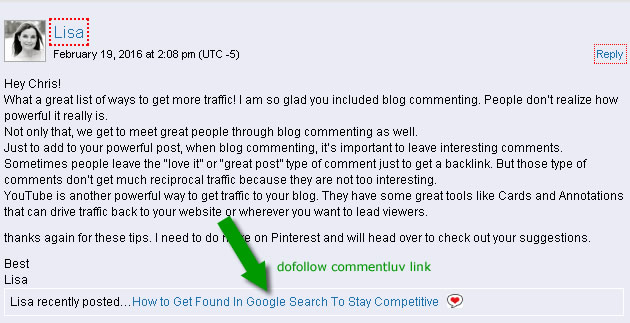 This is a personal blog belonging to Chris Deewaard. He provides blogging and Internet marketing solution for online businesses. I suggest heading over to it here for more engagement
---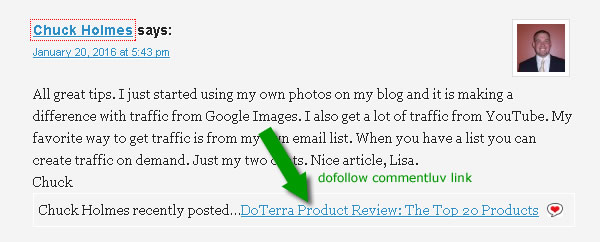 This blog is powered by Lisa Jahred who helps his readers create a profit-generating website that gets traffic and conversions.
Lisa is a full-time online marketer who specializes in content marketing. Her passion for helping people in all aspects of online marketing flows through all the content she provides. Visit her blog here
9 – Blondish.net
---

If you are interested in blogging tips, webmaster resources, web design, graphic design, social media, search engine optimization, social networking, and related topics, I recommending checking out Nile Flores' blog here.
NB: These blogs are commentluv dofollow enabled today. They can change any time without notice. It's up to them so I don't give you any guarantee that by the time you visit them, they will still be dofollow commentluv blogs.
As I mentioned above, your first attraction should be to connect with the bloggers behind them. You should not primarily worry about how to get free dofollow backlinks from their blogs. Once you create relationship, the backlinks will follow.
So let me know what you think in the comment box. If your own blog is commentluv dofollow enabled, let me know so I can feature it in the next post in the series.