You want dofollow backlinks for your site right? This is something I just discovered and I'm so excited to share this with you. By the end of this post, you will be able to do some little work and get powerful backlinks from a Page Rank 8 domain. The process is so simple to follow and it's free.
If you are money making brain, you can sell this as a service on Fiverr or SEOClerks and make money 😉
You may want to buy me a cup of coffee for showing you this stupidly simple method to grab a dofollow inbound link from a highly visited site. Send me the gift here on paypal 😉 Thank you
But then, what are dofollow backlinks?
Before we discuss in details how to get your high pr backlinks, let's clear some doubts.
Dofollow Backlinks are simply links pointing back to your site from other sites without the rel="nofollow" html link property. That means search engines are allowed to transfer page rank to your site from the site where the link is placed. It's like a positive vote for you from the this site.
Each time search spiders visit your site, they follow both internal and external links on your pages that don't have the rel="nofollow" tag. Each external domain you link to without this stop sign will be considered a recommendation by you.
NB: You will be in trouble with search engines if you link to dangerous or suspicious sites without the stop sign. Read this post on how to keep your site clean and be free from Google ranking penalties.
Backlinks from PR0 or PR1+?
All dofollow backlinks don't have the same power or weight in the eyes of search engines. Some have more link juice than others.  So if you get a dofollow link from a PR8 site (high pr backlinks), it's as strong as (or even stronger than) hundred dofollow links from PR1 or PR2 sites. The idea is that search engines have a lot of respect for PR8 sites so they consider their vote or endorsement of huge value. So while searching for backlinks pay more attention to links for PR1+ sites
Generally, the more these backlinks, the better your search rankings.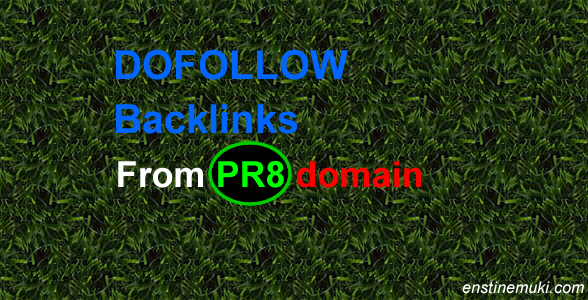 But here is the shock!
This dofollow inbound links I'm talking about in this post will be created on a NOFOLLOW site. Yes! That's what makes it crazy. Your content and links published on this site are all NOFOLLOW but I want to show you a little trick to insert a DOFOLLOW link in it. What's the site?
STORIFY.COM
Must of us know storify.com. According to Wikipedia, it's a social network service that lets the user create stories or timelines using social media such as Twitter, Facebook and Instagram.
I'm not going to dwell much on what it is and what it's not. I want to go straight to how to pick interesting dofollow inlinks or inward links or high pr backlinks from it.

Here is proof that storify.com is PR8.  You can find out for yourself by clicking here.

Let me also prove to you that storify.com is nofollow. Take a look at this story I created some weeks back.
On this article, take note of the link "active blogging communities" as shown on the image below

Have you checked that article and taken note of the link? Ok open the source code of that page and let's see if that link is dofollow or not

Now you see from the image above that the link has the rel="nofollow" tag. That means this link is nofollow isn't it? It's a stop sign telling search spiders don't go any further. Don't follow this link.
Now let me prove to you that the same page has dofollow backlinks  to my blog. That's what this post is all about.
On the same article scroll down to bottom and locate these objects as shown on the image below;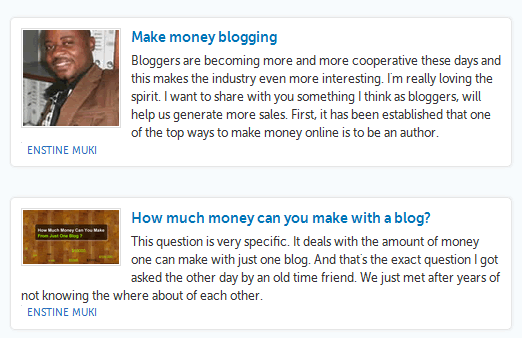 The "Make money blogging" link points to my home page and "How much money can you make with a blog" points to this article. These are all dofollow inbound links. While you may want to still open the source code of this page and verify that, let's use an SEO tool to find out. Go to Open Site Explorer and enter my domain name https://enstinemuki.com. Make sure you are on the "Inbound links" tab.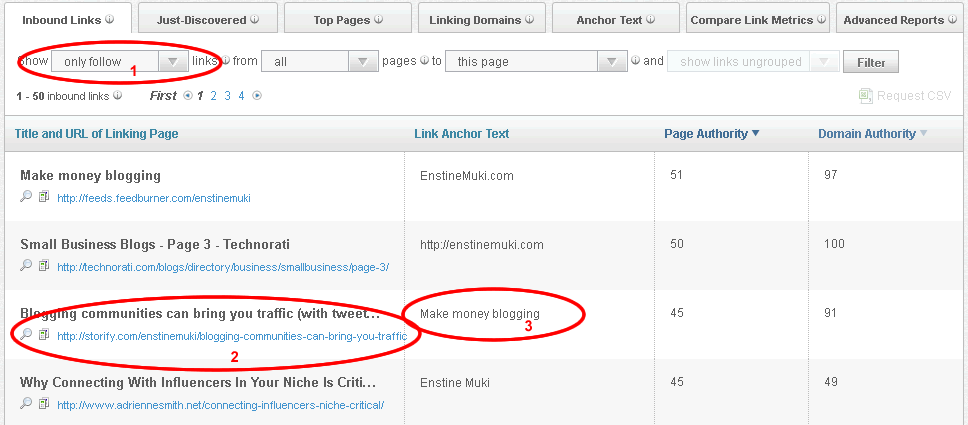 You notice the filtering option in the image (1) Only follow. That means I'm only showing dofollow backlinks. In 2, I have the link from Storify.com and 3 is the anchor text.
The second dofollow link "How much money can you make with a blog" has not yet been indexed this moment because I just edited the story. It should be within the next few days.
Have you noticed that I got a dofollow backlink from AdrienneSmith.net? Her PR is 2 so you may want to visit her blog, drop comments for dofollow inlinks
So let's get to the real question…
How did I get these dofollow backlinks?
Here is the exact steps to follow and grab your own dofollow high pr backlinks. Let's start with getting the link to your home page. That of course will boost your ranking big time.
Go to storify.com and create a free account (that's if you are not yet a member). Note that I won't be giving you details on how to use this platform. I'll be going straight to how to get the precious backlink.
However, here are some points to note;
Write an article of 500 and more words.
Use your keywords properly and make the article seo friendly
Make sure your story url is seo friendly too
Drag and drop social media objects to make the article more outstanding
Etc
Here is how to get the dofollow backlinks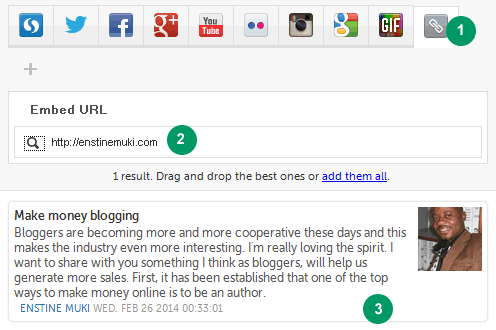 Click the Embed URL tool
Enter the url of your home page
The preview will show below. Just drag and drop in your article or story.
That's as simple as that. The link on this object will be dofollow from a PR8 domain. You also will notice that you cannot edit the anchor text (as of the moment of writing this post). That anchor text is the title of your home page.
You can also enter the url of any post or page on your site.
Any link you create within your story though will be nofollow while the links on this dragged and dropped widget will be dofollow (i.e. no having the stop sign).
This is how it is on Storify now (time of writing this post) and I don't give any guarantee that this will be forever. It may change the next day so take advantage of it now.
I'd like to hear from you…
What do you think about getting dofollow backlinks from a PR8 domain so easily? Does that mean anything to you? do you have any tips to share that can help us get more high pr backlinks? Leave your comments in the comment box below
Sign up to my list so you don't miss the next post. It's surely going to be quite impressive. If you like this article, do share it on social media to give me some more exposure. The sharing tools are just above this post.