Finally, we just left February behind us and the new March is beginning on a good footing. What was awesome in February was the fact that I met more awesome bloggers. With time, I'll talk to you about them so get ready 😉
Today, we have a baby boomer on board. We were both mentioned in Ryan's book as 2 of the 27 influential Bloggers You Need to Follow.
We know the cornerstone of blogging is connecting with influential bloggers in your niche so Ryan did a great job of putting together some of the most recommended bloggers you need to check out. Be sure to download your copy of his ebook.
Before we get into some details about Kim Willis, you may want to read more about Kimberly George who was the featured blogger last week. If you want the list of all those featured in the past, click here.
Meet Kim Willis!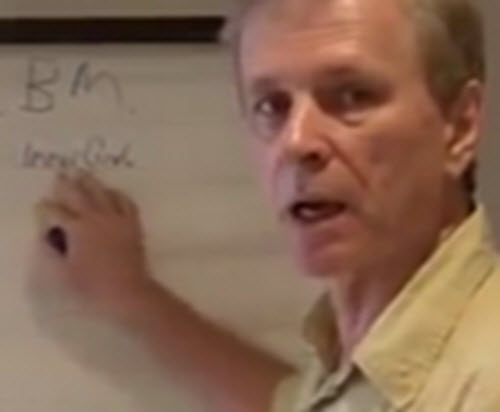 Kim Willis is an Australian digital nomad who has been 'on the road' for two years, travelling through Asia.
Currently, he resides in Phnom Penh, Cambodia but will soon be moving to Vietnam.  He loves Asia especially the former French colonies of Cambodia, Vietnam and Laos.  As Kim says 'these countries offer the best of both worlds, Asian culture infused with French cultural flair'.
Kim runs a couple of blogs.  He launched his first eponymous blog Kim Willis more than six years ago.  The niche is 'make money online', but Kim also posts stories about his crazy travel exploits.
His second blog is Persuasion Pursuit.  This is a relatively new blog and targets small to medium businesses by offering marketing support services with a particular emphasis on site messaging.  According to Kim, 'most people who visit websites are turned off because of messaging that is cliché ridden, bland, and more or less the same as everyone else's.'
How Kim Got Started
Due to the impending collapse of his traditional property and finance business, Kim needed to create an income – and fast.  So in 2006, he started looking around for some online opportunities.  Within a few weeks, he found an affiliate program which would entail the promotion of a big ticket online education product.
Although he had no idea how to generate leads online, he had a mentor who showed him a couple of strategies.  Being a good student he faithfully applied what he learned and within a couple of days, the leads were flowing.
Kim couldn't believe it but by the end of the first month his commissions were $AU9,200!   Needless to say, he was 'hooked' on internet marketing, and has been generating a full-time income online ever since.
His Biggest Lesson
Kim's biggest lesson came several years after he started online. When he read a book on marketing by Mike Dillard, he became convinced that instead of building someone else's brand (eg the affiliate companies he was promoting), the way to create sustainable income would be to build his brand, his authority.
So that's exactly what he did.  He launched his first blog and initiated other branding strategies, including the opening of a YouTube account, and started creating video content for it.
Within a few months, he discovered that conversions were becoming easier, and more people were reaching out – wanting to do business with him.  He was hooked!
Where to From Here
Kim has now sold millions of dollars worth of products and services since his humble start all those years ago.  So his primary focus in 2016 is to help others prosper in their online activities.    As Kim says 'internet marketing (including blogging) has given me the freedom to travel the world whilst making a very good income.  I want to help others prosper online too.'
Some recommended posts on Kim's blog
 ****Special Free Offer****
Kim will give you 30 minutes of his valuable time (by phone or Skype) for brainstorming, including specific strategies on your USP, customer messaging, and narrative development.  That's a $300 value. He'll always focus on skyrocketing your income by showing you how to attract clients who pay you top dollar.
All at no cost to you.  All he asks for in return is a testimonial and the opportunity to build a valuable relationship.
Results matter, so that will be his focus for you – to give you useful ideas you can use straight away.
Schedule a Time HERE
Follow Kim On his blog and social media
This is what Ryan Biddulph said in his book (27 influential bloggers) about Kim!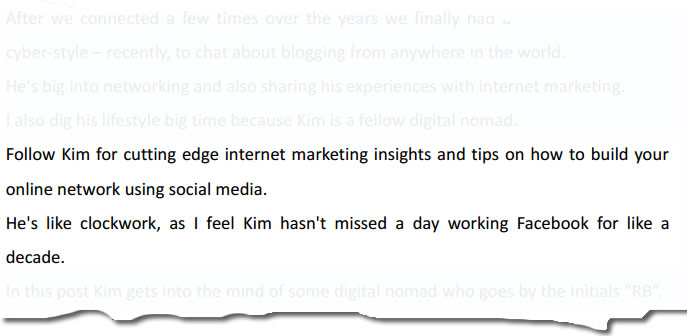 Connect with Kim on Facebook and Twitter
Drop a comment to interact with Kim. He will be here to answer