Guest Posting is an approved Content Marketing and contextual Link Building strategy. But in recent times, content marketers and bloggers are facing really tough times in the activity.
Everyone with a website is aiming at Google page #1 and as we are told backlinks are a top ranking factor, some irrational webmasters will stop at nothing to get them.
However, not developing a qualitative linking strategy is another way to hurt your entire SEO backlink profile.
The best way to build quality links is first to publish quality content, then step out to fetch the links yourself, knowing exactly what you want.
Very quickly, you should pay attention to these points about the domain you want to get a link from:
Domain Authority
Domain Trust Flow
Frequency of publication
Content relevance.
What about Citation Flow? Is it important?
Well, it's link popularity, not quality metric. Some domains get a massive number of low-quality links. This raises their Citation Flow while Trust Flow is left staggering.
Guest posting is dead!
I remember Matt Cutts posting on the decay and fall of guest posting for SEO and many people rushed to the conclusion that the activity was no longer an option to improve your organic search.
While this was back in 2014, Matt was decrying the spam and low-quality posts that appeared on the scene to manipulate search engine rankings. But Google and other search engines have become wiser.
Detailing and analyzing Matt's publication is not something I want to write about in this post. However, beginning in 2016, this statement started losing momentum because of more clarifications that came up from Matt himself and other SEO experts.
Recommended: Should you buy backlinks in 2020?
Outsourcing Guest Posting for link building
Constantly creating quality content and searching for top quality, relevant sites to submit to are huge tasks on the table. However, some folks would choose to outsource these tasks while focusing on other areas of their businesses.
So I did some research and came up with this list of Guest Posting services you may turn to for your content marketing and SEO inbound link building.
While this is a result of a random search, I encourage you to carry out more investigations before hiring any of the services on the list.
1- Trafficora Guest posting service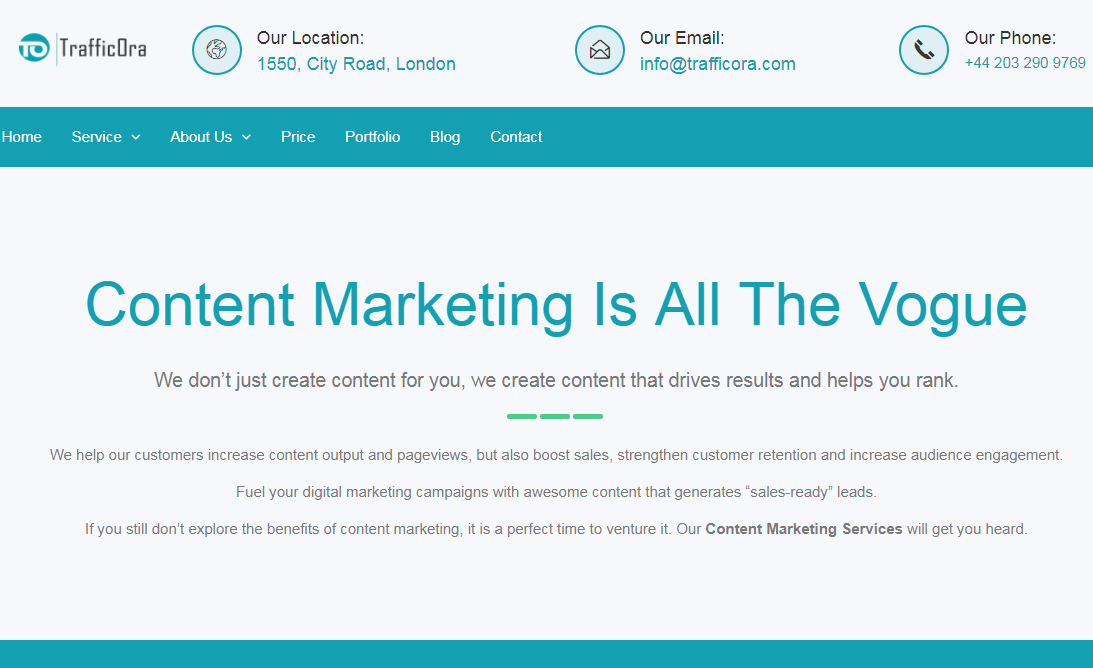 One of the things that impressed me with this guest posting service was their response time. As a matter of fact, I contacted most of these services to find out one or two things from them.
Trafficora was quick to respond and we spend quite some time to go get some lights on some points. They offer 4 guest posting packages:
Starter Pack for $250
Silvar Pack for $350
Gold Pack for $450
Diamond Pack for $599
For each pack, you get just a post with a dofollow link. The difference is with the quality of backlink. This is based principally on Domain authority – from 40DA – 50DA with the Starter Pack to 80DA – 90DA with Diamond Pack.
Trafficora provides top quality content for its clients. But if you submit approved content, you get a discount on the price. To know more, go to Trafficora web page.
2 – Guest Post Center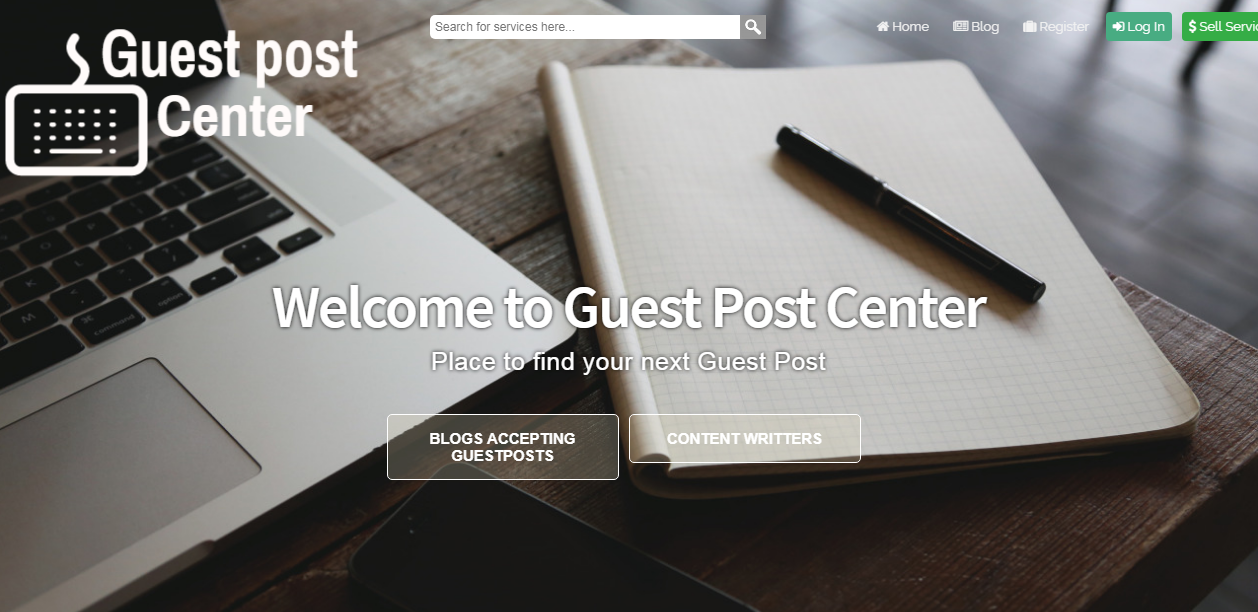 This is more of a guest posting micro job board. I didn't hear from them so I will be making guesses based on information on their website.
As a matter of fact, I think I like the idea of having a platform where independent people can buy and sell guest posting services.
While guestpostcenter appears new in the game, you may want to hang around the platform to get something that may help.
Recommended: 10 Link Building Strategies You Should Avoid In 2019
3 – Guest Posting Services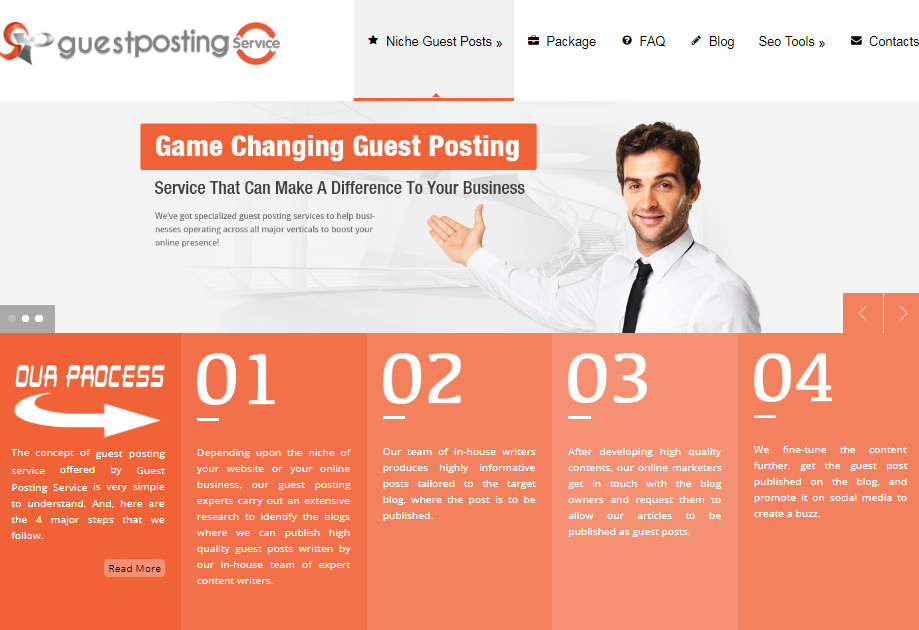 These guys provide full-blown guest posting services to their clients in 6 different packages. Whatever your niche is (As they cover different niches), the package prices don't change.
Unlike Trafficora, what differentiates their packages is the number of guest posts, with the cheapest being $125 for 5 guest submissions and the most expensive being $2,400 for 100 guest posts.
Here are the five main features of all their packages:
Domain Authority 20-55
400+ Words Quality Content
Niche Based Blogs
Do-follow & 100% Index Links
10+ Majestic Trust Flow
I have a couple of issues with this service. Though the Trust Flow is a quality factor they have mentioned, there is no guarantee you will get backlinks from high DA domain.
Giving a range between 20 and 55 isn't attractive enough. You may end up getting all your links from 20 DA for your campaigns.
4 – Quality Guest Post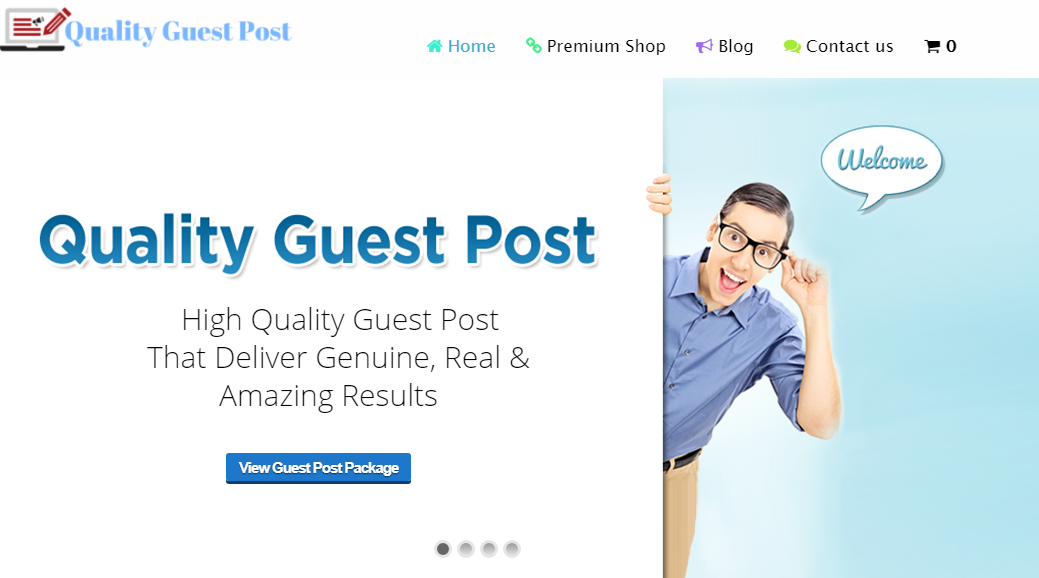 According to this service, they provide high-quality service that delivers real results. As a matter of fact, they are an in-house project with a team of writers ready to create top-notch content in any niche.
They provide their services in 8 packages, starting from $150 for 5 guest posts to $2999 for 100 guest posts.
Here are their package characteristics:
Niche Relevant Links
Domain Authority 20 to 50
1-3 Links/Posts
550+ Words Content
Google Indexed
Google Penguin Safe
Other factors that are package-dependent are Google Page rank (1 to 9) and delivery time. Of course the bigger the package, the more time it takes to deliver.
I would prefer higher DA for bigger packages than the quantity of guest posts. If you are paying for any guest posting service, aim at the quality (Trust Flow) not quantity (citation flow)
5 – Guest Post Bro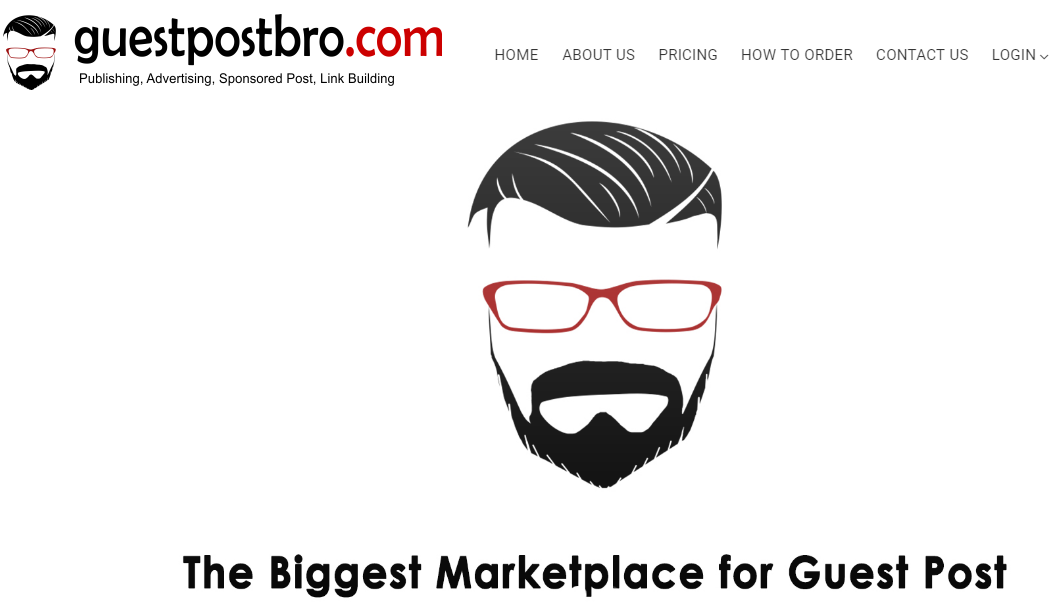 This is another guest posting service worth mentioning. They claim to have been in the market for over 2 years with 100 happy customers and a solid team of writers.
They have 6 guest posting/blogging packages in 2 different categories:
3 packages for guest posts
3 packages for guest re-post
The cheapest package is $200 for 10 guest posts and the dearest being $750 for 50 articles. Packages in the Re-post group are cheaper.  $100 for 10 reposts and $250 for 50 reposts.
Here are some common features of all the packages:
DA 20 – 60
 300 – 500 Words unique Content writing for clients by the in-house team
1 – 3 Links / Post
Permanent Link
Different IP
Relevant Niche
Google Indexed
Copyscape Analysis
Here are a couple of points to note about this guest posting service:
No mention whether the links are dofollow or nofollow
Differentiating IPs is a good point. The reason is that getting links from different domains on the same IP means nothing.
No Trust Flow mention
Generic mention of DA 20 to 60 isn't attractive to me.
Check out Guest Post Bro here
6 – Guestpostlabs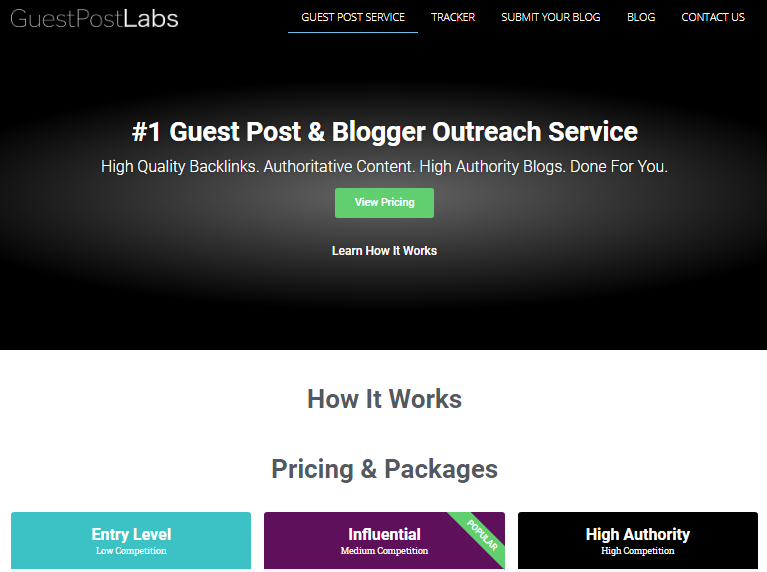 This is said to be the number one guest post & blogger outreach service out there. definitely, if you are a blogger who accepts paid guest posts, you should consider submitting your blog to this service.
For marketers and website owners looking for a quality backlink, here are some facts about this service:
They have 3 different packages with just a single post per pack.
Their quality measuring parameters are Domain authority, Ahrefs Domain Rating, and Majestic Trust Flow. The values and ratings are package-dependent.
Their writers are all Native English Speaker
The number of words per article depends on the package
They check to make sure they don't publish on Private Blog Networks (PBNs) which are a trap to your SEO.
7 – Guestposts.com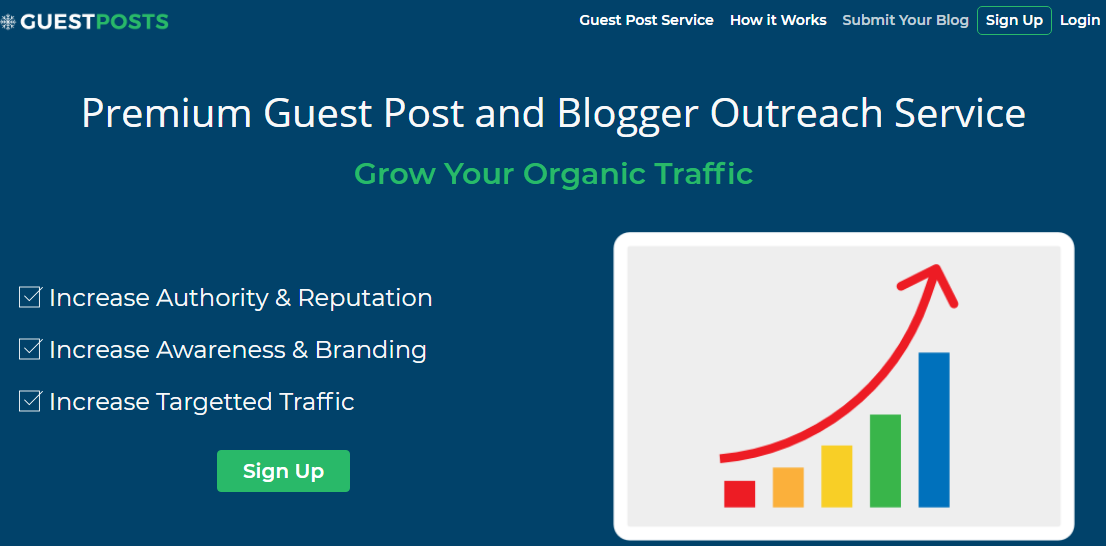 This guest posting service is worth mentioning. It's a platform that brings together content publishers and producers.
Here is how it works for link seekers:
You create your free account on the site. You will be presented a list of bloggers in different categories. You can choose a blog to publish on based on DA, traffic and niche.
There are two article source options:
You provide the article
They write the article for you for a price based on the number of words.
If you are a blogger, simply submit your blog to be listed for paid guest posting opportunities.
8 – Guestpost Tracker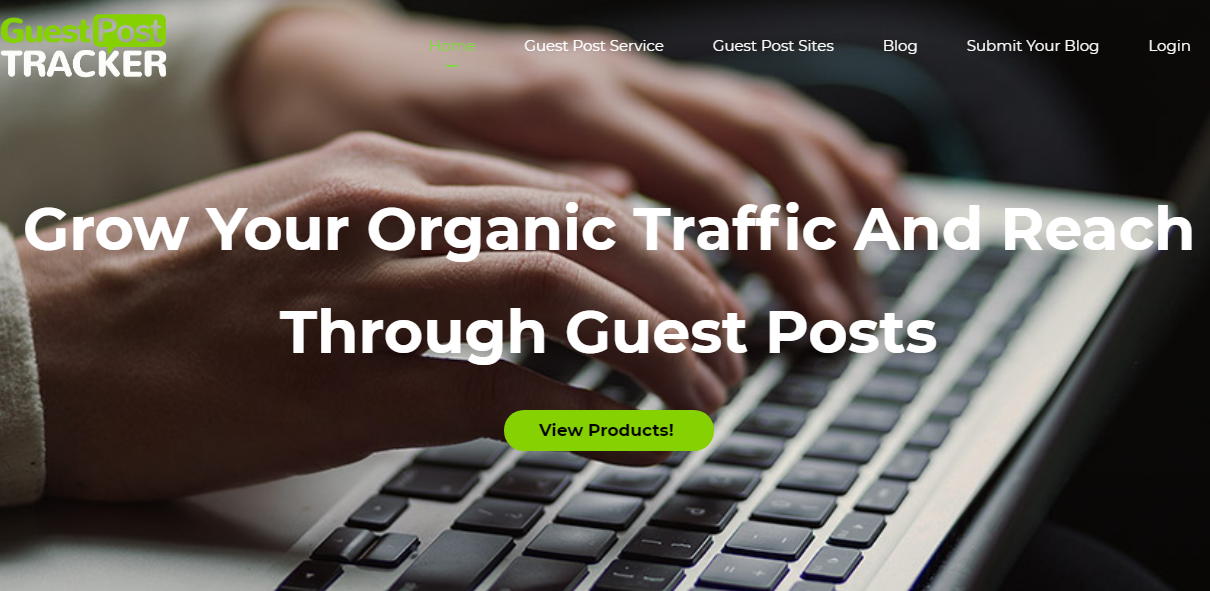 Guestposttracker is another exciting guest posting service that allows content marketers to build links to boost their SEO while bloggers on board get paid.
If you are a blogger, you simply submit your blog to be added to the list of sites accepting guest posts. On the other hand, you are required to pay a one time fee of $99 to access their list of over 1500 categorized blogs.
Once that fee is paid, you will have lifetime access to all the blogs in their database and contact the bloggers directly.
Here is their website
9 – Guest-Postings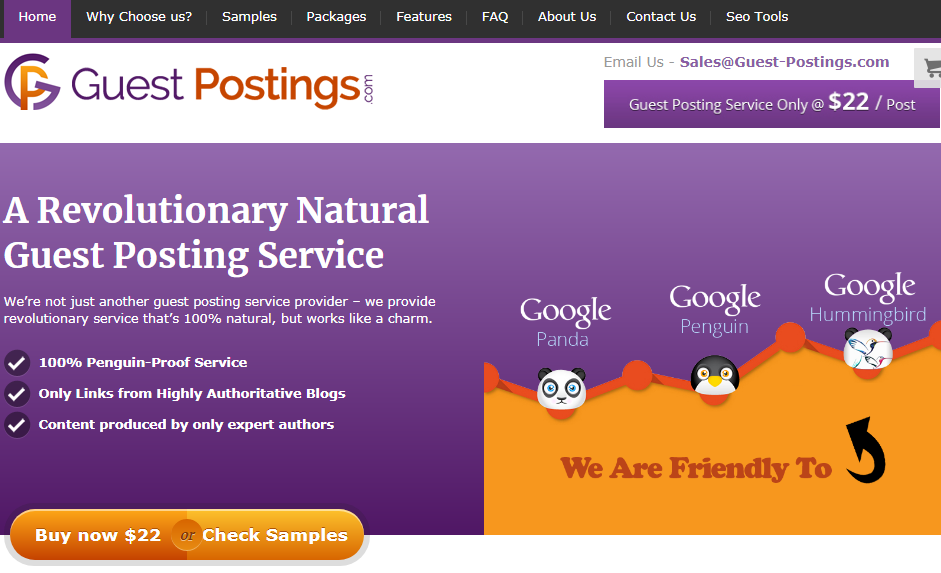 I was about to end the list but I found this service. They haven't replied to my email to them but I think they are worth mentioning on this list.
They have 4 guest posting packages mentioned on their site starting from $110 for 5 submissions to $1100 for 50 submissions.
Here are some common features identified with all the packages:
DA 22-45
Pagerank 1-4
2 Links/Post
550+ Words Content
Again, a generic mention of DA across the packages keeps me worried. You may end up with low quality backlinks.
Outsourcing your seo link building campaigns to link building services should be done with a lot of care. While this may not be completely white hat SEO, it is not a black hat SEO as well. Getting more incoming links  will effectively boost your search engine ranking but not all links are equal
Google algorithm changes are often meant to fight against low quality links trying to transfer link juice and manipulate search engine results.
10 – Digital Web Solutions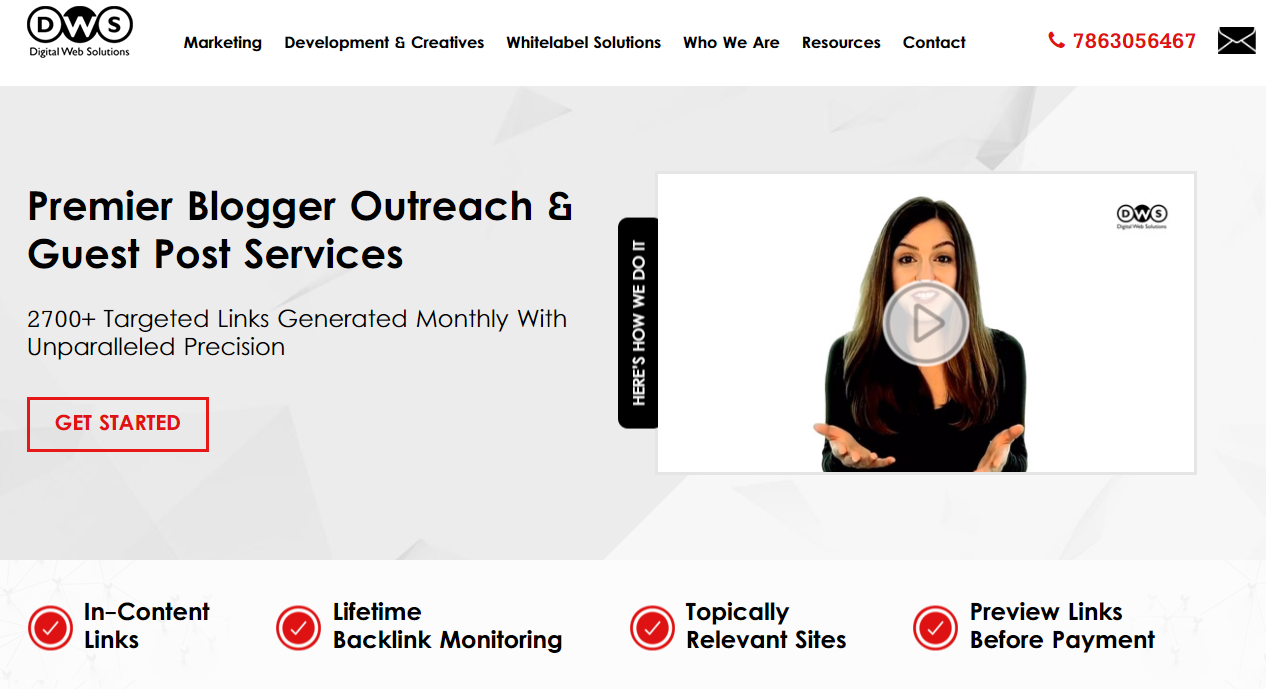 Digital Web Solutions is a blogger outreach agency with an impressive portfolio of backlinks and a demonstrated success for their clients' blog outreach services.
Taking an organic approach to backlink acquisition, DWS guarantees high-DA, relevant websites, lifetime backlink monitoring, and white-label reporting to keep you posted on every aspect of your campaign.
Digital Web Solutions has a team of seasoned experts and an extensive network of bloggers across industries, which enable them to kick off your campaign right off the bat. DWS believes in providing a one-stop solution for your blogger outreach needs so that you can focus on other aspects of growing your business.
A bonus to the list – Listiller.com
I also wanted to mention this hidden gem as a bonus. Listiller.com hosts an extensive list of 5,000+ blogs that accept guest posts, and the number only keeps growing over time. This is by far one of the biggest lists I have found to date, so let's dig into some details…
Guest Blog Directory link:
https://listiller.com/guest-blogs/
For starters, the list is routinely updated to weed out broken links. Each website's Domain Authority (DA) is also updated every 2-3 months, and while DA isn't awfully important, it's still useful to measure each blog's overall metrics.
One of the better features is the inclusion of website notes, which tells you exactly what each blog is looking for at a glance (a huge time-saver, since you won't have to visit each blog just to find out what type of content they publish). This is also complemented by relevant categories, which gives you a clearer understanding of a blog's niche.
Last but not least, you can download a simple spreadsheet to keep track of all the blogs you have contacted, and note whether they ultimately accepted your pitch.
Listiller's guest blog directory costs a mere $7/mo as of this writing, but there are always discount coupons available to bring down the price even further.
Dangers of Guest posting for SEO – Avoid being penalized
Adding guest posting to your link building strategies is not without dangers. It becomes even more eminent if you hire an SEO agency without proper investigation.
If you create massive poor quality links within a short period of time, you raise red flags against your online presence.
Control your inbound links and avoid keyword-rich anchor text.  Balance up your backlink profile with both dofollow and nofollow links. Stay away from domains with high Citation Flow and low Trust flow.
Don't trust SEO companies without solid evidence of the quality of their services. You may want to hire an SEO consultant whose services you can maintain some level of control on.
Your thirst for high Google ranking for massive website traffic should not drive you into Google Penalty radar. If you are not really sure about hiring the right SEO company for your online business, you may opt to invest in SEO tools, learn SEO techniques and build links through blog commenting (May not be very effective though)
Recommended: Blog Commenting for Backlinks (Earn Editorial Backlinks Commenting)
Follow popular SEO bloggers like Neil Patel, Brian Dean, etc for free SEO, in-depth blog posts. Avoid some useless time consuming activities aimed at building links.
Thanks for reading.
Let me know what you think in the comment box.