In Semantic SEO, topic is the new keyword. Period!
Are many of your entries on Google results page #2 and beyond giving you poor search engine visibility ?
How do you get these to page #1 without sweating in getting another relevant backlink from a high DA (Domain authority) domain?
As an SEO newbie or complete beginner, is it possible to tweak your OnPage SEO and gradually move your entries to page 1 and position 1 on SERPS (Search engine results pages )?
Well, there are lots of search engine optimization factors you could do on your posts to improve their search rankings and boost organic search.
But I want to specifically dwell on page Semantic SEO, which already gives some folks an edge in the digital marketing space.
I began an experiment with a piece of Semantic SEO Tool called textoptimizer for:
keyword ideas
Topically relevant words
NB: My favorite full-blown SEO and marketing tool highly recommended is SEMrush
I will monitor and report my progress with time.
Quick Update
I have been keeping an eye on SERP changes for some posts updated with Textoptimizer's proposed LSI keywords and topical terms and phrases.

Here is the first report where SERP entry went from Google page #3 to page #1 and +240% CTR
Note that this isn't any paid post. I'm just taking part in testing the tool and helping my friends over there with data  to help ameliorate their business.
What is semantic SEO? My experience with Textoptimizer Semantic SEO Tool.
Semantic SEO (Google's knowledge graph) is simply optimizing your content for true intent of your readers. It involves adding more related words and meanings to your phrases.
In other words, it's the practice of writing content search engine optimized around topics, not just individual keywords. Brian Dean refers to this as creating "topically relevant" content. Semantic Search is trying to understand topics, not just individual keywords.
The best way to create in-depth articles is to focus on your content semantics. Without tools, this may become so difficult.
While testing textoptimizer on one of my existing articles, I took it from 800 words to over 1400 words. The tool helped me with more meaningful words and some crazy long tail keywords that expanded the content to far above my imagination.

Before running the tool, the article was optimized at 51% which was quite low. A recommended optimization level by the tool is 80%.
Using Textoptimizer is so simple and straight forward. You simply need
The seed keyword,
The url or text to optimize with and
The search engine.
At the moment, you are able to optimized for two search engines: 1) Google and 2) Bing.

The reason is that search engines function differently. My experiment this far has been with Google.
The next step after selecting the search engine is to enter the keyword.

The keyword should obviously be the main keyword you want to rank for. Additionally, the tool gives you a couple of related key phrases you may rank for.
On the next page, if your article is already published, just click to enter the URL or copy the article text and paste in the "Paste in text" option.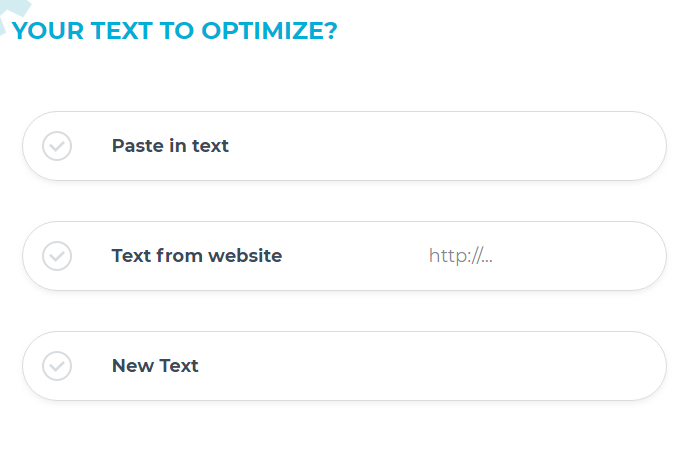 Your final page should give you a long list of semantic keyword suggestions to add to your post. From the experience I got, these words are super relevant, giving a vote to the tool.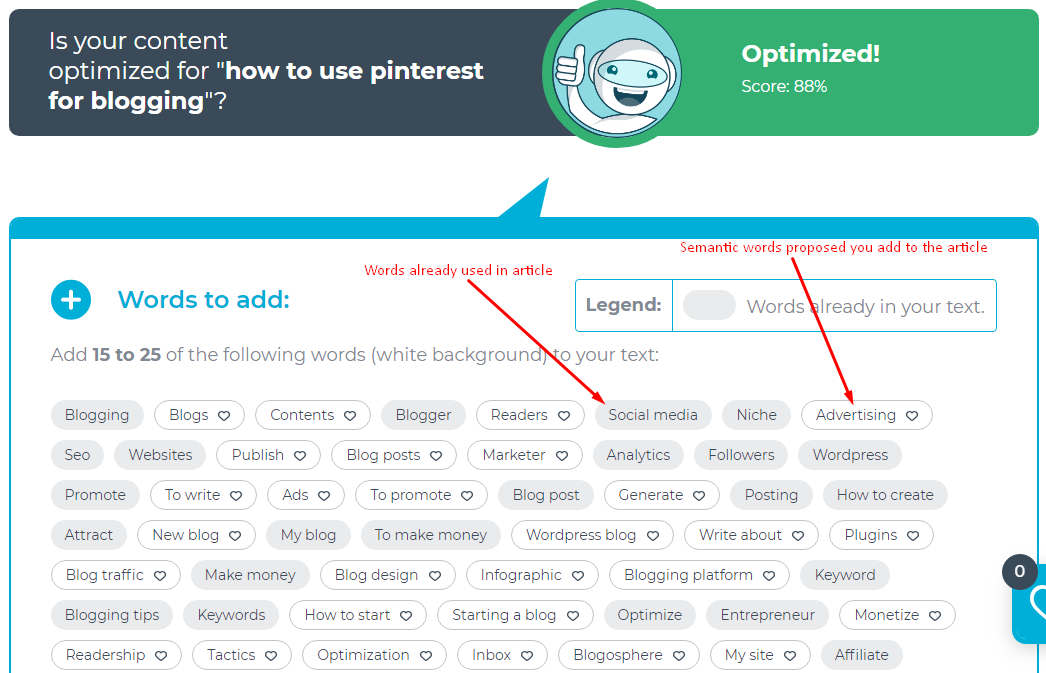 The words and phrased on grey background are words you've already used in the text. Those on white backgrounds are words that are proposed by the tool.
It's up to you to be able to get the best keywords on the list properly phrase them in your document.
Keep refreshing the page after adding the words to your document until you are given an 80% and above.
What about the format of your text?
The tool at the moment does not end at page semantics. It looks at some more areas of your page that may influence user experience and search rankings.
These readability factors include:
Word count
Number of sentences
Sentence length
Verbs

I think this tool is one of the Keyword research tools you should have to develop a result-driven content marketing strategy. It's actually a keyword suggestion tool that bases on your already existing content.
Keyword stuffing vs Semantic Keywords.
Keyword stuffing is black hat SEO. It's the practice of sprinkling same keyword all over your document, trying to manipulate search engine rankings.
But semantic SEO is not keyword stuffing. It's about using related, LSI keywords in your document. It's white hat SEO and should be practiced without fear of any penalty.
Semantic SEO is a phase in the machine-learning artificial intelligence called Rankbrain, introduced in 2015 as an upped game on Hummingbird. Google is gradually replacing traditional SEO, focusing on interpreting and understanding search intent.
Semantics is Google's intelligence at trying to understand human language. If you are an SEO agency, current changes and development in the industry spin a warning signal for you to revisit your SEO techniques.
Basically, while keyword stuffing focuses on keyword density, Semantic SEO deals with diversity and relevance.
Semantic SEO and Webhosting
I have had some of my readers who wanted to find out if webhosting does affect Semantic SEO. As a matter of fact, Semantic is more of the content quality than technical.
However, webhosting affects your SEO in general. You don't have to settle for anything less in terms of SEO optimization. I have been hosting with Namecheap. Compared to Bluehost, when I moved from WPX Hosting, Namecheap is actually a top option
Semantic SEO and Content marketing
Search engine optimisation is a broad topic and painful exercise in online marketing. Keywords research, backlinks, server optimization, mobile seo and contents are the key elements you hear about when giving some time to search marketing.
But we are in an age when the industry is undergoing massive and constant upgrades. Focusing on backlinks (building or buying them) may not produce the result to match the effort.
The first two ranking factors are: Links and Content (difficult to say which comes first). But Rankbrain is generally accepted to be the third.
If you build tough backlinks and carry shallow and irrelevant content to first position on page #1, trust me Rankbrain will kick you out by reading the reaction and behaviors of your unsatisfied readers.
If you must celebrate a successful content strategy, you must have semantics at the center of it. Many content and keyword research tools are today upgrading to not disappoint their users.
Recently, while playing around with SEMrush, I found how semantic suggestions is a huge part in on page seo:
Structured Data and Semantics
One question I ask myself is what is the relationship between structured data and page semantics? Quickly, both help Google in ranking your entries.
Structured data are added directly to your page's HTML markup from the database. Search engines use this information to generate rich snippets, small pieces of information (hours, stars, pricing, etc) displayed in search results, next to a website and meta description.
Semantic SEO and the future of Search Engine Marketing
The days to manipulate search ranking are gradually fading out. Building links randomly from low and high pagerank domains may not bring any seo results in the years to come.
On page optimization is gradually leading the SEO ranking factors. Google knows it has to drive website traffic to relevant content. That could explain the numerous algorithmic updates all focused around filtering out trash from SEO results pages.
Due to uncertainty and fluctuations in the industries, many webmasters and folks involved in web marketing are now complimenting with pay per click advertising.
Paid search drives relevant web traffic in internet marketing. So I vote for Adwords and any form of marketing strategies that allow you drive paid traffic from search engines.
Whip your rankings up with Seo link building
If you want comfortable search engine results, of course you must tackle all the aspects of search engine optimization seo:
Competitor
Link building (Quality backlinks, No follow and dofollow)
Dealing with duplicate content
Watching out for Algorithm changes
Etc
Seo Experts have recommended many different Seo tools. Don't forget Google Webmaster Tools (today known as Google Search Console). It helps you find out what's already working for you so you can focus on them for better results.
Watch the quality of your inbound links. Some links are flat-out toxic and can harm your Seo campaigns. You may want to hire an seo consultant to handle the activity for your firm.
Do some Guest Posting for backlinks. Remember Matt Cutts' statement on this was reacting to the way it was practiced back then. But today, it's a clean way to build authoritative links, push your Google ranking to page #1 and increase traffic.
I often prefer renown seo professionals to some random seo companies. Most companies offer poor seo services, linking your domains to low quality content. My take is you do proper investigations on any seo company before any engagement.
Semantic keywords improves Google search results
Other major search engines are being updated with semantic web at focus with the growth of the search engine technology. However, Google being the main source of my search engine traffic is getting more of my attention.
Note that Semantic optimization will help your website content appear in the search results. But if your entries are ranked with traditional keyword optimization, using topical optimization will simply improve your rankings on search engine result pages.
SEO and User Experience (UX)
UX is a key organic search engine optimization for the simple fact that Google seeks to provide her users with the best of what they are looking for.
Poor user experience sends back signals to the search engine which may react by downgrading your search rankings. That will lead to loss of search traffic.
Google, Bing, Duckduckgo, Yahoo, etc all drive towards user satisfaction. Beginning from web hosting servers, website themes, plugins, etc
Wrapping up
I know this was a quick read but I certainly will be updating on my experiment with time. You may want to give this tool a try.
But I want to emphasis the need to pay considerable attention to SEO best practices for any online marketing campaign.
Tricking Google and other other search engines may yield momentary or short term search engine ranking boost. But long term results are always disastrous. Protect your organic traffic and build a sustainable business through semantically created content.
Your semantic SEO strategy must be based on trying to understand and predict intent. We know keywords can be manipulated but search intent remains intact.
If you are looking for SEO jobs, you can search for it here
Save on Pinterest for later: