Here we are at the beginning of 2019, and as most of us already know it, back links are still a top 3 Google ranking signal!
Having high quality, niche related links from trustworthy and high authority websites is what we have to come to accept and need to stay focused on and continue to practice.
Gone are the days of Web 2.0 spam methods and buying a 1,000 links for $50! Google's algorithms have streamlined the SERPs toward a much more organic and natural way.
'Black Hat' link building practices are becoming more obsolete by the day, but unfortunately continue to be used. As a result, website owners are getting hit with a manual penalty, by violating Google's Search Quality Guidelines.
Related: Should You Buy Backlinks In 2020?

As 2019 approaches, using high quality SEO practices has become more important than ever, and the following link building strategies should still be avoided at all costs!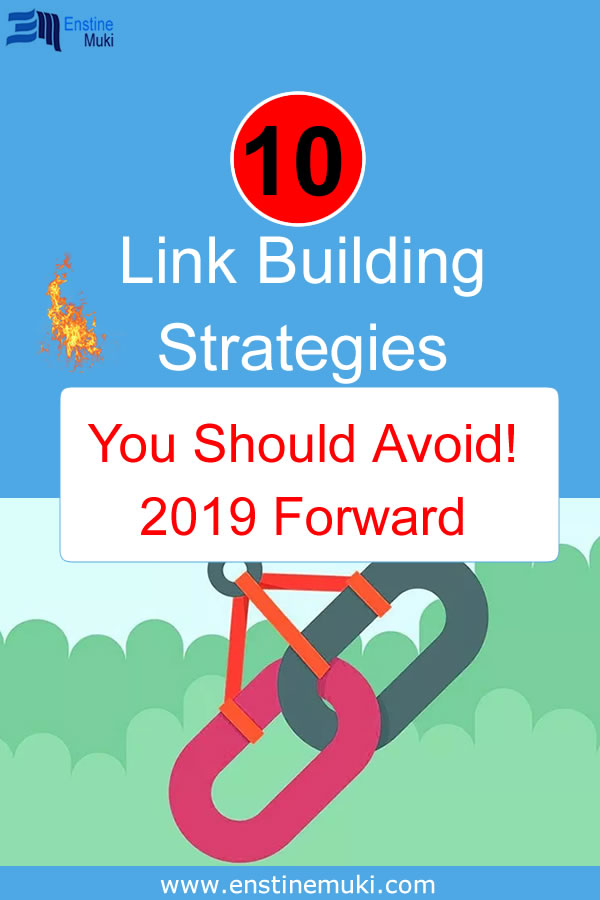 1.) Link Networks & PBN
Private Blog Networks (PBNs) – buying expired domains, setting up sites to boost and link to other sites…is really just not worth it. You are playing with fire here.
Google is much smarter, and will track down the foot print of the owner of these connected sites and destroy their efforts in a heart beat.
These networks have and will work, but the risk and stakes here are a bit high for the ROI.
The time and money invested in researching, buying domains, time spent writing to build these networks up, and worrying about security, is a huge investment. There many more healthy link building methods to use that wont destroy your business site and reputation.
Related: Semantic SEO: Go to Google page #1 without additional backlinks
2.) Blog Commenting (Spamming)
It still amazes me that people are still spamming blogs with their wreck less blog comments! Using 'exact match' anchor text keyword phrases in these comments is just begging to get manually penalized. Also, if the admin let these slip by in the beginning, they eventually will be deleted in time.
Why not take just a little bit of time, actually read the article, which most likely will be very helpful to you, and leave a great comment regarding the article and build a great relationship?
I happened upon and read a great article on Enstine's fabulous SEO Blog. and wrote a great comment in response to the contributor. Enstine gets on my site, loves one of my articles, comments on it, then asks for me to contribute to his high authority blog. Bingo!
It is a good and healthy thing to have "no follow' links as part of your back link profile. If you are not using blog commenting to build relationships and earning quality links from giving your tribe great content to read and link to, you are absolutely wasting your time with comment spam!
Recommended: Block commenting for editorial backlinks – This is how you should comment for backlinks
3.) Over Optimization of Anchor Text
Google has been and still is tracking down on 'exact match' anchor text keywords. Quality content needs to be written naturally with user intent in mind, and the same goes with contextual back links.
When your link strategy consists of only using 'broad match' (2 words usually) and 'exact match' contextual anchor links, then you are going to get yourself in trouble. In the eyes of Google…this is spam.
Stick to using naked, Branded, or natural contextual links.
4.) Link Exchanging
Exchanging links is not a recommended practice and something to just stray away from.
Linking to a high authority website in your niche because of the value of the content for your readers is another story. They may link back to some of your content that is relevant to their readers. It's all fine and good!
Google is smart and knows the difference. Especially if you are swapping links with a completely different niche than your business.
5.) Forum Profile Link Spam
Like blog commenting spam, forum profile link spam is still a practice used by many and will most likely continue. These are just highly questionable practices at best.
Not only do signature links in forum posts look unnatural in a back link profile, but they are not actually a vote for credibility from that site to yours, in the eye's of Google.
6.) Press Releases
Press releases have been on the decline with Google since 2013 and 2014.
Paid press release distribution services are generally downgraded links in the eyes of search engines. Google also warned these third party press release distribution services to "no follow" all the outbound links.
So for a link building strategy, press releases are not a very optimal choice.
On the flip side, having a press release on a site with relatively good traffic, could help bring some inbound traffic to your site regardless of the "no follow" links. Is the time and money investment worth the ROI?
7.)Spammy Article Submissions
Submitting articles to sites like Ezine Articles, was the thing back in the day. The increase of manufacturing lower quality articles has completely devalued most of these sites. You can try Medium and a few others out there, but for the time and effort, to me it really isn't worth it.
You are better off writing your own articles with a great content strategy, or contributing great articles to high authority blogs!
8.) Web 2.0 Spamming
Registering for free blog properties on websites like Weebly, Blospot, Tumbler along with others that put up a low quality reel of articles stuffed with links, will have very little impact on your back link profile.
A simple rule that I follow to decide if a link is valuable or not: if I created a link that I am pretty confident nobody will ever see and click, it's probably either of no value or potentially harmful.
Nothing worse than to have to go in and disavow more links on my profile!
9.) 301 Domain Redirects
This is a fairly recent tactic used more often by SEO's and can bring in link juice when done and executed properly. But the serious downside here is that in no way is it Google proof, and this can create a bad user experience when they click and land on a completely different website.
Google takes the behavior of your user and bounce rate as part of their ranking signal, and being directed to a site that is not relevant to the link they clicked, will in turn, completely increase your bounce rate…which is not good!
10.) Lower Quality Directory Submissions
Directory submissions used to work pretty well back in the day, but in a post Penguin world, low quality directories and their effects are increasingly obsolete for quality links. They tend to be periodically deindexed and generally a waste of time.
There are several good quality directories for Local SEO and citation building. It is just a matter of distinguishing their site authority.
Most of the other good directories will cost money, but this is part of the SEO campaign and budget. It is just important to remember to get your links on the niche related directories, especially if you are paying for their service.
Wrapping it up…
A lot of these back linking practices may not be new to some of you, but for others just learning the ins and outs of back linking, I would stray away from including any of these practices in your SEO Strategy.
Google has evolved rapidly with their algorithms to improve and streamline search for the better, in my honest opinion.
Today, and in 2019, Search Engine Optimization should really be focused on quality, relevant, and trustworthy content with user intent completely in mind!
Quality back links are going to require more reaching out and building solid relationships with other blog and website owners. A great content strategy has never been so important as it is today.
"White Hat" link building strategies will sustain long term reward in the world of organic SEO.