Some bloggers think they can fool advertisers. They desperately need money so they do a lot of stupid things to lower their Alexa rank. If you are one of them, I have just one thing to tell you;
– > Advertisers are not stupid!
Advertisers are businessmen. They spend money to make profit. They want targeted exposure, leads, sales, brand promotion, profitable business relationship, etc. They are not impressed by stats. They are impressed by results.
Direct advertisement is one of the most profitable ways to make money from your blog. You can sell banner space and make instant profit, get paid to place a link (and get slapped by Google for dofollow link) or even sell a portion of your blog to host some video for someone. If you have proven traffic, people can just pay you to get exposure on your blog.
Before you actually get paid a good amount for banner space, text links or sponsored articles, there are a couple of things you must get set with. As a matter of fact, these are the things advertisers get attracted to. There is no way around this. Let's look at them in more details;
1 – Traffic stats
Some bloggers think by jumping within the Alexa 100k mark means an open door for money to start pouring in.  That's not true at all!
Many young bloggers have been told this lie for years and they are going by it. That's why they spend time looking for black hat ways to lower their Alexa rank instead of concentrating on providing value for their readers. Low Alexa stats without supporting facts leads to frustration.
I achieved Alexa 93k rank for this blog within just 34 days but I didn't start making money until I started providing more proofs.  Read this post how I got 93k Alexa within 34 days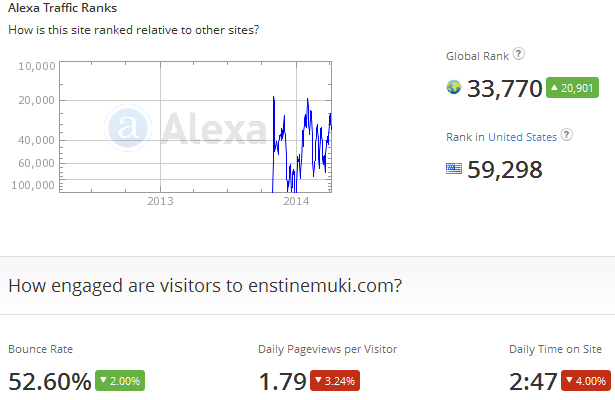 No advertiser will jump on your offer because your blog's Alexa rank is 20k. They need more meat;
Bounce rate
Aha! Do visitors click to visit other pages on your blog? The lower the bounce rate, the more the exposure your advertisers stand to get. See this post I wrote on how to lower your bounce rate.
Time on site
This is closely related to the point above. The more visitors click internal pages, the lower your bounce rate and the more time spent on your blog. That's one of the hot points advertisers want.
It's of no use to have 1000 visitors per day who spend less than 1 second (on average) on your blog.  Advertisers are not stupid!
If you are using some auto-surf method to let them (advertisers) think "oh wow! this blog is popular" you'll be caught in your own trap.
These days, I  have been trying to help some friends expose their blogs to my advertisers. I got shocked myself when one guy shared his traffic stats with me. My jaws dropped!
It makes no sense to have 2000 visits per day with 99% of it coming from some auto-surf platforms. It doesn't work like that in blogging. I say a big NO and NO and NO to that.
One other friend shared with me a site (I don't want to mention here) aimed at lowering Alexa rank. I read through it a bit and it functions like this; You sign in and start browsing registered sites. The more sites you browse, the more points you earn and the more points you have in your account, the more other members browse your own registered site too.
Members just go browsing to earn points and few or none is interested in what you share; no engagement, no comments, no social action, etc. This is absolute nonsense for bloggers to even think of. This only ends up generating high bounce rate and very low time on site sending negative signals to both prospective advertisers and search engines.
My advise:  Never try this with your blog
2 – Where does your traffic come from?
This is one of the obvious questions advertisers will keep asking. Do you have more visits from search engines or referral sources ;  Social media, comments and guest posts, blogging communities, etc
From my experience, more traffic from search engines gives a better picture.  Generally, traffic from search engine is always new, targeted and closer to conversion. The more natural search traffic, the more your site gets discovered and that means a better chance for advertisers to sell
Geo-location is another factor that affects advertisers' decision to buy space on your blog. If your traffic comes more from areas with low purchasing power or areas where online facilities are less developed, chances are that you won't attract more advertising business.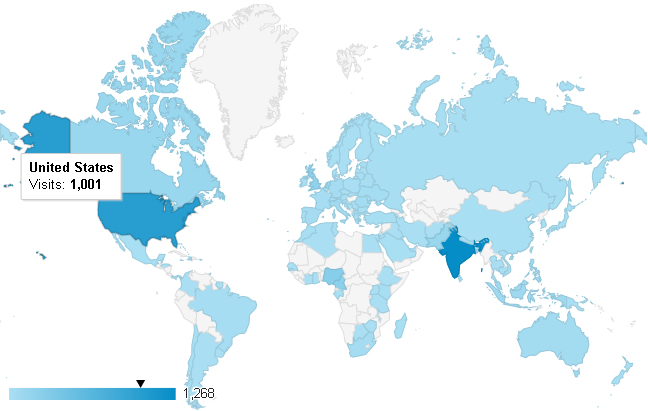 Generally, the more traffic you get from USA, Cananda, UK and some other European countries, the more attractive your blog is.
Some African countries don't inspire advertisers at all. India used to be hot until Paypal stroke and slashed off their purchasing power by almost 50%.  Paypal being the hottest payment platform online, any area where it is restricted means limited business online. That's the case for my country, Cameroon.
Now, there are many other things advertisers are looking for that directly or indirectly affects their final decision whether or not to buy  space on your blog
3 – Your reputation as a blogger
If you have a negative reputation as a blogger, that will heavily affect your online business. Stay away from activities that will paint your image black in the industry.  Such activities include things like;
Scamming,
Recommending fake or poor quality products,
Posting crappy contents, not respecting other bloggers,
Not respecting community rules,
Associating with crime or pornography ( except you are an adult blogger), etc
NB: Here's how to be an ethical blogger
4 – Your Popularity as a blogger
Are you an active blogger? How popular are you on blogging communities? Do you comment and guest post on other blogs? Are you being interviewed by other bloggers? (Check out my recent interview by Sylviane Nuccio)
The more popular you are in the blogosphere, the higher your chances of getting advertisers. Being popular though, while not being a requirement, it can greatly influence advertisers' decisions.
How do I become popular?
Build a professional blog first!
Visit other blogs and comment reasonably regularly
Be active on blogging community sites like Kingged, klinkk, blogEngage,bizsugar,etc
Share other bloggers' articles on social media
Help bloggers where you can
Link to other blogs on your blog posts and tag the blog owners on social media
Accept interviews and interview others
Publish your own products
Etc
NB: I have written a post on how to build a very popular blog in just 90 days. It's one of the articles I recommend you checkout especially if you are struggling with your blog. Here it is
5 – The beauty of your blog
Oh yes! this is a factor to consider. The theme you use, the speed, the graphics, fonts and all that compose the visual presentation of your blog is important.
However, while a beautiful blog does not guarantee business, a poor and ugly looking site can chase away clients
6 – Social engagement; Comment, social stats,
Earlier on this year (2014), I was approached by a very popular ClickBank vendor to promote his product here on this blog. While chatting with him on skype, I was made to understand that social engagement on my blog was the first point of attraction. The comments (and the quality of comments) on your blog, social stats (likes, plus, tweets, shares) aren't just decors. They are marketing factors.
A blog with 0 comments, 0 likes, 0 tweets, 0 ,0 and 0 may face difficult times sealing advertisement deals.
You can buy likes, tweets, plus to boost these stats but this will only work against you. Advertisers are not stupid!
NB: You can almost drastically increase engagement on your blog by upgrading to CommentLuv Premium (aff link). It's one of the reasons for the comments, shares and traffic on must active blogs today.
7 – Social media
Can you prove to advertisers that you are able to fetch them more exposure on social media? As a bonus factor, will you be able to share their sponsored post with 30000 authentic social media followers (on Twitter, Facebook, Google Plus, LinkedIn, etc) The more this is possible, the more you can attract those advertisers.
NB: I wrote this post on 9 ways to leverage social proof and boost your income. A lot of mind blowing tips you will not want to miss. Check it out
8 – Are you only interested in their money?
I have had a private chat with many advertisers and most of them would want to know why I want them to advertise on my blog. I keep telling them I'm interested in giving them targeted exposure. I want their satisfaction first. I know if they get what they want, I'll get what I want (their money). It's not the other way round. You must be interested in getting them the results first. Put together a package that guarantees satisfaction. They will come looking for you.
In this guest post on Harleen's blog, I discussed how to cook an irresistible package that advertisers will find hard to say no. I recommend checking it out.
9 – How long will they keep getting the exposure ?
Advertisers want profit for as long as they are in business. Displaying their banners on your sidebar for 30 days is the traditional time frame but if you can offer them a longer period, that will trigger their interest.
I know it will not be possible to keep those banners on your sidebars for years but you can shift them to post content areas for as long as 1 year or more. This is one of the ways I get my advertisers excited – after hosting the banner on the sidebar for 30 days, I shift them to top left of content area for over 1 year. Go beyond the 30 day limit and attract more business.
10 – How targeted is your community ?
Now I kept this for the last because it's about the first thing advertisers are interested in before going ahead to validate other factors. If your audience is not targeted, every other point discussed above will be irrelevant.
Before you pitch vendors and product owners for advertising opportunities, be sure your audience is very targeted to their products.
Your 'Advertise Here' page
Most blogs that accept advertisement have set up a page where they provide strategic stats and popularity details about their blogs. Now this is a positive step ahead. However, I have seen some pages with fake stats. Advertisers are not stupid!
I recommend constantly updating your Advertise Here page with changes in your stats. Keep it always updated to reflect real stats. You will always be required to justify any proof you show forth.
That's it!
Do you make money advertising on your blog? What do you think advertisers are looking for? Please share your comments with us in the comment box below.