Social proof is a strong income factor. With a solid social proof, any attempt to make money from your blog will yield fruits.
In this post, we are looking at how social proof can boost your income and put more money in your pocket.
Often, when we hear social proof, we think social media. That's not completely correct. It goes far beyond social media. Social proof is all around us even offline. However, I'm not going into the offline side of it. We are looking at it as bloggers.
What is Social Proof by the way?
Social proof, also known as informational social influence is simply a positive influence created when someone finds out your actions.
Social proof is not necessarily how social you are. It is how you can positively influence your visitors. In other words, it's your capacity to have a positive effect on the character or behavior of someone visiting your blog.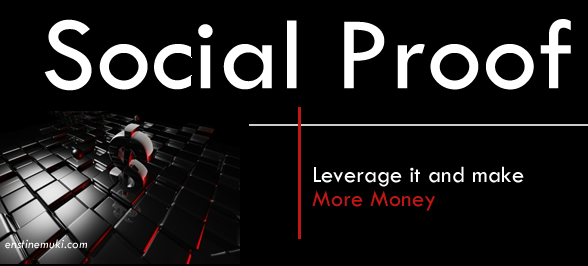 NB: Even without a Facebook or Twitter account, you can still have a very strong social proof. I'll show you in a moment.
Now, when someone (business prospect or advertiser) comes to your blog, there are a number of factors that create an influence. These factors put together form your social proof.
An advertiser is looking for where to buy ad space for his banner and some how, he comes to your blog. Now a certain number of factors will help him make up his mind to;
Hit that order button
Hit the contact button
Bookmark your blog
Note down your domain name
Close your blog and never to return
This is all about social proof. Once again, it is a positive influence you create on your visitors and there are different categories of visitors;
Buyers
Advertisers
Information seekers
Commentators
Back link seekers
Hackers
Spammers
ETC
How to build a solid social proof and influence advertisers
Here I want to share with you a couple of things you should do to have a very strong and irresistible social proof for your blogging business. Remember, if you have to succeed blogging, there is need for a firm social proof;
1 – > Optimize your blog for fast speed
I want to think this is the first thing to do in the process of creating a strong social proof. If your blog is slow, many visitors may not even have the time to discover what's on it. That makes it necessary to have a blog that will not kill visitors' time and cause them to close the window. I have shared some tips in this post on how to optimize your blog for fast speed.
2 – > Write details and professionally
Now, there is no need to emphasize on this point as you already know people are going in for excellence these days. There is no more room for mediocrity. If you have to capture and keep your visitors, you must show proof you know the stuff. Your contents have to be in-depth and meaty. There is absolutely no room for introductory posts. What stops you from given the details by the way?
3 – > Get a professional theme
The general 'outfit' of your blog must be appealing. It's no longer an issue to have a blog that's 'comely' (permit me use these terms). Visitors must be comfortable viewing different areas of your blog without feeling hurt by terribly shouting colors and poor fonts. If you are still wondering what to use, check out the Genesis collections
4 – > Expert social proof
This happens when you get approval from a credible expert. This has a very strong effect on your visitors. If John Chow, Zac Johnson , Brian Clark or Darren Rowse, etc recommends and sends visitors to your blog, be sure to have a strong social proof.
If any of these guys is featured as top commentator on your blog, that will ad huge value to your influence. Another way is to get a solid testimonial from them. Neil Patel of QuickSprout understood this social proof factor. That's why he constantly maintains a testimonial from Michael Arrington of Tech TechCrunch on his blog.
5 – > Showcase social media stats
Your social media stats are a strong social proof factor. People want to know your coverage on Facebook, Twitter, LinkedIn, etc. The higher these figures, (generally) the more the traffic from these referral soruces. You know traffic is the most attractive ingredient.
In addition to showcasing your followers and friends, use social media buttons with stat counts on your articles. Advertisers get crazy when they see 1000 Facebook shares, 800 Tweets, etc Now they are thinking 'so I'll get this coverage if I sponsor a post on this blog' -there is the money coming 😉
NB: Klout score (0 to 100) is a measurement of your activities on social media sites. Hence, it's just a fraction of social proof.

6 – > Increase engagement on your blog
Engagement on your blog really matters. Open up to comments, use social media buttons to facilitate sharing, accept and publish guest articles. These are all engagement factors. The more engaged your blog is, the more positive influence you have on your visitors.
NB: Wondering how to attract visitors and engage with them? Get this powerful engagement plugin
7 – > Guest Post on popular blog
Many bloggers don't know publishing articles on popular blog is a huge social proof factor. People see you as an authority in your niche when they read your in-depth contents on authority blogs. The more you publish on these blogs, the more you influence your readers.
8 – > Showcase your traffic stats
The most important factor that finally pulls money from your advertisers' wallet is traffic. For the most part, they are interested in the source of your traffic – Search engine, geo-location (USA, Canada, India, UK, etc).
They want to know first-hand if your site gets the traffic from their target locations. Some will be interested in your Alexa stats, Google Analytics, etc. It's important to have all of this available on your blog.
NB:Personally, I don't recommend showing poor stats. I see some blogs displaying Alexa: 2 000 000+ Why not keep that until you get Alexa: 100 000 ?
9 – > Don't fake anything
Some bloggers want business, yet they go on using fake social media and traffic stats. I know there are apps out there to trick your Alexa stats. Some are used to generate fake Adsense earning screens. That's bad thing to do. There is always a way to find out if these stats are genuine or not.
I will not even recommend buying Twitter followers or Facebook likes. You swell your stats with fake accounts. It all turns out to work against you.
– > Bottom line …
While large social media stats (Facebook Fanpage likes, Twitter Followers, etc) are a plus, you understand right this moment you can do without the huge figures. Be active on the blogosphere creating relationships and making your blog a reference. Give it the best and you will be rewarded.
NB: We are on post # 18 in the series to create a blog that makes money. If you have not been following up, check out the table of contents here. In the next post, I share 3 ways to make more money

Leave your comments below and share this article on social media.