26
Affiliate Marketers ~ How to make big commissions with this program!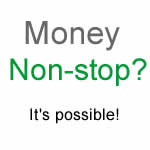 Are you affiliate marketer who is interested in making big commissions? I have you covered in today's post.
Affiliate marketing is one of the best ways to make money online. If you are not a product creator, you are still able to bank 6 figure income just by promoting others products and earning a commission.
This makes it sweet to make money online. Anyone anywhere in the world can be self employed, making big money enough to pay your bills, buy cars, land and build your own houses.
NB: Check out this affiliate marketing free training
There are two big secrets with affiliate marketing and that's what I want to reveal in this post. If you understand this and work hard towards it, you are soon going to be your boss, making any amount of money you want online. Here are the secrets:
1 – Promote products that pay recurring commissions
That's the biggest secret of affiliate marketing. Unfortunately, most marketers are yet to know this. It's the biggest way to work hard in the beginning and earn high in the feature. Some marketers have worked for years but continue to live under poverty line.
The main reason is that they didn't understand this in the beginning. Promoting recurring commission product is like buy shares in someone's company. As long as that company remains in business, there are chances of getting paid from its income whether you are there to do some work or not.
Here is what happens…
You promote a product or service once. Someone buys and you earn a commission from that initial sale. The following month, that same client you brought in pays his/her subscription and you are paid commissions again. As long as this client remains active, paying the monthly fee, you keep getting paid.
That's the point!
Promote products that take money from its clients every month and share it with you. Here is a crazy example;
If you promote a product that sells at $17 a month and pays you 30% commission, that means you get a commission of $5.1 from each customer you bring. Looks small right? But don't forget that $17 could mean a beautiful conversion rate (I'll say more below)
If you get 5 clients per month, that keeps you on $25 per month right?
After 12 months, you'll be on $300 per month from a single platform. You won't have to be doing anything anymore. The money just keeps coming in.
That's just a simple example of about $5 commission per sale. But do you know that with Affiliate Lights you can get paid over $25 per sale? What's your monthly earnings if you promote this program and get 100 customers? I will talk more about Affiliate Lights in a moment
2 – Promote products that are necessities  or facilitators
This is another point we should not neglect as affiliate marketers each time we want to select a product to promote. In every niche, there are products that users can't do without.
The more the necessity for the product, the higher your conversion and the more it can keep its members for long. If people signup to a paid program through your affiliate link and soon cancel their accounts, that means the product is not doing well to retain its members. You are therefore loosing money and wasting your time promoting such a product.
I don't want to get into some details here but let me quickly mention that traffic is a requirement for everyone online. That's why promoting a traffic generating platform online makes one of the most lucrative products to promote.
Start Promoting BlogEngage today
BlogEngage is a traffic generating and community building tool for bloggers. It's an excellent place for bloggers to pull traffic to their blogs and find other savvy and like-minded bloggers to connect with. That makes it one of the products you should consider to promote. With over 3000 paying members, there is reason to believe that BlogEngage affiliate program is worth it.
I personally think BlogEngage fully meets the requirements and secrets above. It pays your commissions monthly and of course, it solves a big problem online – traffic.
BlogEngage's affiliate program is Affiliate Lights. You get £10.00 GBP  just by signing up for free.  Minimum balance required for payout is £50.00 GBP  and you get paid up to %25 on all sales you bring in.
Here's why Affiliate Lights is even sweeter
The fact that Brian pays out his affiliates in British Pounds makes the whole thing sweeter. It's like making money behind money. Why? Simply because the pounds are stronger the Dollars.
I got my October commissions paid out in pounds. This brought my earnings from £71.82 GBP to $113.41 USD
Check out this image
Stop promoting crap !
Let me know what you think about BlogEngage and the Affiliate Program