It's been 2 weeks and 3 days since I started my new platform – BlogExpose.com
My idea is to put in place a job board for bloggers (Where to easily find Writing Jobs for bloggers). It's becoming increasingly popular that companies need the services of bloggers – either to hire bloggers for their business blogging needs or simply want them to write about their product or services.
BlogExpose is therefore a platform where bloggers looking for writing jobs can meet with companies looking to hire bloggers for their writing needs.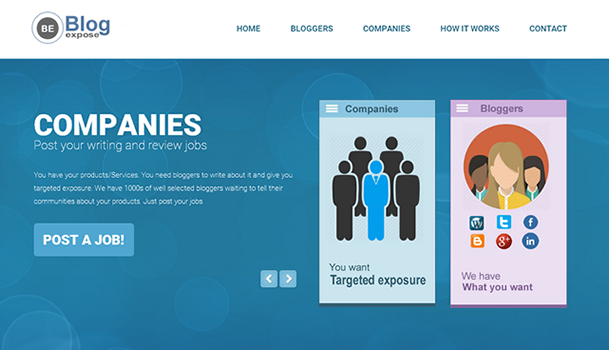 How to use BlogExpose – For Bloggers!
I have made this thing as simple as possible. No complex steps to follow:
All you need to do is signup as a blogger here.
An email will be sent to you to verify your account. Here are 3 important things to do:
Use a gravatar enabled email. (for your advatage)
Add the email contact[@]blogexpose.com to your address book. This will make sure job alerts from the platform don't get to your spam box
Follow BlogExpose on Twitter and like this fanpage on Facebook. We will constantly post new offers to social media.
The next step is to edit your profile. That's the only way to get hired.
You need to provide at least 3 blog posts you have written in the past. That helps advertisers know how fit you are for their jobs.
If you don't edit your profile and provide your main url, you won't be able to apply for jobs.
Once your profile is edited and approved by the mod, it will be so easy to apply for offers. All you need to do is locate an offer and click the "Apply Button" Add some comments and send your application.
This will instantly create a conversation between you and the company.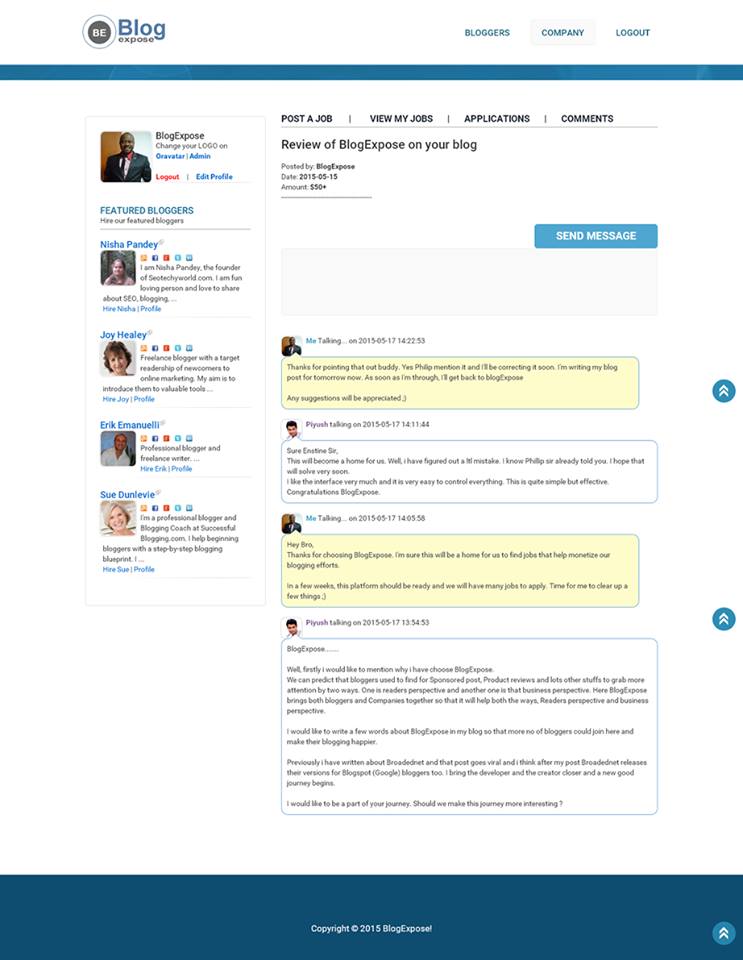 Whether you finally get hired for an offer depends on how the company decides.
NB: We want to be able to provide value to companies so we will only approve blogs that are active with over 100 daily readers and of course, you need to be running on a premium theme.
If you accept paid content on your blog or you want to be hired to contribute to other blogs, go ahead and join for free.
The types of jobs you will find are product reviews and writing jobs in just any niche.
Companies have the right to negotiate the price. They may offer free copies of their products, cash, etc.
NB: We encourage (in the case of sponsored posts) to make it clear to the companies that you don't give out dofollow links. You have to fully comply with Google's Webmaster Guidlines
How to use BlogExpose – For Companies
First, sign up here for free
Once you are in, post your job offer for free. Once it is approved, it will be available for bloggers to apply.
Note that each time a blogger applies, a conversation will be created for both parties. Also make sure to add our email to your address book so alerts from the platform don't get caught by your spam filters.
You will be alerted when there is an application on your offer and when a comment is placed.
Once you make up your mind to hire a blogger, just click the "HIRE" button. To close conversation and not hire, click "REJECT"
For some excellent tips on how to recruit the best writers, check out this post by Neil Patel
Go give it a try
I'd like you to try it now and let me know what you think. Remember is just a sneak peak. I will be writing a more detailed post with screenshots in a few days time
However, I depend on you for a foretaste, bug reporting and correction
Thank you… Sue Dunlevie, Erik Emmanuelli, Joy Healey, Nisha Pandey, KeriLynn Engel, Carol Amato
Let me hear from you
Please drop your comment and let me know what you think.