I'm so excited to bring the third featured blogger of 2019.
As a successful pinner, she will be sharing with us 3 Pinterest tips every blogger must follow. But before we get into these interesting tips, let me say again that I'm featuring bloggers every Thursday on my blog.
This is simply to give you an opportunity to connect with people who matter in the industry. I always tell everyone you cannot succeed as an Island and that's true.
Show me a successful blogger and I'll show you someone who is connected. The more people you know and connect with, the higher your chances to succeed.
For a list of bloggers that have been featured, click here. If you want to be featured as well, see detail s here. Follow me on Pinterest here.
Meet Arfa Nazeer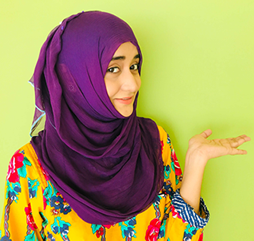 Arfa Nazeer, the face behind shemeansblogging, always had a dream of becoming financially independent and becoming her own boss. Even when she wasn't blogging at all, she used to run an online boutique with her sister, and BFF at a young age.
Just after she completed her Masters in Mass Communication, she moved back to a small town where she hardly had access to high-speed internet but she knew things are possible only with courage, determination and hard work.
During the University days, her professor gave the assignment to start a free WordPress blog, and publish creative fictional stories. From that day, blogging had turned into a passion and a learning curve for Arfa.
At first, she started with freelance writing and continued working with several clients every month. While she was earning satisfactory income with freelancing, she launched 'shemeansblogging' which was earlier known as 'Epife'.
Arfa has been blogging for over 4 years on different platforms but she only got professionally serious with her blog in the mid of 2017. Now, she uses her blog to educate, teach and help motivated bloggers grow their readership, build traffic and income through her in-depth content guides, free resources, and strategic advice.
Recommended: Let me set your blog up for free.
She never believed in rich quick schemes, and never jumped into money-making wagons. One thing she did from the very first day is to put enough time and dedication in content creation so when a post goes live, it assures reader with the golden nuggets of information and easy answers they've been looking for. This is the reason behind her continuous growth and success of shemeansblogging.
Take her free blogging course
More than 2500+ bloggers have taken her free blogging courseon 'How to start a profitable blog from day 1'. She also manages a Facebook group Bloggers Campwhere she motivates bloggers to support and help each other grow.
Just like other Pinterest-obsessed bloggers, Arfa also gets maximum traffic from Pinterest. She uses Pinterest in such a strategic way that it drives regular traffic, conversions, and sales to her website. Not just she manages to get more than 300k – 600k monthly views but also has more 10k Pinterest followers.
Let's find out what Pinterest tips she has to share.
[page_section color='#f9f9f9′ textstyle='dark' position='default']
3 Pinterest tips every blogger must follow (By Arfa)
If you've been trying your luck to use Pinterest for your blog then make sure you follow these tips;
1- OPTIMIZE YOUR PINTEREST PROFILE AND PINS
Pinterest is not just for inspiration or ideas, it is more like a search engine where you search for a topic and get relevant pins. Every time you add a new pin to your Pinterest profile, make sure it has a keyword in the description. Your Pinterest profile and content should be well-optimised. I have published a Pinterest SEO guide for bloggers to help understand how SEO works, and how to optimize Pinterest content.
2- PIN DESIGN MATTERS!
We all know Pinterest is a visual platform where we see endless pins and has a low attention span. That means your Pinterest feed changes in seconds or minutes.
A clear, and bold pin attracts the most eyes which thus results in clicks, and repins. I would also suggest using paid stock photos as they make your pin unique in Pinterest's eye and this would ultimately give a bonus.
I share tips to make pins go viral in her post. This is a must-read post for anyone who's looking to get an avalanche of traffic from Pinterest.
3- BE CONSISTENT
Just like every other social media or marketing channel, consistency is important when it's about Pinterest. It doesn't matter how many pins you share every day, but the point here is to maintain consistency. If you pin 10 times a day then make sure you pin 10 times every day of the week and slowly, you can increase the number of pins to get more impressions.
[/page_section]
Thank you for these excellent tips, Arfa.
With over 10k Pinterest followers, Arfa definitely knows how to get results from Pinterest. Follow her blogging tips, and strategic Pinterest tips to grow your own blog.
Arfa lives in Pakistan, and continues to build her blog and income by working from home and doing what she loves doing! And, that's blogging.
This brings me to an interview I had on Lily Ugbaja's blog on How To Make Money Blogging If You Live Outside The United States.
So you can do it like Arfa does in Pakistan, like I do in Cameroon, like Lily and even Jennifer Dagi and many others do in Nigeria.
Connect with Arfa on:
Save this post on Pinterest for later use and to give Arfa a shout-out. Drop a comment and discuss with her.