You can double your income as a blogger. Yes you can!
But how?
Use creative outsourcing. Because outsourcing itself will do you no good, but when you embark on it with a clear purpose – you'll smile to the bank. Period.
While traditional blogging is comparatively old, un-sexy and boring, smart bloggers are earning more money as I write this piece.
The funny aspect of it is that these successful bloggers don't write as much posts as the beginners do.
Here's a typical scenario: In 2013, I wrote and published close to 500 guest posts. Of course, I generated decent traffic and got several paying clients, but I wasn't impressed.
You know why?
The reason is because with that amount of content scattered all over the blogosphere, you'd expect higher returns on time investment, but the reverse was the case for me. Does it resonate with you, also? 
Fast forward to 2014, and the game has changed. Yes, I still guest blog, but I do it tactically. In other words, even before I pitch a topic, I've already developed a funnel for the leads.
But this post isn't about guest blogging. It's about outsourcing.
Outsourcing is powerful
If you're struggling to increase your income and improve your brand, I know why – you've been selfish. You think doing everything all by yourself is the best way to save more money. How pathetic?
On the contrary, you're losing more money, because the time required to complete a particular task would have been invested into a worthwhile venture.
As a blogger, the to-do list for each day is daunting. Sometimes when I look at all I've to do tomorrow, ranging from writing, tweeting, reading & replying emails, building connections, writing email newsletters, replying comments, negotiating a new gig and so on, I'd simply put my PC to sleep and go for a ride.
Consequently, my income will go down. Failure looms!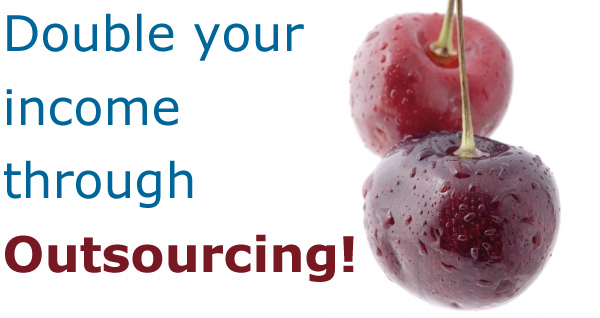 How much do you earn right now?
Before taking a stance to double your blogging income, you've to identify how much you earn at the moment. In the last quarter of 2013, my earnings were fluctuating – it never crossed $3k per month.
In November of the same year when I earned a little above that benchmark, I was excited, but awfully drained because I worked tooth and nail to get there.
Outsourcing can help you double that income. So let's assume you're earning $1k currently and wants to get to $2k by next month, without doing any extra work – how can you achieve that?
Well, I've mapped out a 2-step plan. Since February of this year when I started experimenting, my blogging income has increased tremendously. Remember that you can apply this outsourcing secret to virtually any kind of business, provided it's online and it'd work.
The rules are not set on stone. Feel free to innovate and bring out something better and simpler, after all, it's why you're called a blogger.
What is outsourcing?
It's simply the process of contracting/hiring a capable hand to do your job. For example, you can hire a designer to customize your blog theme.
But you will not fold your arms and just watch them. Ideally, you should write useful and indepth posts that will go live the moment your design is ready.
That way, you'd easily persuade people to join your list or buy your product. When you outsource, you free up adequate time to do other essential blogging tasks.
Are you ready to outsource and double your blogging income? Follow this 2-step plan:
Step 1: Network and nurture a team
If you're a blogger, one of the factors of success is networking with other people who are skilled and reliable.
You can't succeed in isolation.
Every successful blogger out there has a team – it could be a mastermind or a loyal email list that you resort to whenever in need.
Personally, I wouldn't outsource any job to strangers or freelancers at oDesk or any of the job sites. I belong to a group and within that group; I know that a handful of the members are striving to attract clients.
Why should you outsource to people in your team? It's because the people in your team all have one goal at heart. They want to succeed at a particular thing. For instance, I belong to a writers' club. And useful content is what we believe in.
I've outsourced writing and keyword research to 2 persons and they poured their heart into it. I don't have to explain the importance of the project to them, because already we share the same vision – quality, not quantity.
You see, you're stuck somewhere because you can't do a particular job well. Someone in your group/club/team could do it better than you would.
Outsource the job to that person and you'll reap the rewards.
According to Statistica, global market size for outsourced services crossed $82.9 Billion in 2013 and it's expected to grow. Why are businesses outsourcing various tasks at a cheaper rate?
The reason is because outsourcing helps them to focus on the most important tasks that will directly affect lead generation, sales and engagement.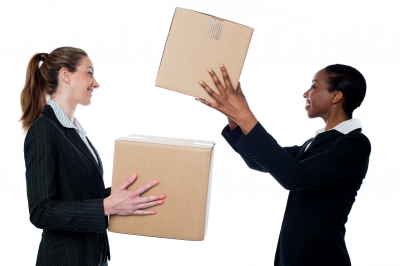 Step 2: Give 80% attention to improving conversion rate
Did you know that improving conversion rate is the most viable way to double your income? Most bloggers waste ample opportunities to earn more, because they're so engrossed in comments, hits, pageviews and vanity metrics.
The truth of the matter is that those metrics only boost your ego; it doesn't mean you're on the right path for your business.
Get someone to reply comments on your blog. Use twitter tools to schedule automatic tweets. If you want to write a list post or send questionnaire to several experts, train someone in your team/list/club to do it and pay them.
While they're doing that, concentrate on improving the conversion rate, so that you can generate more leads, sell more of your own/affiliate product and get free media publicity.
If you're a freelance writer, instead of working for 1 or 2 clients, open up the door to 8 – 10 clients per month. Now you can handle all of them efficiently because you're not the only one doing it.
If you used to earn $100/post, you can easily train somebody who is new to professional writing to do it for $50. All you've to do is guide them along the way, answer questions, provide tips and structure.
Now you get to keep $50 without lifting a finger – and you can accept more projects and make more money. Many people strive to stay productive, but you're productive already. How wonderful?
Outsourcing is for long-term
Once you've dipped your toes into outsourcing, you'll never look back.
I know six figure affiliate marketers, bloggers and personal coaches who have tripled their income in the last six months, because they embraced outsourcing. It's your turn.
A quick action steps to take right now:
What would happen to you, if suddenly your blog starts to get 1000+ qualified visitors per day? Do you've a clear funnel to connect, captivate and convert these people?
If you suddenly earn $3k this month, what specific tasks would outsource in order to free up time to do what you love, thereby making more money in subsequent months?
Would you like to learn how to generate 1000 happy visitors and double your blogging income? Click here.
Your feedback
Please share your comments in the comment box below. What do you think about doubling your blogging income through outsourcing?
Img src: freedigitalphotos.net