As we round up activities for 2013 and look forward to a brighter new year in 2014, I want to look back and revisit the guest articles I submitted in 2013 and also give you an opportunity to promote yours. The reason is to give us more exposure to the kind of content I'm confident will add value to our blogging journey.
Did I succeed in Guest Blogging this year 2013?
My guest articles have done well, receiving a lot of visits and engagement from readers.  Though I submitted something below 10 guest posts this year, these are worth this recap. Let's start with the article that's my personal story!
1 Post submitted to YourOnlineBiz
In September 2013, I shared my story on YourOnlineBiz how I made money blogging the previous year. Most of us generate some income from our blogs and I know it's always interesting to read success and inspiring stories. You may want to check out this guest post where I dished out some of the things I did to make about $7000 my first year of blogging. As a matter of fact, I was paid $100 to submit this guest post.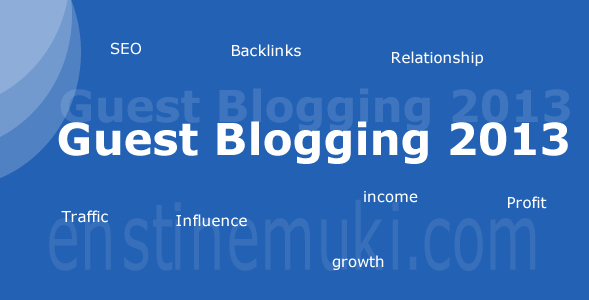 6 Posts submitted to ComLuv
I submitted the most number of articles this year on comluv. I also got very interesting traffic and built exciting relationships from these articles. So here are the articles;
Blog Contests ~ Hidden traffic gem you must not neglect: In this article, I discussed how running blog contests and giveaways can be a huge source of traffic to your blog. I encourage you make a stop over and read the post.
Published on April 13, 2013
Blogging in 2014 ~ A leap Forward: What is blogging like in 2014? In this post, I touched some important points in blogging that will certainly not be the same in 2014. I also had quite interest reactions from readers who had their own points to make. Worth reading!


Published October 19, 2013

WARNING! Don't publish your next blog post until you read this: Do you know because of some uncontrolled excitement we hurriedly hit the 'Publish' button without actually making sure the article is reader? There are a few important corners you must pay attention to before publishing your articles. Check them out in this guest article.


Published on October 23, 2013

SEO ALERT! Is your blog too slow? Performance check and recommendations: Speed is one of Google's ranking factors. While this may not count for a big percentage, it's worth optimizing our blogs to get the best in terms of speed and performance.How do you measure the speed of your blog? Where do you get specific performance recommendations that are unique to your blog? Check out details in this guest article.


Published on October 30, 2013
6 evergreen ways to boost affiliate commissions as a blogger: Affiliate marketing is one of the ways most of us make money online. Do you know there are things to do to make commissions over and over again? Check out what I shared in this post.


Published on November 7, 2013

6 Reasons To Start Your Own Blog Today: A lot of people and businesses don't have a blog yet simply because they don't know the importance of having one. I had a discussion with a friend and this sparked up the idea for this guest post. Here are some solid reasons you need a blog.


Published on November 20, 2013
2 Articles on BasicBlogTips
These are my guest articles I submitted this year 2013. The benefits I got were enormous – traffic, backlinks, new friends, etc
While Guest blogging was not a major activity for me in 2013, in 2014, I intend to go beyond this and submit many more articles on different.
Over to you
Share with us the most recommended guest posts (2 max) you submitted this year. Paste the urls and a brief description in the comment box below
Did you read and interact with me on any of my articles? Is any of these posts the way you got to knowing about me and my blog? While you drop the links to your guest articles, let me know anything else in the comment.
NB: You can only drop 2 links in the comment box. These must be guest articles you submit on other blogs