27
Six Figure Salary A Year Blogging ~ 8 week training program!
Six Figure Salary is a series I'm starting on this blog to reveal a system that has everything you need to make 5 to 6 figure income a year blogging. I call it '6 figure salary' because that's exactly what you get after going through this 8 week step-by-step training program.
This hot video training program holds you by hand and walks you through everything thing you need to create a lucrative blogging business, become your own boss and pay yourself a handsome amount of salary.
Six figure is any amount from $100,000.  Count the figures in that amount. They are six. That means with blogging, you can generate an average of $8333 a month.
Now, I'm talking about Blogging.org, a money making training program with 8 Modules of Intense Blog & Affiliate Marketing Training. As a matter of fact, this platform has everything you need to find Success online.
Why am I telling you this?
There are 2 reasons I'm writing about this program and encouraging you to join;
The first reason is that I'm a member. So you're going to meet me there and we have a lot to share in the forum. Now, if you are reading this blog for your first time, you probably don't know much about me. Check out my About Me page. I have helped many in this industry and they are following my tips and making money online.
You really have to listen to me and follow me if you want to live a lifestyle of freedom, making money online and spending time with family. Fire your boss!
The second reason I want you to join Blogging.org community and training program is the guy behind it. Zac Johnson is an authentic money making blogger and affiliate marketer with years of experience.
He has mastered the art of blogging and in this training program, he will show you how to do same. This millionaire blogger and affiliate marketer has also been featured in several magazines and news publications such as Forbes, Entrepreneur, Search Engine Journal and many more. So you see why we should follow him?
Here is more…
On this platform, we also meet some of the top money making bloggers and affiliate marketers. Zac has gone out to get the best in the industry on board so that members are well served with the right money making materials. Check out this picture.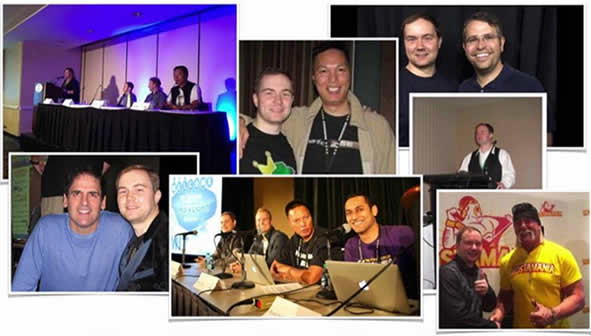 I have always said what makes the real value of a platform is not the script or the servers. It's the people you meet on board and interact with.
On Blogging.org training platform, you don't only meet Zac Johnson. Here are some other experts and six figure salary earners that have contributed to this training program;
You know as well as I do that these guys have something real good in the package. This makes Blogging.org blogging and affiliate marketing training platform a place to be.
8 weeks to become a 'six figure salary' blogger
This platform is sub divided into three main sections all aimed at training you to become your boss. Let's briefly look at these 3 sections;
1 – 8 week training program
These are strategically planned training videos to "fabricate" a money many blogger and affiliate marketer.  As a blogging.org member, each week you will be delivered a course (excellent video training) that will fully train you on different aspects of blogging and Affiliate marketing.
These 8 powerful courses will reveal details of systems, tools and the how-tos used by Zac himself and other savvy bloggers to generate 5 – 6 figures online.
Everything you need to know about WordPress, SEO & Content creations, Social medial, Affiliate Marketing, Adsense secrets, blog monetizing, list building, buying and selling sites, etc.
Now, what i love here is how these 8 week course is planned. You will have a course available each week, taking you from one step to the other. Imagine being a completely trained money making blogger, affiliate marketer and six figure salary earner after 8 weeks.
2 – Video Directory
This platform has over 100 hot training videos just about everything you need to succeed online. Apart from the videos in the 8 week training course, you can access hundreds of other videos in the video directory.
Did I mention that you can even request a video?
3 – The forum
The forum is a very important feature of this six figure salary training program. This is where you meet with experts, expose your problems and find answers.
Zac Johnson himself is very active in this forum and will be there to give you any personal assistance to make money online.
The Six Figure Salary Journey – Week # 1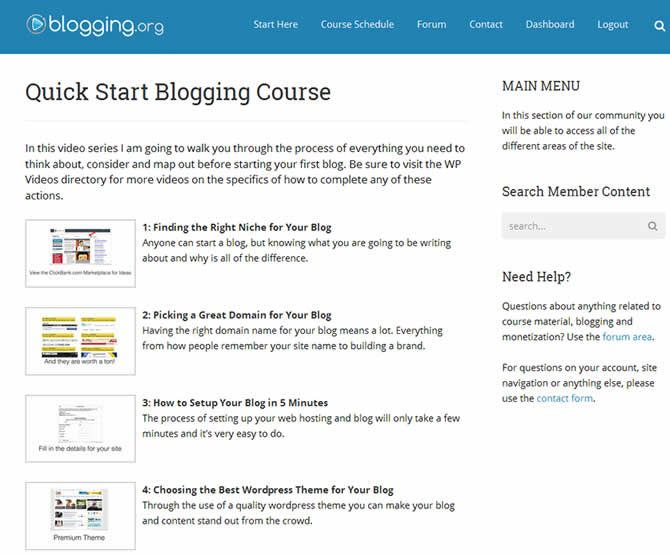 In week 1 of this training program, a solid foundation is laid. Now this is the MAIN reason why so many bloggers are failing today. They have the wrong foundation. They have the wrong information in the beginning and that hugely affected they journey as bloggers.
There are 9 solid lessons to learn in week 1 of Zac's 'six figure salary' training program. These are well designed to give you the perfect start you need for your 6 figure salary blogging career;
Video #1: Finding the Right Niche for Your Blog – This is as a matter of fact where you either fail before start or you lay a solid foundation for a successful blogging and Affiliate Marketing career. Don't gamble like others who have ended up quitting. Trust as Zac in this video walks you through and with the help of free platforms help you discover your perfect niche.
Video #2: Picking a Great Domain for Your Blog – One very important component of your blog is the domain name. How do you choose a name that people can easily remember? Lesson 2 comes in as a great help
Video # 3: How to Setup Your Blog in 5 Minutes – This is a Do It Yourself (DIY) video that shows you exactly how to install and setup your blog in just 5 minutes. You don't need to hire an expert for this.
Video #4: Choosing the Best WordPress Theme for Your Blog – Do you know that a bad WP theme can cause your downfall? While a perfect theme is no guarantee for success, you must avoid the bad ones that can hurt your six figure salary blog.
Video #5: Top WordPress Plugins for Your Blog – I love this lesson! There are few great and free WordPress plugins you are recommended to start with. Don't make the errors we made in the past.
Video #6: SEO Basics for Your New Blog – If you want your blog to rank well in the future, there are some basic SEO settings that you must not miss at this very beginning. You absolutely need to know these point before embarking on this six figure income journey.
Video #7: Free Traffic Methods for Your Blog –  The success of every online business depends on traffic. No matter how excellent your content is, without traffic it's as good as not having any. This video exposes some of the best ways to start getting traffic to your blog for free.
Video # 8: Free Traffic Methods for Your Blog – This video is actually the beginning of good things 😉 Most of us who think we make money with our blogs need to go back and learn some basics. That's the only way to break off that poverty line.
Video # 9: Featured Blogging & Marketing Experts – This video introduces you to the top expert in the industry that will be helping you out with mind blowing materials on the platform. I just listed them out above but more will be said about them in this video.
This is just the tip of an iceberg. Remember this is full blown power training course and an authentic money making forum for real marketers and six figure income earners. You are about the join the most exciting community on the Internet and like I said in the beginning, I'm already on board.
How much does it cost to become a six figure salary blogger?
You can start off with just $1 for the next 7 days. This will help you have an overview of what's inside. I know you will be hooked once you dive into this. After the $1 trial period, then a recurring $97 per month until cancelled.
Here is the shocking truth…
You may have to pay the recurring fee from your pocket only for 3 or 4 months. Now, as this platform teaches you how to make money blogging, you should be making money from the teachings a few months later. With this, you can pay your monthly fee. That means the program should take care of itself after a few months. If you pay yourself a six figure salary, then this shouldn't be a problem.
Are you a member of this training program? What do you think about it? Let me hear your thoughts in the comment box below.