I successful sold broadedNet to a buyer on Flippa. Though that was 50% down from what I initially thought the value was, I was not worried giving it out to the current owner.
I admit I still have a lot to learn in site flipping. Though this is my fourth site I'm selling in 5 years, I have not taken site flipping a serious business.
The first site I ever sold was back in 2010. It was really a business in the dark. While it generated $400 in sales, it was such an excitement.
In 2012, I sold out EasyRetweet.com created in 2011. That went for $13,500 after making over $10,000 in credit and ad space sales.
In August of 2012, I started my first ever blog on emfastincome.com. I later on wanted a personal brand name and switched to my current blog enstinemuki.com. Emfastincome.com was sold for something around $2700.
All in all, it's been an exciting experience, creating and selling sites. I consider myself a serial entrepreneur though I'm still bracing up 😉
BroadedNet went for $5000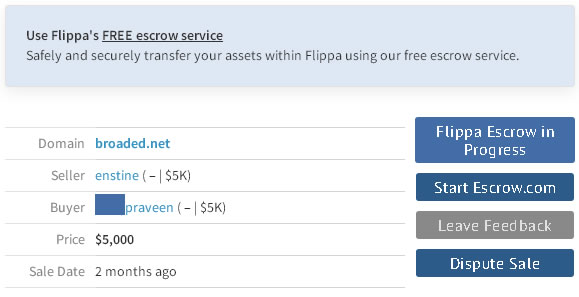 I like that I can still colloborate with Praveen, the new owner. It was a smooth move over to him and he still allows me administrative access to the platform.
Recently, I have been talking with Preveen on how to keep going. One of the conclusions was to give out free credits to my readers. So I went ahead and generated this coupon code for up to 1500 free BroadedNet credits.
The code : CAKE
Go to BroadedNet and signup or signin
Click "Got Coupon Code?" on the right sidebar
Enter the code in the form field and continue
The next thing to do after grabbing the credits is to create campaigns.
New to BroadedNet?
I know some of my readers are new to this platform. It's however a new generation traffic tool for bloggers. It generates referral traffic to your blog from other blogs through its widget on the sidebars.
I have written quite much about it on this blog. Here are some blog posts to check out for more;
BroadedNet is a tool to generate targeted traffic without search engines or social media. The traffic generated is real and adsense friendly.
Tell me what you think …
Drop a comment and let me know your thoughts. Hurry to the platform and start creating campaigns. Share this post on social media