Affiliate marketing is one of the hottest ways to make money online even without having your own products. As a blogger, it is one of the ways to make money blogging, promoting products in your niche and earning commissions.
Affiliate marketing (AM) is a money making model in which you promote others' products and earn a percentage of the sales generated through your promotions. You don't worry about after sales services (The product creator handles shipping and product delivery, training, customer support, etc). All you have to do is drive traffic, convert to sales and get paid.
Many bloggers have failed in Affiliate Marketing simply because they were unable to select the right products for their audience. It's generally not easy to pick and promote an affiliate product that converts quite well.
However, one of the industries where you can select and promote a product and make real sales is web hosting.
Millions of websites are being created and hosted daily. People are looking for the best choice for their budget. All you have to do is recommend a top web hosting company on your blog and make commissions.
Promote Host1Plus and earn up to $115 per referral!
Host1Plus is one of the premium hosting industries that offer fast and reliable web hosting services to its clients all over the world. With multiple premium data centers worldwide and responsive local customer support, Host1Plus positions itself as the number one choice for Shared, VPS, Dedicated and Reseller hosting.
If you want to know more about Host1Plus as a recommended webhosting company, check out my review here. In this post, we are looking at its affiliate program and how it can generate income for us.
-> Signup to Host1Plus Affiliate Program here
There are three ways to start with Host1Plus;
Create an account for free. Once you join the affiliate program, you instantly get a $10 sign-up bonus. In your affiliate account, you have excellent promotion kits including professionally designed and high converting web banners.
Promote the product. I will be suggesting some methods to promote below.
Start collecting money. Simply, as you recommend the service and generate sales, you start making money.
How much can you earn?
That's one of the questions that come up so often in Affiliate Marketing. It's of no use to promote products that don't pay a handsome amount.
First, just by creating a free account, you get paid $10 into your account. The rest of the commissions are earned as sales are generated. Commissions are paid in two categories – for sales below $40 and sales above $40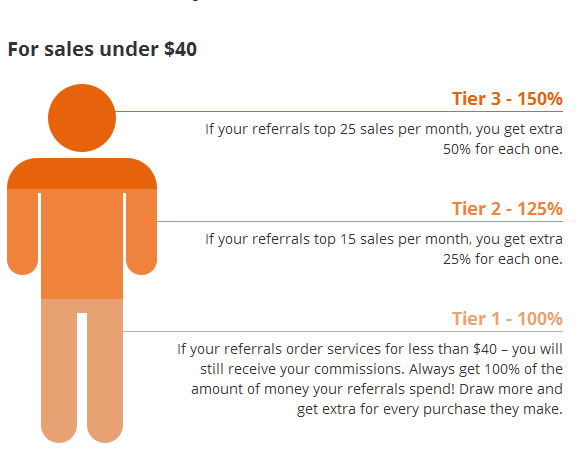 If every month, you generate less than 15 sales of less than $40 each, Host1Plus pays you 100% of the sales no matter the amount.
If you generate 15 and more sales, you get 100% first and additional 25% of the total amount you earn.
If you make 25 and more sales, you get 100% first and additional 50% of the total amount you earn.
For sales that are over $40 each, you make even more money 😉 That's impressive right? So let me explain the image above…
If within a month, you are able to generate less than 15 sales of $40 (and more) each, you get paid $65 per sale.
What this means is if you generate 14 sales this month (of $40 each) your commissions will be $65X14 = $910
If you generate 15 or more (but less than 25), you will get additional $25 per sale. That makes $65+$25 = $90
For instance, if you generate 20 sales this month, you get paid $90X20 = $1800
If you put in a little effort and generate 25 and more sales, you get additional $50 per sale. That means $65+$50 = $115
For instance, if you generate 30 sales, you get $115X30 = $3450
Now, you can start a real business by tapping completely from their investment, make real money by promoting a product that sales every single minute.
So how do you promote and make sales?
There are different ways to promote Host1Plus and make huge commissions. If you have a website or a blog, one of the quick ways to start with is grab their affiliate banners and place on your blog.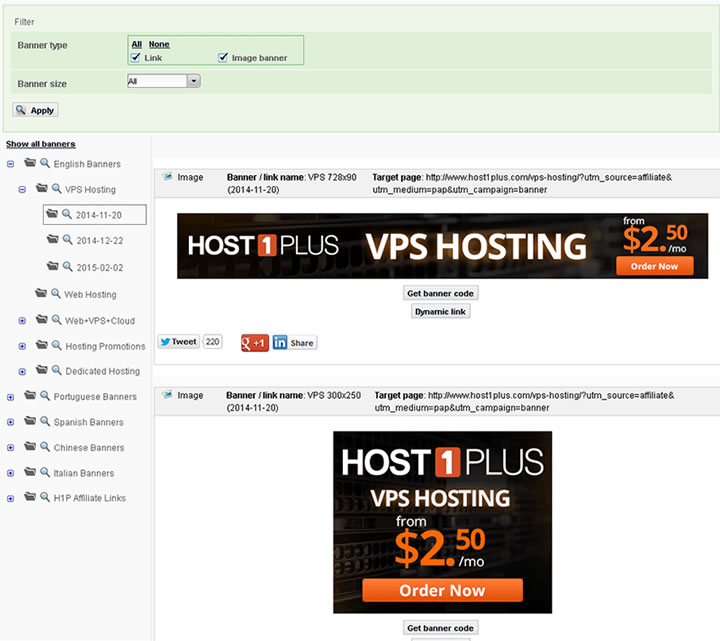 There are professional banners in all sizes and in different language.
Well, some readers have become banner-blind
While these banners are so captivating, the truth is that some readers have become banner-blind. That means they have seen banners so much that they tend to ignore them even without knowing.
While these banners still have a place, I recommend you do an SEO friendly blog post. That's what I call an Affiliate Product review.
It's one of the best ways to generate income from your blog. You can write a detailed blog post on Host1Plus, showing how stable they are, how their customer service is top and how easy it is to host with them.
As an affiliate, you link to it on your affiliate link. This will surely generate some sales and commissions.
If you've written some blog posts in the past and talked about hosting websites, you may go back to them and drop banners on those posts or simply create hyperlinks with your affiliate links.
As a matter of fact, there are many more ways to promote:
Share on Twitter
Share on Facebook
Send a mail to friends
Send a mail to your list
Talk to your family about it
During live event, talk to people about it
etc
A smart way to make more sales
I have mentioned some result-driven ways to promote and generate sales but here is something quite smart. I can guarantee results if you take this strategy seriously;
-> Do a simple tutorial on how to create a professional WordPress blog in 10 minutes
It's crazy how you can generate income with this method. People want to create their blogs themselves and we know this has become very easy to do.
Host1Plus is a cPanel-based web hosting so you can do an ebook or a video walk-through teaching your readers how they can create and host their business sites or blogs without the hand of any paid expert. Show them how they can do that using Host1Plus' cPanel and features.
Do the ebook and link on your affiliate links. Post the video on video sites and link on your affiliate link.
You can give the ebook for free on your site or promote them for free on the Internet. If you can't even write nor do a video, you can outsource that on Freelancer or similar site.
Host1Plus Affiliate Coupons!
One of the ways to boost affiliate sales is to offer discount to your readers. Host1Plus has coupon codes to help you generate more sales by offering a reduction to your readers. Once you sign up for the affiliate program, request for your coupon code.
10% from Sub Affiliates
If you help Host1Plus recruit more affiliates, you get up to 10% from their sales. So while you promote the service to generate web hosting sales, you can also ask your readers and friends to promote them. You earn 10% of all the sales generated by your sub-affiliates.
NB: This means once you join the affiliate program, you have two types of affiliate links;
Web hosting affiliate link to promote Host1Plus hosting services
Your sub-affiliate invitation link to promote their affiliate program
Points to note
They pay your commissions to PayPal. That makes it easy to get your earnings
The minimum amount required is $50. Some of their competitors set the limit to $100
Commissions are paid every 25th of the next month from the day you earned it.
Thumb up
International coverage – that means a larger market and more opportunities to generate income.
Supports coupon codes so you can boost sales.
A lot of professional banners in different standard sizes. You just copy and paste.
Super-excellent customer service with 24/7 live support.
Relatively cheap premium services (excellent performance, security, fast loading, etc) converts quick.
Supports sub-affiliate so you can earn from more sources.
Thumb down
The coupon codes are not tagged to affiliate accounts. If this is done, once your affiliate coupon code is used by a client, you get the commission irrespective of the affiliate link used.
Commissions are not paid recurring. This would have been a big attraction.
Conclusion
Host1Plus's Affiliate program is an exciting program to join. It's absolutely free and if you have a blog or website, just give it a try this moment
Click here to join the affiliate program
Why not drop a comment and let me know what you think about Promoting Host1Plus?