It's Thursday and I'm here again with someone you certainly have seen on this blog a couple of times. Beside being an excellent writer, this blogger's frequent visit to my blog and his skills of networking could not just keep me away from noticing him.
His blog recently has become one of the top on my list and I'm absolutely excited to talk about him today. Well, before we get into some personal details, check out the list of those I have featured in the past here. Let's meet out blogger for the week.
Meet Kurt Kummerer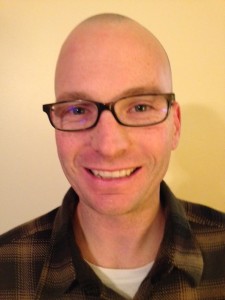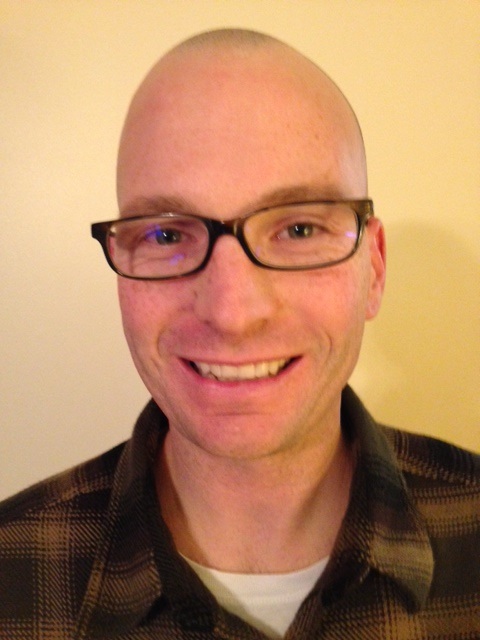 Kurt Kummerer is new to the blogging scene and he lives in Methuen, MA with his wife Marie and 17 month old son Evan.  Kurt works full-time in sales selling to eye doctors in which he plans to jettison in the near future.
Kurt's Story
Kurt has been working in corporate America since 2001. For the past 14 years he has served in a sales/sales training capacity for numerous organizations mostly in the eye care segment, with a brief stop in life science research.
He has had a successful career and has been a part of teams responsible for bringing new products to market and growing those brands resulting in millions of dollars in sales.
Kurt has a passion for sales and his desire to help others succeed is unmatched.
He was on the fast track and moving through the ranks of corporate America with blazing speed due to his tenacity and work ethic. In 2006 he learned what corporate America was all about. He was downsized and out of the work force for 7 months.
Kurt always had an entrepreneurial itch that needs to be scratched, and a desire to run his own business, but decided that was not the time and went back into corporate America where he remains today.
In 2008, Kurt along with his wife began to scratch that itch by investing in residential real estate where he purchases multi-family units, fixes them up and rents them out to prospective tenants.
He allows equity to build up over time and sell for a profit. He continues to invest in real estate to this day.
In 2011, he decided it was time to get more aggressive in his entrepreneurial endeavors and entered into a partnership with 2 other associates to start up a company for those in life science research who ordered products. In that industry you are required to get a certain number of product quotes before buying anything.
Our company allowed you to seek multiple quotes anonymously. There was nothing out there like this. After trying to gain traction for a year, we failed and could not make it happen. As a result we dissolved the partnership in early 2012.
Kurt was introduced to the world of network marketing through a friend of his. Kurt joined a network marketing company and endured all the pomp and circumstance that goes with that. While in this company Kurt thought to himself. Wait a minute. Network marketing is no different than sales.
He knows how to sell, but how do you find prospects for your network marketing opportunity? You can't go knocking on people's doors? The light dawned on Marblehead. Use the internet. So what did Kurt do next?
Started a Blog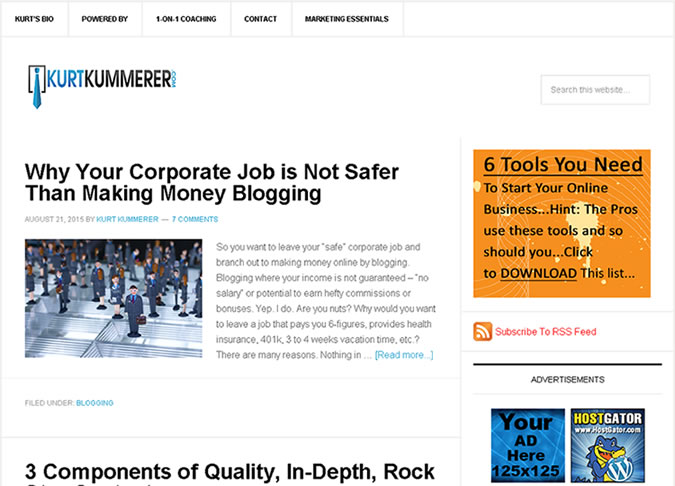 Kurt set up a blog and spent all of his time "learning" and not implementing what he learned. Then life got in the way and Kurt did not do anything with his blog and quit his network marketing company.
Kurt would continue doing research on making money online opportunities and joined a Top Tier affiliate program with hopes of promoting that program through his blog in December of 2013.
Then in March of 2014 Kurt's son Evan was born. That was a game changer to say the least for Kurt and his family.
Kurt blogged twice a day for one month that summer posting short content that was not necessarily quality. While having a newborn there was no way Kurt could keep up that blistering pace, thus he stopped blogging.
Furthermore, he wanted to get some clarity on what he was going to blog about. So it was now 2015.
As the stress of unrealistic expectations, travel, and decrease in income potential Kurt decided he was finally going to do something about it and make things happen.
When the Change Happened
Since April 15, 2015 Kurt has been blogging consistently posting at least once a week on his blog, where he blogs about sales and marketing training for newbie marketers.
He started to blog and worked hard on not only learning how to produce quality, in-depth content, but implementing what he had learned.
One of his most popular posts to date:
Can't Make a Sale If Your Life Depended On It? Here's Why
Also, knowing that in selling anything it is all about building relationships. He reached out and started to build relationships with other bloggers by leaving thoughtful comments consistently that adds to the conversation.
This is how Kurt met Adrienne Smith who is awesome and someone you need to get to know if you have not done so already.
Additionally, being social on Twitter has helped him in this regard as well.
Kurt would be remiss if he did not mention Enstine Muki who has afforded him the opportunity to be featured on his blog today.
Kurt continues to build relationships with other bloggers daily.
His burning desire to teach other marketers how to sell online is Kurt's mission and where he focuses his time and efforts.
Connect with Kurt on his blog here
Check him out on Facebook here
Drop him a comment in the comment box below!
Share this post on social media!