This morning, after firing my boss, I'm home having some fun with kids. I just checked my affiliates accounts and there is some awesome earnings to take care of the bills.
My blog has been booked for some paid content next month. I'm bracing up and getting my fingers ready for more blog hopping awesomeness.
I'm also working on a promotion strategy for my new platform, BlogExpose. If you ain't signed up yet, check it out now.
One of my great friends, Chioma just got me seduced again. I was checking out her blog and found this article about the creation of the popular mobile app called WhatSapp
Well, this is a story I knew in the past but Chioma used it again to remind me of another exciting story.
A few weeks ago, I posted this article how I turned rejection into $234 cash earnings. This earnings has increased again and I'm getting more excited about it.
Brian Action, the creator of Whatsapp was rejected by Facebook and that rejection made him the hero of Mobile phone chat.
Brian called this rejection a "great opportunity to connect with some fantastic people"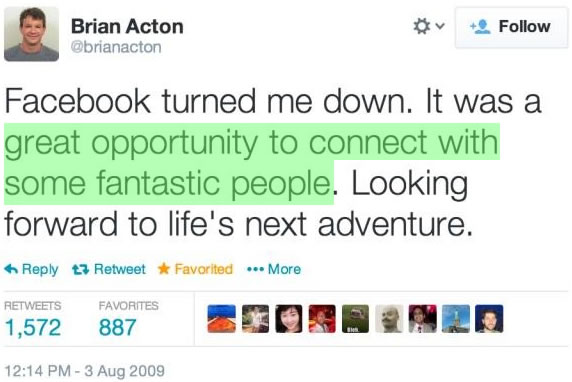 Brian took the challenge and turned the NO into something else. What's the real meaning of NO?
NO! What does it really mean to you?
I will tell you what NO means in a moment. Check out this story first!
This guy went to apply for a job opportunity in a local distributions company here in Douala. After the interviews and tests, the recruiting agency called him and clearly told him they were not going to take him.
Mike thought he really deserved the job so he tried to ask questions in a bit to negotiate for a reconsideration. The final words he got from his interviewer was a fat NO
Mike, evidently felt so bad and left the premises. He thought he was rejected.
As a matter of fact, Mike was wrong. He did not really understand the meaning of NO. He took it for the opposite of YES.
But what is really the meaning of NO?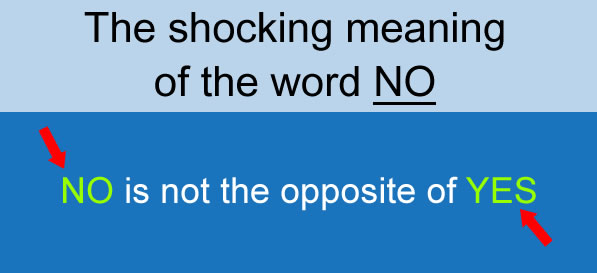 While Mike stopped by a cousin's office to pour out his sorrows, he was chanced to shake hands with the CEO of a communications company which was in need of a Country Director as this company was fast expanding to other countries in the region.
Guess what!
Mike got a lucrative job as a Country Director and moved with his young family.
That was amazing…
Here is the real meaning of the word NO ->
Next Opportunity
There is always a next opportunity and for the most part, the next is better. Mike was over-qualified for the post he applied for. The authorities didn't really think they could keep someone like Mike. But Mike wanted somewhere to start and grow.
Facebook said NO to Brian and gave him the chance to meet the Next Opportunity. In order words, they simply said 'hey Brian, check out the Next Opportunity'
Here is the point…
In life, don't take a NO for the opposite of a YES.
See a New Opportunity in every rejection. Always think you have something better to offer. That means a better pay in return.
Every rejection is an opportunity to meet something new and do something differently.
Have you ever been rejected before? What was your response to it? Did that lead you to a bigger opportunity?
Let me hear you out in the comment box and please, share this post on social media!