I know you want guaranteed google first page and I want to give you some really hot tips to achieve this. It only takes you 2 things to be on that highly coveted spot:
Read this post attentively
Do the things I suggest
I used to think getting to Google first page is very hard and I used to really feel it tough. That was because I wasn't doing the things I'm about to share with you in this post.
But trust me it's easy to get to Google page 1 in less than no time even if you are new in the SEO industry
With these tips, I have had some of my entries on the first page of google in 24 hours. The reason I'm doing this post is to help you with the right information and answer the question on how to get your website on google first page.
3 simple tips for Google first page guaranteed
Now, there is something about Google first page (and page #1 of all search engines) that everyone online is scrambling for. This thing is called targeted natural traffic.
Google is the big master when it comes to natural traffic. We have Bing, Yahoo, etc but Google has over 60% of the market share.
Though getting to Google's first page isn't any guarantee for targeted traffic, it is one of the steps toward growing your business online.
First, you have to get your content indexed by Google. (Most of my content get indexed within few minutes).
Second, the war of ranking begins after getting indexed. You'll have to get involved in all the SEO gimmicks in order to move your content from page God knows where to page 1.
Both Content and Technical SEO exercises are required. I personally like breaking SEO phases into Content and Technical with the Content phase further broken into On page SEO and Off Page SEO.
The technical phase of SEO is looking at Server configuration, plugins, themes and Mobile friendliness. Now, if you want a highly recommended SEO hosting for WordPress, take a look at WPX Hosting.
Before getting to the Google first page tips
Now, before I give you these tips, it's important to tell you what I feel about Google page one. As a matter of fact, it's one of the most visited pages online made up of principally two areas:
The paid ads section
The natural results
There are often some more areas like videos and related search terms, depending on the popularity of the keyword typed and the searcher's location. But our concern here is with the natural listing.
So being on the first page is good. But finding your way to position #1 on that first page is best. Once you've pushed your SERP entry to the first page, try further to push it to the first spot. That will inevitably generate more results from your search engine marketing.
At position one (all things being equal), you are going to get more clicks. The more clicks you get, the more time you maintain your leadership and the more website traffic you get.
NB: At the end of this post, I will share with you some tips on how to improve or maintain your position on page one.
Here is how to be on Google first page unfailingly
Ok these are some guaranteed google page 1 ranking tips. They will help you on how to get on google first page without necessarily hiring an SEO consultants or spending huge sums on link building services.
1 -> Stop fighting with the big guys
Here is one of the biggest tips on how to get on google first page for free and within a short period of time without the help of SEO specialists.
As a matter of fact, there are 2 main keyword research things you should pay some amount of attention to when it comes to trying to get guaranteed Google first page:
Keyword search volume
Keyword Competition
Generally, keywords with high volumes are often correspondingly highly competitive. The more the keyword is popular, the more people struggle to grab the traffic from it.
Many different SEO software are going to calculate the competition and the strength of the entries already found on SERPs (competitors) and rank it in what they call Keyword difficulty.
According to ahref, Keyword Difficulty is an estimate of how hard it would be to rank in Top 10 Google search results (google first page) for a given keyword. It is measured on a non-linear scale from 0 to 100 (low difficulty to high difficulty).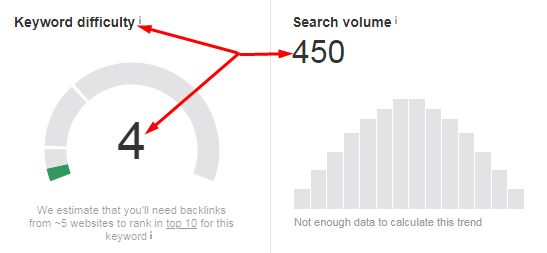 Here is a keyword with difficulty at 4/100 and volume is about 450 monthly searches. Here is why I think you should target such a keyword:
It's easy to rank for. 4/100 means the few sites that rank for it are weak. If you get 10 backlinks, you should be on your way to the first spot on page 1
It gets some traffic.
NB: Don't be discouraged by the search volume. In my opinion, focus on creating content around less popular keywords. The more content you create and rank well, the more your natural traffic builds up with time.
Now, take a look at this case:
This is a very popular keyword that gets over 200,000 monthly searches. But the competition is tough. Not only are the entries on SERP many to compete with, they are also tough. 93/100 is something you should be very weary about.
My recommended SEO Tool: SEMrush. Get 7 day free trial.
2 -> Anticipate keywords
Keyword anticipation is a smart move. It involves going ahead of time and creating a keyword before everyone else starts using it.
Once you've anticipated any keyword, be the first to create content around it. When folks start typing the keyword in Google and other search engines, you will be on the first page guaranteed without the use of any professional seo services.
I anticipated the keyword warrior forum vault review and right this moment, I'm still sitting on google first page and slot 1 for it: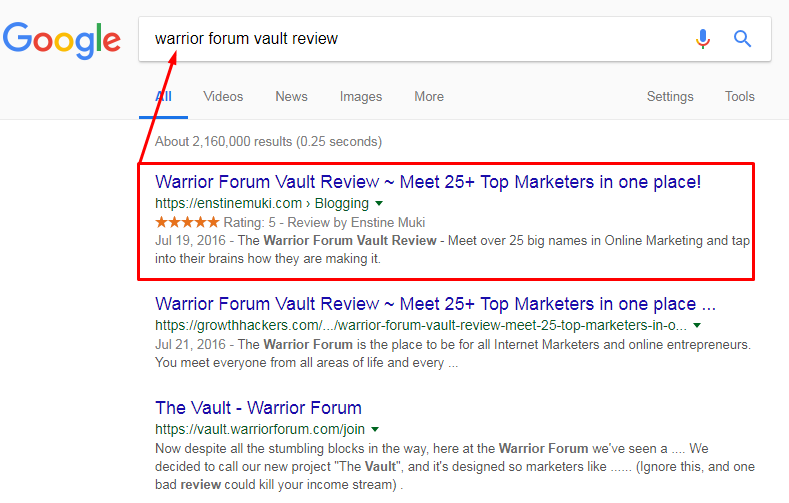 I encourage you read this article on keyword anticipation for more examples and how to apply it.
3 – Pay attention to Search engine optimization
If you want Guaranteed Google first page, everything else you do may not work without getting your site friendly at Google's sight.
Both Content and Technical SEOs must be practiced correctly. Make sure you content quality is top notch and your server loads your site fast. The more great content you create, the more authority you gain for your site.
How to maintain and improve your position on Google first page
It's one thing to grab the first page of Google and it's another thing to maintain that position. It's often easier to get to page 1 than to maintain it. So here are some useful tips to strengthen your position on Google page 1:
a) Use proper meta text to increase CTR
Click Through Rate is a big ranking factor. It's simply a fraction of searchers that click your link on Search Engine Result Page (SERP).
If for instance your page comes up 300 times on SERP and only 1% click it, Google is going to consider shifting your entry away. The understanding is that you are missing the searchers' intent. To improve your CTR, make sure your Page Title and Meta Description are attractive enough.
b) Increase dwell time, reduce Pogo sticking effect
Dwell time is the amount of time people spend on your page after clicking from SERP. Pogo Sticking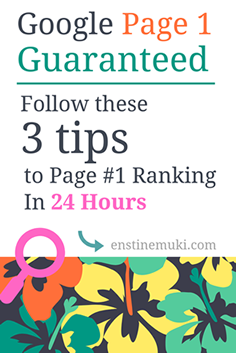 happens when someone clicks your entry and instantly click the browser back button and then click the next entry after yours on SERP. Read more about Pogo Sticking here.
When readers pogo-stick your content, it tells Google something is wrong with your site. Maybe the title and description are misleading or your content isn't just meeting the need.
To improve dwell time and reduce pogo sticking, focus on the following:
Make sure your introduction is not clumsy and stupid.
Remove distractions from above the fold.
Bring your content to the top as much as possible.
Don't mislead in your Title and Meta Description
Use attractive elements on your content (beautiful, engaging images, videos, etc)
Properly format your text
Optimize your site for fast speed
c) Get involved in backlink building
The more inbound links you get from authority and relevant domain, the more you are able to maintain your authority and improve your search engine results.
Link building isn't a simple SEO strategy. If you want long term search visibility, you have to constantly build links, either by your self or hire link building services. There quite many SEO link building companies out there with affordable seo packages. But be warned.
e) Constantly audit your SEO
Link building with an unverified SEO digital marketing agency could be dangerous. That's why I recommend working with established SEO specialists and get some SEO training in order to handle some aspects of your campaign.
Frequently conducting SEO audit, removing toxic links keeps your backlink profile clean. This way, you won't fall to any penalty that may lead to de-indexing and loss of search rankings.
f) Avoid black hat SEO at all cost
Black hat SEO is using any unauthorized SEO techniques to manipulate search results. This involves buying and selling of links, keyword stuffing, etc. Many search engine optimization services out there practice dangerous SEO activities that end up ruining your SEO strategies.
Make sure you practice white hat SEO to build a sustainable natural traffic source for your online business.
These tips will help you get guaranteed google page 1 ranking for your online business.
Conclusion
Now you see following these simple steps, you can easily get guaranteed Google first page. A student once asked me how much does it cost to get on the first page of Google and this is perfect answer to that question.
Let me know what you think about this in the comment box