Last week, I posted an argument on this blog about taking down comments on blog posts. As I went through the argument, reading different opinions from different contributors, I got another idea which led to this post.
One of the reasons some big blogs took down comments on their blogs is the fact that they get hundreds of comments to deal with daily.
Now, this really is a huge lump to swallow if you have to reply to hundreds of daily comments. If your comments are as long as those Adrienne Smith and most of my friends get, you understand what it means to go through them and leave reasonable replies.
There are 3 options to choose from;
Not reply to those comments at all
Completely disable comments (share your views on this argument)
Hire a Virtual Assistant (VA) to help reply to those comments
In this blog post, we want to argue on point 3 – hiring VAs to respond in your place.
I know people hire VAs to drop comments on other blogs and link back to theirs. This has been a successful strategy some bloggers have used over the years to gain some traction for their properties.
BUT…
Would you also hire those VAs to RESPOND to comments on your own blog?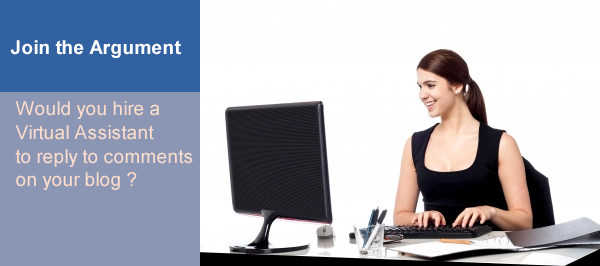 I stepped out to MyBlogU and met some experts with this same question. I got 8 of them who shared their different views. Check out what they had to say:
Q. Would you hire Virtual Assistants to Reply to comments on your blog?
A. David Leonhardt (President, THGM )
The short answer is, "no".  As a general rule, I don't delegate relationship-building, whether it is with my daughters or with my blog readers. I just can't see myself doing it under present circumstances.  However, if the blog grows too big, then I don't see myself being the only author, and I would expect each author to respond to comments on his/her posts.
If the blog is a corporate blog (rather than an individual blogger), then I would see hiring a virtual assistant as ideal.  In fact, that's the time to hire a ghostwriter to write, publish and manage the whole blog, so that the entrepreneur can get on with the business of tool rental, real estate or whatever he/she does best.
A. Phil Turner (The 5 Currencies Guy)
I would never hire anyone to answer blog comments. Though that is easy for me to say at this stage when the numbers are small enough for me to handdle. I value each meaningful comment and it would be discourteous of me not to answer it myself.
I know people do hire VAs but that doesn't make it right
A. Abacus Marketing (Abacus Marketing)
It's quite a hard one to call. I guess it depends on the site or even the blog. Virtual assistants may be great for more generic or common sense comment replies. However, what happens if the blog is quite complex or technical – they may not be able to answer the comments in a constructive manner that reflects well on a brand.
Additionally, how do you ensure quality control? I guess you'd need to create a set of guidelines for answering comments and also monitor initially at least. In some cases it's fine, but personally we'd be wary.
A. Steve Counsell (Mr)
As with all of the content that is produced in your name, it needs to be in the correct "voice". A voice that matches the persona of your business. If that can be acheived then it's fine to have someone else to answer coimments and reply to other elemets like Twitter, facebook and even email.
The big question is, can you find someone that will get it right all of the time?
I doubt it… However, if you find a person or people who can get it right most of the time then it's going to make your life a lot easier and you'll only have to deal with the odd mistake.
A. Gary Dek
Leveraging a Virtual Assistant (VA) to respond to comments on your blog is a great way to increase productivity, while maintaining a personal touch and strong sense of community. Continuing to have an intimate relationship with your audience members even when your blog has grown substantially is one of the cornerstones of building a loyal readership. However, the most important part of executing this properly is to teach your VA how to respond to comments like you would. It shouldn't be obvious that someone else is responding on your behalf; otherwise, you will look disingenuous and potentially hurt your reputation.
A. FlowerGuy
Our websites have grown to the point of requiring virtual assistants.  When our company was small with only a single site, it was easy to handle the inflow of comments and research manually; however, as anyone who develops sites know "Time is Money".  Our main site, CastingMaster.com, aggregates audition information for television shows.  We use our virtual assistants to parse through all the comments and submissions.  After they validate the show exists with legitimate information, they also complete a form that places all the information in a standardized format that one of our writers can quickly convert to the content that appears on our site.  We've found that our writers far prefer to work from a predefined format.
A. MAKONE (Make Money Blogging)
Hiring a Virtual assistant who is actually devoted to his work is really challenging these days. I prefer to reply to all comments on my blog myself.
what if we get hundreds of comments everyday?
Well in this case my answer is Yes. We have to hire a virtual assiatant to reply on comments. But to hire someone we need to have proper commenting guidelines which a virtual assiatant should follow and also need to keep an eye on what he do on your precious blog. You do not want to risk your blog by hiring some unethical commentor.
Comments and their eplies should add value to readers, help them find more suitable information and engage them with content.
So when I hire someone, I like to keep my mind and eyes open to test if the virtual assiatnt is capable of maing valuable replie on comments or not.
A. Dev (WPKube)
Hiring a virtual assistant to reply to blog comments is never a good idea. IMHO, it is always best to reply yourself, and if you don't have time, just reply to the important ones. But, if you still want to hire someone, start looking for people who are already engaging (commenting, sharing your posts) on your blog.
---
And you, What do you think?
I have included the speakol Argument widget here below so feel free to use it to express your opinion. I'll also be excited to have your comments on the comment form

Feel free to share this post on social media let's hear what your friends have to say.
Img src: freedigitalphotos.net