Customer Relationship Management allows businesses to keep all of their client information in one place. They are also identifying issue areas in their engagement with them in real-time.
HubSpot is one of the most popular CRM tools currently available. It can capture practically every possible type of communication. Hubspot is designed for extensive tracking of a small number of connections. It has numerous data fields for users to fill out. It makes the data more comprehensive and easy to manage.
It allows you to personalize, assign tasks, and help your marketing crew work together efficiently. HubSpot has a good cell phone, email, and website integration that a lot of businesses prefer. It aids in the management of the pipeline by providing complete visibility. It keeps track of all activities and keeps all contact information in one location.
While HubSpot is one of the best CRM software, other similar tools are offering amazing features. Here is a list of 6 HubSpot alternatives you need to check out.
1. GetResponse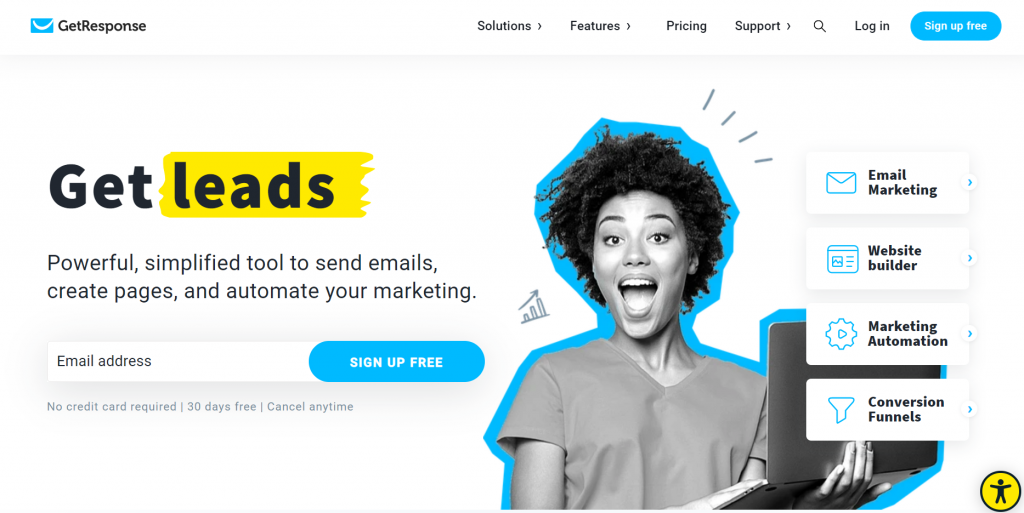 GetResponse is an email marketing platform that is one of the most popular HubSpot alternatives. This program is simple to use and available to everyone interested in online marketing. GetResponse has a lot of valuable features. This utility makes it simple to import and manage an email list. You can also use an autoresponder to automate emails and save time.
You can use GetResponse to generate newsletters and campaigns. With their analytics tool, you can quickly track the performance of each of your campaigns. This HubSpot alternative provides you with capabilities that are tailored to your specific requirements and budget. The minimalist dashboard is responsible for its simplicity.
2. Zoho CRM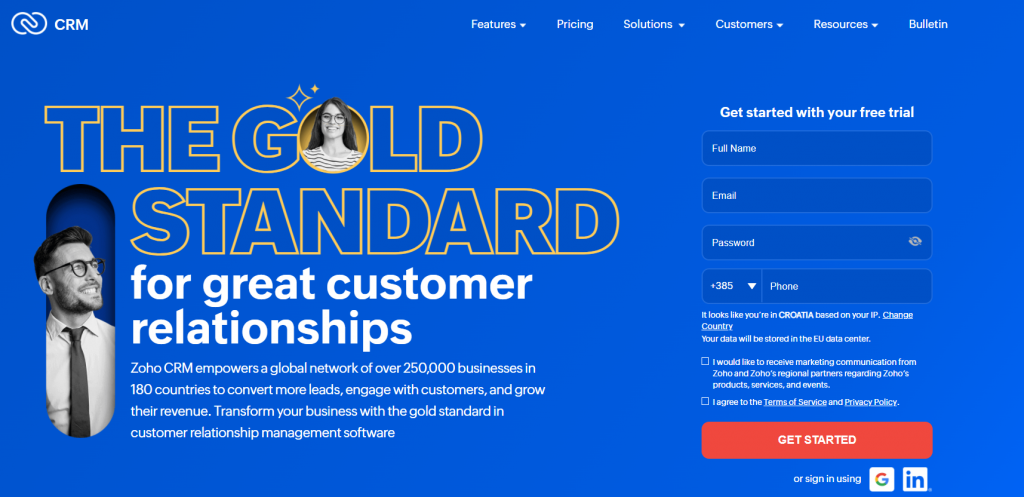 Zoho CRM is customer relationship management software for small organizations. It allows you to manage contacts and automate email marketing and related chores for better results. The program is extremely comprehensive when it comes to addressing all client management requirements.
For better lead generation, Zoho CRM organizes contact information, so you don't feel overwhelmed. This tool is easily adaptable to your and your business need. Users may manage leads, contacts, accounts, and other features with this tool. This application gives extensive reports and analysis of bespoke dashboards if you work with team members.
3. Salesmate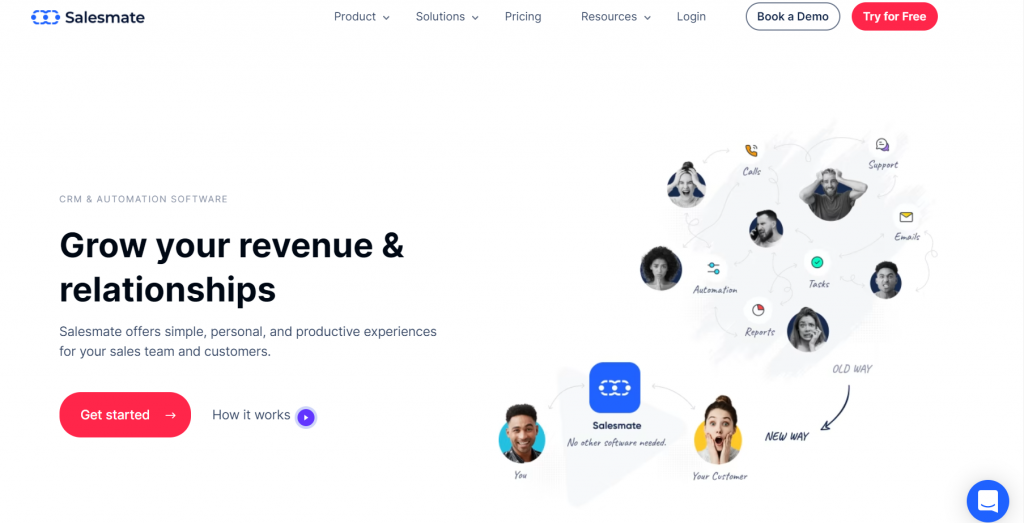 Salesmate is a comprehensive sales solution. It enables sales teams of all sizes to manage, nurture, and finish prospects more quickly. It helps save time at all phases of the sales process. A lot of people love it as it utilizes advanced capabilities. You can easily access pipeline management and sales automation.
It is simple to use and very configurable thanks to a simple interface and self-explanatory dashboard. As a result, Salesmate is one of the top CRMs for small businesses. You can organize and track bids with CRM software. A shared team inbox allows you to collaborate with the rest of the team fast.
4. Salesflare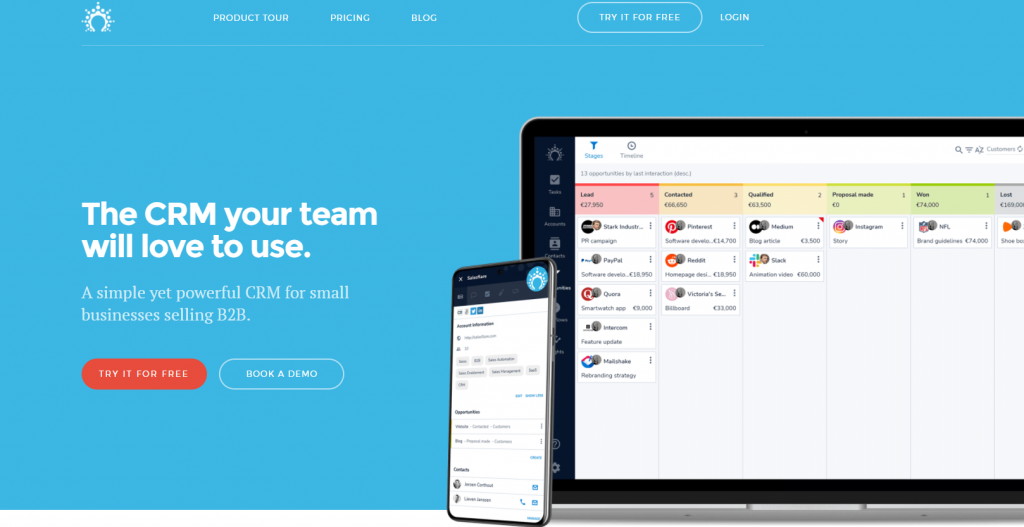 Salesflare is customer relationship management software for startups and small companies. It's an easy-to-use software that provides you with complete control over your sales. It can be accessed from a desktop, a mobile device, or an inbox's sidebar. You can make sure everything goes smoothly even on the go.
It can gather information from social media, company databases, telephones, and other sources. Automation capabilities in Salesflare include an automated address book, timelines, and file storage.
There is also the option for the delivery of automated trigger-based email addresses. It can gather business and contact information. You can collect email addresses and LinkedIn accounts.
5. SugarCRM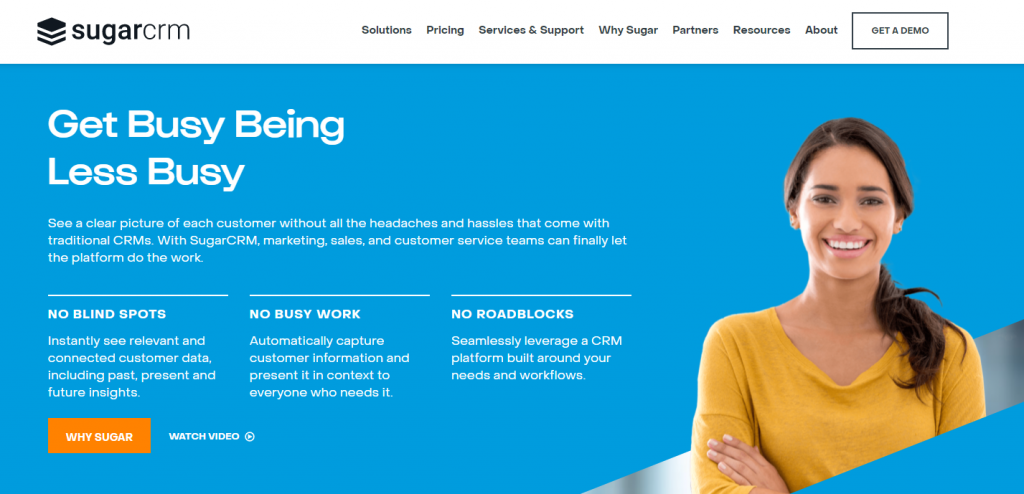 SugarCRM is one of the fastest-growing customer management solutions after HubSpot. There are thousands of organizations using it to manage and sell their products. SugarCRM has strong sales, automation, and marketing capabilities that a lot of users appreciate. It's a cloud-based solution.
It provides plenty of customization options and network support. SugarCRM offers centralized storage and workflows, as well as role-based views. It aids in the hosting of instances on the fly, making customization much easier. This HubSpot alternative offers all of the functionality at a low cost. Its centralized storage and project management integration are helpful.
6. Keap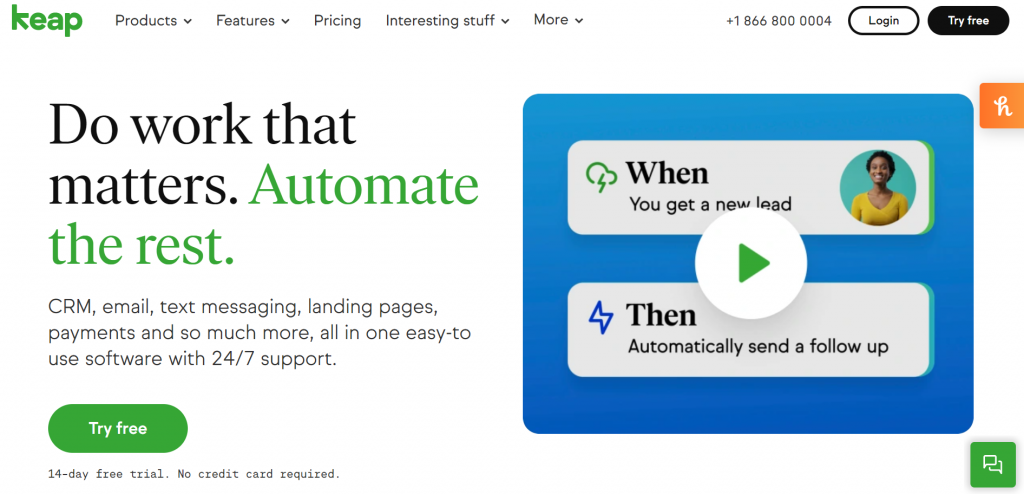 To satisfy the success of sales and marketing objectives, Keap pulls together a variety of valuable features. This tool helps organizations keep and engage customers successfully. It is using lead generation and marketing automation technologies. This CRM platform also offers email tools, and social media to engage and convert as many leads.
They may help brands grow and empower their online presence. It helps in both the digital and physical worlds with the e-commerce tools that are incorporated in this software. Keap may also assist brands in effectively achieving their goals through specialized and direct training.
Final Thoughts
When selecting a CRM solution, it's important to consider the company's requirements first. Schedules with notes, to-do lists, social media integration, smartphone app availability, and synchronization with other apps are all examples of CRM tools. The tools in this post are worth trying if you're seeking a HubSpot alternative.