SwissCoin KYC, a.k.a. Know your customer is simply a process of identifying and verifying SwissCoin investors. This is meant to prevent SwissCoin from being used, intentionally or unintentionally, by criminal elements for money laundering activities.
SwissCoin is the people's currency. It's the currency of transparency. At the same time, it's not going to be a channel to sponsor illicit activities.
Everyone can join SwissCoin for free but from the date of November 14th 2016, users who have not completely and successfully gone through the SwissCoin KYC verification process will not be able to make any further transactions.
If you are a BitCoin user, you know it's possible to send and receive bitcoins without giving any personally identifying information as BitCoin addresses are not tied to the identity of users.
Anyone can create a new and completely random address at any time, without the need to submit any personal information to anyone. This is why Bitcoin is often referred to as an anonymous currency. But SwissCoin is not anonymous.[page_section template='1′ position='default' padding_bottom='on' padding_top='on']
Here are some blog posts I have written about SwissCoin:
[/page_section]
SwissCoin KYC Explained –  Who are you?
In order to be properly identified by SwissCoin, you are required to attach some documents to your accounts. For individual users, these include:
Your personal identification document, usually a government issued p

hotographic

ID card or a Passport or electoral card or driving licence.
Utility Bill: Phone, Electricity, Water, etc.  or  Bank statement (not older than 3 months)
Now note that there are two things to be verified in these documents. These are your Identity and Your Address.
Almost everyone I have spoken with doesn't seem to have an issue with ID verification. The documents are easy to get in our society.
But verifying the address is difficult for two main reasons:
Most of us are tenants and the utility bills are addressed to our landlords.
The addressing system (especially in Cameroon) is poor. Streets are not named and houses not numbered (except in some few areas)
Being a tenant, you may want to get a bank statement from your bank or any other government document that confirms your address.
But the problem of a structured residential address still stands. This simply is an address where someone can easily locate you.
Some have thought their post box number is what is required. In Cameroon for instance, your P.O.B. (Post Office Box) or B.P. (Boîte postale) is not the address asked. The reason is that it's simply a box at the post office that receives your snail mails. It's not your residential address.
I don't know about you but I live in a quarter here in Douala where houses are named and numbered. So basically, my bank statement will confirm my address.
Using Fake addresses
I just want to sound this as a warning note before time. Some folks have raised the idea of manipulating address verification documents with Photoshop. If this worked in the past, it may not work in today's world of technology.
You can easily use software to edit scanned document. Note also that there are other applications in the market that can quickly tell moderators that your document has been tempered with.
Using an address that does not exist.
Well, SwissCoin hasn't told us they are going to deliver the Mastercard or other items to the KYC address but we have to be authentic as the SwissCoin KYC process is not meant to be a joke. If you can fake your address and fake any associated document, be ready for the consequences when the secrets of all hearts shall be revealed.
Before you upload your SwissCoin KYC Documents
There are important things you must do before you upload your KYC documents. Note that these documents are meant to verify the ID and Address of the account holder. Therefore, the first thing to do is to give SwissCoin your names and address.
Go to Basic Data -> My Data.
Click the Edit Account tab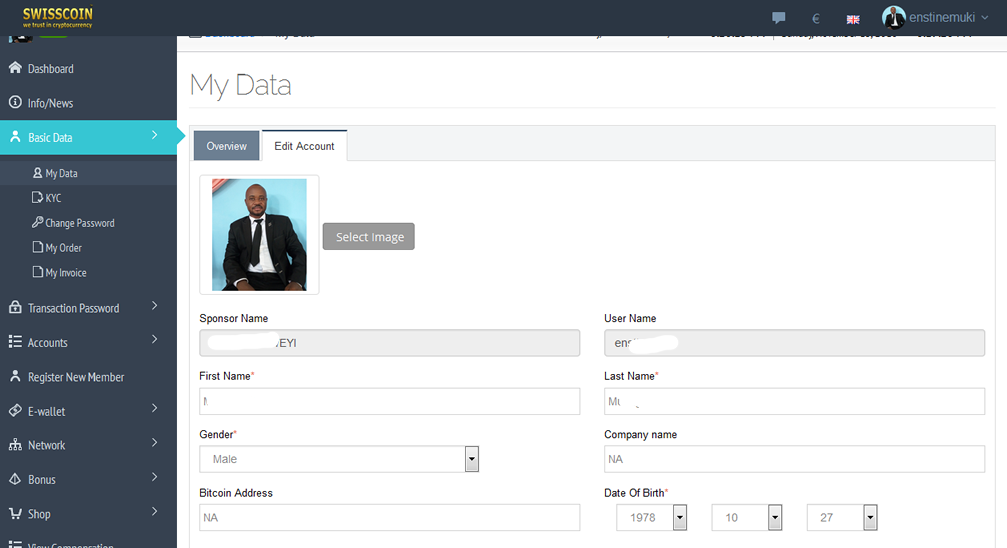 Important SwissCoin KYC form fields
On this personal data form, here are the elements to pay attention to, in order to get you through KYC successfully:
First Name and Last Name: These must be same as on the KYC document you have chosen to submit (ID or Passport)
Address line 1 and Address line 2: These must be same as addresses on your KYC document (Utility bill or Bank statement)
Country and City
Take note of other starred fields on the form.
Uploading your SwissCoin KYC Documents
Once you have your papers ready,  it's time to convert them to web format. Have them scanned and saved in PDF,JPEG or PNG
Go to your account – > Basic Data -> KYC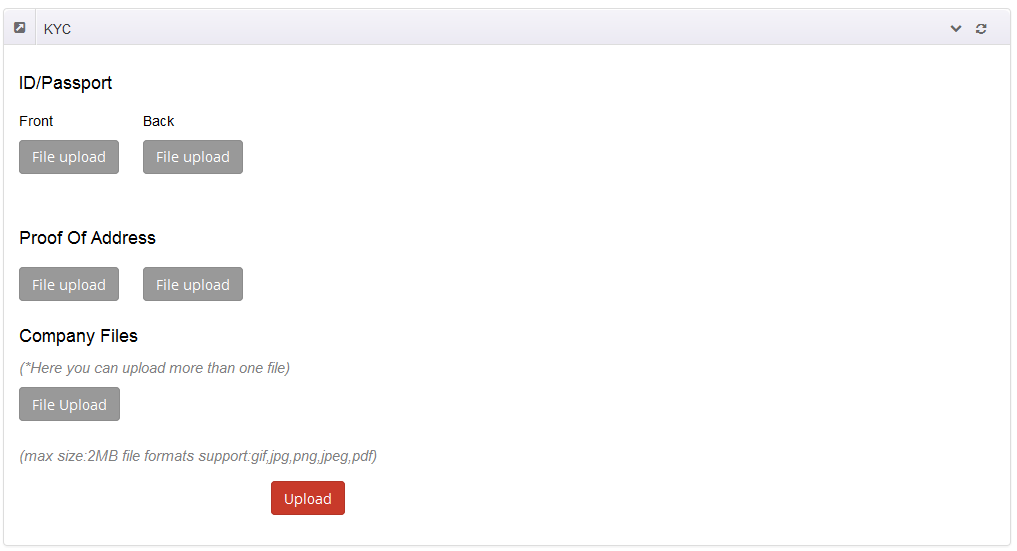 NB: Following the form design (as seen above), you may have to scan the different sides of your documents on different files.
I hope this helps you understand and go through SwissCoin KYC successfully.
Drop a comment and let me know what you think. If you find this post helpful, please share it on social media.