What if I told you that there was an easy way to achieve page one rankings in Google and you probably aren't using it?
In today's post, I am going to share with you how to use infographics to get page one rankings.
I am not only going to share how you can use infographics, I am going to show you exactly how I successfully used an infographic to get to page one in Google for a very competitive keyword.
If you are like most bloggers, you are beating your head against the wall trying to climb the Google rankings and start benefitting from organic traffic.
Day after day you check your traffic stats and nothing…
Crickets…
Chirp… Chirp…
It doesn't have to be that way!
You can enjoy first page rankings and the free traffic that follows by utilizing these simple steps!
How to Use Infographics Case Study
First a little background.
The site in the case study was less than a year old when the post was published. It was not on the first page of Google for any search terms.
Step 1.
As usual, the first step in the process was to do proper keyword research and find a keyword that we want to rank for.
I did this and came up with "Affiliate Marketing for Dummies".
This keyword had a monthly search volume of 1000 and a keyword competitiveness score of 37 according to Long Tail Pro. The monthly search volume was verified using the Google Keyword Planner, before Google changed its policy on free use.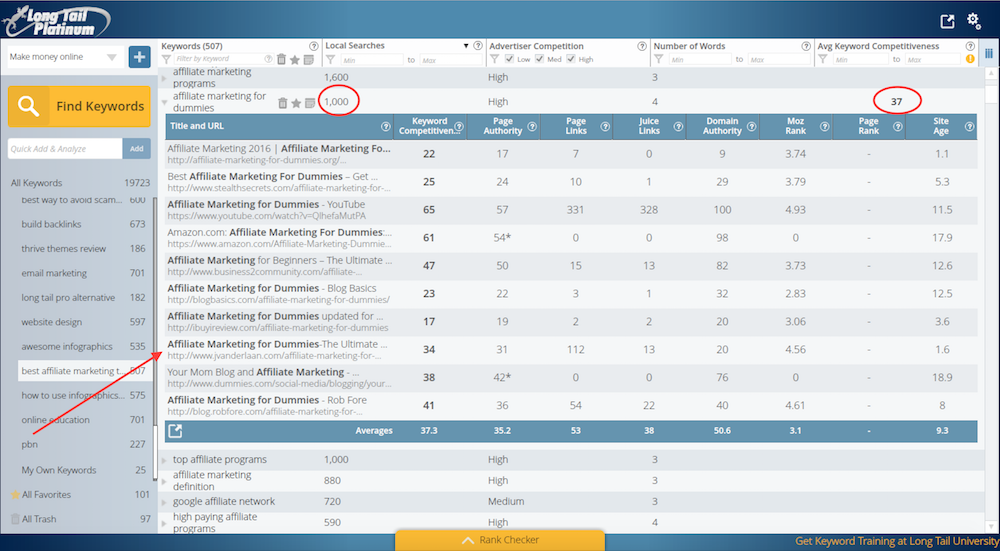 You can see in the screenshot above that I am in the number 8 spot!
Step 2.
Now that we had a keyword to target, the next step was to create an epic post that was well optimized for our keyword and was higher quality and offered more value than the others that were ranking on page one.
I could write a long detailed article about how to use SEO to skyrocket your rankings.
Oh wait…
I have already written that post!
You can read it here…
Top 10 SEO Tips for Bloggers that Will Help Skyrocket your Google Rankings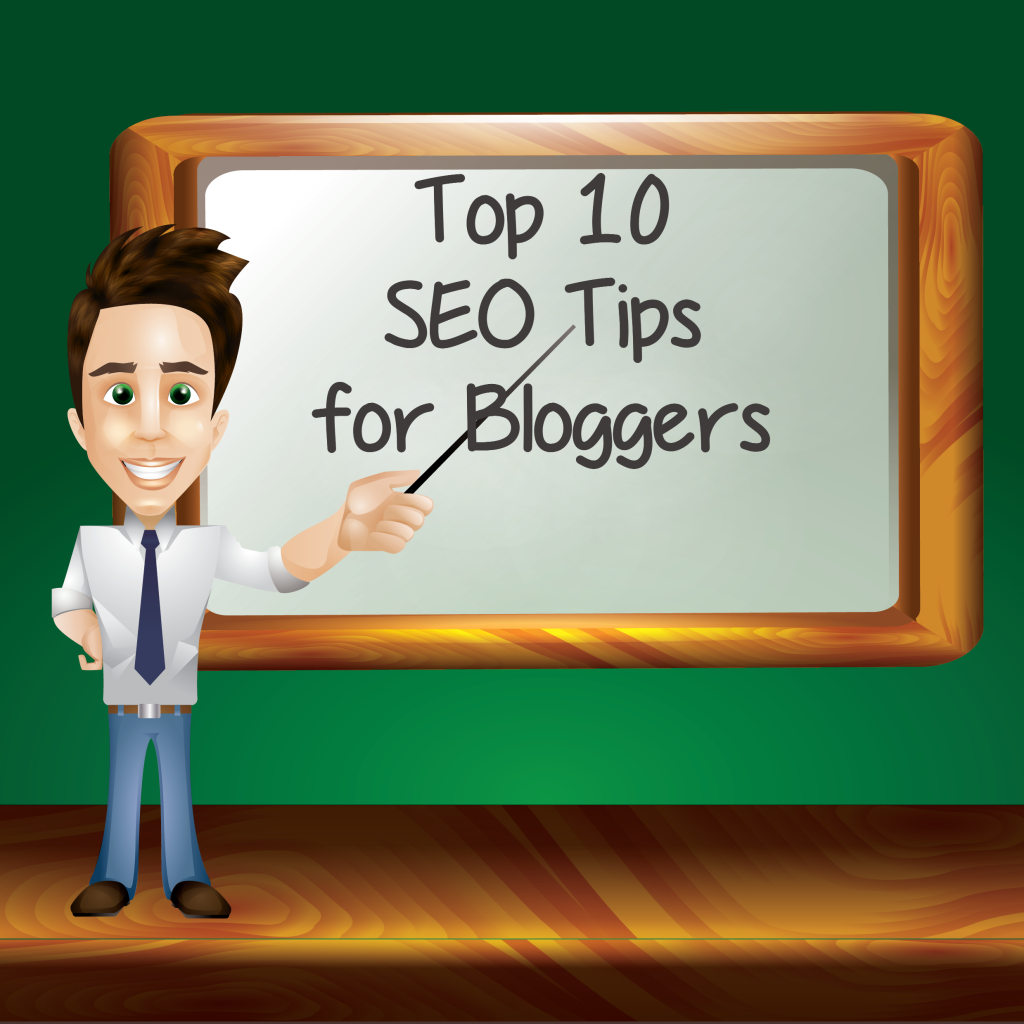 This is as far as many bloggers get and they can't understand why they aren't on page one.
It takes more than just having the best content.
You need authority!
How do we get authority?
We build links, and that is where the magic happens using infographics!
Ok, we are going to move on to step 3 of How to Use Infographics, but please keep in mind that this process will not work if you do not properly complete steps 1 and 2.
Step 3.
Now we move on to the infographic. Before we discuss how to use infographics, we first have to create the infographic.
One word of advice that I would offer here is that if you are not an expert at creating infographics, then hire an expert to create yours.
The key to using infographics to your advantage is that they are of such high quality, that others share and use them as well.
For my infographics, I use the designer at AwesomeInfographics.com.
And here's why…
All I did was contact them and tell them that I wanted an infographic designed for my article, Affiliate Marketing for Dummies.
That's it…
They took the article that I had already written and published and created an awesome infographic with only my article.
No extra work…
Simple!
I payed $200 for the infographic and it has been worth every penny.
Here is the Affiliate Marketing for Dummies infographic along with the proper attribution.
Please include attribution to www.jvanderlaan.com with this graphic.
Ok, we have our infographic.
Now what?
Step 4.
Now I will show you how to use infographics to build links and work your way up the Google ladder!
You are going to submit your infographic to as many infographic submission sites as you can find.
Submit your infographic to both free and paid submission sites.
I know what your thinking…
Google doesn't like paid links, right?
Here is what I have found from my experience.
You will get some pretty good links from paid sites, but that is not the whole story.
Here's the deal…
A lot of the paid infographic submission sites have a large following and also are featured in the Google rankings.
So when someone is looking for an infographic to use on their site, they may find yours and use it.
Along with a link to your original post, of course!
I have gotten many links from people using my infographic that they found on infographic submission sites.
It is vitally important to provide an original post and description of at least 300 – 500 words for each submission site.
Also, be sure to use different titles so that the submission sites do not outrank your post.
Below, I am going to share with you the exact infographic submission sites that I used as well as the ranking when they were published.
Some of the free infographic submission sites did not publish my infographic.
I included those sites here, but without a link.
I was very disappointed that they chose not to publish as I put a lot of work into writing an original post to accompany the infographic.
Infographic Submission Sites and Ranking
MarketingInfographics.org – Free – Published on 5-26-16 and rank was 250+

CoolInfographicsdotcom – Free – Did Not Publish

Infographicpost.com – $10 – Published on 5-26-16 and rank was 250+

Infographicarchive.com – $19.99 – Published on 5-26-16 and rank was 250+

Infographicjournal.com – Free – Published on 6-1-16 and rank was 96!

NerdGraphdotcom – Free – Did Not Publish

InfographicReviewsdotcom – Free – Did Not Publish

Submitinfographics.com – $10 – Published on 6-8-16 and rank was 23!

Infographicsonly.com – $10 – Published on 6-14-16 and rank was 16!

Infographixdirectory.com – $15 – Published on 7-1-16 and rank was 15!

Awesomeinfographics.com – Free – Published on 8-18-16 and rank was 9!
WooHoo!
First page of Google, baby!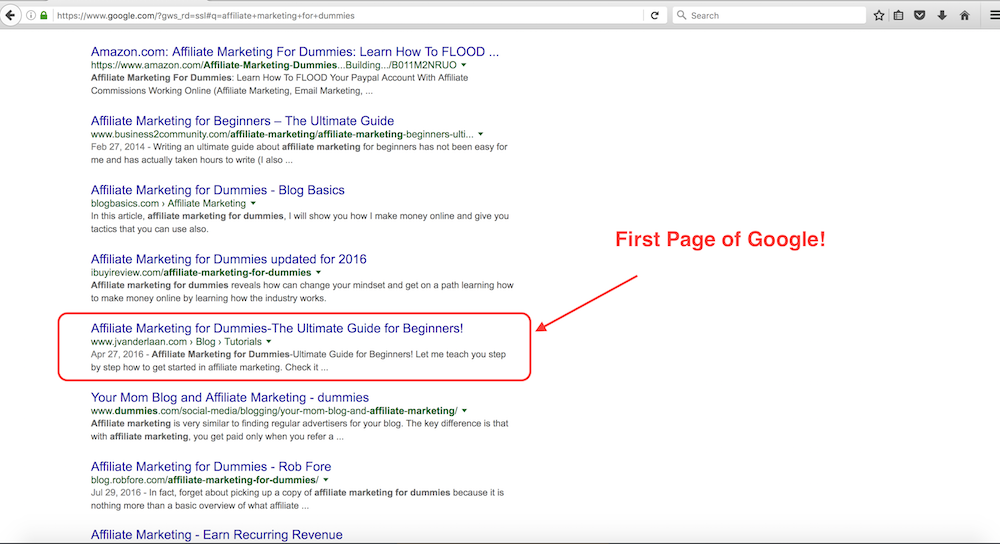 As I am writing this case study, my post is fluctuating between number 2 and number 8 on the first page!
Here are other sites that I have found that have used my infographic and provided a link back to my post.
In my opinion this is the most valuable aspect of submitting your infographic to submission sites.
These are unsolicited links that Google holds in high regard.
Offervault.com – Published on 5-30-16
Visualartdallas.org – Published on 6-20-16
SEOjob.net – Published on 7-8-16
Seoimpacts.com – Published on 7-8-16
Linkbuildingservicescompany.co.uk – Published on 7-8-16
Cybercashworldwide.com – Published on 7-11-16
Conclusion
I hope that you have gained some knowledge about How to Use Infographics to increase your Google rankings.
I spent $265 in order to reach the first page of Google for a keyword that gets 1000 searches per month.
I am currently getting a ton of free traffic from that keyword and making sales that I can attribute to that post.
I am very confident that if you follow the steps above, you can also see the kind of success that I have seen.
I'd love to hear about your experience with infographics!
Please leave your questions and comment about How to Use Infographics below.