You Think the Password Keeps You Safe?
In the same way, your computer has been exposed to a variety of Internet threats so is your blog.
Whether you have established the blog to share your knowledge, passion or as a kind of a business, you are supposed to protect it as your personal property.
Keep always in mind that your integrity and reputation could be compromised by some hackers' attack. Posts and mailing lists can be used for spamming or other criminal purposes.
A hard work invested in gaining the readership can be lost in minutes. Security of your blog is of utmost importance, and complicated usernames and passwords are certainly not enough.
How to keep your WordPress blog safe all the time is a big task every blogger has to fulfill as soon as they start the blog.
Simple and insufficient security of the username and password is sensitive, and there is no guarantee it will work 100% effective. You should also always take care of the old & outdated plugins.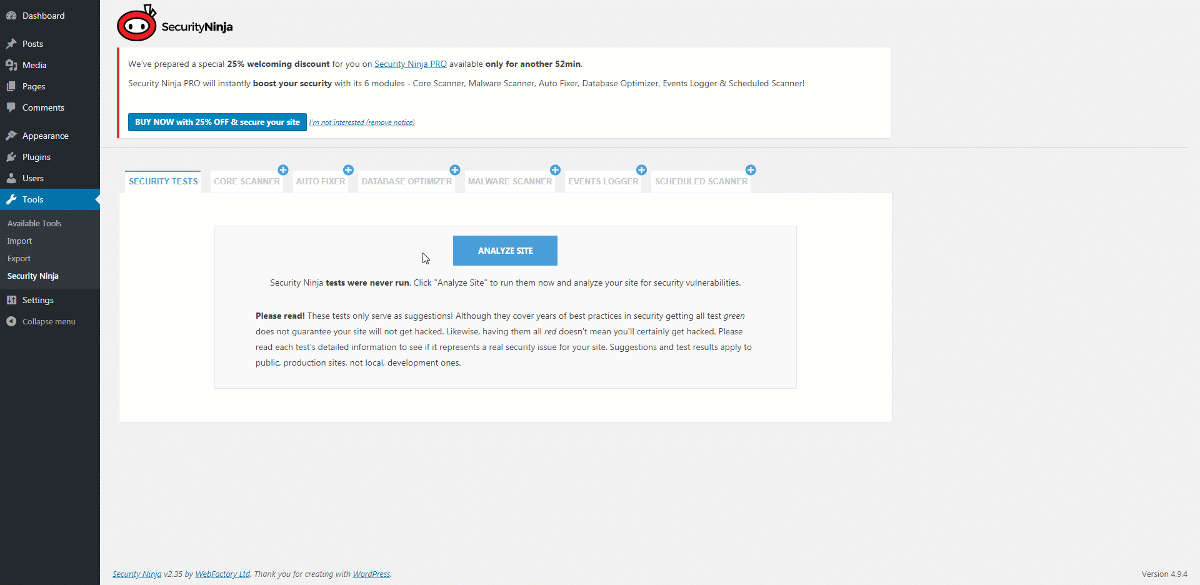 Operating your blog on multiple devices increases the risks. You can choose among free and premium software in accordance with your budget and the needs, but do not ever forget to update it constantly. Consider it an investment for the future success of your blog. Unprotected, it will not last for long.
Security Ninja Does the Job
WordPress offers a wide range of opportunities to secure your blog properly. Among all those tools and plugins Security Ninja stands out. This top-rated product is in charge of protecting more than 20,000 sites over 7 years.
It was created with the main goal to bring simplicity and ease to a new level of security. Scanning a site takes time, but the Security Ninja does it in less than a minute. Results that you get are easy to understand.
A color will throw your attention to critical points, and if you prefer a detailed overview of the threats and options to fix them, lean on the additional information. None of the 50+ tests is without an exact purpose.
Some of them are simple while the others are pretty complex, but in both cases, they are in accordance with your need for complete security. Useless features are not an option. What exactly the Security Ninja does is to estimate holes and vulnerabilities precisely and take some precautions.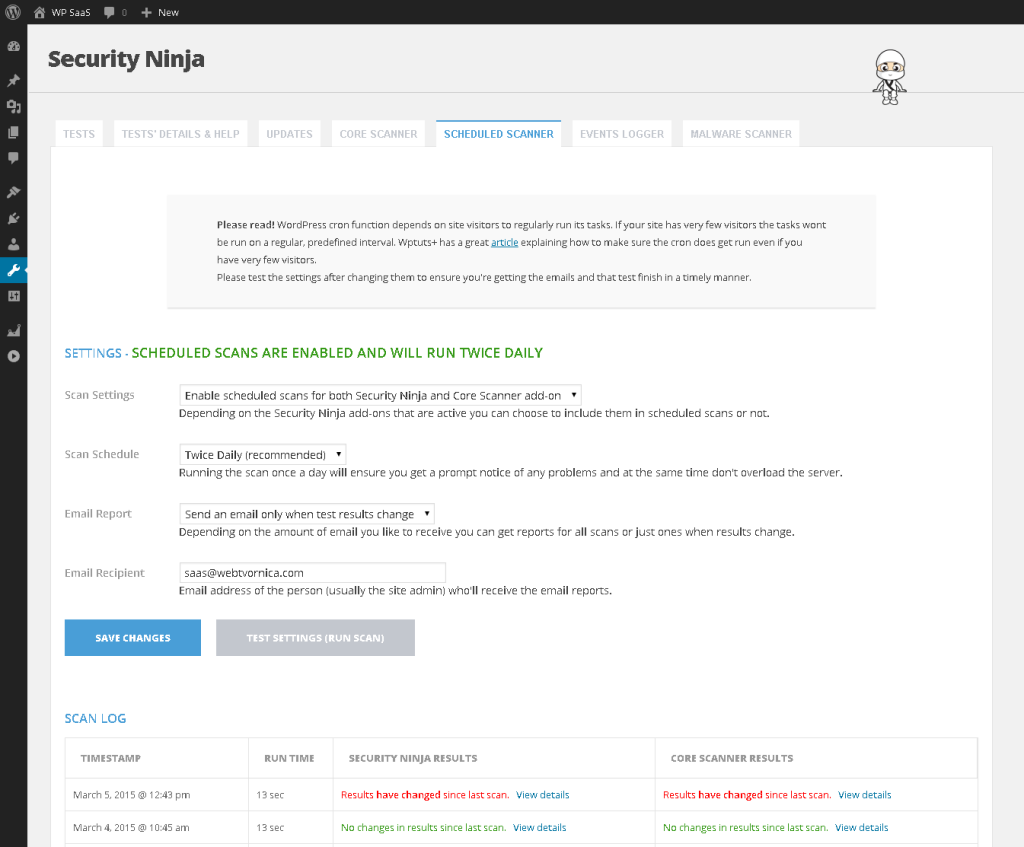 If the problem already exists, and it demands an immediate repair, there are also quick fixes available. Although the tests offer extensive help at any time by clicking on the option 'scan now', the list of tests is far from being final. It expands continuously.
Specific Modules for Better Protection
We are now half a way to completely understand the Security Ninja plugin. Its PRO version has been complemented with 7 specific modules for more protection. Every module offers one-click scan which identifies problems fast while easy-to-use GUI makes it simple. A detailed explanation is available at all times.
Core Scanner – Takes care of the WordPress core files. They can be modified accidentally, and even faster they can be restored. By single click, the module recognizes troubled files and fixes unintentional edits or deletes, as well as broken auto-updates. Detailed help and descriptions are available for every feature. Color-coded results are easily understandable. They divide files into 5 categories accordingly to their status: intact files, vital files that are missing, accidentally modified ones, modified on purpose, and missing but not vital files. There is no need to re-upload the files. Auto-updates are constantly active.
Malware Scanner – in charge of scanning all theme and plugin files or the files uploaded to the WP-content folder with conducting more than 20 tests per each file. Those that were marked as suspicious are organized into several lists, starting with the white one. Files on this list are safe.
Auto Fixer – perfect for a newbie who is afraid of if something might go wrong. Relax; auto-backup takes care in such case. Your site will be safe quickly, and there is no need for any PHP code modification.
Cloud Firewall – the guardian who keeps an eye always open even before someone emerges on the gate of your computer. Its database recognizes 600 million of the mean IPs from formerly attacked websites. Moreover, there is no need for any maintenance since the auto-update works perfectly. Your login is fully protected. Whoever tries to break it multiple times in a short period of time gets banned. There is also an additional protection for you if you accidentally lock out. A secret access link is being kept in your e-mail during the setup procedure.
Events Logger – a lot happens on the WordPress websites, and to monitor everything is a hard, time-demanding job. Events Logger tracks every detail on more than 50 actions at any time, from your administration to the frontend. It also distinguishes real events from the false ones. Every action is visible step by step, from the time it happened to the person who took it. Email alerts could be set for specific groups of events, such as comments, file editor, installer, media, menus, posts, all the way to Security Ninja and its variety of scans. Setting, widgets, and users have been also tracked. Date, time and event description add to a transparency of the results.
Database Optimizer – its main task is to keep 'the house' clean and in order. As the website grows, and more and more content has been added to it, garbage data accumulation grows as well. The website loads much slower, and you waste the space on the unnecessary content. It increases the costs which you can prevent with Security Ninja's module. The unnecessary content includes: post revisions, spam, trash, and unapproved comments, trashed posts, auto-drafts among many others. Precisely, 11 fast optimizations speed up your site.
Scheduled Scanner – is automated, and it offers you an email report. The alert is set in the case you have been hacked. You can choose between two kinds of email reports; after every scan or after some changes have been recognized. The set up of this module is simple.
Every module has its specific tasks and protects some part of the website. Together, they are invincible. The modules are completely integrated with Security Ninja's GUI and compatible with all plugins and themes.
As the official WordPress plugin, it is updated to the latest version of the platform which guarantees 100% security. In this way, the website remains current and active. There are not many plugins which main features comprise strong defense and users' friendly concept. Security Ninja has set the standard.