WordPress can be confusing for beginners. I still remember the day that I first started using the platform. It took me over 8 hours to set up my very first blog. This WordPress for beginners post is going to help you get started on the right foot with a self-hosted blog so you can start blogging without any confusion.
If you're new to the blogging world or have been researching on how to start a blog, you've probably heard about WordPress. If you've Googled "which platform should I start my blog on?"
We have all done this as new bloggers at one point or another.
WordPress is definitely a popular blogging platform. As of today, there are 75 million websites that are powered by WordPress. (source)
WordPress for Beginners Everything You Need to Know
If you want complete control over your blog with the ability to add functionality and design then I highly recommend the self-hosted WordPress platform.
If you're completely new to the blogging world, there are some things that you should know before you get started. This post is going to help you understand which WordPress version you need to get started.
Plus, I'll also help you understand some of the very basic things that you should do from the minute you install WordPress to the minute you publish on your first blog post.
This platform does come with a learning curve. But it's definitely worth it. Once you get the basics down, you'll be able to create a blog that looks like you spent thousands of dollars just by choosing the right theme.
If you still haven't set up your blog, don't forget to check this step-by-step guide to get your blog set up today.
While I don't recommend starting your blog on a free platform. I know that some people really do not have two nickels to rub together. If this is the case and you want to get started, be sure you read my friend Tiffany's post that will help you get your blog started for free.
[thrive_text_block color="light" headline="3-P Affiliate Marketing Method"]
This evergreen Affiliate Marketing Method will triple your MRR. Grab your free copy and try it.[thrive_optin color="green" text="Download 3-p Method" optin="176465″ size="medium" layout="horizontal"] [/thrive_text_block]
What Is WordPress
It is an open source software that is free for anyone to use. It allows anyone to create amazing looking websites or blogs. Anyone can use it and the best part is that you do not need to be a developer or designer.
Did I mention that it's free to use? If you ever get stuck with anything or just have a question, one of the best places to ask is the WordPress support forum.
Of course, there are several other WordPress experts online that you can contact as well. The point is that there is no shortage of people that you can turn to for help with your questions.
The cool thing is that it has allowed many people to start their own website online without the help of a Web developer.
WordPress Updates
Since it's an open source software, you never have to pay for any of the updates. When there is a new update you will receive a notification inside of your dashboard.
It is extremely important to keep your WordPress blog running on the latest release.
If you are running a live blog then I recommend creating a backup before you update. You never know when something can go wrong and you definitely do not want to lose your hard work.
How Do I Start?
Easy, all you do is head on over to WordPress.org and download the latest version of the software. You'll need to install it on your hosting provider.
If you haven't chosen a hosting account yet, I suggest that you look at the WPX Hosting. They come highly recommended and you won't have to worry about the load speed of your blog.
Biggest Mistakes New Bloggers Make
Getting started on the free version, instead of the self-hosted version.
Yes, there are two versions of WordPress. You might be tempted to start with the free version because you want to start your blog for free. However, if you're trying to build a business, I wouldn't recommend it.
The Differences Between WordPress.com and WordPress.org
This will give you a quick rundown of the differences between the two platforms. As you will notice there is a difference and you want to make sure what they are so you can choose which one you want to start on.
WordPress.org
Pricing: Free
Domain Name: Will run you about $10.69 per year if you get it through Namecheap. There are several different places to buy a domain, so you have several options.
Web Hosting: Costs will vary depending on which hosting account you choose. You can expect to pay from $3.95 – $19.95 or more. The important thing to remember is to choose a reliable hosting provider that offers everything you need so you can focus on growing your blog.
Themes: There are literally thousands of WordPress theme developers you can choose from. The most important thing to consider is the layout you want and whether or not the theme is responsive.
Ease of Use
You'll be responsible for installing the software on your domain, backups, security, and maintenance. Do not worry, there are plugins that you can use that will take care of all of this for you.
Customization Options
Unlimited! There are literally thousands of themes and plugins (both free and premium) that you can use on your blog. If you have a budget, then you can hire a designer to fully customize your WordPress blog.
Functionality
There are tons of WordPress plugins that will allow you to add functionality to your blog quickly and easily. What do you want to do? Add a content upgrade to your blog posts automatically? Well, there's most likely a plugin that will allow you to do that.
Control
It's your blog and you get the right to do whatever you want. As long as you're following the FTC guidelines you're fine. You can write whatever you want to do whatever you want.
Just remember, if you break it you'll need to fix it or hire someone to take care of it.
Monetization Options
Again, you can monetize your blog however you want. You can run ads, open up an e-commerce store, set up a membership site, sell eBooks, write sponsored posts or add affiliate links. If I missed a monetization method, you can use that as well.
You can set up multiple income streams on your blog. As long as you keep it legal you'll be good to go. If you are completely new to earning money from your blog, read this.
Support
As I mentioned above, you can head on over to the WordPress forum and ask away. However, if your blog breaks, you will be required to figure out what's going on and fix it.
The great thing is that there are over 70 million WordPress sites online. It won't be hard to find someone who can help you fix your blog.
Do not forget to search for the answer in Google. I am sure that you will find someone else who has experienced the same issue as you have.
I have no doubt that you'll find the answer to your question in no time!
WordPress.com
Pricing: Free
WordPress software: Free but you will have to use the .wordpress.com domain extension. You will not have full control over your website and there are rules you have to abide by. Not to mention, you only get 3 GB of space.
Premium Plans: Start at $4 / month: But you still don't get full control over your platform. This gets you 13 GB of space and advanced design customization including CSS editing and your own personal domain name.
Business Plan: $25 / month: With this plan, you get access to Google Analytics, premium themes, unlimited storage. and e-commerce capabilities. See details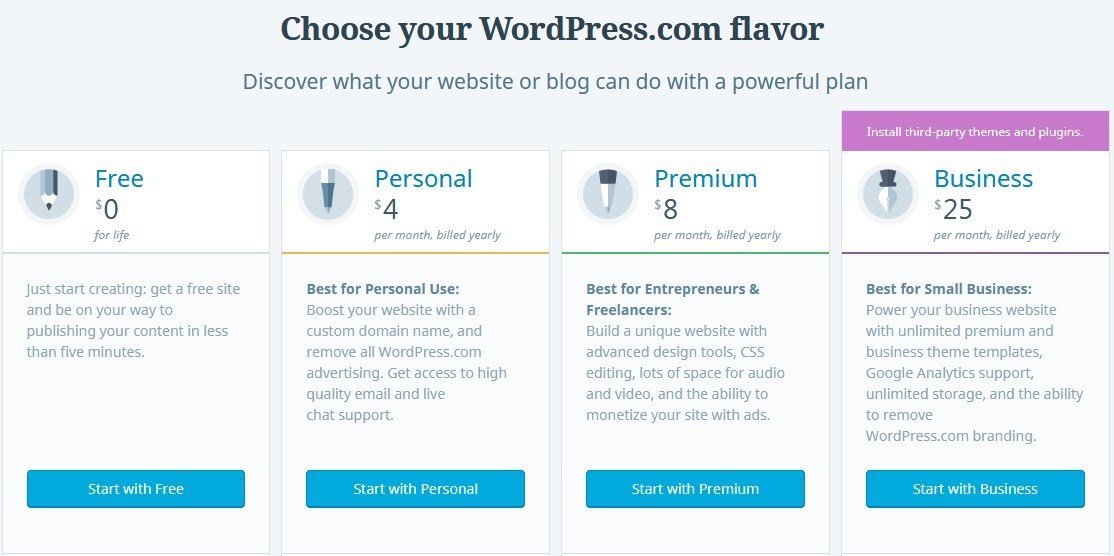 Ease of Use
You won't have to worry about a thing, in fact, you have your new blog in just minutes. Hosting and security are included, all you have to do is start blogging.
You can log into your account and start writing your blog post in the WYSIWYG text editor.
Customization
Regardless of which plan you are on, you'll be limited to using the themes that they provide. You won't be able to use any premium themes like Divi or the Genesis Framework.
Functionality
Again, you are limited to the widgets and plugins they provide. Forget about using plugins that will help you build community on your blog.
Control
When you choose to start your blog on WordPress.com, there are rules that you have to follow. If you violate their terms of service, they have the right to shut down your blog.
Monetization
Chances are you started your blog with the hopes of turning it into a business. Well, unfortunately, your hands will be somewhat limited with the free version. You can't use Ads unless you a Premium or Business member. You're bound to their version of Adsense which are called WordAds.
Yes, you can add affiliate links to your blog, but there are restrictions that you have to abide by. Read their policies and safety page to get more information on affiliate marketing and sponsored posts.
Which Version Should You Start With?
Now that you have a better understanding of both versions of WordPress. It's important to ask yourself this question.
Are you trying to build a blog business?
If so then I recommend that you start with the self-hosted version. It will cost you some money, but it will be worth it in the long run to build a profitable blog.
What You Need to Start With WordPress.org

The first thing you'll need is your domain name. This is what people will type into the browser to visit your blog. I suggest using the .com or the .net extension. There are a ton of extensions available, so choose one.
Once you choose one, you will use that domain for the life of your blog. So it's important to make sure that you choose something that you are happy with and is memorable.
You can buy your domain at a domain registrar like GoDaddy or Namecheap. Don't forget that you'll need to renew your domain every year as long as you want to keep your blog.
Never buy your domain name from your hosting provider. I personally think it's much safer to have your domain name separate from your hosting account. This makes it easier to move your site when it's time.
Your Blog Hosting
You'll need to buy hosting in order to have your blog live on the Internet. The hosting provider will host your website files and will make your blog accessible on the Internet.
There are different packages available when it comes to Web hosting. Many new bloggers tend to choose the cheapest plan available.
Remember, you're building a business. This means that while you may not have a lot of traffic right now, you want to make sure that you get a plan that allows you enough space to grow.
Plugins
When you start understanding how great plugins are. You will probably want to install several.(this is what I used to do) Avoid installing a ton of plugins that you will not be using. Do not be afraid to test different plugins to see if they add the functionality you're looking for. If you install a plugin and decide not to use it, don't forget to delete it.
A specific plugin you might want to add to your WordPress is WooCommerce, a customizable and open-source platform made for WordPress. It can be added to any site and allows you to set up an online store in a matter of minutes. You can also add different extensions to it to make it even more functional. Plus, you get secure payment, shipping options, and more right from the plugin.
Now, let's look at what plugins you can add to your WooCommerce to make your online store even better, and make your while website fully optimized. First, there is Order Export for WooCommerce, a plugin that enables you to easily and quickly export any data from your WooCommerce data. In addition, you can export in different formats, such as Excel and CSV. The plugin sports a simple interface and is straightforward to install and use.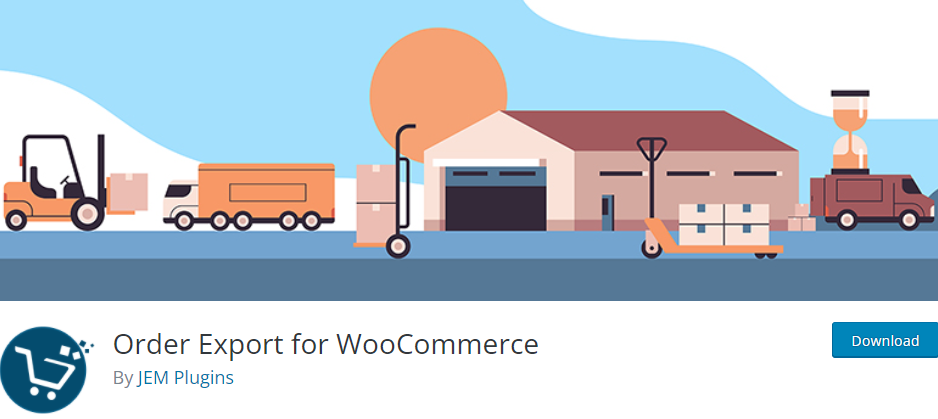 Moreover, it provides you with different filters to get the exact export you need at any given moment. Once you export everything you need, you can easily download the said data, and there is a drag and drop sorting of the columns. If these features are not enough for you, Order Export for WooCommerce has a premium version as well. The premium version provides you with additional fields for orders, export tags, scheduled exports, and much more.
The second plugin worth mentioning is Table Rate Shipping for WooCommerce, which allows you to calculate shipping costs based on total price or weight. This plugin is fully customizable and gives you the opportunity to create additional shipping rates using the standard WooCommerce settings. You can also seamlessly integrate it with the WooCommerce shipping zones and define the shipping label.
Moreover, you can set up multiple tiers and add additional handling fees for each order. Plus, you can decide whether to include the tax. This plugin also has a premium version that comes equipped with features such as supporting handling fees for each order, a guided shipping rate for a certain country, unlimited shipping services, and much more.
Finally, the last plugin we will mention is the Direct Checkout for WooCommerce – Skip Cart with Buy Buttons. This plugin allows you to completely optimize your website and the whole shopping process. It will let your customers bypass the cart and immediately go to the checkout. So, you can put Buy Buttons anywhere on your website. Once your customer presses on it, it will add the specific product to the cart and take them to the checkout. Such a plugin makes for a seamless shipping experience!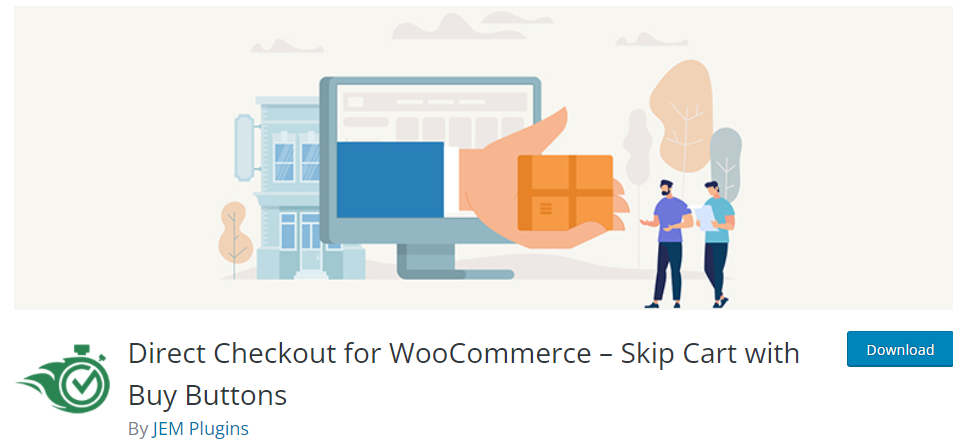 Your Blog Theme
The theme you choose will dictate how your blog looks. There are literally thousands of themes that you can choose from. You can start with a free theme and upgrade to a premium theme later on.
It really doesn't matter what you choose to do. Just remember, that the theme you choose will dictate how your blog looks.
If you're looking for an easy to use WordPress theme that doesn't require a huge learning curve or any coding skills, I would look at the page builders available on WordPress.
There are a lot out there and many bloggers have used them to create successful blogs.
Tips on Choosing A Theme
Make Sure It's Responsive
Once you start blogging, you're going to notice that most of your visitors are on a mobile device. According to my Google Analytics, 40% of my visitors are on a mobile device.
That number will only increase as my blog and traffic grow. Speaking of traffic, you're going to want to learn how to drive traffic to your blog right away.
Here's a great article from my friend Freddy that will show you how to start driving traffic right out of the gate.
If your theme is responsive, your blog layout will change according to the device your visitor is on. Plus Google favors blogs and websites that are responsive. You can check to see if your theme is responsive here.
Reviews and Recommendations
Chances are you're a member of several blogging Facebook groups. If you see someone using a theme that you love, don't be afraid to ask them which theme they are using.
People will usually tell you which they recommend and which ones they don't. This will definitely save you headaches and not to mention money.
Check if Support is Provided
Technical things can go wrong, especially, if you're new to WordPress. Don't be afraid to ask what level of support is provided.
If you run into technical difficulties will they help you get the theme looking right? Some theme developers will be happy to install the theme for you, at an extra cost.
Don't forget to look for those yearly maintenance fees? Does the theme developer require you to pay a yearly fee to access theme upgrades and updates? If so, do you like the theme that much and are you willing to fork out money every year to do that?
Whenever I am looking for a new theme, I always try to find one that offers lifetime support and updates. As bloggers, it's important to save money whenever and where ever we can.
Final Take Away
It is exciting to start a venture that has the possibility to earn you money. Many new bloggers tend to let the little complications hold them up.
There is so much to learn and do, but the great thing is that you do not have to do it all in one day.
What you don't know, you can always learn as you continue working on growing your blog. The biggest mistake that most new bloggers make is that they think they need to know everything right out of the gate.
You will learn new things each and every day while you're working on your blog. And remember, most bloggers who are blogging on a self-hosted blog knew nothing about the platform before. (myself included)
Even if you're not a techie person, you can still learn the basics of the platform and build your business. As you work on your blog every day, keep working on improving your website performance. Eventually, you'll be so familiar with the platform nothing will phase you.
Your Next Step
If you're ready to start your blog, head on over here to get your hosting. Then start learning from top bloggers what and how to grow your blog.
Many successful bloggers will tell you that investing in your blogging education is one of the quickest ways to see success.
Show some love and save on Pinterest