These 3 strategies will help you drive more of your website traffic from USA. Period.
If you have a business online, you should work hard towards driving more of your traffic from the United States of America except you have a particular interest in a different geo location.
The reason is simple…
It's a large market with the required purchasing power and online payment facilities.
I know most European countries and Canada do have similar facilities. India of course is an emerging market. Africa has a lot of work ahead due to poor governance.
I have been online for over a decade and I can definitely tell from experience that the more readers I get from USA, the more income I make.
But it's generally not easy to drive targeted traffic from some geo-locations. I have consulted stats of many websites. Over 80% of these sites gets the most of their readers from India.
But without stepping on the toes of my awesome Indian friends and customers, the online spending power in India is weaker than that of USA, Europe and Canada. At the same time, Indians are stronger than most African countries, including where I am from.
[page_section color='#708dcc' textstyle='dark' position='default']
But how do you drive free targeted website traffic from USA?
[/page_section]
It's easy with paid traffic right?
You can do Google Adword or Facebook Ads and target readers from specific states in the United states.
But how do you drive free traffic from this rich and ready market?
Here are three things that will get results:
1 – Join Pinterest to pull traffic from USA
Recommended: Are Pinterest Followers still important today?
Pinterest is massively considered as a social network. But I think it's gradually becoming the second Google.
Being a keyword-driven traffic platform, Pinterest will soon be a big search engine, making it another source of natural traffic. As the Algorithm has been redesigned given more preference to keyword optimization, the importance of group board is being shifted to SEO.
Don't get me wrong…
I still look for more targeted group boards as they still drive exposure and traffic. But in the near feature, Pinterest should be more focused on keyword content search.
There are 04 reasons I recommend joining Pinterest:
[thrive_highlight highlight='default' text='light']1 – Pinterest gets most of its traffic from USA" orientation[/thrive_highlight]

From this Alexa stats, Pinterest is one of the most visited sites in the United states. Logically, if you are very active on the platform, it gives you more exposure in that area where it's popular.
It's one of the rare sites on Alexa with India coming far below the United States as source of traffic. But it's still ranked 71 in India.
To further confirm this, I checked the traffic stats of some Pinterest accounts and most of these accounts get more viewers from the United States:

This is normal for a website that gets almost 50% of its traffic from the United states.
[thrive_highlight highlight='default' text='light']2 – Pinners are ready to spend[/thrive_highlight]
The second reason I recommend you join Pinterest is the fact that Pinners are ready to spend. With over 250m people using it every month, 40% of of these pinners have a household income of $100k+ and that's a lot of buying power.

[thrive_highlight highlight='default' text='light']3 – Pinterest is not the lady's thing[/thrive_highlight]
We are commonly told that Pinterest is the platform for women. I was given that belief too but we are wrong. The reason is that 50% of new signups are men according to these stats on the official website.

So men are going to overtake the women and if you are a man, you better hurry and take your seat so you don't start running behind a fast-moving train.
[thrive_highlight highlight='default' text='light']4 – Pinterest grows more rapidly and may overtake other platforms[/thrive_highlight]
Pinterest is becoming more and  more popular with users spending more time on it than on other platforms.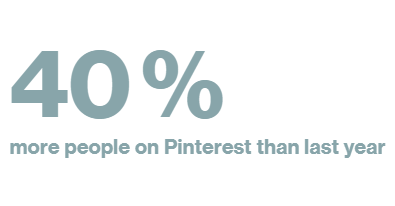 40% growth is a huge speed. In the next few years, Pinterest may be ranking ahead of other popular platforms like Facebook, Twitter, Instagram, etc.
Start using Pinterest today
Starting on Pinterest could be overwhelming and daunting. But the USA traffic you stand to get from this platform  is worth going through the learning curve.
At the moment of writing, I just started using it with a bit more of some seriousness. When I got in, I was like in the middle of a thick tropical forest of different tree species.
I thought Pinterest was some rocket science. But when I bought the Pinteresting Strategies course, I found out I was completely wrong. All I needed was a serious, simple, step-by-step guide from a very successful Pinner.
If you are a beginner who wants to see traffic and income growth (Or you just want a fresh strategy to take your traffic up, you definitely should purchase this course.
What's even more interesting is the fact that the author shares her manual pinning strategy.  This is unlike many other courses that heavily depend on some paid tools that will require more spending in product license.
Few days ago before I purchase the course, my stats were quite lamenting: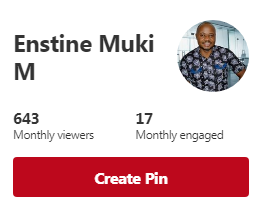 An in less than 7 days of beginning to apply the strategies in the course, the growth, I can say is simply tremendous.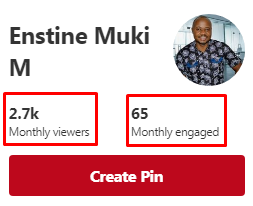 This may be very weak on the same scale with your stats. But hey! The truth is I'm doing something the right way thanks to the course Pinteresting Strategies.
Pinteresting Strategy Evergreen Discount code
I got to the author of the training program for a discount code for you and I'm excited I was able to grab one.
So use this ever-green promo code to save 5%:  pinning5
How did I know about the Pinteresting Strategies course
I have always not be willing to have Pinterest on my plate. But my meeting with Tanye Melvis was a great boost. The final kick however came from Jennifer Dagi, who spoke to me about the course and the results she was getting from following the strategy.
The result is what we want right? So I asked her for her stats to prove her results and this is what  sent sent: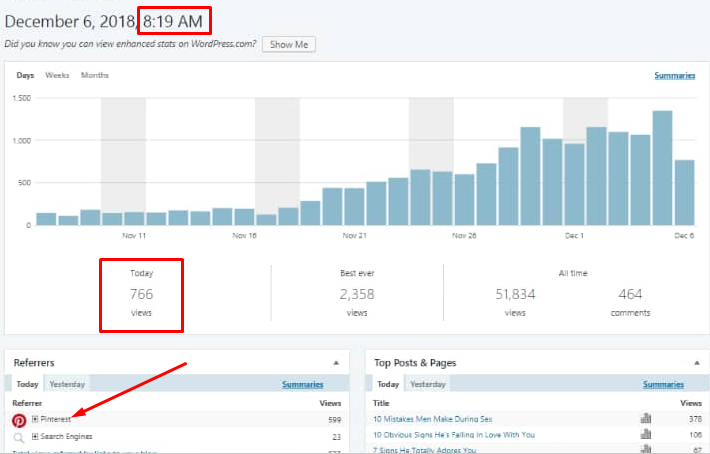 You see the effect of implementing the the strategies in the course with Pinterest being on the top of the list of her traffic referrers.
It's 8:19 am by the time this screen was shot. That means she's on about 1500 views per day from Pinterest alone and that's remarkable right?
If there is a course that trains and gives me the strategies to get this kind of results, I will certainly go for it.
2 – Provide content for readers of the United States
Americans online have things they want. For the most part, these things are different from what folks from other areas want.
If you create content that solves the needs of Americans, you will find them coming to your website for your solutions.
Optimize your content with USA geo targeting keywords. We know localized search is gaining more and more grounds especially in the recent development of Google.
For instance…
If you are an SEO blogger, do your research and create content targeting SEO services in Texas keyword or something closer.
Use Google trends to know what's trending in USA and write about it.

The more content you provide for readers from this area, the more you are going to get them on your website.
3 – Connect with bloggers from the United states
Bloggers are people who drive a lot of traffic and successful blogging is about connecting with people. Creating the right connections could mean a lot and that's what I encourage you do.
There are simple things you can do to connect with different bloggers more seriously:
Follow and engage with them on social media.
Signup to their newsletters and reply to their messages.
Constantly drop personalized comments on their blogs.
Allow them guest-post on your blog.
Submit articles on their blogs.
Feature them on your blog.
Promote them/their products for free.
Link to their articles from yours and shout out to them.
Help resolve their problems directly.
Etc
As you connect with content creators from USA, chances are that they are going to reciprocate. That means more traffic from their country.
Conclusion
Now you know basically what to do to start driving website traffic from the United States and why you should do it. Let me summarize the tips:
Join Pinterest (Get this course to help you)
Provide content for readers from USA
Connect with bloggers from USA
Let me know what you think in the comment box below. If you like the content, kindly save to Pinterest. I will really appreciate.