It's 11 days today since I bought this Pinteresting Course and the exposure I'm getting is quite exciting.
I feel excited to share what I have achieved this far (in terms of viewers and traffic) because I want you excited and join me to do something that gets results.
Initially, Pinterest was considered the ladies' platform. But men are getting in as it's proven to be a serious business weapon.
And Pinterest is free so nothing stops you from hopping in. Grab your free account here and if you are already a member, follow me here.
While Pinterest is a social media property like Facebook, Twitter, Instagram, etc, it's as well a search engine. See how it's different from Google here.
My 11-day Printerest Traffic Report
My Pinterest presence was desperately dormant. When I made up my mind to take the bull by the horns (because I thought Pinning was difficult), my stats were weeping: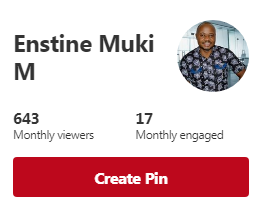 That's 643 not 643k. And 17 engagement was just enough to send me packing. But my friend from BlogToolsCorner kept telling me it was a traffic gold mine.
I finally got connected with Jennifer Dagi who shared her results with me after buying this course.
She had been on Pinterest with no good results. But this course has raised her to over 1300 blog page views from Pinterest alone.
Take a look at her traffic report, few weeks after following a simple course: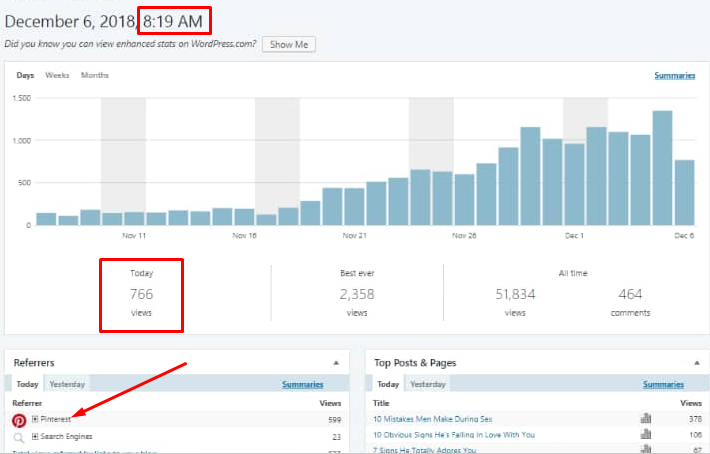 It was 8:19 am when she printed this screen. Pinterest had already sent her 599 clicks. And you see the rise in traffic from one point.
Back to my own Stats
From 643 viewers and 17 monthly engagements to 12k viewers and 298 monthly engaged in about 2 weeks.
I know these are stats from my followers and group boards. I'm contributing to a few group boards and monitoring my progress and keeping to group rules: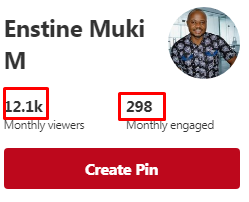 Views on my Pins (12,406.25%)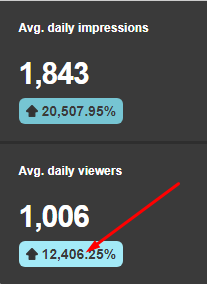 What about Clicks to my blog?
Getting  large figures on the Pinteret platform isn't as exciting as transforming them into clicks to your blog. Note however that these ain't all on my pins alone. They include views on others' pins I saved as well. So the clicks are shared between my blog and the blogs of others whose pins I saved.
But I think I'm getting traffic: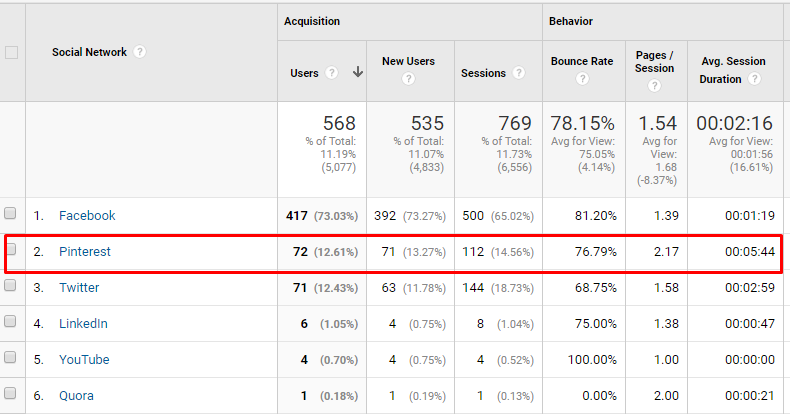 72 users from Pinterest and what's exciting is the average Session Duration which is almost 6 minutes. That shows Pinterest readers find more value on my blog.
Again, I get 2.17 (average) number of pages viewed per session which is awesome. This explains the 76.79% bounce rate.
How to get more clicks on Pinterest
I need to increase the viewers and engagement on Pinterest. But most importantly, I need to convert these viewers to visitors to my blog.
This is done in doing these things:
Do the Pinterest SEO more correctly (See 5 Pinterest ranking factors)
Pay more attention to the quality of Pins (I need to upgrade to Canva premium)
Pay attention to Pin Text Overlay and Titles (Making them more click-worthy)
Get more followers and group board contributions.
Learn more about how Pinterest functions.
Be consistent and give time a chance.
Conclusion
Pinterest is a huge traffic tool. It's working for me and the traffic is more engaging. My encouragement is to you is to give it a try. You may want to also purchase this course to get started.
If you are on already, kindly show some luv and Pin/Save this Pin. Share your comments below as well: